Louisiana cooks rejoice! We live in a state of bliss when it comes to having access to one of the world's most treasured culinary ingredients–wild-caught Gulf shrimp. Our shrimp have multiple uses in the kitchen, and there is no shortage of classic Cajun recipes to showcase this product. Just think of the options; Shrimp Creole, shrimp and okra gumbo, BBQ shrimp, fried shrimp, or a spicy backyard shrimp boil (my favorite) are just a few of the options.
WHY ARE LOUISIANA SHRIMP DIFFERENT? Louisiana shrimp are prized by home cooks and restaurant chefs alike. The overall quality of our Gulf shrimp is unparalleled when it comes to taste and texture. Some call it a briny sweetness that shines in almost any culinary preparation with a texture that is unmatched by imported products. Fresh-caught shrimp has a mild sea breeze, ocean smell. Shells hold tightly to the flesh, and legs are intact. The meat is firm and translucent. Quality is the reason why the Louisiana shrimping industry is America's largest producer and accounts for up to 120 million pounds landed.
But to source the freshest Louisiana shrimp available takes a little planning. To help you, we've created a quick step-by-step video:
CONNECTING WITH THE FISHERMAN. Buying shrimp from the source is still the best way to ensure quality, and the nonprofit Louisiana Direct Seafood website is the go-to source for up-to-the-minute information on how, when, and where to get the best quality seafood available. A free program of Louisiana Sea Grant and the LSU Ag Center, this online portal collects information from fishermen around the state and aggregates it into regional lists. Boats post the size of their catch, when they are returning to port, what days they will be selling, and where to buy. With one quick phone call, you can confirm the price and pick-up time. It's just that easy.
A VARIETY OF SEAFOOD OPTIONS. And it's not just shrimp. These fishermen bring grouper, flounder, black drum, snapper, crabs, oysters, crawfish, catfish, alligator, and much more to the table. I even found a supplier with cleaned basin bullfrogs ready for my fryer. I like the excitement of discovering new ingredients (softshell shrimp anyone?) that I would never see in the supermarket. The best part of the Louisiana Direct Seafood program is connecting with the hard-working fishing families that are the backbone of our industry. These folks are passionate about what they do and love to share their stories and recipes; it's a treasure trove of information.
THE FRESHEST CATCH CAN ALSO MEAN FROZEN. So, what's the deal with fresh versus frozen? This question is one of those baffling issues that are a source of confusion for most home cooks, and the answer might be a surprise to many. For my take on the matter, fresh can mean "fresh-caught and bought off the boat," or it can also mean "fresh-caught and frozen on the boat." Think about it: Offshore commercial shrimp boats along the coast of Louisiana are sophisticated in finding and catching shrimp. Out of port for days at a time, a large shrimping operation must freeze its catch while still on the water. The process is called "individually quick frozen" (IQF), where the shrimp are brine frozen at sea in mesh bags similar to crawfish sacks. While this method ensures that the product remains at its peak, freezing in brine is not optimum in quality. But there's another freezing technique called plate-frozen, which is a game-changer for home cooks and restaurant chefs alike.
PLATE FROZEN FOR THE BEST QUALITY. Louisiana Direct Seafood has pioneered this process called Louisiana Limited Wild Plate Frozen Shrimp, which is an ultra-premium product where shrimp are caught, sorted, graded, packaged in boxes, and held on a contact plate freezer at minus 30ºF. This method is done either on the boat when they are caught or at the dock for day boats that bring their catch in daily.  Thawed under cold water, these shrimp appear as if they just came out of the net with heads and even antenna intact.
In taste and texture, these shrimp are pristine and as close to Gulf waters as possible. So, where can you find plate-frozen shrimp? There are several suppliers along the Louisiana coast: David Chauvin's Bluewater Shrimp in Dulac, Corina Corina Seafood in Galliano, Faith Family Shrimp Co. in Chauvin, and Anna Marie Shrimp in Montegut. And the process is catching on; there are other suppliers of plate-frozen shrimp coming soon. If you'd like to try a 20-pound box of plate-frozen shrimp, Louisiana Direct Seafood SHOP will ship it to you from their online site.
And for wholesale buyers (restaurants and retailers), there are more suppliers listed on the Wholesale Seafood page of the Louisiana Direct Seafood website. The page posts product details and contact information for processors and fishermen that sell to the wholesale market. It's easy. With one click, buyers can connect with Louisiana seafood sources along the coast and determine product availability, minimum quantities, and price.
SIZE MATTERS. Your menu dictates what size shrimp you'll need. I like larger shrimp for a Creole, smaller for a gumbo, and the biggest head-on, shell-on shrimp I can find for the classic, butter-bathed New Orleans BBQ preparation. Go to a supermarket, and you'll often find shrimp sold by sizes such as large, medium, and small. In my experience, this tells me very little since a medium-size shrimp at one store can be considered a large shrimp at another. The industry has developed size standards to help solve this problem. It's built around the concept of "count," meaning the count of how many of a certain size add up to 1 pound of shrimp.
So, here's a chart that explains size differentiation and how you might use them.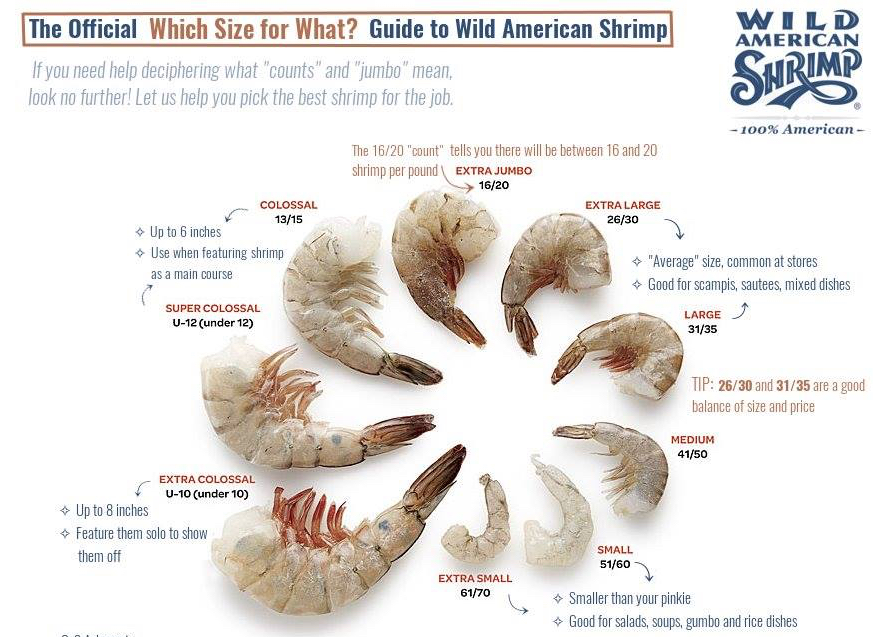 HOW MUCH TO BUY? Now that you understand the industry lingo of how to size your shrimp, you also need to know how peeling affects your shrimp count. Shrimp are two counts larger with the head on and one count larger with the shells. For instance, if you buy extra-jumbo 16/20 count shrimp with the head and shell on and bring them home, things change. Once you remove the heads, they weigh in two counts smaller at 26/30, and when you remove the shells, those extra-jumbos are now 31/35 count shrimp. So, consider that when portioning out your serving size.
And the yield is important: When buying head-on shrimp, remember that removing the heads will decrease total weight by 35%. When the shell is removed, weight decreases by another 15%. For example, 10 pounds of head-on shrimp will result in 6 1/2 pounds of head-off shrimp. When the shells are removed, 5 pounds of shrimp meat is the result. So, keep that in mind when determining the serving portions of your recipe. I know this can get confusing, but a good rule of thumb is that the minimum size for boiling shrimp is 36/40 count, and the standard is 21/25 count–a good size for most recipes.
HOW MUCH TO PAY? I've found that buying direct from the fisherman is a win-win for me: The quality is at its best, the price is usually the lowest, and if you buy in bulk (20 pounds or more), there are even greater savings. Prices vary due to the seasonality of the catch, but a rule of thumb is that larger shrimp usually cost more than smaller shrimp. Headless shrimp will also cost more than head-on shrimp of the same count size.
WHAT IS THE TASTIEST WAY TO ENJOY LOUISIANA SHRIMP? Right here on Acadiana Table, there are numerous recipes featuring shrimp, and they are all delicious. But for me, a backyard shrimp boil is the purest form of tasting the unmistakable flavor of Louisiana shrimp. On a recent trip to visit one of my favorite shrimping familes, Captain Al and Cheryl Granger of Granger's Seafood in Maurice, LA, that I discovered on Louisiana Direct Seafood, I filled my ice chest with ten pounds of Gulf shrimp. And after a spice-infused boil in my stockpot, my shrimp are the perfect way to taste the sweet flavor and appreciate one of God's gifts to the coast of Louisiana.
A featured recipe in my newest cookbook Fresh From Louisiana: The Soul of Cajun and Creole Home Cooking is a simple one for a Louisiana Shrimp Boil. The cookbook is available for purchase at booksellers and on Amazon and other online booksellers. For an autographed copy at a 15% discount, order online from our Acadiana Table Store.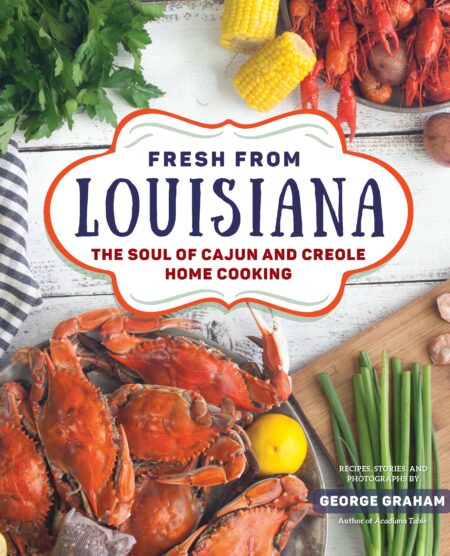 Boiling shrimp is a simple Cajun recipe. Shrimp are straightforward–boil the water, season the water, and drop in the shrimp. Period. But wait, there is one crucial commandment for my Shrimp Boil recipe, and it should not be a surprise–Do Not Overcook.  Ok, I know, it's common sense and a basic rule of cooking any fish or shellfish, but overcooked shrimp tend to be tough and rubbery. I cannot tell you how many shrimp boils I've been to where this happens. Either the cook becomes distracted, or the beer-drinking adds time to the boil, and the result is hard-to-peel shrimp destined for the trash bin. Ugh!
So, that is the only cardinal rule for a Cajun recipe for a Shrimp Boil. What you do from there can only elevate the experience. Added ingredients? Beer? The spice level? The dipping sauce? Did I say the beer?
Let's get to boiling.
Shrimp Boil
Ingredients
3 gallons water
1 cup salt
2 bags dry shrimp boil seasoning or 1 cup liquid shrimp boil
4 whole lemons, halved
3 pounds small red potatoes
1 dozen ears frozen corn on the cob
3 pounds smoked pork sausage links, cut into portions
8 to 10 pounds fresh, head-on, shell-on Gulf shrimp
Acadiana Table Cajun Seasoning Blend, see recipe here, optional
Cocktail sauce, for serving
Instructions
In a large stockpot over high heat, bring the water to a rolling boil. Add the salt, bags of shrimp boil seasoning, and lemon halves. Continue to boil for 5 minutes as the water seasons.
Add the potatoes and let boil for 20 minutes. Add the corn and sausage and boil for another 10 minutes. Add the shrimp and boil for 2 minutes longer and turn off the heat. Let the shrimp and all the other ingredients sit in the water for 5 minutes. Test one of the largest shrimp for doneness and then remove.
Pile the shrimp, potatoes, corn, and sausage together on a newspaper-lined table. Sprinkle on the Cajun seasoning, if desired. Serve with cocktail sauce or your favorite dipping sauce and ice-cold beer.
This Boat-To-Table series of stories, recipes, and information about our seafood industry is brought to you in support of Louisiana Direct Seafood, a free program of Louisiana Sea Grant and LSU Ag Center.
YOUR SEAT AT THE TABLE:  If you like this Louisiana cooking story and recipe, then accept my invitation to subscribe by entering your email at the bottom or top right of this page.  It's quick and painless.  You will receive an email alert and be the first to see when I add new Louisiana cooking stories and recipes.  Thanks, George.