FRESH FROM LOUISIANA:
THE SOUL OF CAJUN AND CREOLE HOME COOKING
By George Graham
Harvard Common Press | Buy online or at booksellers everywhere
240 pages | 104 recipes | Over 100 full-color photographs | Hardcover
ISBN:
978-1592339761
15% DISCOUNT | SHIPPING NOW | AUTOGRAPHED COPY

Welcome to a Second Helping of Louisiana Cooking
In Fresh From Louisiana, I show you the places I know and introduce you to the people I've met that make Louisiana's culinary culture so colorful. If you read my first book, Acadiana Table, then rest assured that this next one will take a deeper dive as I crisscross the state in pursuit of the stories behind the recipes.
In the pages of Fresh From Louisiana, I've delivered a road map of the culinary delights that await you and the fresh ingredients that will astound you. Eating in the South is tied to the seasons, and Louisiana is no exception. Farm-fresh is the cultural mandate of Louisiana cooking and the essence of what sets it apart. The recipes I've chosen for this book are divided that way to ensure the freshest ingredients are available during the respective growing season. As a child, I learned to anticipate the market seasons: Ponchatoula strawberries in the spring, Creole tomatoes in the summer, Evangeline sweet potatoes in the fall, and a pot full of farm-fresh collards in the winter. And the Louisiana soil I grew up on delivered.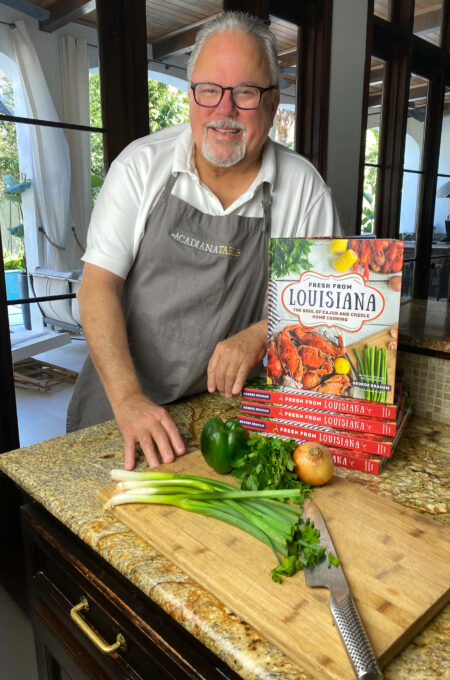 I've had a lifelong love affair with the food culture of Louisiana. I love the Louisiana recipes living inside this cookbook for the history that calls me back to the table and for the ties that bind me to the memories of food and family. I love the way a spicy crawfish pie weaves its lyrical melody and sings to me with a Doug Kershaw accent, how a pork and apple-stuffed duck is only a vessel for the sweet, duck fat–roasted onions that accompany it, and how the perfumed scent of fresh basil wafts from a crispy-crusted Creole tomato tart as it comes out of a hot oven.
So, buy the book and join me on my journey. You'll receive an autographed copy at a 15% discount, and I promise you it will be a tasty adventure.
Not Convinced?  Take A Look At Our Reviews
The positive reviews for the Fresh From Louisiana cookbook are coming in:
GREAT
By Cheryl 0n January 13, 2021

A great cookbook. I love the book.
_________________________
By Denise Bishop on December 20, 202
Fresh from Louisiana, George Graham's second cookbook of Cajun and Creole recipes is a veritable feast of savory (and sweet) dishes. Many recipes are a twist on old standards – mac and cheese but with shrimp and Cajun tasso. Your mom's meatloaf? Try it with smoked bacon and Tabasco pepper jelly glaze. But what really differentiates this book from other ones with South Louisiana recipes is the stories about where they came from and how they were developed – from the author's childhood experience working in his pop's restaurant cutting biscuits, to his back roads adventures stopping at small town diners to sample the daily special, to diving deep across the state in pursuit of what really inspired these recipes and the stories behind them.
Of course, each recipe in Fresh from Louisiana is explained in great detail so following along will be simple, even for novice cooks. And this is an exquisitely beautiful book full of alluring photographs. It's always nice to see what your dish will look like!
You'll enjoy your time in the kitchen so much more when you're chopping vegetables or peeling shrimp while imagining all of the history behind your meal. And bonus – it makes for interesting dinnertime conversation. Do yourself a favor (and those you cook for) and purchase this incredible book.
_________________________
***** 5.0 out of 5 stars
Delicious and Authentic
By BDphile on November 19, 2020
What a beautiful cookbook this is! Every page breathes love for life, food and Mr Graham's region and family. I felt transported into the author's world and it was lovely. I particularly liked that it was organised by season which proves how much he respects his region and produce. I have never eaten creole cooking, never got the opportunity, but I can say everything in here looks absolutely wonderful and vibrant – the photos are colourful, exotic and homely. The recipient read like spicy delicious meaty treats. There is a lot of crayfish and shrimp recipes that look absolutely fantastic and that I can't wait to try them in those soulful dishes that combine smoked meats and seafood for complex flavours. I am big on French food so I know French boudin and andouille which I both love to eat (but are really acquired flavours as they are respectively blood and tripe sausages), but I do not know their American equivalent which seem much milder, so I was very happy to find a recipe for American boudin at the end as well as a few other typical flavour sauces and spice mixes. A great book!
_________________________
***** 5.0 out of 5 stars
Great Southern Gem
By Suzie Gallo
on December 8, 2020
Oh this cookbook is NAUGHTY!!! I HAVE BOOKMARKED SO MUCH!! I know my family is going to LOVE these recipes. At first I was apprehensive because of all the crawfish but then as I went further on I enjoyed the sections of Fall and Winter in the cookbook. Kudos to the author for breaking up the book into seasons!!!!!!! It's helpful when heading to the grocery store, so I know what I CAN ACTUALLY FIND IN SEASON! This one us going to be a Xmas present for my dad! He loves anything Cajun of Creole!
#####################
ACADIANA TABLE:
CAJUN AND CREOLE HOME COOKING FROM THE HEART OF LOUISIANA
By George Graham
Harvard Common Press | Buy online or at booksellers everywhere
320 pages | 125 recipes | Over 180 full-color photographs | Hardcover
ISBN: 9781558328631
15% DISCOUNT | SHIPPING NOW | AUTOGRAPHED COPY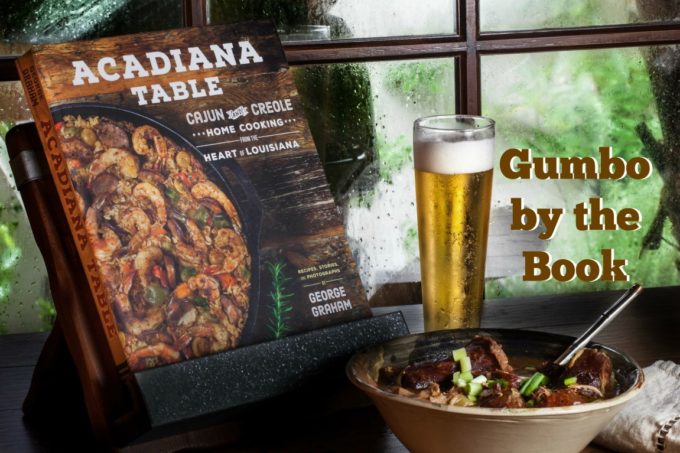 This cookbook took two years to write and another year to produce. But the real credit for this book goes to the hard-working people who make our Cajun and Creole foodways so rich with colorful stories, time-honored traditions, and cultural significance. The growers, chefs, butchers, bakers and boudin makers have all contributed in some way to my writing this book.
As you may know, I am a home cook just like you, so this cookbook takes a different approach. As a whole, cookbook writers tend to be methodical, meticulous, and downright obsessive in the way they approach a recipe. But cooks like me are prone to freewheeling improvisation that defies conventional recipe techniques. I can assure you this cookbook won't be your typical bland and boring recipe-laden package.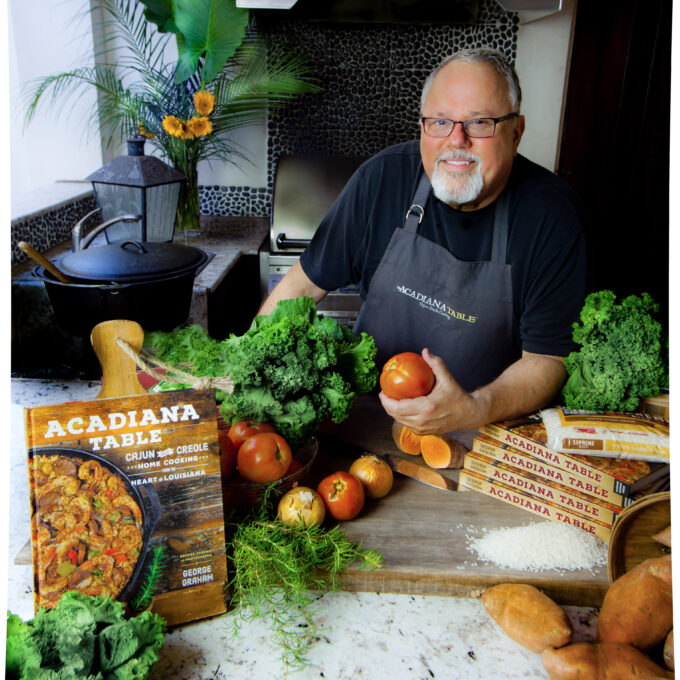 Reading the recipe tips, ingredient explanations, headnotes, and stories accompanying the recipes will serve you well. They are written to be a treasure map of sorts; a guide to the faces and places, the methods and madness, the sources and shared secrets of my beloved Cajun and Creole culture. Mine them for insight and inside information, and then plan your culinary trek—your appetizing adventure—by following the recipe directions.
Rest assured, follow my lead and nothing should stand in your way to creating delicious Cajun and Creole dishes.  Let's have fun, aspire to be better cooks, learn something, and most important, eat some delicious South Louisiana food. So buy the book (buy several as gifts for family and friends) and take a seat at my Acadiana Table.
Not Convinced?  Take A Look At Our Reviews
The positive reviews for the Acadiana Table cookbook are coming in from readers worldwide and here is a sampling:
***** 5.0 out of 5 stars
Classic & Refreshing Cajun Cuisine
By Ashley Durand on January 4, 2020
This is one of my favorite Cajun recipe books. The pictures are gorgeous, and are essential for when we are picking what to make next. There are a few I haven't heard of which is nice to see modern takes on classic Cajun dishes. This hardcover book is one of my go-to Cajun cookbooks and I would recommend it to anyone. Plenty of recipes to choose from and last a long time.
3 people found this helpful
_________________________
***** 5.0 out of 5 stars
Perfect for my Acadiana Roots table
By Garth on March 7, 2018
Perfect for my Acadiana Roots table. My guests loved the gumbo for Christmas Day Dinner.
Trying a lot of the other recipes that I am familiar with, but never knew how to make. My mother did not speak English very well and I wasn't allowed to learn or speak French back in the late 1940's. Thank you Mr. George!!!
 _________________________
***** 5.0 out of 5 stars
Fabulous recipes: Creative, vibrant, colorful, luscious, mouthwatering; with a deep bow to both tradition and evolving culture
By I Do The Speed Limit TOP 500 Reviewer Vine Voice on October 25, 2016
I am so, so glad I purchased this book. If someone asked me to name the best cookbook out of all those I have reviewed and/or purchased this year, this would be the ONE. There is nothing I don't like about it, and everything to love about it. I don't say that often. But this book excites me and thrills me. Just typing that sentence right now makes me want to stop writing this review and pick the book back up and head to the kitchen.
In my case, my "kitchen" is an outdoor setup, right outside the door of our motor coach that we now live in full time. And, yes, even though I've down-sized my cookbook collection along with my pots and pans, and have a smaller pantry and refrigerator, I could still manage many of these recipes today, with what I have on hand. And I will make room for this cookbook on my small bookshelf.
Why'd I pick up this book? Because I've cooked Cajun and I've cooked Creole for decades. I noticed the combo of "Cajun and Creole" and realized that this author knows the difference–and anticipated that he would also know the similarities. But to call them both out on the cover meant something to me. Yes, they are different. But yes, they have evolved together.
I've not been disappointed in my assumptions. To see both a paella recipe and a jambalaya recipe, both with authentic techniques, and just pages apart, gave me a thrill and I felt a camaraderie with this author. I've connected with so much that he's included here, that I feel I know him. Surely, we could sit down at a table and talk cooking for many, many hours. On most things we would find joy in agreement, and maybe we would have a lively discussion on whether its important to have a separate seasoning blend for the Cajun and the Creole dishes. We would be nodding our agreement on the value and technique for the hour-long process of building a formidable dark roux. (If you don't know how to make a proper roux, you will learn easily in the first pages of this book. You will also be able to make your own seasoning mix.)
Some readers may see the ingredient lists as long, but if you already have a handle on any kind of Cajun or Creole cooking these ingredient lists won't intimidate you. Neither will the cooking techniques. If this is your first experience with "Acadiana", the way in which this author presents the area, the ingredients, the techniques and the recipes, you will soon take it all to heart and learn the flow of it. And what appeared to be somewhat involved will turn into easy-peasy in no time.
If you are concerned about unusual or hard-to-find ingredients, I'll say that there won't be much that you cannot find. Some, but not many. For instance, I won't be making the alligator grillades or Snapping Turtle Sauce Piquante. But I can make the grillades with other meat, and I can use the Sauce Piquante for lots of other foods. And no way will I deal with gar fish, but I will build the courtboullion or soup with catfish. Sure, there are blue crab recipes, red fish on the half shell, pompano, and speckled trout, but I can think of subs for almost all of those. Now, if you really can't find a source for Gulf shrimp or farmed catfish, you may want to pass on this cookbook.
This is not a cookbook to serve two, but most of the recipes can easily be halved or quartered. And the recipes are not necessarily calorie-conscious. If you are appalled by substantial quantities of cream and butter, some of these recipes may turn you off. I don't consider it irresponsibility on the part of the author, rather the important inclusion of special and spectacular recipes for important occasions. (Even if the important occasions are simple milestones or accomplishments in your daily life.) We all need to treat ourselves well, to live life to the fullest, and be fun-loving. You will see that in the Acadiana culture.
My favorite chapter? Simmering Black Pots. I call out some of the recipes below. But I must say that the entire chapter is a gold mine of goodness. Now that the weather is getting cooler, this book will not see my cookbook shelf for the next five months for sure–because of that chapter.
The recipes are diversified: You can see that by glancing at the Contents Page in the "Look Inside" feature.
By reading through some of the recipes included in the "Look Inside", you will be able to ascertain that page layout is user-friendly, type style and size are easy on the eyes, ingredients are listed in the sequence they are needed in the recipe. Ingredients and quantities are detailed enough so as not to perplex the reader.
Pictures are well done and mouth-watering. Except for one instance that I found, I think there is a picture of every dish. Plus there are additional pictures and stories that help define the area, the people and the culture of Acadiana. Very interesting stuff!
Besides the recipes you can see in the "Look Inside" feature, you should read through the index. It is a decent one and provides great insight to the type of recipes and ingredients you will find in the book. In addition to that, I can't help but list some of the recipes that I'm excited about. (I've marked so many in the book that my effort is pretty much meaningless at this point!)
Check these out, if you have the time and inclination to keep reading:
–Stuffed Turkey Wing Gumbo: Simple to make, really, with a simple slit in the middle section of the wing. You do need to build a good broth for cooking the vegetable-stuffed wings, then create the gumbo with more of the same, plus a cup of dark roux, smoked sausage and ham.
–Shrimp and White Bean Soup With Kale: All the usual Cajun ingredients plus dried large white beans and kale. It has a creamy look to it, but no cream is included–just the white bean broth and the white tint in bottled clam juice.
–The Seafood Pastalaya is superb: A somewhat soupy, creamy concoction with shrimp, scallops and oysters, all the important veggies, mixed up with spaghetti.
–Amazing: There is a recipe for Cajun Pho.
–The Whole Catfish In Creole Red Gravy has a longish ingredient list, but it comes together quickly with already dressed catfish from the market.
–Zucchini Pickles: Simple and you do not have to can them if you don't want to, just keep in the frig.
–Spicy Creole Shrimp Dip: Made with horseradish and Creole mustard, this crunchy dip (crunchy from fresh chopped Trinity veggies) will make it to my Thanksgiving potluck.
–Squeezebox Sweet Potatoes With Sugarcane Cream Sauce will also be on my Thanksgiving table.
–Pecan-crusted fried oysters, yes!
–Sweet Heat Seasoning mix is applied to carrots in this book, but I've already used it on pork butt hunks and a fillet of salmon on our smoker.
–Turnip and Smoked Ham Hock Stew: I can't wait til I can get turnips at the farmers' market.
–Cabbage Jambalaya: I made this the afternoon I received this book in the mail, with a few tweaks to replace the frozen rice dressing mix that I didn't have. This is a major keeper recipe.
And there is much, much more that is fantastic. I can't say enough good things about this book!
_________________________
***** 5.0 out of 5 stars
Exceptional—fabulous food and gorgeous presentation
By Poogy on October 26, 2016
There are many ways to evaluate a cookbook, along the spectrum from the esthetic to the practical. George Graham's Acadiana Table is unquestionably one of the most mouth-watering cookbooks I own just in terms of the full-page, beautifully photographed and presented pictures. Of course, there's a lot of personal taste that goes into that; if you favor light vegetarian fare this really isn't the perfect cookbook for you. But if slow-cooked meats, crab, shrimp, cream sauces, and seasonings are your thing, this baby is a mindblower.
As other reviewers have pointed out, most of these are not simple recipes. They typically include15 to 20 ingredients, and some include ingredients you're not only are unlikely to stock in your pantry, but would have to be pretty intrepid to track down anywhere near you. (Grouper cheeks? Alligator? Gar fish? Chicken feet?) But don't be put off by that–there are dozens of recipes that use more standard ingredients. Nevertheless, most of these recipes are not for weeknight dinners or the casual cook looking for something quick and easy. They're for someone who wants to put some time into shopping for ingredients and making a dish that's very flavorful, uses authentic Cajun or Creole ingredients, and eschews shortcuts but rewards several hours of labor with a feast for the senses.
Graham is passionate not only about the food itself but the cultures of Southern Louisiana that produced it. He explains the context of the recipes, the terminology (what's etouffee or fricassee?) and describes why certain ingredients are used (e.g., "sunflower butter (used in sunflower butter muffins) has the texture of its peanut cousin, but with a floral taste that complements the nut-like flavor.") He walks you through making a roux or other critical steps. He's particular about ingredients, sometimes urging you to try specific brands. He includes sidebars on aspects of the local cultures that aren't directly connected with the food because he wants you to feel where this food is coming from.
So this labor of love is a fabulous coffee table book to browse through and gawk at, but it's also a treasure trove of Southern Louisiana culture and, for those willing to expand their culinary horizons, it offers amazing recipes.
_________________________
***** 5.0 out of 5 stars
A Work of Love By An Author Who Knows His Cajun and Creole
By VINEVOICE on October 22, 2016
More than just a cookbook, this substantial tome is an inspiring history and introduction to foods from one of the few original American cuisines. I really enjoyed author George Graham's discussion on the roots and origination of Southern Louisiana cooking, his own background and culinary learnings in the culture of Louisiana from his family of chefs, of having been "raised on a roux," as well as stories about his wife Roxanne's own generational history of good cooks from that region. I am a novice to Acadiana (L'Acadiane- French Louisiana region w descendants generally identified as Cajun) and their culinary traditions beyond the more popular dishes like gumbo or jambalaya, but I have always loved the spicy and unique flavors associated with that region, and wanted to learn more.
Author Graham clearly has a deep love and respect of his craft, and his willingness to share his appreciation and knowledge of the region's rich culinary culture is fantastic. I imagine it's quite difficult to write a book at all, and this one is a beauty- literally. Nearly every page has interesting and delicious pictures of the foods associated with the recipes, as well as scenes and wonderful stories of local life- "Duck Hunting on Pecan Island," or "Cannatella's Italian Grocery" to bring you a backdrop of the influences and flavors coloring the landscape there.
These dishes are true slow cooking, and take few shortcuts- from the basics of making a roux (the foundation upon which gumbo is based) colored to a perfect chocolate brown (to make it right, you really need to stand and stir in a heavy cast iron pot for about an hour), to his admonition re: the importance of making beef stock from scratch- "Listen up: Making this beef stock from scratch is the key to this recipe" for French Onion Soup- the French Louisiana Version (p.48). And, some of the ingredients may be more difficult to find outside of the region- File (fee-LAY) Cajun/Creole powered seasoning of dried and ground sassafras leaves, or snapping turtle for the Cajun Turtle Sauce Piquante (p. 164). But, if you are serious about having authentic, bold and spectacular tasting foods, you'd want the true recipe, the hard way, so that even if you make substitutions or shortcuts, you'll at least know how to improve your game and "push the limits beyond tried-and-true to new-and-nuanced" when you are able. Author Graham also provides a great many recipes that are clean and simple fare, such as Fried Chicken and Waffles w Pepper Jelly Syrup (p.202), Comfort Cobbler (p.285), Spicy Creole Shrimp Dip (p.94), or Sugartown Watermelon Rum Punch (p.306), and provides substitutions whenever possible. He also has a list of product sourcing suppliers in the back (p.314).
All the beautiful and unique dishes presented, and the wealth of information and pictures on these pages, makes this thoughtful book an excellent and provoking (and entertaining) reference manual for an Acadiana food novice like myself, or for a long-time follower of the Creole/ Cajun culinary tradition. There are tips and techniques that do not intimidate, yet provide good learning for both the self-starter and pro. I highly recommend this book if you are interested in expanding your food horizons in general, and especially (of course), if you would like to explore Acadiana. I am very much looking forward to these recipes.
_________________________
***** 5.0 out of 5 stars
A must for every kitchen!
By Ringo on October 17, 2016
Outstanding easy to understand recipes from the heart of Acadiana. Background stories, colorful pictures, and a delight to savor each entry. I bought my first copy to test the flavorful content. Living in Lafayette, Louisiana, I could not be more pleased. Looking forward to trying many more delights.
_________________________
***** 5.0 out of 5 stars
A great cookbook!
By John P. Chew, Jr. on October 6, 2016
I have been a follower of George Graham's Acadiana Table for some time now. I frequently prepare dishes from his weekly blog posts and I see that his new cookbook contains recipes haven't encountered there. Over time I will cook my way through this volume and satisfy my family and friends with meals that are otherwise only obtainable in "Cajun Country" or specialty restaurants in the rest of the country.
_________________________
***** 5.0 out of 5 stars
A Wonder of a Cookbook
By Paul Moskowitz on October 16, 2016
"Acadiana Table" is a wonder of a cookbook. It describes not only the regional cuisine of southwest Louisiana, but also the culture behind the cooking. The book is a large 9.5 by 11 inches with a host of photographs in its 319 pages. Most of the photos are brilliant full-page shots of the prepared recipes. There are also photos that express the culture of the region: fishing boats, shops and scenery.
This book is not for the faint of heart. The recipes are complex. In some examples, they consist of twenty or more ingredients. The two major themes are spices and foods derived from the water: crabs, shrimp, crawfish, and even alligator. Where can I get alligator meat in New York? I suppose that chicken would work. I once visited an alligator farm in Colorado. They said that it tastes like chicken.
A few examples of recipe titles are Duck Egg and Squash Blossom Tart, Fried Oyster and Crawfish Caesar Salad, Smoked Quail Stuffed with Syrup Sausage and Muscadine Sauce, and, of course, Gator Grillades and Grits. Just reading through this cookbook was an adventure. This is not a cuisine that I am very familiar with. I plan to start with the simpler recipes. Perhaps I can find a Cajun restaurant to get some inspiration, or better yet use this book as a reason to visit Louisiana.
_________________________
***** 5.0 out of 5 stars
Impressive cookbook, plenty of information and a variety of dishes to try out.
By W Holder on October 17, 2016
This is an impressive cookbook. Its almost a cookbook in coffee table book form. The size is impressive, the photographs are large and high quality. There is a large amount of information on the region, plenty of information beyond the recipes. It is entertaining to flip through and get the feel and mood of it, before you start to plan which items you want to make. Yes, I did say 'plan' which item you want to make, I doubt anyone actually has the items on-hand for many of these recipes.
The recipes I have tried so far are all delicious. These are not your normal red beans and rice recipes, many of these are complicated and require a long list of ingredients. If you aren't from the Southeast, you can get away with using chicken instead of Alligator, but its not quite the same. There are lots of crab, shrimp, crawfish, and other seafood items, so be prepared for a fairly pricey meal to make; unless you actually live in Southern Louisiana and can catch your own, in which case you probably don't need this book..
The recipes are thorough and easy to follow. Easy to follow doesn't mean easy to make, just that they are easy to understand and are in a logical order. The cookware and kitchen requirements are fairly normal, I didn't see anything yet that would require something beyond what most normal kitchens have. The recipes often require a lot of prep work before any cooking actually takes place, in fact many of the recipes are almost all prep work with the actual cooking being very simple.
I highly recommend this for any fan of 'high-end' Cajun and Creole food, and especially for anyone who enjoys learning about the region producing the dishes instead of just a by the numbers recipe.
_________________________
***** 5.0 out of 5 stars
The best cookbook ever!
By Denise Bishop on October 11, 2016
This is absolutely the very best cookbook I've ever owned! The recipes are mouthwatering and inventive, and the book itself is quite large and full of beautiful photographs in addition to the recipes of authentic Cajun and Creole dishes. I cannot ever imagine getting such a wonderful cookbook like this for the price I paid. It is so well priced, in fact, that I will be purchasing several more as Christmas gifts. My description does not even do it justice – you just have to get it, and trust me you'll love it!
_________________________
***** 5.0 out of 5 stars
Some delicious Cajun and Creole recipes
By Shelley McDonald on November 19, 2016
This Cajun and Creole cookbook has lots of wonderful recipes. I didn't grow up with these types of foods and the only times I have them is when I make them from cookbooks. This book is packed with recipes, many of which I have made or will make. A few I will never do, mainly because I don't know where to buy alligator fillets or boneless snapping turtle meat. Some recipes have substitutions for hard to find items like hog jowls or tasso. Most of the recipes have ingredients that can be found at a regular grocery store though.
There are many seafood recipes in this book and I've made several of the shrimp ones to rave reviews from my family. There are a few vegetarian options too. There is a chapter on sweet dishes, and breakfast foods are also available to make. The last chapter, Drinks and Drunks has some delicious beverage recipes. That chapter and If it Flies, It Fries are my favorites just because of the funny names. I've found that the recipes are straightforward and easy to follow. They are accompanied by beautiful color photographs of the finished dish. There are also several little stories in this book, about the author and farmers and grocery stores and such that he's familiar with.
It would take a long time to work through all the delicious recipes offered in this book, but I already have several go-to ones that my family enjoys. I'm really glad to have this Creole and Cajun cookbook to add more variety to the meals I make for my family.
_________________________
***** 5.0 out of 5 stars
A great cookbook for new and experienced home chefs looking for alternative cuisine
By L. Bravim on October 31, 2016
This is a first-class cookbook of Cajun and Creole Home Cooking. I found the recipes to be challenging, but not out-of-reach for novice home cooks. I was one of those guys who cooked about once a week, and always the same 4 – 5 unhealthy go-to guy foods (e.g. burgers, tacos, etc.). The Shrimp Etouffee I made was so delicious, my mother-in-law thought it came from a popular restaurant chain rather than her own kitchen. If you're not from Louisiana, it's likely than many of the dishes will be new to you. There's a bonus there. You'll be cooking at home and trying new foods at the same time. For those that eschew spicy foods, it's very easy to cut back on the peppers and make it more palatable for those sensitive to hot dishes. My wife was one of these and did not complain at all about the sauce or meal.
_________________________
***** 5.0 out of 5 stars
Utterly delicious
By Lasha on October 28, 2016
I'm not a cook. In fact, I don't like to cook, but that is going to change after getting this book. Since I go on vacation every year to New Orleans, I've wanted to learn how to cook the great food I've eaten there in my own home, but have been intimidated by my lack of cooking abilities. But with "Acadiana Table" cookbook I think I'm ready to try.
A beautifully created 125-recipe regional cookbook of the Cajun and Creole regions of Louisiana this has all my favorites: gumbo, crawfish etouffee and many delicious desserts all together with stunning pictures and step-by-step directions to make each dish. This is a coffee table quality book that is practical yet gorgeous. In fact, to celebrate I'm making a dish this weekend for friends. Many thanks to Mr. Graham for putting this cookbook together.