Drum roll, please! Lightly floured and sautéed to a crispy finish, my Black Drum is topped with a buttery Menuière Sauce infused with Louisiana Crawfish—an easy and delicious recipe.
In recent years, black drum has ascended the culinary ladder to become a center-of-the-plate star in its own right. One theory is that it follows the coattails of its cousin, the red drum (or redfish, as you know it), which with the help of renowned chef Paul Prudhomme became a superstar during the blackened craze of the mid-80s Cajun food obsession. Now a popular sportfish, redfish are no longer commercially harvested in Louisiana, and its close relative, the black drum, has stepped up.  And with this classic recipe, it's high time it shows up on your dinner table.
Take a look at this quick video as Roxanne and I take you behind the scenes to learn more about cooking with this delicious Louisiana fish: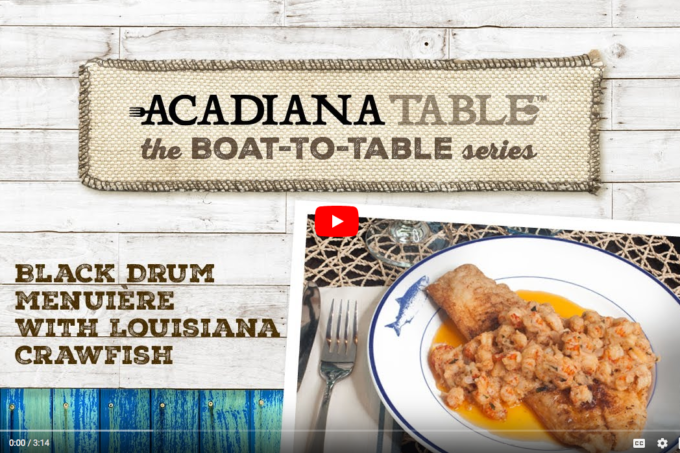 Recently we visited Douglas Olander at Big D's Seafood. Based at the Port of West St. Mary near Franklin, LA, Douglas, and his wife Chrystel, along with their children, are a coastal Louisiana fishing family specializing in black drum—a year-round fishery. With a fleet of boats, commercial dock, and processing plant, they are one of the largest processors and suppliers of Certified Authentic Louisiana Wild Caught black drum to wholesalers and consumers alike.
As Douglas tells it, choosing your black drum for the dinner table should be done carefully.  As a voracious, steel-jawed eater tearing through the oyster beds in the brackish coastal backwaters of the Gulf, black drum tends to grow quite large and tough–not ideal for cooking. Smaller black drum of less than five pounds (sometimes called puppy drum) are best.
Recently, my friends at the Louisiana Direct Seafood program began marketing Douglas' black drum under the Vermilion Bay Sweet brand, which can be ordered online from their eCommerce SHOP site and shipped directly to you. Douglas took me through his process of packaging individually quick-frozen and vacuum-packed fillet portions of black drum, making it convenient to access this ingredient anywhere in the United States. And if you live in Louisiana, you're in luck; the product is available direct from the dock at Big D's Seafood or when you click on Louisiana Direct Seafood and connect with a fisherman listing the fish among their catch.
For my recipe, I have always enjoyed a Creole meunière sauce made famous in the classic New Orleans' restaurants. Today, I am joining the drumbeat of excitement over this new fish royalty with my Black Drum Menuière, and I'm crowning it with fresh Louisiana crawfish.
Black Drum Menuière with Louisiana Crawfish
Ingredients
• 4 (4 to 6-ounce) fillets of black drum, skin removed
• 2 cups all-purpose flour
• 4 tablespoons Acadiana Table Cajun Seasoning Blend, see recipe here
• Kosher salt and freshly ground black pepper
• 2 sticks (16 tablespoons) of unsalted butter
• ½ cup vegetable oil
• ¾ cup diced yellow onion
• 1 tablespoon finely minced garlic
• Juice of ½ lemon
• Zest of ½ lemon
• 2 pounds fresh Louisiana crawfish tail meat
• 4 lemon wedges
Instructions
Remove the fish fillets to a cutting board and inspect them carefully, removing any small bones.
In a shallow container, add the flour and 2 tablespoons Cajun seasoning, and blend.
Remove the fish fillets and sprinkle lightly with the remaining 2 tablespoons Cajun seasoning. Place the fillets in the seasoned flour and roll them to coat on both sides.
In a large skillet over medium-high heat, melt 1 stick of butter and vegetable oil. Shake any excess flour off each fillet and place in the hot skillet being careful not to crowd the pan. Sauté the fillets until crisp on both sides, about 2 to 3 minutes per side. Remove to a platter and keep warm. Repeat until all the fish is cooked.
In the same skillet on low heat, pour off the oil and add the remaining 1 stick of butter along with the diced onions. Stir the mixture carefully and watch as both the onions and the butter begin to brown, about 3 to 5 minutes. Add the garlic, lemon juice and zest, and crawfish tail meat, and sauté for another 5 minutes until heated through. Keep warm for serving.
For plating, place a sautéed fish fillet in the center of the plate and spoon over the crawfish menuière sauce. Serve with a lemon wedge on the side.
Notes
Crawfish tail meat is sold in 1-pound vacuum-packed bags on the
Louisiana Direct Seafood SHOP
site. Be generous with the crawfish sauce, but any leftovers (if there are any) can be served over rice the next day.
This Boat-To-Table series of stories, recipes, and information about our seafood industry is brought to you in support of Louisiana Direct Seafood, a free program of Louisiana Sea Grant and LSU Ag Center.
YOUR SEAT AT THE TABLE: If you like this Louisiana cooking story and Louisiana recipe, then accept my personal invitation to subscribe by entering your email at the bottom or top right of this page.  It's quick and painless.  You will receive an email alert and be the first to see when new Louisiana cooking stories and Louisiana recipes are added. Thanks, George.