A simple sandwich just hits the spot. But one thing that's not simple is making a choice among all my favorites. If you've been a part of my Acadiana Table for some time, you no doubt understand my pursuit of the perfect sandwich—so many sandwiches, so little time. So here's a list of my Top 10 Favorite Sandwiches (in no particular order) and links to my recipes for how to make them.
Roast Beef at R&O's
For me, a sloppy, gravy-drenched roast beef po'boy is the definitive statement of what this famous South Louisiana sandwich is all about. And let me say it loud and clear: R & O's roast beef is po'boy perfection. Crispy, crunchy French bread dipped in rich brown gravy hugging a generous mound of roast beef dressed with shredded lettuce and ripe tomatoes and just a slather of Blue Plate is po'boy nirvana and a sensory overload for a Louisiana boy with childhood memories.  Get my step-by-step recipe here:
Oyster Loaf at Cassamento's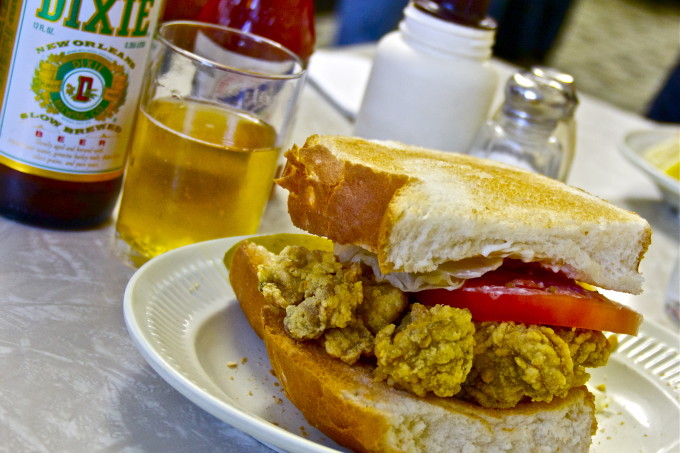 Lightly breaded and flash-fried, these oysters reach that perfect balance of crispy golden brown but not overcooked.  Then they are sandwiched between two buttered, toasted slices of thick pullman loaf sandwich bread slathered with a generous amount of Blue Plate mayonnaise and topped with a slice of ripe tomato.  With a few shakes of hot sauce and an ice-cold glass of Dixie beer, the Casamento's oyster loaf is a one-of-a-kind sandwich experience.  Get my step-by-step recipe here:
The Melted Muffuletta at Napoleon House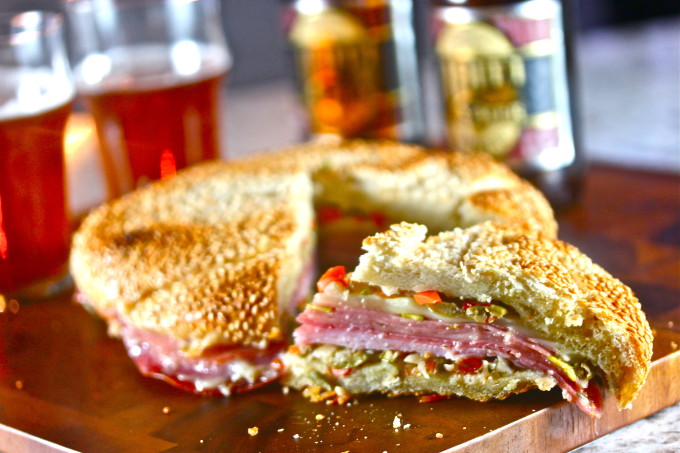 While the Mecca of the muffuletta is Central Grocery in New Orleans, I prefer another version of the classic Italian sandwich. It is the hot, melted muffuletta at Napoleon House in the French Quarter that I crave.  Crispy Italian bread blanketed with an herb-spiked olive salad, piled high with classic deli meats and a crown of melting cheese (it's okay to salivate) is perfection indeed.  Get my step-by-step recipe here:
Pork Jowl BLT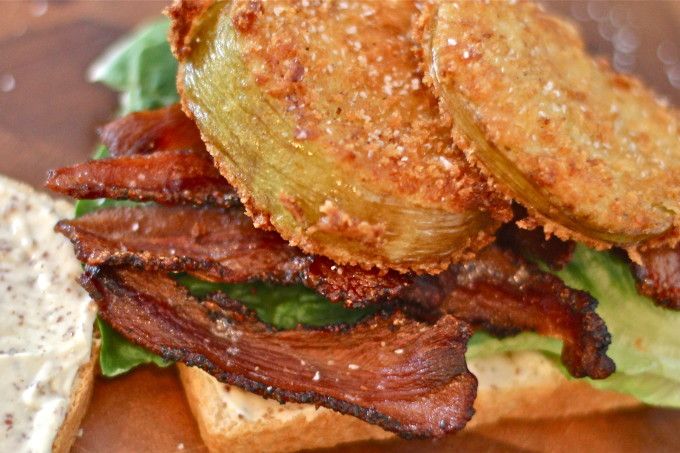 Pork jowl is simply the fat, cheeky mound of flesh taken from each side of a pig's head.  When sliced thin into bacon-type strips, it becomes a superior stand-in for bacon.  And in this recipe, pork jowl, when peppered and paired with fried green tomatoes, makes an especially tasty elevated version of a BLT sandwich.  It's an all-natural use of farm-to-table ingredients celebrating Southern culture and the importance of the whole hog as a food source. Indulge.  You deserve it.  Get my step-by-step recipe here:
Short Rib at Joan's on Third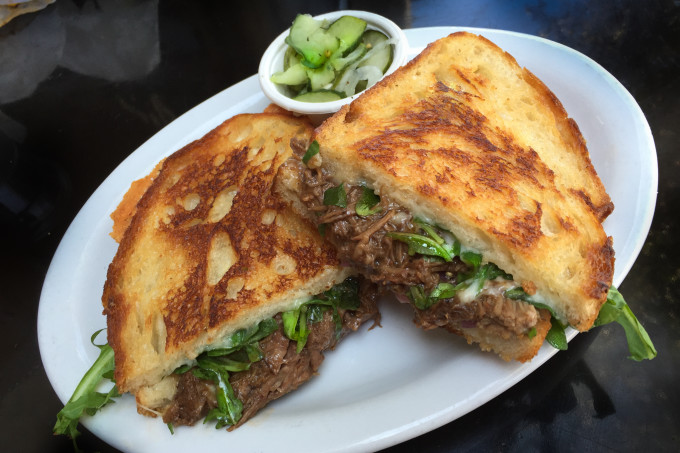 This combination comes from a little joint called Joan's on Third, a bakery/café in West Hollywood, California. By now, you should be familiar with my culinary infatuation with beef short ribs. And with this shredded beef sandwich, I have now crossed over to obsession. It's a simple little sandwich: Short ribs are wine-infused, cooked fork tender, and piled onto crusty sourdough, and then griddled to a crisp finish oozing with melted pepper jack cheese ‑- this is sandwich perfection.  Get my step-by-step recipe here:
Chic Steak at the Acme Café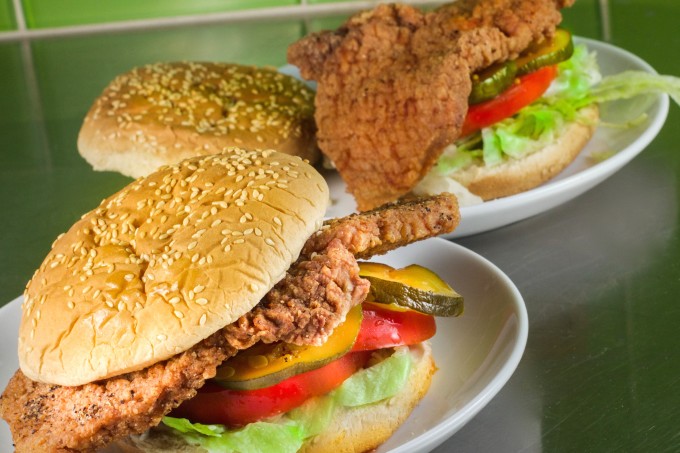 Pork is the answer to a sandwich version of a chicken-fried steak. Cutting ¾-inch-thick slices of the lower-priced pork loin and running them twice through a tenderizing machine creates a magnificent sandwich cut — tender, tasty, and huge. With a dredge of flour and simple seasonings, the pork fries up to golden brown crispy perfection.  Just a slather of mayo, pickle slices, and all dressed on a sesame bun, the Chic Steak Sandwich is a big hit.  Get my step-by-step recipe here:
Beer-Braised Smoked Sausage Po-Boy with Griddled Vidalia Onions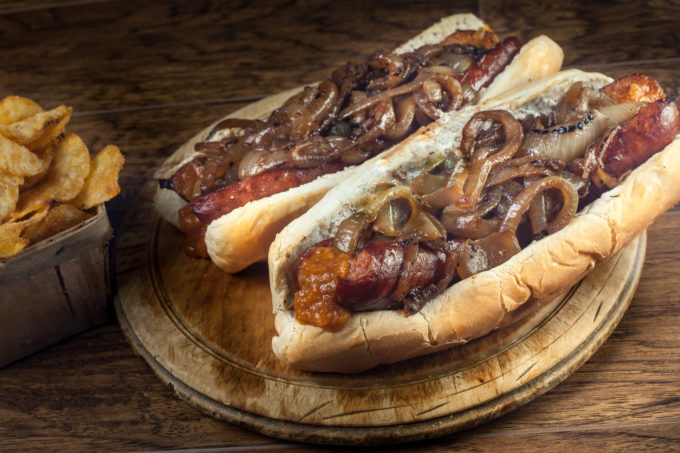 Smoked sausage is a familiar food item throughout Acadiana, and not a festival goes on without a booth serving up a sausage po'boy. It doesn't get any simpler and don't look for me to complicate it…much. First, the basics: My bread is classic – a soft po'boy bun from Evangeline Maid Bread in Lafayette. And my smoked pork links are from the smokehouse of Savoie's Foods in Opelousas, Louisiana in St. Landry Parish. Nothing complicated so far. Get my step-by-step recipe here:
Wagyu Beef Slider on Brioche with Jalapeño Pimento Cheese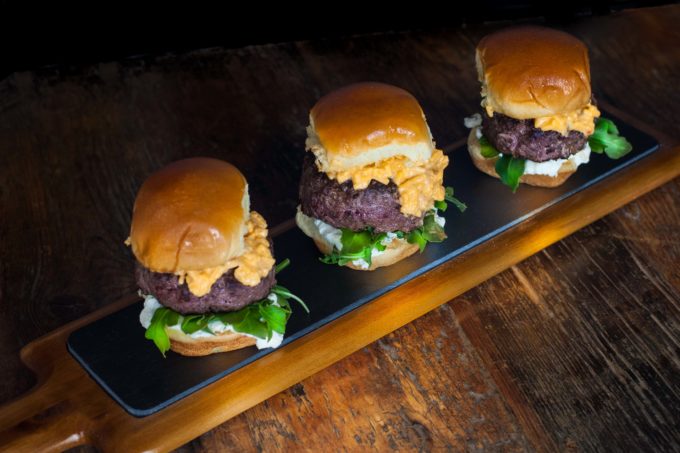 Presented ceremoniously on a brioche bun, my Wagyu Beef Slider on Brioche with Jalapeño Pimento Cheese combines the best of hybrid Japanese beef with the down-home comfort of pimento cheese–a contrast of rich new flavors with more familiar tastes. Get my step-by-step recipe here:
Heirloom Tomato Sandwich on Sourdough with Garlic Aioli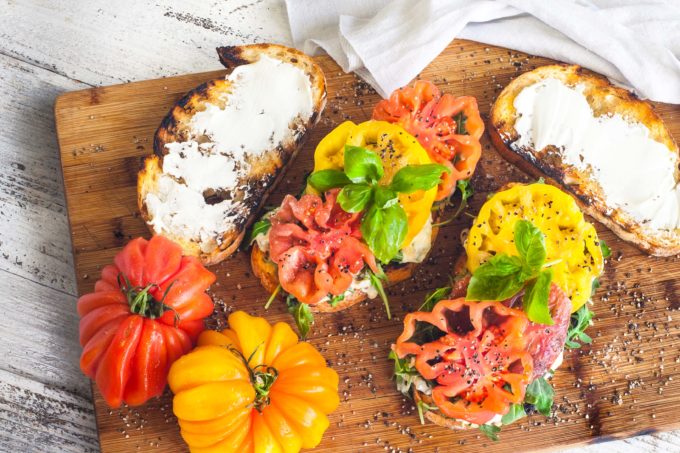 With the crisp snap of the first bite of grilled sourdough, I can taste the dual combination of smooth goat cheese, and creamy garlic aioli as the intense juice of the heirloom tomato flows over my tongue. My taste receptors are in overdrive as the flavors meld together into my Heirloom Tomato Sandwich on Sourdough with Garlic Aioli–the perfect sandwich bite. Get my step-by-step recipe here:
Cajun Cuban Sandwich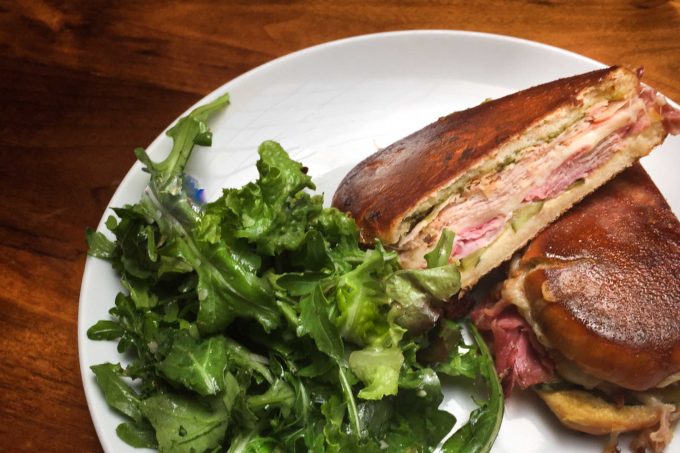 With the crunchy snap of your first bite into my Cajun Cuban Sandwich, you just know this one is special. With the unmistakable punch of Creole mustard and the ooze of melted pepper jack blending with all the traditional ingredients in this multi-cultural version of the famous sandwich, this recipe will up your kitchen cred for sure. Get my step-by-step recipe here:
YOUR SEAT AT THE TABLE:  If you like this story and recipe then accept my personal invitation to subscribe by entering your email at the bottom or top right of this page.  It's quick and painless.  You will receive an email alert and be the first to see when new stories and recipes are added.  Thanks, George.