When it comes to the tastiest fish preparation, this is it. Whole Red Snapper with basil pesto stuffed with Creole tomatoes and served on a bed of onions and peppers layers flavor on top of flavor. Recently my wife Roxanne and my daughter Lo made this dish for me, and they said it was a snap to make.
Not only is cooking whole fish on the bone an easy preparation, but it also preserves the moisture and showcases the fish's flavor. And this dish has a dramatic flair. If it's true that most people "eat with their eyes", then this colorful and awe-inspiring sight will draw oohs and ahhs from your hungry guests.
Here in Louisiana, wild-caught Gulf red snapper is a sustainably managed commercial finfish that comes to market for a hungry audience. Bought fresh, or fresh-frozen, just after it is caught, you are getting a seafood product that is as good as it can be. The snapper's sweet flesh is why it is one of the most popular dishes on restaurant menus and equally prized by home cooks. But sometimes, it is hard to find. If you're lucky enough to have an offshore fisherman in your family, then you're set, but if you're like me, and live an hour or so inland from the coast, you need to find a reliable source.

For me, sourcing fresh fish through Louisiana Direct Seafood is a convenient way to connect directly with fishermen. Their website is a central starting point for daily listings by fishing boats along the Louisiana coast with real-time updates on their catch, and when and where they will be selling it. With a quick phone call to verify price and time, you can throw an ice chest in your car and make a quick drive to pick it up. It's just that easy. And Louisiana Direct Seafood has divided its listings into four regional hubs along the coast, so the driving distance should be minimal if you live in South Louisiana. For those not so close or residing outside the state, the Louisiana Direct Seafood SHOP site for online seafood orders ensures that your seafood purchase is expertly packed and shipped anywhere in the U.S.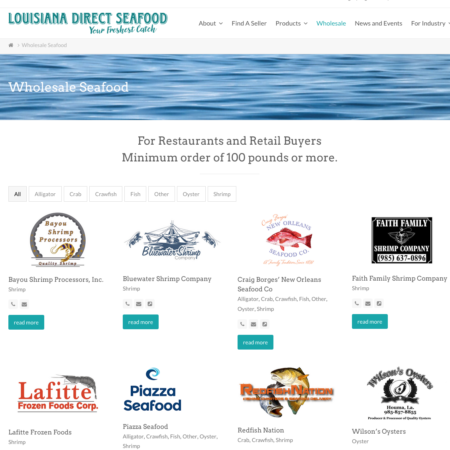 And that's not all: For retail and restaurant buyers, there's a Wholesale Seafood page on the Louisiana Direct Seafood website that lists processors and fishermen that sell to the wholesale market. It's easy. With one click, buyers can connect with Louisiana seafood sources along the coast and find out about product availability, minimum quantities, and price.
Once you have your fish gutted and cleaned, take a sharp knife and cut several deep slits along the skin. The cuts are essential for distributing flavor to the flesh, cooking evenly, and checking for doneness by flaking the fish with a fork. My recipe keeps it simple: a basil pesto (store-bought is fine), fresh tomatoes, herbs, and lemons for stuffing, and a tray full of brightly colored peppers and onions as a bed to rest your fish on. Just a sprinkle of Cajun seasoning and a good drizzle of olive oil, and your Whole Red Snapper is ready to cook.
Cook your whole fish in the oven rather than an outdoor grill. Here's the deal: cooking over an open flame necessitates careful attention to prevent flare-ups, and turning the fish can be difficult at best, disastrous at worst. You don't want the fish to break apart once it is done, nor do you want the stuffing to spill out. So, the oven it is. Line a large tray with parchment paper and let the hot oven do the work as the heat envelopes the fish. And don't cover the fish since we want to bake it, not steam it.
Just follow our directions in this quick video and let Roxanne and Lo show you how easy this preparation is.
I urge you to try Louisiana Direct Seafood and their free program to connect with a fishing family along the coast. You'll make a new friend, learn where your seafood comes from, and open up a relationship that will keep you in stock with the freshest Louisiana seafood available. And I invite you to return to Acadiana Table to get all the great seafood recipes you need to be a rockstar chef in your kitchen.

Stuffed Whole Red Snapper
Ingredients
1 red bell pepper, cut into rings
1 yellow bell pepper, cut into rings
1 green bell pepper, cut into rings
1 large red onion, cut into rings
1 (3 ½ -pound) whole red snapper, cleaned and gutted
1 cup basil pesto (homemade or store-bought)
1 large homegrown tomato, cut into slices
1 large lemon, cut into slices
1 bunch fresh basil leaves with stems
1 tablespoon Cajun seasoning
¼ cup olive oil
1 large lemon, quartered, for serving
Instructions
Preheat your oven to 425ºF.
Line a large baking tray with parchment paper and arrange the rings of peppers and onions across the surface. Set aside for later.
Rinse the fish, inspect that all scales have been removed, and the cavity of the fish is cleaned out. Pat dry and move to a cutting board. Score the skin on one side with a sharp knife to make three long, deep slits. Spoon over the pesto and massage the surface of the fish with your hands, making sure that the seasoning gets into the slits.
Open the cavity of the fish and layer in the stuffing: tomato slices, lemon slices, and stalks of fresh basil.
Place the fish atop the vegetable-lined tray, sprinkle with Cajun seasoning, and drizzle with olive oil.
Place the tray in the preheated oven and bake uncovered until the flesh flakes easily with a fork, about 30 minutes. Remove from the oven and serve immediately with lemon wedges.
Notes
One whole, 3½-pound snapper should serve two to four people, so if you have a larger crowd, increase your recipe accordingly. For presentation, either bring it to the table on the baking tray, or use two spatulas to gently move the fish to a platter, being careful not to break off the tail section. Serving is easy: begin flaking the cooked fish into portions from one side then pull out the center bone and serve the remaining fish on the second side.
This Boat-To-Table series of stories, recipes, and information about our seafood industry is brought to you in support of Louisiana Direct Seafood, a free program of Louisiana Sea Grant and LSU Ag Center.
YOUR SEAT AT THE TABLE:  If you like this Louisiana cooking story and recipe, then accept my invitation to subscribe by entering your email at the bottom or top right of this page.  It's quick and painless.  You will receive an email alert and be the first to see when I add new Louisiana cooking stories and recipes.  Thanks, George.