These Country-Style Ribs are bathed in flavor; to be exact, they're rubbed, marinated, charred, baked, braised, glazed, and grilled. And when slathered with my Bourbon BBQ Sauce, these fall-off-the-bone ribs are the best of all worlds.
It's Labor Day and time for one last summer holiday backyard bash. This dish — Country-Style Ribs with Bourbon BBQ Sauce — is one of my favorites and worthy of sharing with you again this Labor Day.
Before we get started, here's the big question: What exactly are country-style ribs?  Well, they aren't ribs at all; they are more like a pork chop than a true rib.  If you buy the bone-in country-style ribs, you are getting the blade end of the loin close to the pork shoulder. This cut of meat is the end that contains no rib bones, but rather bony parts of the shoulder blade.
If you buy the boneless country-style rib, you are getting the pork shoulder (butt) cut into thick individually portioned slabs.  So, don't confuse country-style "ribs" with a baby back rib or sparerib cut from the ribcage of the pig.  That said, country-style ribs are tasty and with this Country-Style Ribs recipe, cook up fork-tender delicious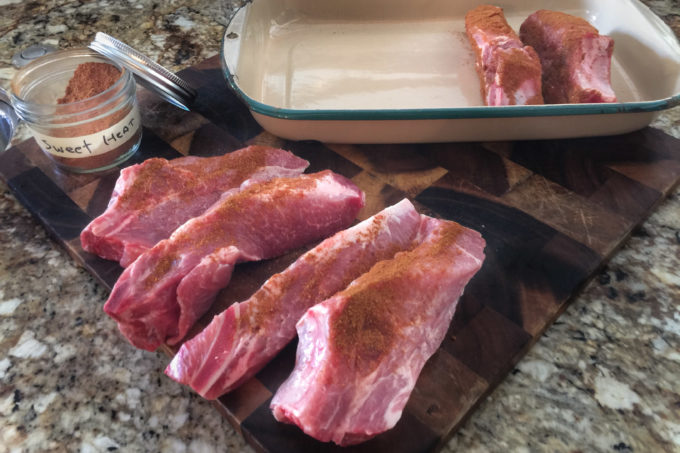 Along with Bourbon BBQ Sauce, my Sweet Heat spice rub is another key to this recipe. It's a versatile spice that balances flavors that work well with meat (pork, especially) and vegetables (glazed carrots are spectacular) alike.
Country-Style Ribs
Recipe by:
George Graham - AcadianaTable.com
Ingredients
Sweet Heat Seasoning (makes just over 1 cup)
4 tablespoons light brown sugar
4 tablespoons ground cumin
2 tablespoons ground coriander
2 tablespoons chili powder
2 tablespoons sweet paprika
2 teaspoons ground cinnamon
2 teaspoons ground allspice
1 teaspoon ground ginger
1 teaspoon. cayenne
1 teaspoon turmeric
1 teaspoon ground cloves


Bourbon BBQ Sauce (makes 2 ½ cups)
2 cups tomato sauce
½ cup sugarcane molasses
½ cup apple cider vinegar
½ cup bourbon
2 tablespoons Worcestershire sauce
1 tablespoon garlic powder
1 teaspoon smoked paprika


Cajun Country-Style Ribs
6 pounds bone-in loin country-style ribs (about 12 ribs)
1 cup Sweet Heat spice rub, see recipe
1 cup diced onion
½ cup diced celery
½ cup diced green bell pepper
1 tablespoon minced garlic
2 bottles beer
1 cup Bourbon BBQ Sauce, see recipe
Instructions
Sweet Heat Seasoning
In a large mixing bowl, mix all spice ingredients together and place in an airtight jar.


Bourbon BBQ Sauce
In a medium pot, add all ingredients and bring to a boil. Lower the heat to a simmer and let cook until the sauce thickens enough to coat the back of a spoon, about 15 minutes. Let cool and store in an empty bourbon bottle or an airtight container. Keep refrigerated for up to 3 months.


Cajun Country-Style Ribs
In a large ovenproof baking dish lined with foil, add the ribs. Sprinkle liberally with spice rub on all sides to coat. Cover with foil and refrigerate to let marinate for 1 hour.
Preheat the oven to 350ºF. Preheat a gas grill on high.
Add the marinated ribs on the grill grates closest to the heat and char-grill on all sides creating a sealed exterior crust, about 8 minutes. Remove from the grill before the ribs are cooked through.
Place the ribs back into the baking dish and add the vegetables. Pour the beer over the ribs until covered halfway. Cover tightly with foil and place in the oven to bake for 2 hours.
Remove the cooked ribs and gently--using a spatula-- place them back onto the hot grill and brush with the BBQ sauce. Cook until the sauce sets and just begins to blacken, about 5 minutes. Serve immediately.
Notes
These ribs will be cooked tender when you put them back on the grill for a final glaze, so be sure to use a spatula to move them. I like the thicker country-style ribs for this, but baby backs or spareribs should work just fine, too. Make a double batch of the Sweet Heat spice rub and the Bourbon BBQ Sauce; you'll find lots of uses.
YOUR SEAT AT THE TABLE:  If you like this story and recipe then accept my personal invitation to subscribe by entering your email at the bottom or top right of this page.  It's quick and painless.  You will receive an email alert and be the first to see when new stories and recipes are added.  Thanks, George.