Exciting news for all my readers: In the coming weeks, Acadiana Table has joined forces with the nonprofit Louisiana Direct Seafood to help fishermen and processors across our state during this downturn in the industry. I've found that buying seafood directly from the dock is the best way to ensure freshness, and this Boat-To-Table series featuring stories, recipes, and fisherman profiles will show you how. Plus, my wife Roxanne and daughter Lauren are joining me on-screen for a series of informational videos and interviews that will bring you from our kitchen to the dock. Please tell your friends and share our social media posts to help support our hard-working fishing families that make our food culture so unique.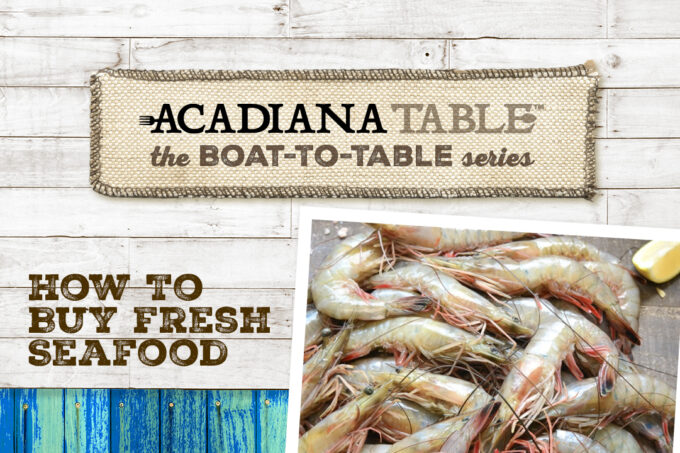 Acadiana Table Supporting the Louisiana Seafood Industry
Food blog to join with Louisiana Direct Seafood for Boat-To-Table Online Series
Lafayette, La. – Acadiana Table (acadianatable.com), the award-winning food blog by writer George Graham from Lafayette, Louisiana, has launched a Boat-To-Table series of online stories and videos focused on the Louisiana seafood industry. In partnership with Louisiana Direct Seafood, a nonprofit program of Louisiana Sea Grant and the LSU Ag Center, this four-month series will feature recipes for Gulf seafood products, video interviews with fishermen and detailed information about how to buy Louisiana seafood. The informational campaign is part of a larger promotion of Louisiana Direct Seafood by Louisiana-based marketing agency Graham Group.
"Connecting directly with fishermen is the best way to buy the freshest quality, but it's more than that," said Graham. "It's about getting to know the hard-working fishing families that are the foundation of our seafood industry, which is so important to our culture, economy and way of life."
New stories and videos will post on the website every Monday morning beginning August 17 and can be viewed online and on various social media channels throughout the fall. Stories will cover all of the coastal fishing communities of South Louisiana from the Louisiana/Mississippi line to Cameron to the west. The focus will be on fishermen, processors and wholesalers that are the backbone of the industry. Stories will cover all varieties of seafood: shrimp, finfish, crabs, oysters, wild-caught catfish, crawfish, turtle, alligator, and even frogs. And once a week, an up-close profile called Fisherman Friday will feature Louisiana fishermen and their special seafood catch. Contact information, links and product buying via the Louisiana Direct Seafood website (louisianadirectseafood.com) will be provided.
According to Thomas Hymel, Fisheries Specialist with Louisiana Sea Grant and the LSU Ag Center, "With the restaurant industry's downturn, our fishing communities are struggling to find new markets for their seafood. Our goal is to open up the supply chain to direct-buying of seafood at the source by consumers and to discover new wholesale opportunities for our processors."
The series on Acadiana Table is timed with the start of the in-shore shrimp season in August and will continue well into the fall as home cooks and wholesale buyers are sourcing seafood products. According to Graham, "Delicious recipes like Stuffed Flounder, Shrimp and Artichoke Fettuccine, Baked Whole Red Snapper, and Black Drum Menuiere with Crawfish are just a few of the dishes that are featured. But with every recipe, I will take you behind the scenes to discover the source of these Louisiana seafood products."
ABOUT GEORGE GRAHAM AND ACADIANA TABLE
George Graham is an award-winning writer, cook and photographer. He is the author of Acadiana Table: Cajun and Creole Home Cooking from the Heart of Louisiana, a 320-page collection of stories and recipes published in 2016 by Harvard Common Press. Louisiana is his home, where he documents the region's culture and culinary traditions. He writes for newspapers and magazines, and he has been a finalist on television's Food Network Challenge. In 2013 he launched the blog Acadiana Table, which has been a finalist for Best Food Blog: Regional Cuisine in Saveur magazine's 2014 Best Food Blog Awards as well as for Best Food Blog in the 2015 and 2017 IACP Digital Media Awards. His food photography has appeared in the museum exhibit Feast for the Eyes: A History of Food in Photography at the Louisiana Arts and Science Museum. His upcoming cookbook Fresh From Louisiana: The Soul of Cajun and Creole Home Cooking will debut in November 2020. He writes from Lafayette, Louisiana, where he lives with his wife and daughter.