It's football season!  Show up with one of these Cajun-spiced, game-winning party dishes and you are sure to score big points.  These recipes are perfect for small bites and easy to make with step-by-step instructions at Acadiana Table.
#10 – Crawfish Dip in a French Bread Skillet
This over-the-top presentation of spicy crawfish dip surrounded by crusty French bread rolls all baked together in a cast-iron skillet is a rock star appetizer. The piping hot rolls, buttered and sprinkled with Parmesan, are ablaze with spicy flavor when topped with the creamy crawfish dip. This dish is sure to impress. READ MORE AND GET THE RECIPE
#9 – Oyster-Stuffed Mushrooms
Stuffed mushrooms are the stuff of dreams. It's the earthiness of these mushrooms with a rich creamy, liqueur-infused spinach stuffing spiked with fresh Gulf oysters and a pungent hit of Cajun spice that will send you into a dream state.   This two-bite Super Bowl party pass-around is easy to make ahead and a cinch to bake off piping hot.  Oh yes!  READ MORE AND GET THE RECIPE
#8 – Potato Chip-Crusted Catfish Nuggets with Creole-Spiked Sriracha Mayo
This catfish is encased in an impenetrable wall of crispness. Every bite explodes with flavor, shatters with a crunch of spice, and gives way to the moist fish hidden securely inside. It is the perfect morsel–the perfect nugget.  READ MORE AND GET THE RECIPE
#7 – Boudin Bread (aka Boudin King Cake)
Crispy bacon-topped crusty bread filled with spicy boudin oozing with pepper jack and glazed with a fiery sweet pepper jelly. This mad genius of an idea started out as Boudin King Cake and is now a year-round obsession. And it's as simple as it gets — less than ten minutes to assemble.  READ MORE AND GET THE RECIPE
#6   Crawfish Baked Potato
Crawfish is that singular ingredient that defines good Cajun cooking and when baked inside a creamy, cheesy potato it's time to lock and load. This is one savory, saucy party dish.  READ MORE AND GET THE RECIPE
#5   Coconut Shrimp with Cilantro Mango Cream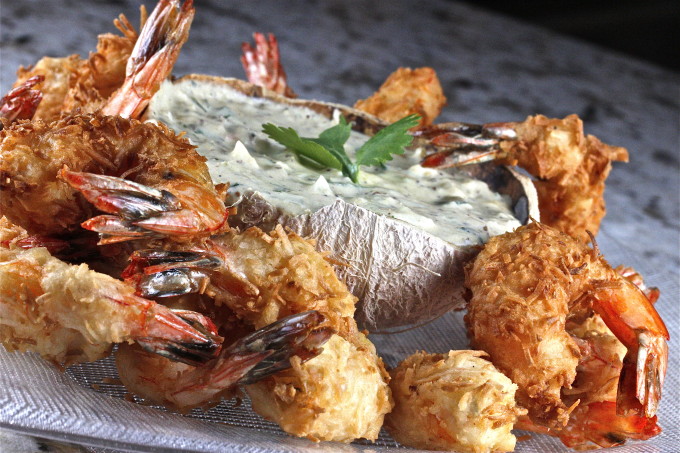 Fresh jumbo shrimp coated with coconut fried crispy golden brown is the perfect party food when dunked in a spicy, citrusy mango-infused dipping sauce. Crunchy and smooth—the perfect combination.  READ MORE AND GET THE RECIPE
#4   Hopper Poppers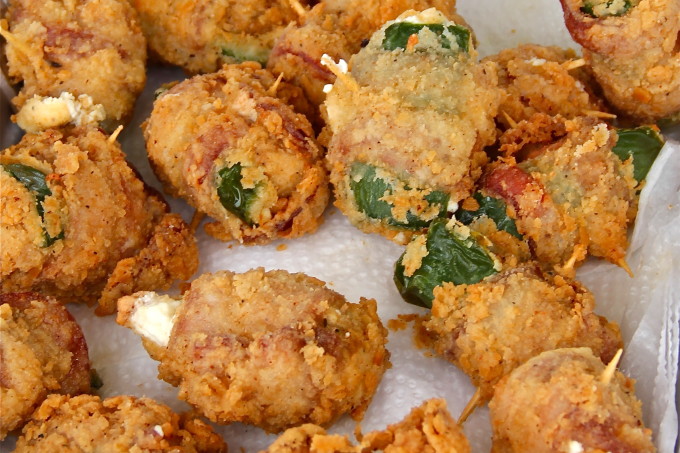 Hopper Poppers are battered and bacon-wrapped rabbit stuffed with cream cheese in a hollowed out jalapeno pepper and fried golden brown.  This party dish is a revelation as it fires on all cylinders – spicy, sweet, smooth, and crunchy.  READ MORE AND GET THE RECIPE
#3   Cajun Glazed Chicken Lollipops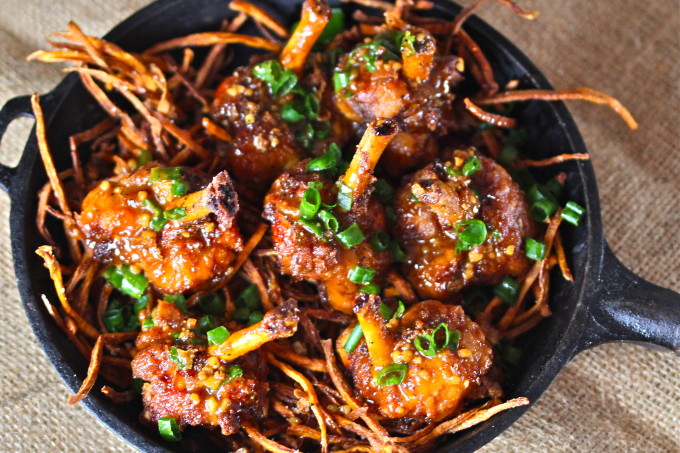 Chicken Lollipops totally redefine chicken wings and elevates them to a new level with a spicy glazing sauce. The sweet counterbalances the heat and the butter elevates the level of richness that defines the Cajun flavor of this dish.  READ MORE AND GET THE RECIPE
#2   Crabmeat-Stuffed Artichoke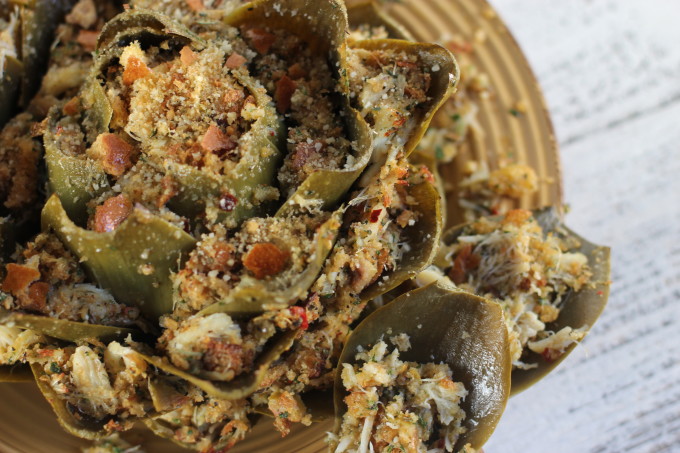 The thought process behind this recipe is straightforward: Fresh, salty Louisiana blue crab, fragrant extra virgin olive oil combined with garlic, grated Parmigiano Reggiano and herbs nestled among the leaves of the perfect artichoke – this is a no-brainer.  READ MORE AND GET THE RECIPE
#1   Spicy Creole Shrimp Dip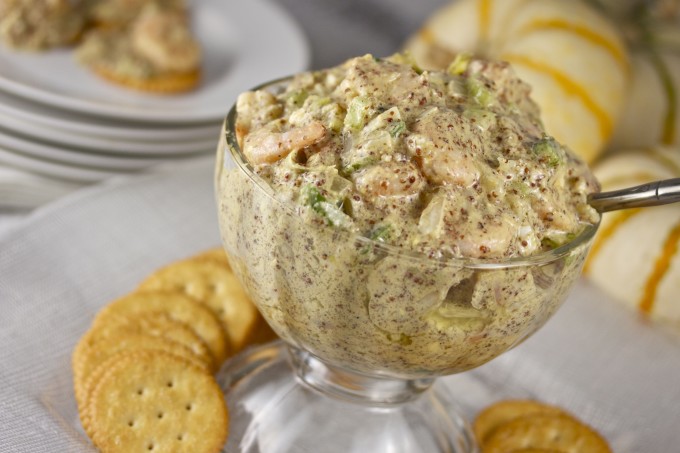 At the Graham house, you'll always find a big bowl of Spicy Creole Shrimp Dip at every Super Bowl party. The sauce in this dip is a zestier version of a spicy remoulade infused with horseradish, Creole mustard, and hot sauce.  While it is guaranteed to clear up any sinus problem you might have, I can assure you it is addictive.  READ MORE AND GET THE RECIPE
YOUR SEAT AT THE TABLE:  If you like this story and recipe then accept my personal invitation to subscribe by entering your email at the bottom or top right of this page.  It's quick and painless.  You will receive an email alert and be the first to see when new stories and recipes are added.  Thanks, George.