There is a joie de vivre in the spirit of the people of Acadiana.  It is a carefree love of life reflected in their passion for music, dance and, of course, food.  Behind every honky-tonk dancehall,  small town bakery, snowball stand or boucherie, there is a colorful character ready to spin stories of their craft — their passion.  From Mamou to Cypremort Point, Breaux Bridge to Abbeville, you are never far away from an invitation to sit at the table for tasty conversation.
In these back pages, Acadiana Table aims to serve up a side dish of talk about food and an introduction to locals and locales that are off the eatin' path.  These are the people I know or the places I go.  I urge you to visit them and buy from these artisans who are masters of their craft.
These Louisiana people and products are essential to preserving the rich French-Acadian heritage of this unique American culture, and I assure you will be equally enriched.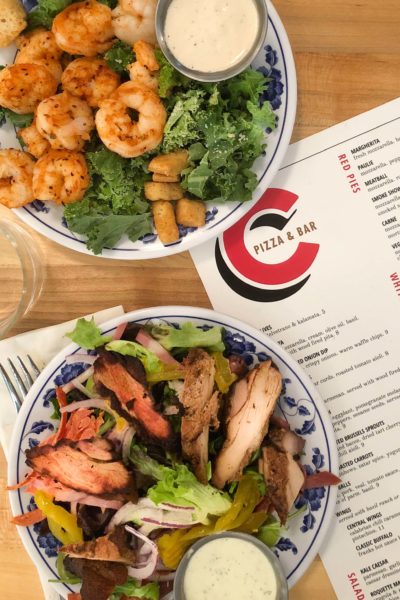 Central Pizza & Bar
With its Sixth Street/Austin vibe, Central Pizza has stormed onto the downtown Lafayette scene with an eclectic menu that's more than its namesake implies. Indulge in its wood-fired pizza menu (try the Smoke Show with Rabideaux's sausage) or opt for its creative starters with salads featuring Gulf shrimp and smoked chicken add-ons. (Tip: The must-have app is the Roasted Brussels Sprouts with Calabrian Chili Aioli.)
423 Jefferson Street
Lafayette, Louisiana 70501
337-534-0887
https://www.eatdrinkcentral.com/
Tee Jug's Shrimp Company
Straight from coastal Gulf waters, these shrimp are Louisiana's best.  These are wild-caught by sixth generation shrimpers from their boat Mister Jug, and brought to waiting customers every Saturday at the Lafayette Farmers Market at the Horse Farm.  (Tip: Look for the colossal 9/12-count, head-on shrimp for only $6 per pound and load up.)
504-427-4229
337-371-5866
https://www.facebook.com/teejugs/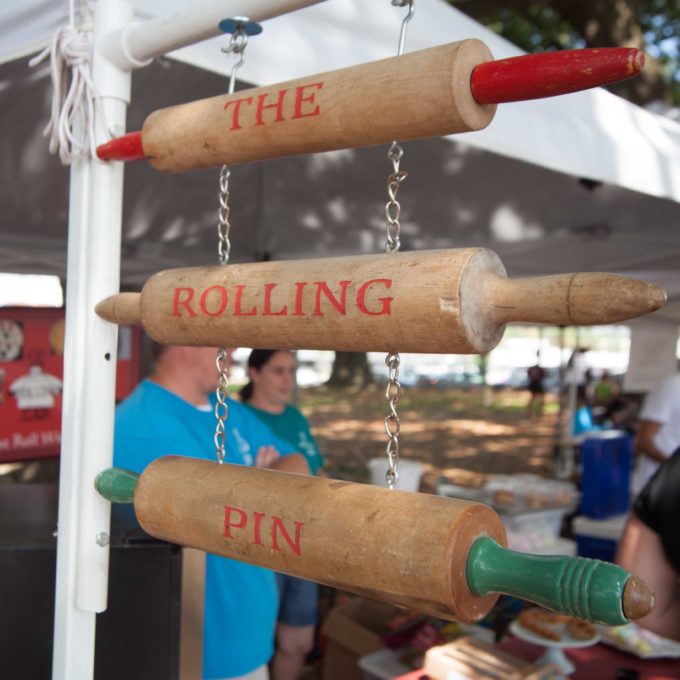 The Rolling Pin
Brad Sonnier, owner & pastry chef, got his pastry training at the Ritz Carlton before moving back to Lafayette where he worked at Poupart's Bakery for 8 years.  Now with The Rolling Pin, he's turning out an endless variety of tarts, macarons, cheesecakes, and other individual pastries.  Find them at the Farmers Market at the Horse Farm at Moncus Park in Lafayette or give them a call.
337-303-3358
125 Ethel Lee Dr
Duson, Louisiana 70529
https://www.facebook.com/TheRollingPinLLC/
T Moise Farms
Tim Melancon is a 4th generation pig farmer specializing in pasture-raised Berkshire Pork. At T Moise Farms, they believe in farm to table, fresh food that does not use nitrates or additives in any of their processed products which is unique for Louisiana. Pick up some pork at the Saturday morning Farmers Market at the Horse Farm in Lafayette's Moncus Park or give them a call.
337-381-7530
https://www.facebook.com/tmoisefarms/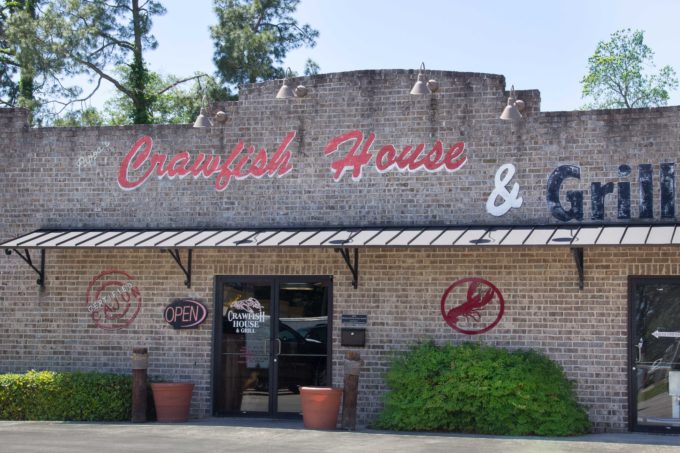 Crawfish House and Grill
Tucked away at the end of a strip shopping center, you might just drive by this popular local spot without ever knowing the variety of great Cajun dishes that await you inside.  The diverse menu has something for everyone, but its the daily house specials (lunch and dinner) that diners come for.  (Tip: In season, watch their Facebook page for the bargain-priced All-You-Can-Eat Boiled Crawfish special on weeknights.)
1214 S Union St.
Opelousas, Louisiana 70570
337-948-0049
https://www.facebook.com/Crawfish-House-and-Grill-182768835090322/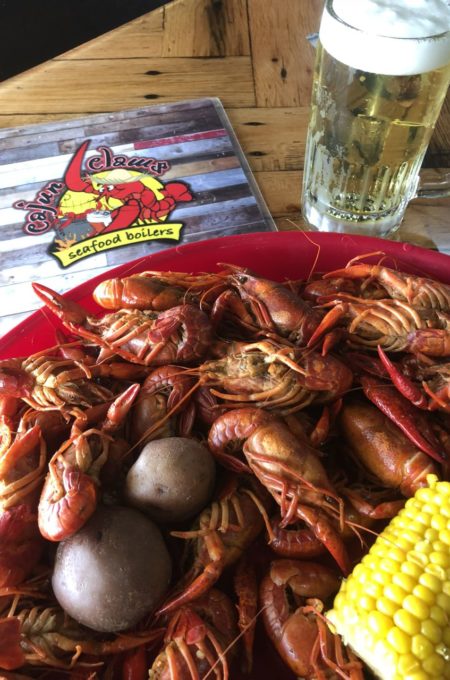 Cajun Claws Seafood Boilers
Cajun Claws has gained recognition for some of the best boiled crawfish in Acadiana. They have a loyal following that will drive the extra miles to their Duson base just off I-10 where their location on the frontage road ensures a steady stream of travelers. Their boiling operation is in full swing pumping out well-seasoned seafood from March through June, so give them a try. (Tip: Cajun Claws is one of the few boiling operations that serves up boiled crawfish for lunch.)
175 Frontage Road
Rayne, Louisiana 70578
337-393-2780
http://cajunclawsseafoodboilers.com/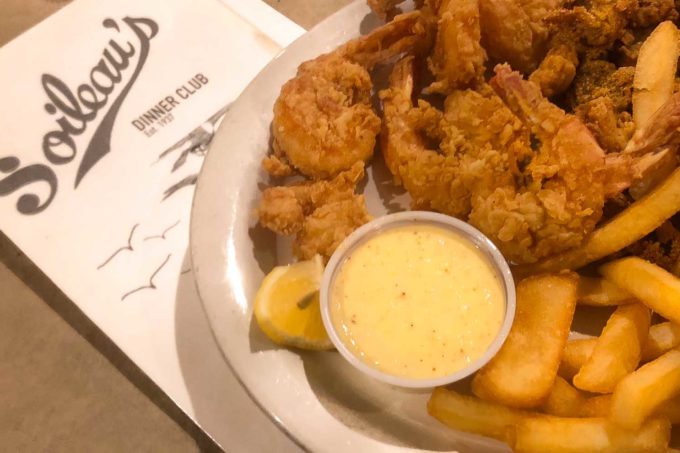 Soileau's Dinner Club
With the moniker "dinner club," I have to think this little family restaurant opened in 1937 was a classy joint serving the dining elite of St. Landry Parish. Fast forward eighty years, and it's still serving up delicious steaks and fried seafood (one of the best fried shrimp platters in all of Acadiana). With a full menu of Cajun favorites, it's the quality of the food and old-school service that keeps it going. (Tip: They only serve crawfish dishes in season, so if you time it right, get the crawfish étouffée.)
1618 N Main St
Opelousas, LA 70570
333-942-2985
http://www.soileaus.com/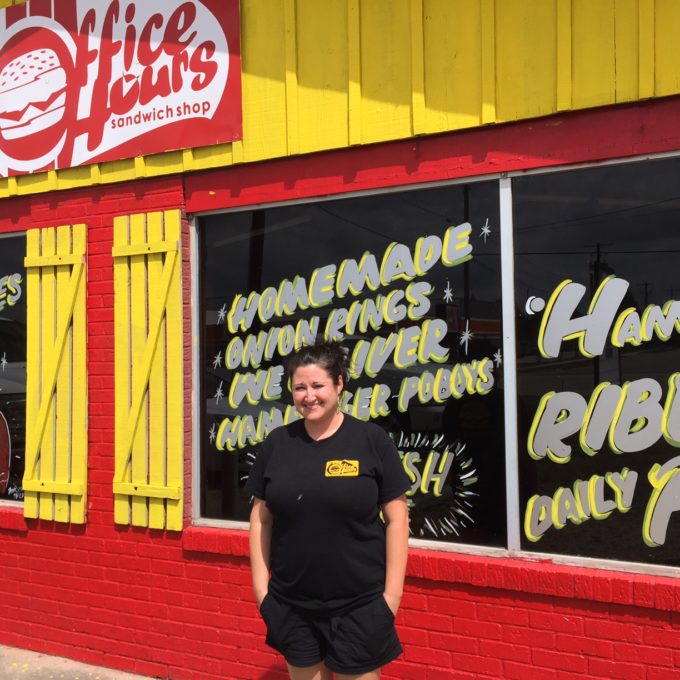 Office Hours Sandwich Shop
If the daily plate lunch (Meatball Stew on Wednesday is a favorite) weren't enough to keep you coming back to this little spot, then their line-up of burgers and sandwiches surely is.  Rene' is the hands-on owner turning out what many say are the "best burgers in town."  I had the very tasty Oilfield burger—half pound of beef topped with a huge onion ring, pepper jack, and bacon, and slathered with their addictive "house sauce" (top secret recipe).  (Tip: Go early; there are just a few tables.)
2303 W Pinhook Rd

Lafayette, Louisiana   70508
337-237-4181
https://www.officehourslafayette.com/
https://www.facebook.com/officehourslafayette/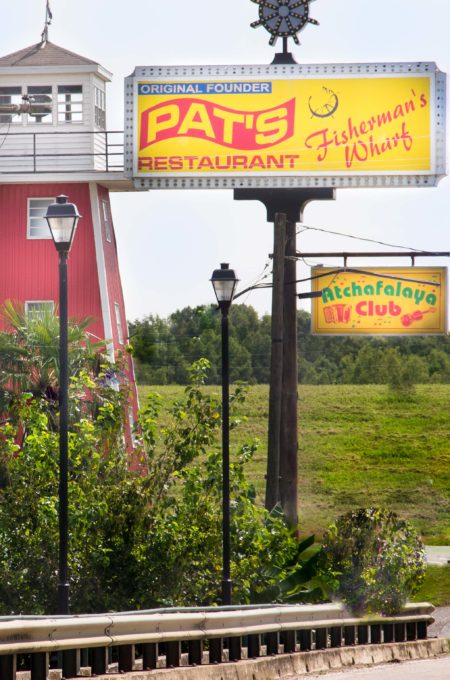 Pat's Fisherman's Wharf
Set on the levee road overlooking the Atchafalaya Basin swamp, you are assured that Pat's has access to the freshest seafood available.  Since the early 1950s, the family of founder Pat Huval has been serving up tasty Cajun food at this family-run, legendary culinary institution.  All the classics such as crawfish étouffée, fried catfish, turtle soup, and seafood gumbo are on the vast menu.  (Tip: Book a table in the Atchafalaya Room (adjacent ballroom with live music) on weekends and wear your dancing shoes.)
1008 Henderson Levee Rd.
Henderson, Louisiana 70517
337-228-7512
http://patsfishermanswharf.com/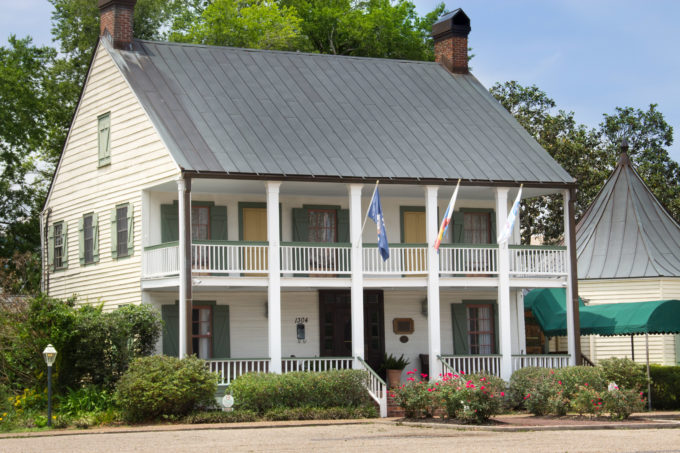 Café Vermilionville
If the walls could talk at this iconic structure, the conversation would be ongoing for over 150 years. Ken and Andrea Veron run this historic restaurant with attention to detail and respect for the legacy of this venue. The diverse menu is steeped in Cajun and Creole tradition and does justice to the white tablecloth formality of the dining experience. (Tip: Special events are a specialty of this house so plan your next party soon.)
1304 West Pinhook Road
Lafayette, Louisiana 70503
337-237-0100
https://www.facebook.com/cafevermilionville/
http://www.cafev.com/index.html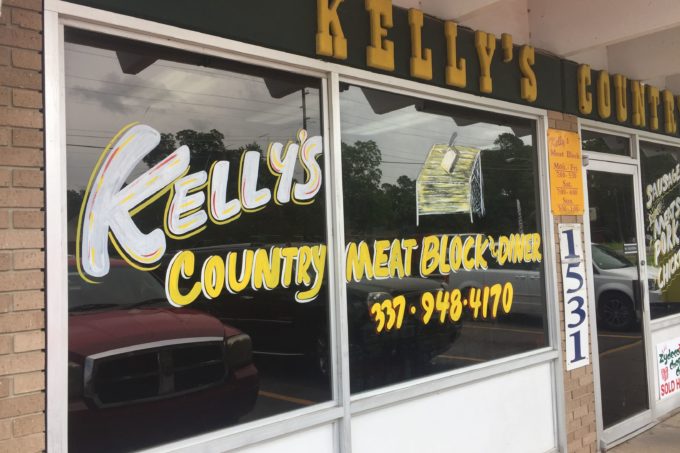 Kelly's Country Meat Block and Diner
Located in a strip center next to a Pizza Hut, you'll forget all about pizza when you get a whiff of the dark roux coming from Kelly and Elaine Cormier's kitchen.  A full menu of Cajun favorites is highlighted by the daily plate lunch special (Styrofoam service only).  And check out their butcher shop next door with stuffed meats and smoked sausage.  (Tip: If it's Friday, it's seafood specials like crawfish étouffée, shrimp stew, or fried fish.)
1531 S Union St
Opelousas, Louisiana  70570
337- 948-4170
https://www.facebook.com/Kellys-Diner-1555819811304261/?ref=page_internal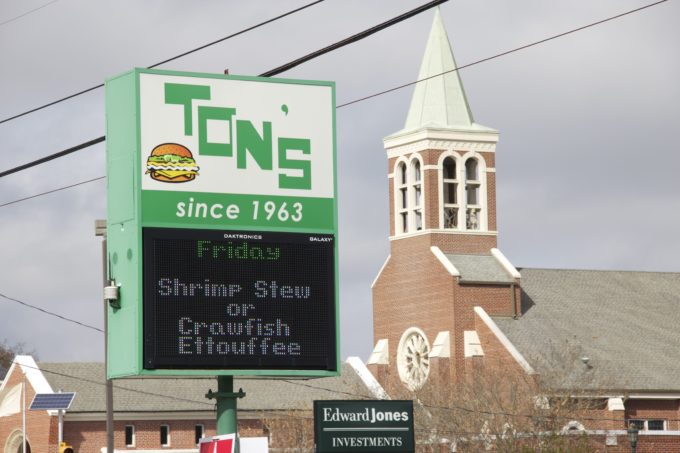 Ton's Drive In
Alton "Ton" Girouard opened this drive in back in 1963 to a hungry audience. Serving up a diverse menu of breakfast and lunch favorites, there are tons of options: The Monster Burger is legendary, and the plate lunches are the best around. (Tip: Locals know that Wednesday is Pork Chop Day (fried or grilled); I like it fried.)
101 West Main Street
Broussard, Louisiana 70518
337.837.6684
https://www.facebook.com/Tons8376684/
http://www.tonsdrivein.com/
RiverFront
Brian Rush and Jenny LeBlanc opened this eatery along the Vermilion River in 1997, and now in brand new quarters, they are cooking up a whole new venue for down-home Cajun fare.  Seafood is the star here, but the expansive menu has a diverse offering—even steaks and chops. (Tip: Try a local favorite: Seafood Enchiladas– Shrimp, crabmeat, and crawfish wrapped in a corn tortilla and baked with
a creamy enchilada sauce topped with Monterey jack.)
530 Park Avenue
Abbeville, LA 70510
337-893-3070
https://www.facebook.com/RiverfrontALouisianaGrill/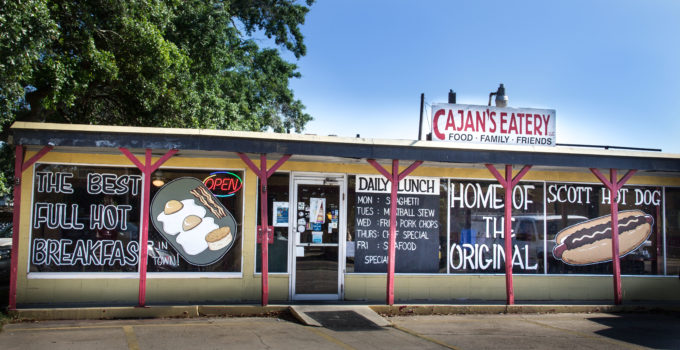 Cajan's Eatery
Cajan's, opened in 2007 by local Jan-Scott Richard (Cajan: his name is Jan, get it?), has a broad menu of plate lunches, salads, and sandwiches, but it is the burgers (13 listed on the menu) that this little joint is becoming known for.  (Tip: Try the Dixie Burger: A generously portioned, hand-pressed beef spiced up with house-made chipotle mayo with melted pepper jack, crispy bacon, and grilled onions.)
5802 Cameron St.
Scott, Louisiana 70583
337-266-8480
https://www.facebook.com/cajans/
http://www.cajanseatery.com/CajansEateryMenu.pdf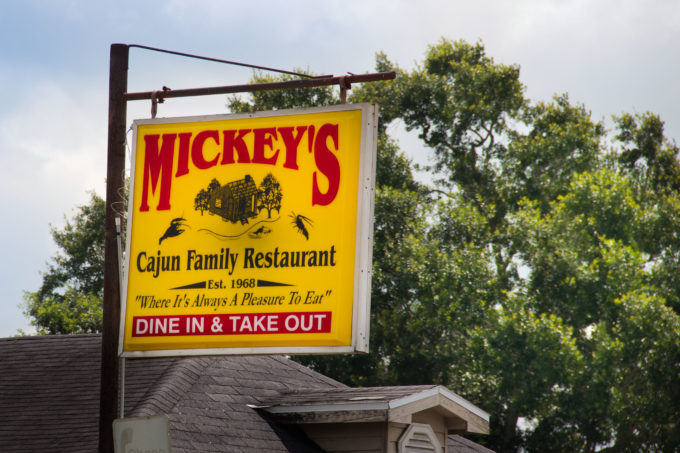 Mickey's Cajun Family Restaurant
Since 1968, Kaplan locals have been dining at Mickey's.  This little stop on the main drag through town has a menu of Cajun favorites that are as good as any.  Fried seafood and gumbo, stuffed hamburger steak, po'boys, and burgers (the Cajun Burger is tops) are all good.  (Tip: Get the fried catfish po'boy and a side of crispy onion rings; you can thank me later.)
706 E 1st Street
Kaplan, Louisiana 70548
337-643-8523
https://www.facebook.com/Mickeys-drive-inn-470721279632575/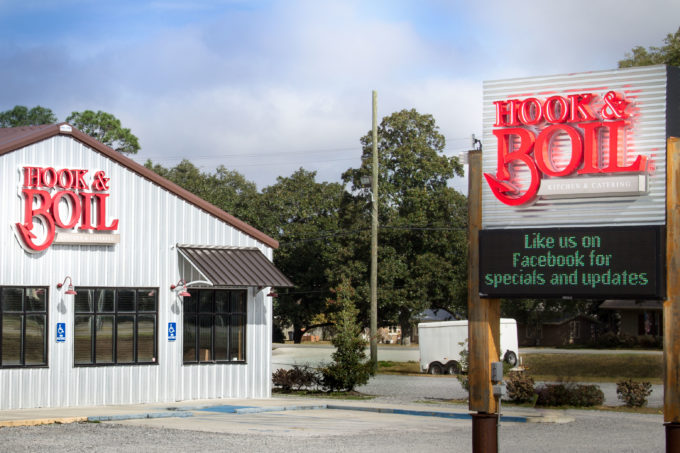 Hook & Boil
If a tray of hot boiled seafood and an ice-cold Parish brew weren't reason enough to head to Hook and Boil, then be sure to check out Chef Mark Alleman's full menu of unique twists on Cajun country dishes like Crawfish Enchiladas and Shrimp Tacos.  (Tip: Start your evening off with a platter of Boudin Eggrolls oozing with pepper jack cheese and glazed with pepper jelly.)
209 N Morgan Ave.
Broussard, Louisiana 70518
337-330-8443
 HookAndBoil@gmail.com
http://hookandboil.com/main/index.php?page=home
https://www.facebook.com/HookandBoil/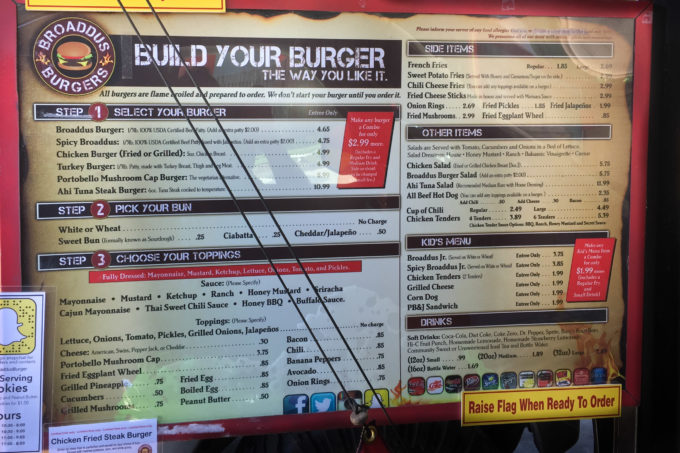 Broaddus Burgers
As the name implies, this joint has a burger emphasis good enough to make our Top Burgers list. Check out the build-your-own menu and get creative with your burger.  (Tip: They have other sandwiches; try the fried chicken burger and add melted pepper jack.)
610 E Kaliste Saloom Rd,
Lafayette, Louisiana 70508
https://www.facebook.com/BroaddusBurgers/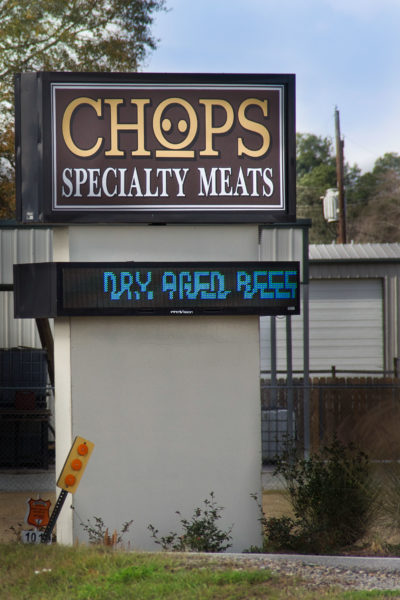 Chops Specialty Meats
There's lots going on in Jeff Delahoussaye's little market, but make no mistake: this is a meat market.  From simple round steak to marbled Kobe beef ribeyes, Chops has a wide variety of cuts.  There's sausage, stuffed chicken, and pork cuts, too, but the dry-aged and prime selection of steaks is why folks beat a path to Chops.  (Tip: Check out Chops' deli counter for lots of local favorites (A-rated boudin and cracklin'), as well as sandwiches and specials like the daily pork roast and two sides.)
1019 Albertson Parkway
Broussard, Louisiana 70518
337-837-6446
https://www.facebook.com/chopsbroussard/
http://chopspecialtymeats.com/
Rocket Drive Inn
If you want a tasty old-fashioned hamburger with a side dish of nostalgia, then head over to Jennings and drive up to The Rocket. This is an old-school, order-at-the-window burger joint that's been cranking them out since the 60s. (Tip: Relax: Sit at one of the outdoor picnic benches and sip on your chocolate shake while you wait; it's a trip back in time!)
1118 N State St.
Jennings, Louisiana 70546
337- 824-2120
https://www.facebook.com/therocketdriveinn/
Magnolia Moon Organic Herbal Iced Teas
Traditional southern iced tea takes a leisurely trip down a creative path thanks to Lauren Earley and her partner Alexis Badon.  These ladies are brewing up some unexpected new tastes such as their Blue Flower & Rosemary with Honey, Lemongrass Ginger, and Southern Sweet Rose tea.  And its all organic.  Find them at the Lafayette Farmers and Artisans Market at the Horse Farm.  (Tip: Try my favorite: Fresh Gardenia tea garnished with a freshly picked gardenia blossom to tickle your nose and your fancy.)
337-296-1623
magnoliamoonherbals@gmail.com
https://www.facebook.com/magnoliamooncollective/?hc_ref=PAGES_TIMELINE&fref=nf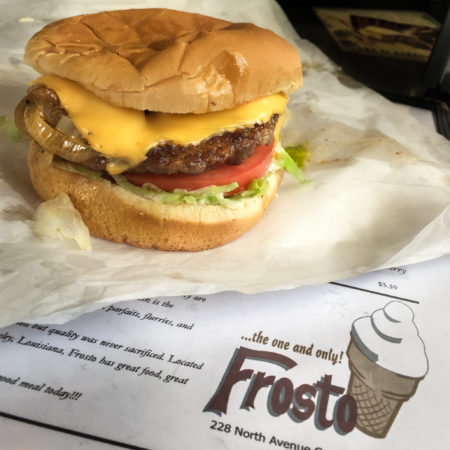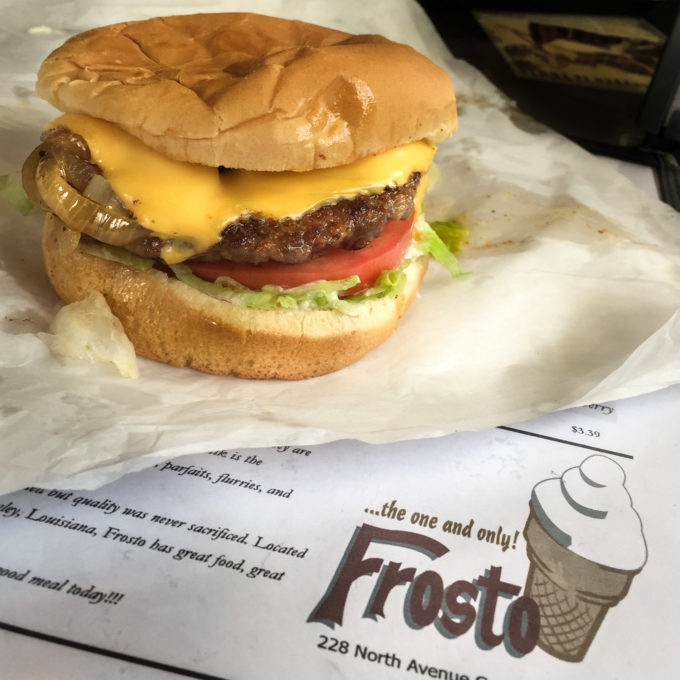 Frosto
As one online reviewer put it, "Frosto is a fat kid's dream and a health nut's nightmare," and I couldn't have said it better. And if it's shakes, fries, burgers, and a 1950s jukebox vibe you're looking for, then Frosto will rock your world. (Tip: Try the Cajun Burger with cheese: American cheese oozing over a Cajun-seasoned, scratch-made beef patty with griddled onions for just $3.59–cheese added).
228 N Avenue G
Crowley, Louisiana 70526
337-783-0917
https://www.facebook.com/Frosto7830917/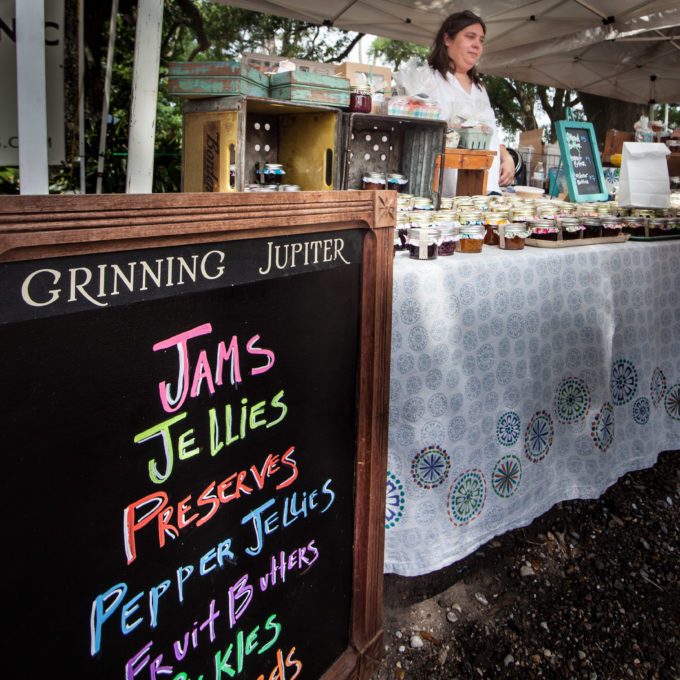 Grinning Jupiter Jammery
Jam master Ashley Savoy Andermann is a familiar face at the Lafayette Farmers and Artisans Market at the Horse Farm (you can also buy her products on Etsy).  Her flavor-filled jams are the best thing to hit a Mason jar, and the creativity is endless.  Engage in conversation, and you'll learn a thing or two about pepper jelly, fruit butter, mustards, and the indigenous Louisiana ingredients that go into her inspirations.  (Tip: Give the pineapple pepper jelly a try; I brush it on to glaze grilled red snapper for a tropical punch of citrus.)
https://www.facebook.com/grinningjupiter/
David and Lori's Kitchen
There's no David; no Lori, either. But Kellie and Courtney Courville (the new owners) are serving up the same delicious menu to hungry diners in this corner of Evangeline Parish. For over 30 years now, this serious kitchen housed in a nondescript metal building—about as plain and simple as it gets—turns out delicious seafood baskets, po'boys, fried chicken, sandwiches, and salads. (Tip: Try their battered and deep-fried (yes, fried) Kajun Deluxe burger with two Cajun-seasoned beef patties pressed together to enclose a slice of American cheese.)
1400 Poinciana Ave.
Mamou, Louisiana 70554
468-5925
https://www.facebook.com/pages/David-Loris-Kitchen/1406580376281070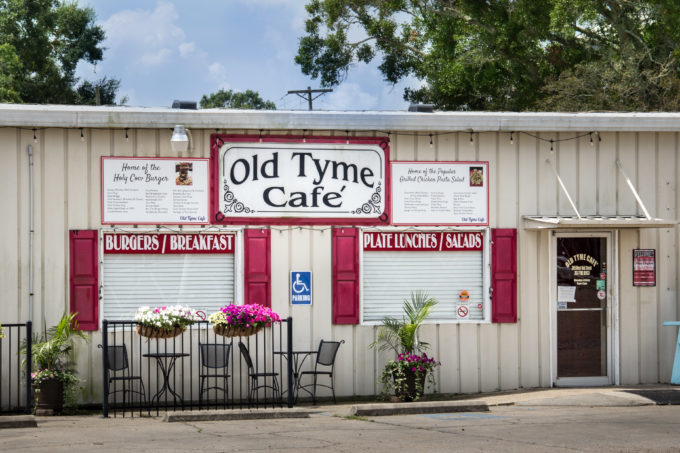 Old Tyme Café
If it's breakfast or lunch you're hungry for, Laura Guillot Benoit has you covered.  Her Old Tyme Café (not to be confused with Olde Tyme Grocery in Lafayette) has a menu of Cajun classics and short order favorites.  To find it, just look for the multi-story rice mills just off Hwy 90, and you'll find this little joint in the shadows.  In fact, the first item on the breakfast menu is simply called Eggs 'N Rice, rice covered with grilled onions and scrambled eggs.  There's a full menu of burgers, po'boys, salads, and dinner entrees here.  (Tip: The plate lunch specials are legendary; line up early on Friday for the popular seafood dishes, and order the Crawfish Étouffée over Rice topped with Fried Fish if you see it.)
305 West Oak Street
Crowley, Louisiana  70526
337-783-8963
https://www.facebook.com/OldTymeCafe/?ref=page_internal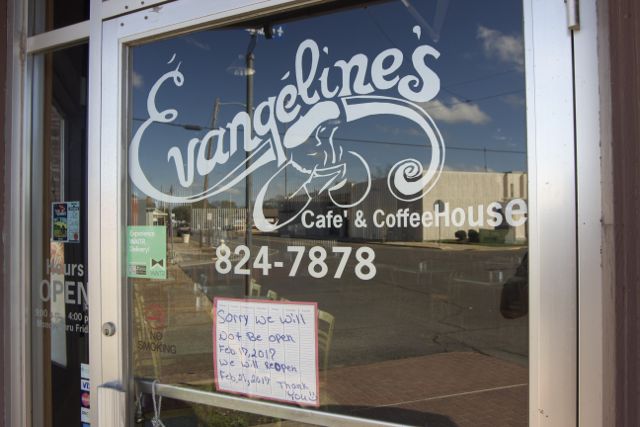 Evangeline Café and Coffeehouse
Although the soups, salads, and sandwiches are top notch, there are two big reasons to visit the Francois family's little diner in downtown Jennings.  The plate lunch specials are a showcase of meat-and-three, down-home, Cajun eatin'.  And the house made cakes, pies, pastries, and desserts are intoxicating.  (Tip: Check out their Facebook page for the daily specials, and if the Banana Supreme Cake is on the list, point your car (and your stomach) in the direction of downtown Jennings, Louisiana.)
446 N Main St.
Jennings, Louisiana 70546
337-824-7878
https://www.facebook.com/Evangeline-Cafe-240423726090097
Tony Chachere's Creole Foods
What South Louisiana food listing would be complete without Tony Chachere's?  My friend Chef Jude Tauzin heads up the corporate research and development kitchen there and is leading the way in extending the line of products far beyond the original Creole seasoning.  Based in Opelousas, you can catch Jude on board the Chach-Wagon cruising from supermarkets to festivals to pop-up tastings.  (Tip: If you see the RV, ask Jude for a taste of his spicy Cajun jambalaya chock full of smoked pork sausage.)
Plant headquarters: 5604 I49 N Service Road
Opelousas, Louisiana 70570
creole@tonychachere.com
https://www.tonychachere.com/index.aspx
https://www.facebook.com/tonychacheres
Mandez's Seafood Bar and Grill
For a compact restaurant, Mandez's grill, owned by partners Ryan Manfre and Jeff Hernandez (Man-dez, get it?), has an ambitious menu of creatively executed Cajun favorites.  With the owners' Bonefish Grill background, the menu is chock full of inspired seafood dishes like the Redfish Mandez topped with spinach Rockefeller sauce.  But there's plenty more: Chicken Cracklin', Duck Wontons, and the Screaming Pig Panini with grilled onions and pepper jack, and more frozen daiquiri choices than you can shake a straw at.  (Tip: If all you want is a burger, try the 1855 Burger, a thick, well-seasoned, and juicy beef burger.)
110 Doucet Rd.
Lafayette, Louisiana  70503
337-769-3917
https://www.facebook.com/mandezs/
Sunset Farmers Market
Food advocate Pam Gautreau (Water Oak Farms) and a small band of locals decided it's high time Sunset had a market.  From 8 am until noon on Saturdays, it's all about the food (no crafts) at this small but growing farmers market right on the downtown drag showcasing fresh produce & artisanal foods (look for Annabelle, the cupcake girl). (Tip: Be sure to buy a bunch of sweet doughs from the Pie Chix, and help support the local Catholic school.)
832 Napoleon Avenue
Sunset, Louisiana 70584
337-662-3276
https://www.facebook.com/sunriseinsunset/
Buck & Johnny's
This joint—part Italian, part Cajun—has been packing them in since the Raymond family opened it a few years back converting the old Domingues Motors car dealership into a honky-tonk venue.  Custom-made pizzas share the menu with Cajun favorites (gumbo, étouffée, and po'boys to name a few).  And every Saturday morning you'll be sharing the dance floor with dozens of locals gathered for the Zydeco breakfast.  (Tip: Get there early (before 8 am) Saturday morning and line-up to be in the crowd that makes it in to hear some of the best live Zydeco in Acadiana.)
100 Berard St.
Breaux Bridge, Louisiana 70517
337-442-6630
http://buckandjohnnys.com/
https://www.facebook.com/buckandjohnnys/?fref=ts
Delcambre Seafood and Farmers Market, and Delcambre Direct
Delcambre, Louisiana is a small seaport on the Iberia and Vermilion Parish line, which harvests an abundance of seafood.  It is the home of the annual Shrimp Festival and a central buying point for fresh Gulf seafood.  Check out the monthly farmers market on the first Saturday of the month. Also, go to  www.delcambredirectseafood.com, and discover the many fishermen who sell their catch daily at the docks.  (Tip: Look for my friend Thomas Hymel with LSU AgCenter and try some of their Vermilion Bay Sweet white shrimp and black drum.)
Bayou Carlin Cove
605 S. Railroad St. (Hwy 330)
Delcambre, Louisiana 70528
800-884-6120 Ext 6
http://www.delcambremarket.org/home
https://www.facebook.com/DelcambreMarket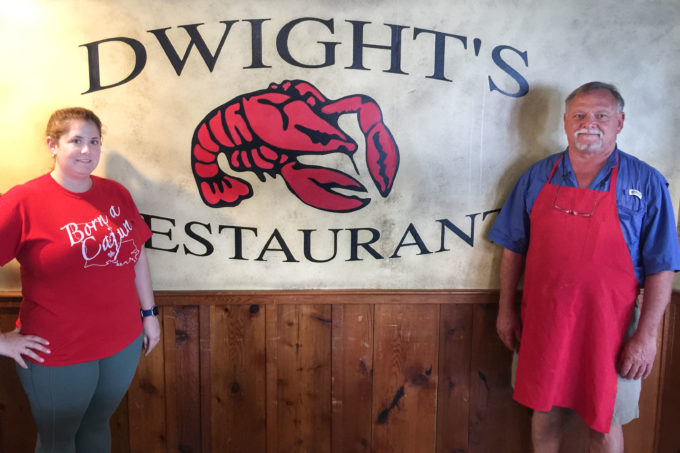 Dwight's Restaurant
Dwight Breaux and his daughter Brandy Mitchell have been serving Acadiana since 1988.  Many come for the daily lunch buffet full of Cajun classics, many more come for the boiled crawfish when in season, but everybody lines up at 11 am Sunday for Dwight's famous barbecue.  Cooked on outdoor pits, folks begin arriving early for pork, steak, ribs, sausage, brisket, and chicken—some of the best in Acadiana.  (Tip: Have your own Cajun party and let Dwight do the catering.)
4800 Johnston St.
Lafayette, Louisiana 70503
337-984-3706
http://dwightsrestaurant.biz/
https://www.facebook.com/dwightsrestaurant/?ref=page_internal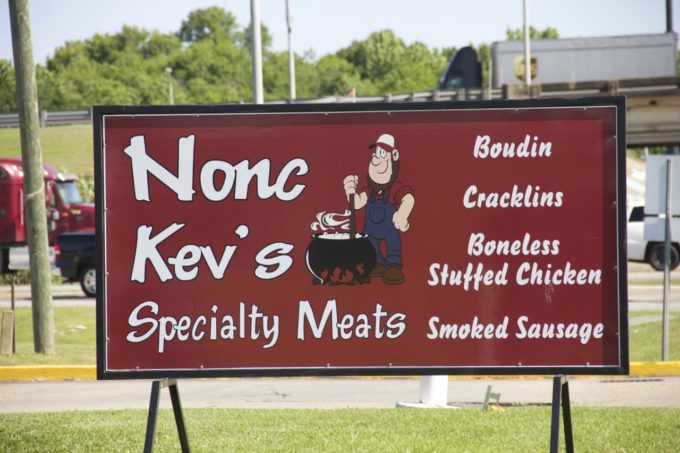 Nonc Kev's Specialty Meats
Fill up your tank, fill up your stomach, and fill up your ice chest: This is gas station gourmet at its best.  A quality boudin link (balanced with meat and rice with just enough spice) is essential along I-10, and the specialty meat case full of deer sausage, syrup sausage, crawfish-stuffed whole chickens, and pork chops will keep you coming back.  (Tip: When traveling along the interstate, give them a call and pick up your order at the drive-thru window.)
1421 The Blvd
Rayne, Louisiana 70578
337-393-2750
https://www.facebook.com/nonckevs/
http://nonckevs.com/
Menard's Cajun Grocery
The creaky wooden floors in this rural Cajun grocery is a dead giveaway that this place is an old-school market serving up some traditional Cajun food.  The daily plate lunch (Meatball Stew on the day I was there) competes for attention with the heated case full of road food.  Fried Pork Chops, Fried Seafood Balls (crawfish or shrimp), cracklin's, and pork skins.  (Pick up a crawfish pistolette for the road; it's a fresh baked French roll wrapped around crawfish étouffée.)
7499 Cameron St. (US 90)
Duson, Louisiana 70529
337-873-3467
menardscajungrocery@gmail.com
https://www.facebook.com/menardscajungrocery/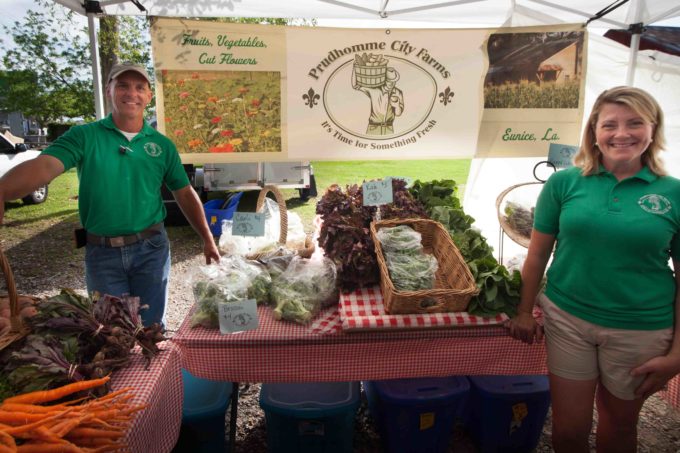 Prudhomme City Farms
Ted and Molly Daigle plant their vegetables in the rich soil of St. Landry Parish.  Located between Church Point and Eunice, this family travels every weekend to the Lafayette Farmers and Artisans Market at the Horse Farm to bring fresh produce, cut flowers, and canned goods to a hungry audience.  Sign up for their CSA program and be guaranteed to get a steady supply of farm-to-table goodness.  (Tip: Look for their Rosa Bianca Italian eggplant—perfect for stuffing.)
1066 Brigman Hwy.
Eunice, Louisiana 70535
337-501-2786
http://www.prudhommecityfarms.com/
https://www.facebook.com/prudhommecityfarms/
Rachael's Café
One of the best-kept secrets in south Lafayette is this little joint off Kaliste Saloom Road (next to Grand Theatre).  Tucked into a quiet strip center, Rachael Hebert's little (50-seats inside) eatery is turning out some of the tastiest Cajun classics around.  The changing daily plate lunch is supplemented by a comprehensive menu of sandwiches, sides (the coconut sweet potatoes are not to be missed), salads, and entrees, and the "Fit Meals" section allows you to tailor your plate with a variety of choices.  (Tip: Order my favorite combo: The Fried Oyster sandwich ($6) on a jalapeño bun featuring seven (count 'em, seven) jumbo fried oysters, and get a cup ($5) of Rachael's Signature gumbo to start.)
104-B Republic Avenue
Lafayette, Louisiana 70508
337-504-4625
http://www.facebook.com/pages/Rachaels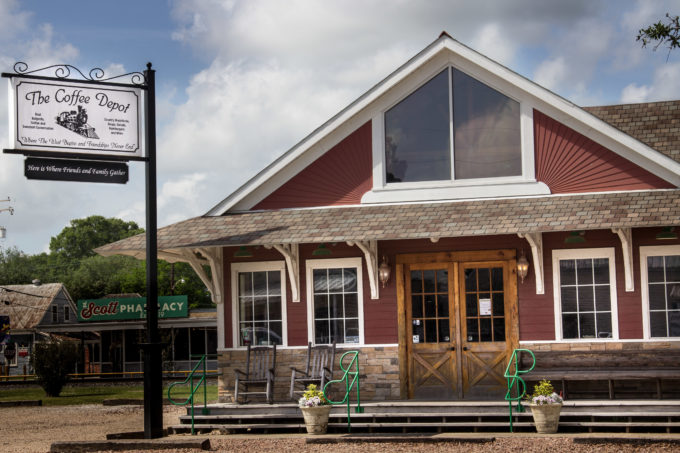 The Coffee Depot
There's a small-town something about this little café that just makes me feel at home.  Friendly folks with a smile on their face are just the start.  Jeff and Sarah Laughlin, and daughter Gabriel renovated the 130-year-old mercantile warehouse as a local gathering place, and they've succeeded with a menu of Cajun favorites.  Breakfast beignets and biscuits give way to a full array of sandwiches, salads, and gumbo.  (Tip: Try the daily blue plate: Country Fried Steak with White Gravy is on Tuesday.)
902 St Mary Street
Scott, Louisiana 70583
337-704-2280
http://www.thecoffeedepot.biz/
https://www.facebook.com/coffee.depot.1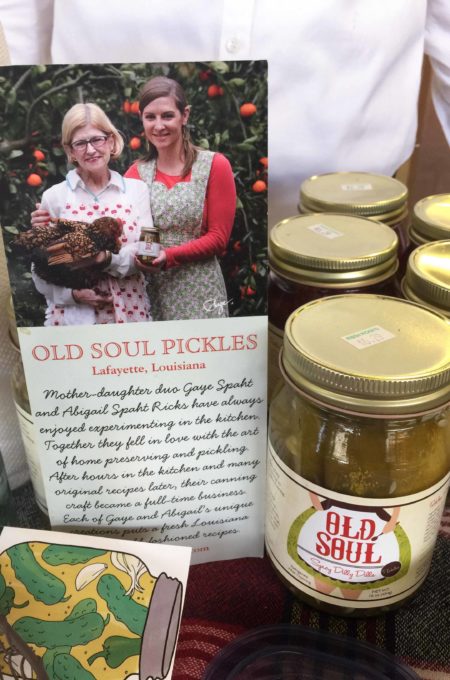 Old Soul Pickles
Mother/daughter duo of Gaye Spaht and Abigail Spaht Ricks are in a pickle most every day as they bring their artisan pickles, preserves, and sauces to a growing audience.  Since 1986, these two Lafayette ladies have been canning their way to success, and their products can be found at Fresh Pickin's, Whole Foods, Champagne's, Joey's, and several other Acadiana retailers.  (Tip: Try a jar of Pickle Jubilee with a variety (green beans, okra, asparagus) of fresh pickled vegetables; it's the perfect way to garnish your next Bloody Mary.)
225-241-7149
abigail@oldsoulpickles.com
http://oldsoulpickles.com/
https://www.facebook.com/OldSoulPickles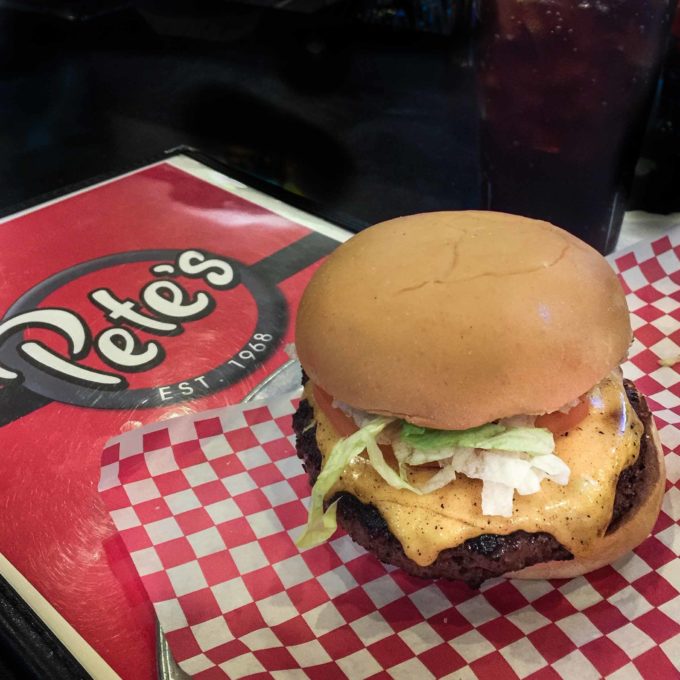 Pete's
Pete's is Back! And it's as if it never went away.  Thanks to the Krampe operation (SOCIAL and Charley G's), this iconic mainstay of the "burger and beer" crowd is now cranking out a full menu of Cajun favorites.  Gumbo, shrimp remoulade, blackened redfish, and Zydeco shrimp wrap are just a few of the new items.  But it's The Big Pete burger (with cheese, of course) that keeps the place packed.  (Tip: Have a Pete's Party: Reserve the private room for your group with plenty of screens (and beer) to watch the big game.)
3903 Johnston St
Lafayette, Louisiana 70503
337-534-8846
http://www.peteslafayette.com/
https://www.facebook.com/peteslafayetteLA/?ref=page_internal
Candyland Cottage and Ice Cream Shoppe
This nostalgic candy shop caters to children of all ages, and if you've got a sweet tooth, this is the place for you.  With two location along I-10, Candyland hand dips their Blue Bell ice cream soda fountain-style, and if you're a jelly bean fanatic, they have over 50 flavors.  (Tip: Buy a bag of fudge for the road.)
Scott location:
109 Benoit Patin Rd.
Scott, Louisiana 70583
337-264-6945
Rayne location:
1319 The Blvd.
Rayne, LA 70578
337-334-7210
http://candylandcottage.com/
https://www.facebook.com/Candyland-Cottage-Ice-cream-Shoppe-1627329540860900/?ref=page_internal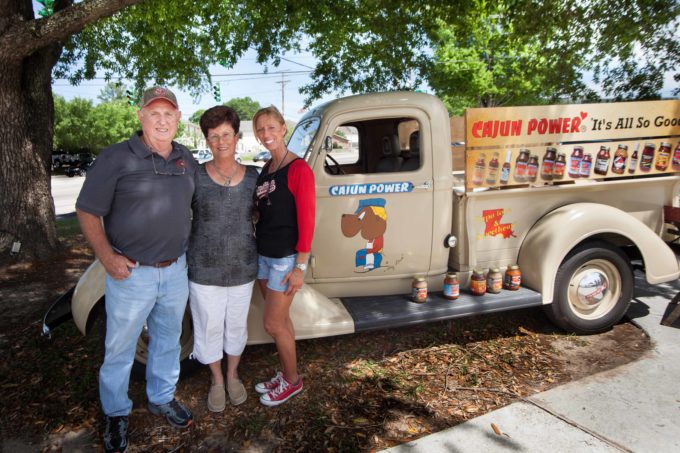 Cajun Power Sauce
When Caro Thomas first came up with the idea of bottling his Garlic Sauce, it was the proverbial "lightning in a bottle." That one product powered up a family-run Cajun food empire that spans dozens upon dozens of delicious Cajun products. Look for the brand in most every retail store in Louisiana, and you can buy the products online at the company website. (Tip: Not sure how I could live without the original Garlic Sauce; it's very versatile with a mild level of heat.)
10218 LA Hwy. 82
Abbeville, Louisiana 70510
337-893-3856
Toll Free: 1-877-876-8748
http://www.cajunpowersauce.com/
https://www.facebook.com/cajunpowersauce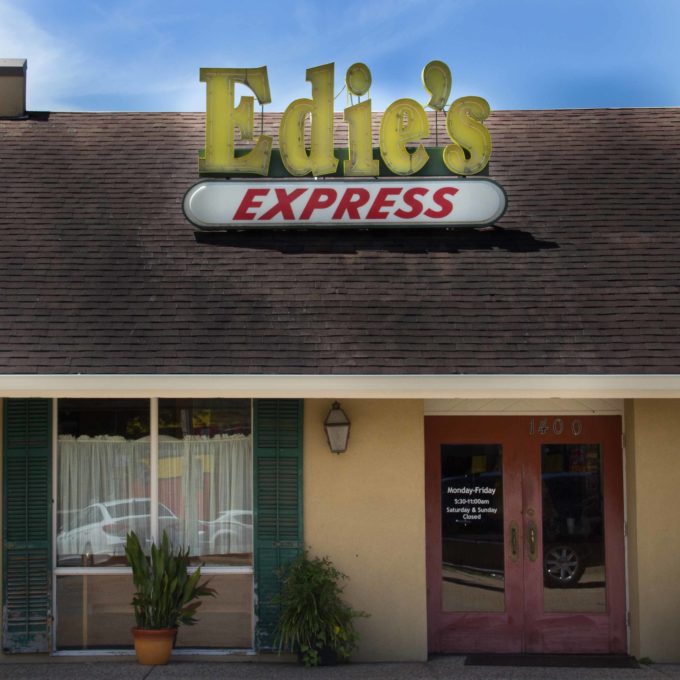 Edie's Express
Back in 1990, when owner Stanley Leece first uttered the words "Love Ya Like A Biscuit," little did he know that it would become the mantra for breakfast-goers for decades to come. The menu here is chock full of the usual breakfast items, but it's the lighter-than-air, fluffy and buttery Southern biscuits that keep 'em coming back. (Tip: Call ahead and get a dozen to take home or to the office; your friends and family will "love ya like a biscuit.")
258 Bendel Rd.
Lafayette, Louisiana 70503
337-235-4239
https://www.facebook.com/pages/Edies-Express/177368332318311
Renaissance Market and Brasserie
Mary Landry Hopkins and Jim Hopkins opened this eclectic French outpost of antiques, apparel, and art in 1992.  And with the addition of their brasserie next door, it is now a dining hotspot for lunch in Lafayette's Oil Center.  Salads and sandwiches are supplemented by daily specials (the quiche is a favorite), and when the first cold snap hits, be sure to call and see if their Chicken and Sausage Gumbo (one of the best restaurant gumbos in town) is on the menu.  (Tip: Browse through the shop after lunch, and you should find my Acadiana Table cookbook on sale right beside Rox's Roux.)
902 Harding St
Lafayette, Louisiana 70503
337-234-1116
http://renaissance-market.com/
https://www.facebook.com/renaissancemarketandbrasserie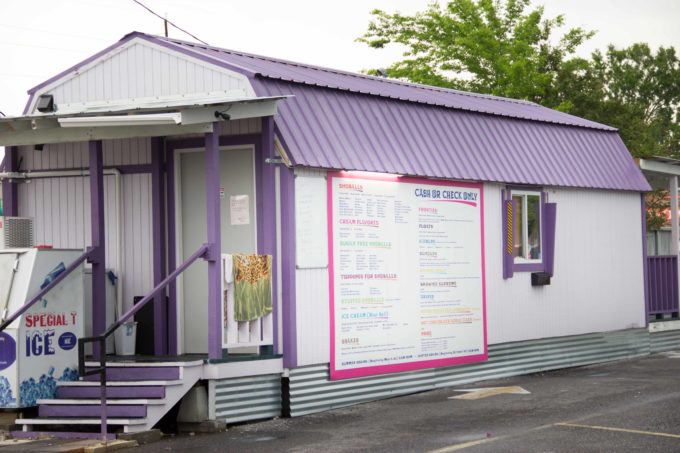 Cajun Sno
Every Louisiana town has a stand or two, and this is my favorite in all of Acadiana.  Snowballs (not snow cones) are a way of life here, and one bite of Cajun Sno's shaved ice with an endless variety of flavors and toppings (large for only $2.50) and you'll be quick to join the tradition. Tucked away in a parking lot next to Don's Seafood Hut, it's a little hard to see the little purple shed, so be sure to drive into the lot.  And if there's a long line, I assure you it's worth the wait.  (Tip: Try my favorite: Sugar-free Pina Colada flavor with a drizzle of sweetened condensed milk (hey, I can't cut all the calories).)
4303 Johnston St
Lafayette, Louisiana 70503
337-981-3342
https://www.facebook.com/pages/Cajun-Sno/116071071753817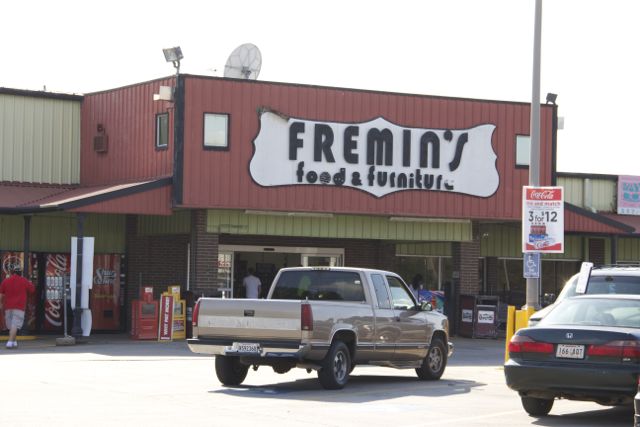 Fremin's Food and Furniture
Yep, you read it right! Since 1941, this is the place you go in New Iberia when you're looking for coffee or a coffee table. And it works: Enter the door to the left and buy your groceries; to the right, you've got a great selection of furniture. (Tip: Lots of traditional Cajun meat choices here–chicken feet, pork neck bone, and even pig's stomach for making ponce. Go online for a list of their daily plate lunch specials. And check out the extensive outdoor cooking equipment section.)
603 W Admiral Doyle Dr,
New Iberia, Louisiana 70560
337-3656-657;
800-526-2771
http://www.fremins.com/home
https://www.facebook.com/FreminsFoodNewIberiaLA/?ref=page_internal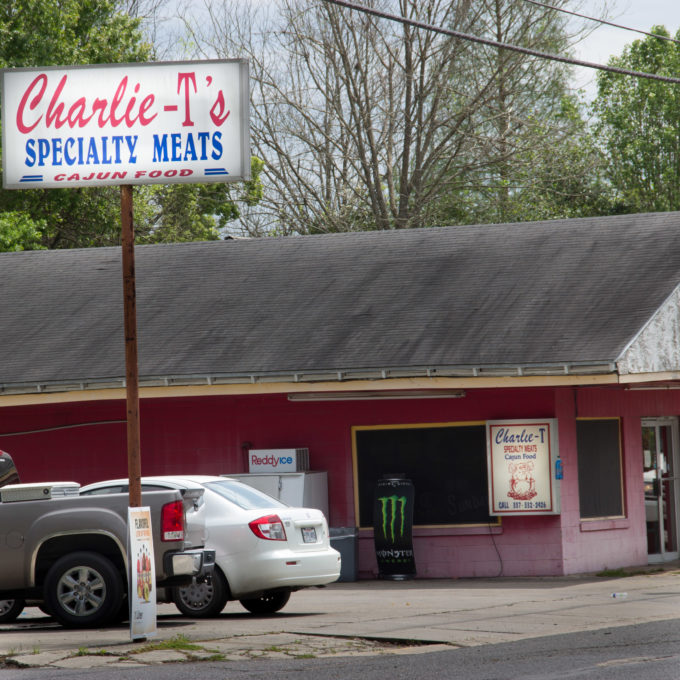 Charlie T's Specialty Meats
With a crockpot full of steaming hot boudin, a heat lamp glowing over freshly fried cracklin's, and the distinctive whine of a band-saw slicing through fresh pork neck bones, what's not to like about this little meatery smack dab in the middle of Breaux Bridge? (Tip: Head over for the Sunday BBQ lunch (pork steak, ribs, chicken, brisket, sausage, rice dressing, and sides), but arrive early (starts at 9:30 am) because "when they're out, they're out.")
530 Berard Street
Breaux Bridge, Louisiana 70517
337-332-2426
https://www.facebook.com/charlietsapecialtymeats/
Romero's Grocery and Propane
Don't let the simple name fool you; there are lots of good bites in here.  Bryan and Kim Thibodeaux have cornered the market on down-home Cajun plate lunches, hamburgers, chili dogs, boiled crawfish, cracklin's, and boudin at this corner of Moss Street and Gloria Switch Road in Upper Lafayette.  And if you see smoke coming from the Camp Bar-B-Cue shed out back, pull over.  (Tip: Check out their Facebook page for daily lunch specials, and be sure to buy a few boudin balls for the drive home.)
4600 Moss St (at Gloria Switch Road)
Lafayette, Louisiana 70507
337-886-6945
https://www.facebook.com/Romeros-Grocery-and-Propane-179988748699342/?ref=page_internal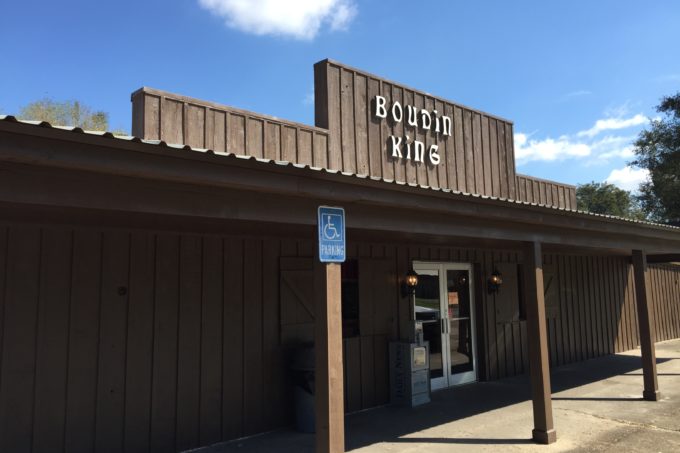 Boudin King
My wife grew up just down the street from this Jennings, Louisiana café, and over the years, it has taken on icon status for boudin aficionados across the region.  Since his passing, King Ellis Cormier's legend lives on link after link sold in this simple neighborhood joint. But there's more to like here; try their killer gumbos (chicken and sausage gumbo and shrimp gumbo), deep-fried catfish, and crispy fried chicken gizzards.  (Tip: Request a side of fried okra to munch on before your order is ready.  And get a couple of pounds of boudin (I like the spicy) to take home with you.)
906 W Division St
Jennings, Louisiana 70546
337-824-6593
https://www.facebook.com/pages/Boudin-King-Restaurant/113413862024861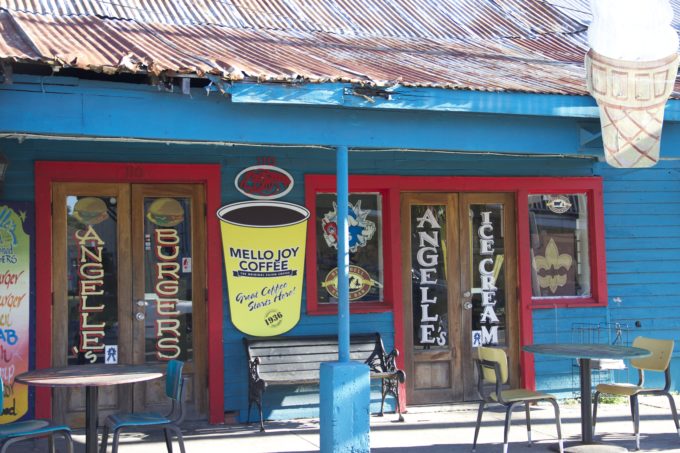 Angelle's Old Fashion Hamburgers
Order up!  I'll take a Lil Jimmy with O-rings, hold the mayo.  There are lots of options in downtown Breaux Bridge, but Angelle's, with its cheeseburger and extra crispy onion rings, has become a hot spot for a down home burger.  (Tip: Spice it up with Angelle's alligator burger, and cool down with a hand-dipped ice cream cone.)
110 E Bridge St
Breaux Bridge, Louisiana 70517
337-442-6046
https://www.facebook.com/Angelles-Old-Fashion-Hamburgers-118321381518811/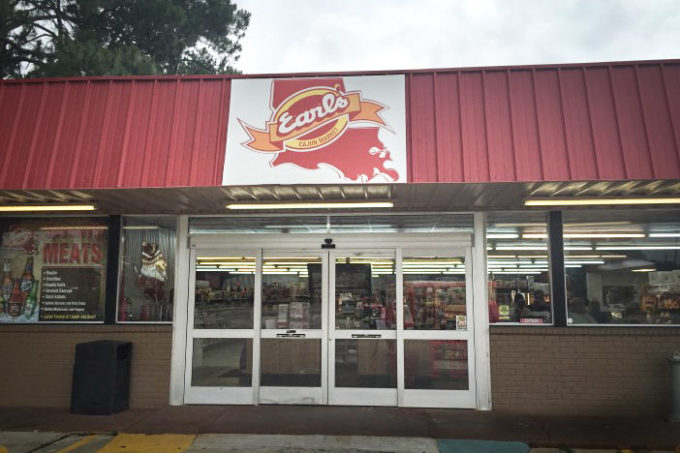 Earl's Cajun Market
This is my neighborhood grocery and meat market, and you'll find me here at least three times a week.  Since 1979, Earl's has been one of Lafayette's top markets turning out Cajun specialties of all kinds—stuffed pork chops, boudin, cracklin's, hog's head cheese, and many others.  (Tip: Go for the daily plate lunch specialties, and the Sunday BBQ plate lunch.)
510 Verot School Rd
Lafayette, Louisiana 70508
337-237-5501
http://www.earlscajunmarket.com/
https://www.facebook.com/EarlsCajunMarket/?ref=page_internal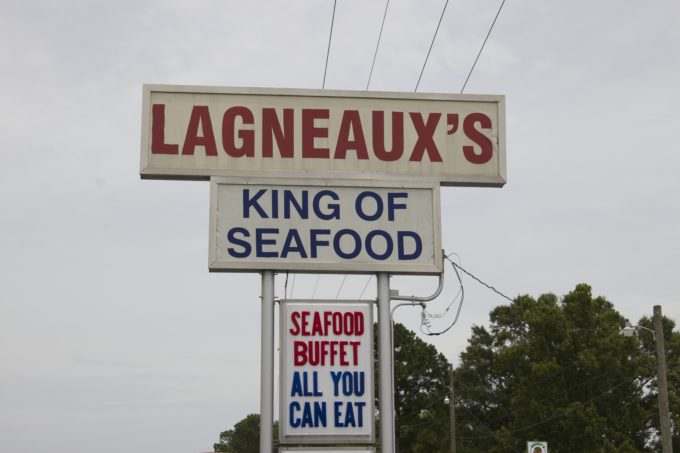 Lagneaux's
For over 40 years, Junior Lagneaux (LON-yo), the self-described "King of Seafood", has rolled out the red carpet to locals and tourists alike.  Past its prime, this casual eatery still offers stick-to-the-ribs plate lunches and a full menu along with a tasty seafood buffet that packs 'em in.  (Tip: Be sure to check out the meat market next door, and if they have their smoked deer sausage, load up.)
445 Ridge Rd
Lafayette, Louisiana 70506
337-984-1415
http://lagneauxsseafood.com/
https://www.facebook.com/lagneauxskingofseafood/
Taylormade Eats
If Taylor Stokes' beaming smile doesn't brighten your day, then her line-up of dehydrated kale chips surely will.  A recent college grad, she is pursuing her passion of spreading the gospel of organic, healthy eating.  Her chips are now sold at Drug Emporium, and at Whole Foods Markets statewide, and you can pick up a bag at the Saturday morning Lafayette Farmers and Artisans Market at the Horse Farm. (Tip: Sample the variety of  flavors at the farmers market; I love the Cheddar cheese kale chips for a crunch and flavor explosion.)
337-852-5484
misstaylorstokes@gmail.com
https://www.facebook.com/Taylormade-EATS-158375534318630/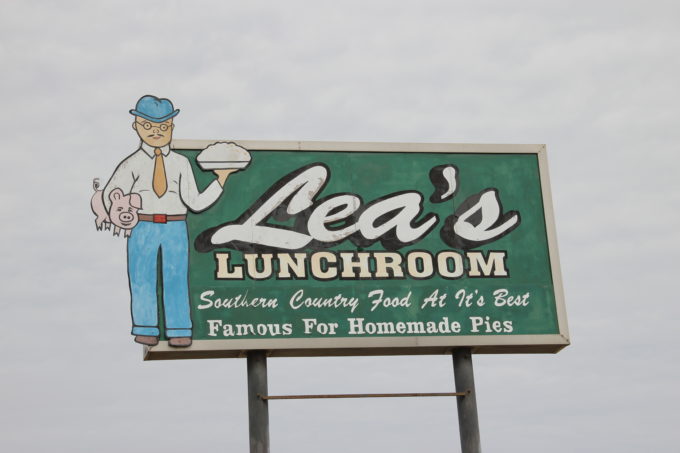 Lea's Lunchroom
Located just outside the northern reaches of Acadiana, Lea's Lunchroom deserves mention here.  There are few restaurants in the region that deserve the term "iconic."  This is one of them.  In the days before I-49 sliced through the middle of Louisiana, diners would line up out the door for a slice of Lea Johnson's famous pies.  Times have changed, but I'm happy to say that 89-year-old Lea's Lunchroom hasn't. This is a meat-and-three chalkboard diner with limited (but tasty) options for breakfast and lunch only. (Tip: Forget the plate lunches; get the famous ham sandwich, a slice of coconut pie (lots of meringue) or any seasonal fruit pie.  You can't go wrong.)
1810 Hwy 71
Lecompte, Louisiana 71346
318-776-5178
http://www.leaslunchroom.com/lecompte/A_Louisiana_Tradition_Since_1928.html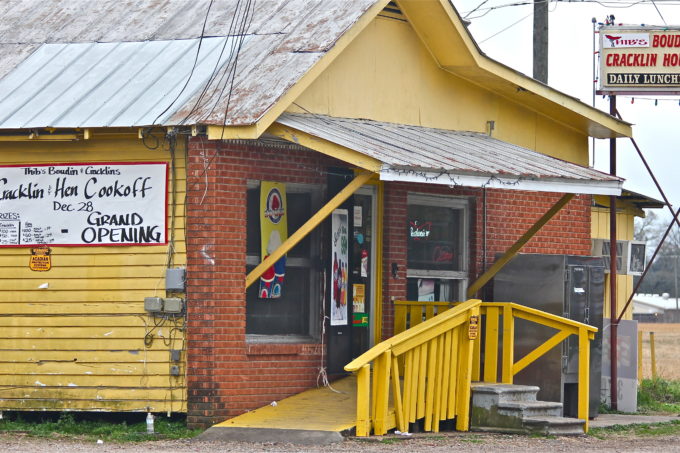 Thib's Boudin and Cracklin House
When traveling through Opelousas, stop for a link of boudin and a bag of cracklin's at Thib's.  You'll be surprised at the daily Creole plate lunches, and the array of goods you'll find in this little neighborhood store.  (Tip: If the BBQ Turkey Wings are on the day's special, you're in luck.)
429 S Bullard St
Opelousas, Louisiana 70570
337-948-1951
https://www.facebook.com/ThibsBoudinCracklin/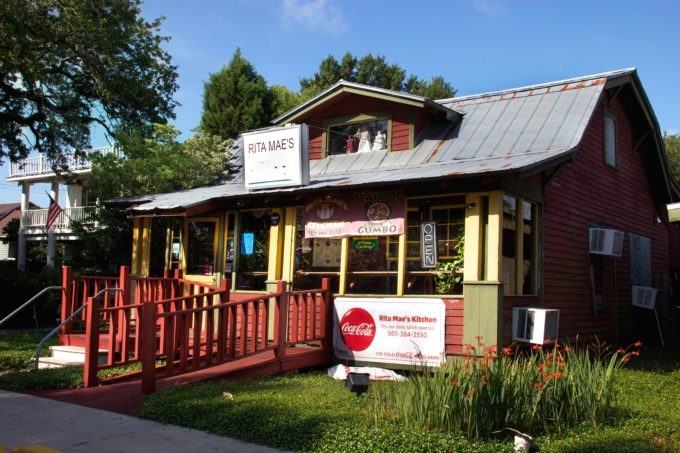 Rita Mae's Kitchen
This is Southern soul food as it would be cooked in a South Louisiana kitchen—Rita Mae's Kitchen to be exact.  For over 20 years, Rita Noel has been turning out all the lunchtime favorites like fried chicken, seafood gumbo, shrimp po'boys, and a decadent sweet potato pie.  (Tip: Try the plate lunch special and if it's white beans and rice, get a double portion.)
711 Federal Ave
Morgan City, Louisiana 70380
985-384-3550
https://www.facebook.com/RitaMaesKitchen/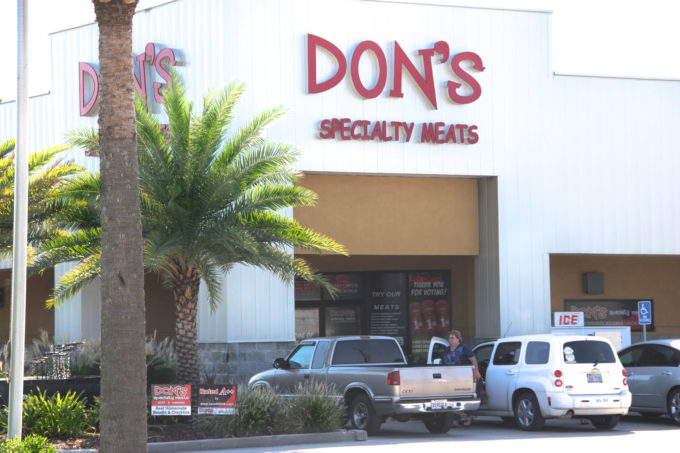 Don's Specialty Meats
This place is one reason Scott, Louisiana was named The Boudin Capital of the World, and Don's boudin has been winning culinary awards ever since.  It's just a stone's throw off I-10, and be sure to bring an ice chest when you visit this shrine to Cajun meats.  Load up on sausage, stuffed pork chops, Cajun cracklin', and of course, boudin.  (Tip: Come for the Sunday barbecue dinner starting at 10 am.)
730 I-10 So. Frontage Rd
Scott, Louisiana 70583
337-234-2528
http://donsspecialtymeats.com/
https://www.facebook.com/donsspecialtymeats/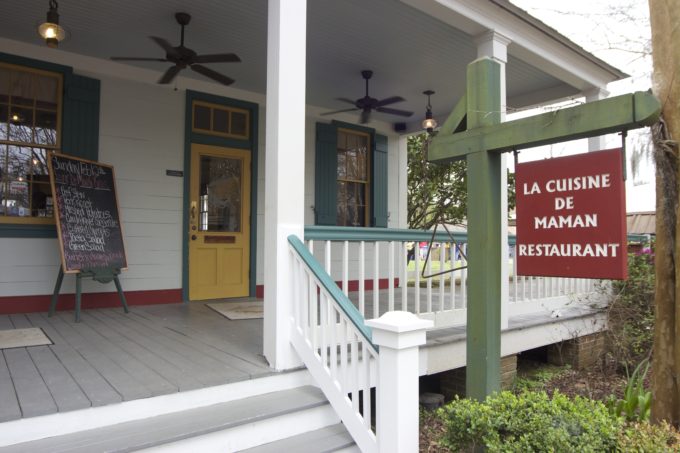 La Cuisine de Maman
Housed in a mid-1800s Cajun cottage in the living history village of Vermilionville, this café features a traditional Cajun and Creole menu. The daily plate lunch or buffet special on weekends features the down-home cooking you'd find on most South Louisiana family tables.  (Tip: Try the chicken and sausage gumbo, and walk off your lunch with a cultural tour of Vermilionville.)
300 Fisher Rd
Lafayette, Louisiana 70508
337-205-9899
http://www.vermilionville.org/la-cuisine-de-maman/
https://www.facebook.com/vermilionvillerestaurant/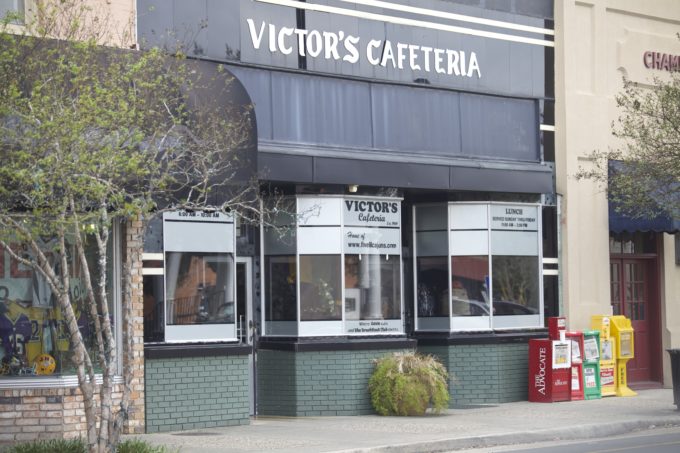 Victor's Cafeteria
Tourists flock here because this is author James Lee Burke's fictional detective Dave Robicheaux's favorite diner.  New Iberia locals could care less; they go for the down home comfort food they grew up eating.  For breakfast and lunch, seven-days-a-week, the Creole cooks at Victor's are serving up plate lunches and breakfast fare that town folks crave.  The atmosphere is bare bones but real; the food is simple but soul-cleansing.  (Tip: Have breakfast at Victor's, and tour the Shadows on the Teche historical home just down the street.)
109 West Main Street
New Iberia, Louisiana 70560
337-369-9924
https://www.facebook.com/VicsCafeteria/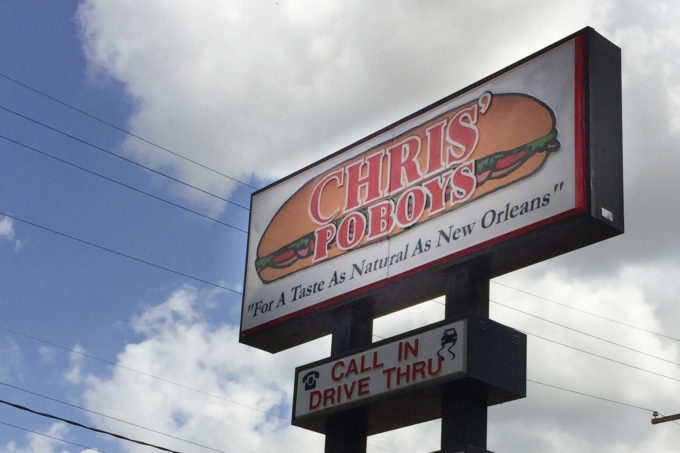 Chris' Poboys
For over 30 years, Richard Rivet's real-deal po'boy shop in Lafayette (three locations) has been serving up great sandwiches and a whole lot more.  Many think this little eatery has the best chicken and sausage gumbo in town, and while debatable, I can attest that it is a righteous bowl.  (Tip: I like the fried catfish po'boy with crispy fried fish on a soft French loaf.)
1941 Moss St
Lafayette, Louisiana 70501
337-237-1095
1930 W Pinhook Rd
Lafayette, Louisiana 70508
337-234-6333
3755 Ambassador Caffery Pkwy
Lafayette, Louisiana 70503
337-981-1818
http://www.chrispoboys.com/index.php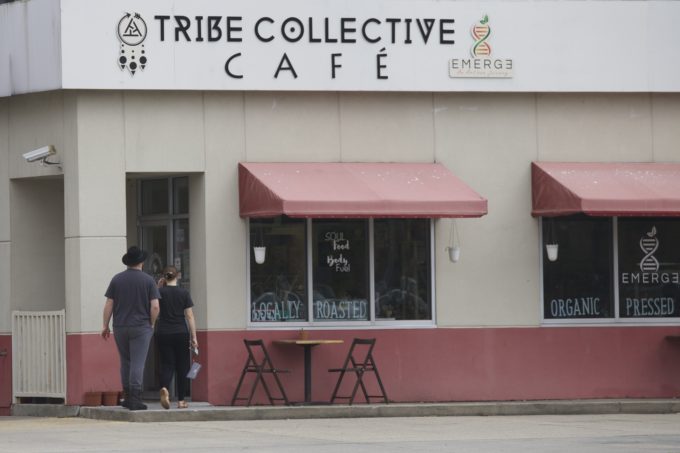 Tribe Collective Café
What used to house a donut shop, is now home to a self-described sacred space for local chefs and artisans to showcase their products.  You'll find:  Mortar & Pestle's decadent gluten and allergen free pastries, Emerge fresh, organic juices and smoothies, and Reve Coffee Bar, a delicious local brew.  (Tip: Get on their mailing list for live music, pop-up dinners, and other cool events.)
1011 E. University Ave
Lafayette, Louisiana 70503
337-534-0173
https://www.facebook.com/Tribe-Collective-400118006854919/?ref=page_internal
Bon Creole Lunch Counter
No trip to "The Berry" (as locals call New Iberia) is complete without a stop at Bon Creole. Housed in a stark, windowless concrete block building that I would call nondescript if not for the colorful painted mural, Randy Montegut has created a shrine to Cajun food. Order at the counter from a large menu including an exceptional chicken and sausage gumbo and daily plate lunches, but it's the overstuffed fried seafood po'boys you come for here. (Tip: Get a half-size (6-inch) fried crawfish po'boy piled high with what appears to be almost a pound of crispy tails for just $6.99. What a deal!)
1409 St. Peter Street
New Iberia, LA  70560
337-367-6181
http://bon-creole.com/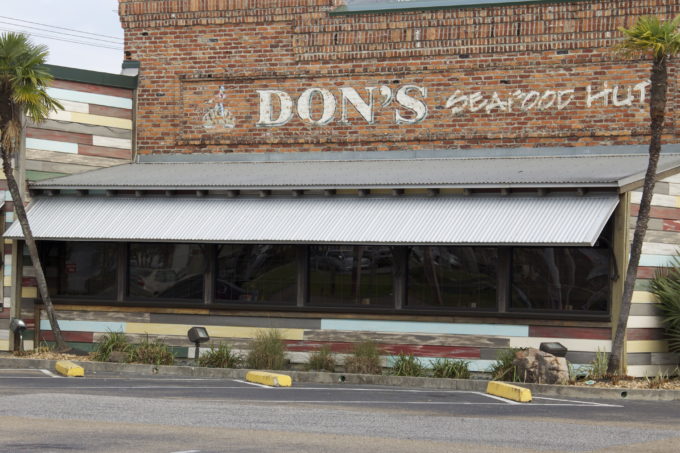 Don's Seafood Hut
You can't go wrong in this Cajun seafood joint located smack dab in the middle of Lafayette. Part of the legendary Landry family of great restaurants, this casual dinner house turns out traditional seafood that's as good as it gets. (Tip: Get a table at the bar and watch them chargrill fresh-shucked oysters in their Jacked Up signature bacon, jalapeno, and pepper jack cheese preparation.)
4309 Johnston Street
Lafayette, Louisiana 70503
337-981-1141
http://donsseafoodonline.com/dons-seafood-menus-locations/lafayette-seafood-restaurant/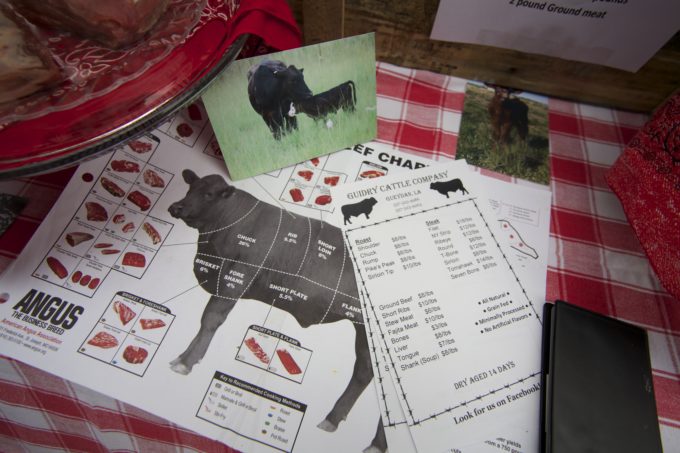 Guidry Cattle Company
Bradley and Aimee Guidry and their daughter Tayler are cattle ranchers from Gueydan in the prairie region of Southwest Louisiana. They bring their all-natural, grain fed beef to market every Saturday morning at the Lafayette Farmers and Artisans Market at the Horse Farm. Load up on all the familiar cuts of beef and be assured you are buying quality Louisiana beef from a family farm. (Tip: Try the dry-aged, bone-in ribeyes that are conveniently vacuum packaged.)
10627 LA Hwy 7211
Gueydan, Louisiana 70542
(337) 523-9986
https://www.facebook.com/Guidry-Cattle-1847444908813435/?ref=page_internal
Acadian Slice
Sweet, savory, or just plain delicious, there are lots of words to describe the Acadian Slice hand pies that Korey Champagne is turning out every Saturday morning at the Lafayette Farmers and Artisans Market at the Horse Farm. Check out their in-season strawberry pies, andouille and egg breakfast pies, and a boudin version, too. (Tip: You are in for a treat if their CINCO DE PIE-O! is on the chalkboard menu.)
Call or email for custom orders:
985-859-6577
acadianslice@gmail.com
https://www.facebook.com/acadianslice/
Richard's Seafood Patio
Since 1957, Calvin Richard's old-school boiling spot has been pumping out some of the tastiest boiled crawfish, shrimp, and crabs in Acadiana. There's more to bite into here with a full menu of fried and grilled seafood, po'boys, and a seafood buffet year-round. (Tip: Go to their Facebook page and check out the nightly Mon-Thurs specials.)
1516 S. Henry Street
Abbeville, Louisiana 70510
337-893-1693
https://www.facebook.com/Richards-Seafood-Patio-203085219715211/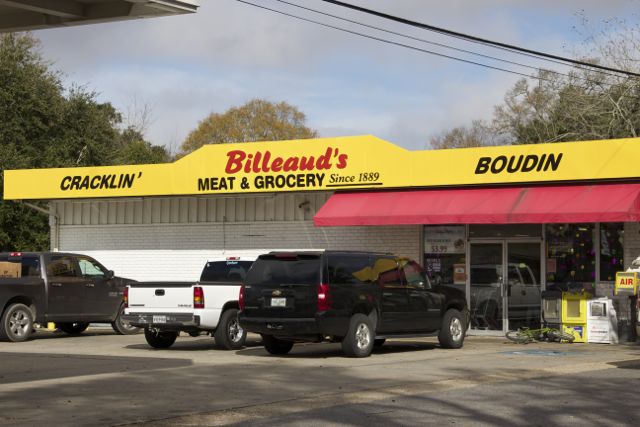 Billeaud's Meat and Grocery
My friend Bob Carriker (aka Dr. Boudin) downed his first of thousands of links in this store, and he still proclaims it A+ rated boudin with the comment, "A classic link of boudin bordering on the exquisite." But there's even more in Billy Billeaud's little convenience store: garlic-stuffed turkey wings, pork neckbone, seasoned rabbit, calf brisket, and hog's head cheese to name a few Cajun delicacies. (Tip: Go for the daily plate lunch (meatball stew on Thursday), and bring home a sack of cracklin's.)
111 E. Main Street
Broussard, Louisiana 70518
337-837-6825
https://www.facebook.com/Billeauds-Meat-Grocery-141431622564284/?hc_ref=SEARCH&fref=nf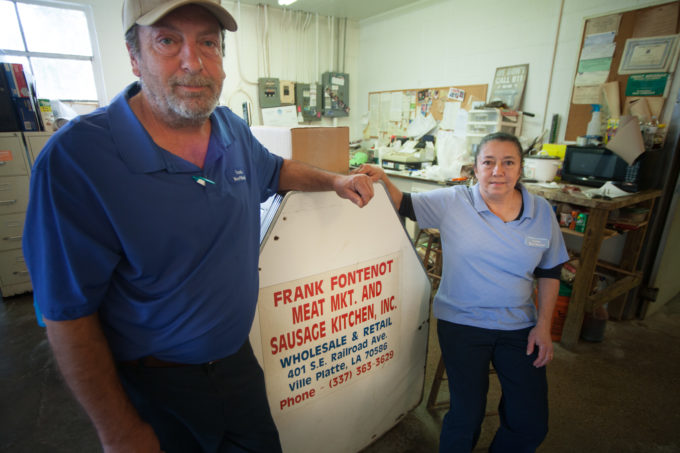 Frank Fontenot Meat Market
The late Frank Fontenot started smoking sausage in 1946 from a makeshift smokehouse in the small community of Prairie Ronde in St. Landry Parish. Today, grandson Jimmy Fontenot and his wife Carylon run the operation in Ville Platte and continue to bring the Frank Fontenot name to customers. As a regional wholesaler to chains like Rouse's, Piggly Wiggly, Super One Foods, and others, they are bringing smokehouse favorites like andouille, tasso, pork sausages, and even turkey necks to a large audience hungry for Cajun smoke. (Tip: Give the smoked ponce—sausage stuffed into a pig's stomach—a try if you see in the meat case. It's a Cajun delicacy.)
401 S. E. Railroad Avenue
Ville Platte, Louisiana  70586
337-363-3629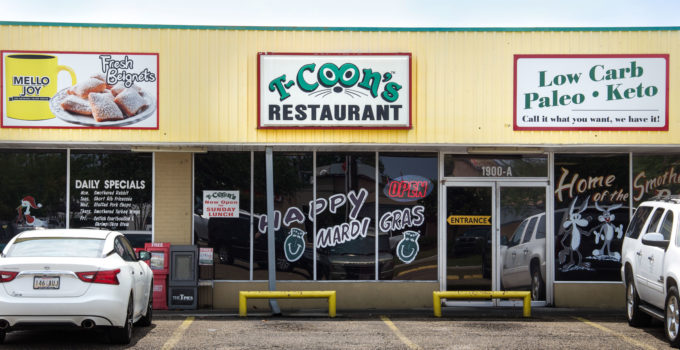 T-Coon's
David Billeaud is a 6th generation Cajun cooking up a reputation with his Zydeco-inspired menu.  Folks arrive early for the creative breakfast menu and wait in line for the daily plate lunch specials.  These days, T-Coon's offers a healthy line of carb-free options with the same down-home Cajun flavor.  (Tip: The smothered rabbit is a Monday plate lunch favorite; get there early.)
1900 W Pinhook Rd.
Lafayette, Louisiana 70508
337-233-0422
https://www.facebook.com/T-Coons-168354169847967/
https://tcoons.com/Home_Page.php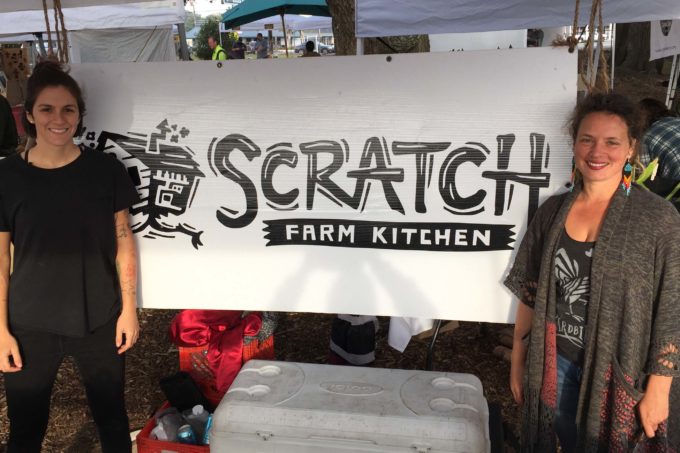 Scratch Farm Kitchen
Come hungry to the Lafayette Farmer's Market at the Horse Farm on any Saturday morning, and you're in luck. Scratch Farm Kitchen is serving up artisan-crafted breakfasts featuring produce, eggs, and pastured pork grown on their Duson, Louisiana farm. Kelsey Leger and Jamie Vickery will even bring it to your next event with their specialty: a pig roast with all the fixins.
1518 S Richfield Road
Lafayette, Louisiana 70529
337-296-2364
https://www.facebook.com/Scratch-Farm-Kitchen-1139818776074487/
Nonc's Pickled Quail Eggs
At the Venable family's quail farm Nonc's (French for "uncle") located in Church Point, Louisiana, they are famous for their mustard quail eggs. Their pickling formula ups the spice profile with a vinegary base awash in yellow mustard and infused with just the right spike of fresh jalapeño.  See their website for retail locations.  (Tip: Pick up a jar and make my Mustard Quail Egg Potato Salad recipe.)
533 Rosella Street
Church Point, Louisiana 70525
337-230-3359
http://noncsquaileggs.com/
jimmielinda@noncsquaileggs.com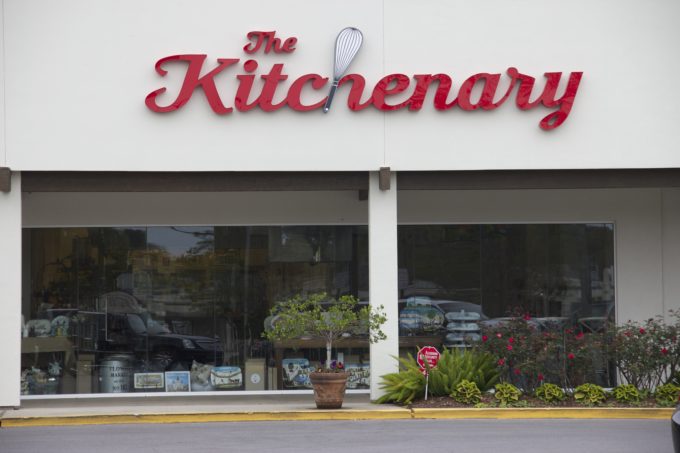 The Kitchenary
Whether you're looking for a culinary torch, a pestle for your mortar, or just need a new set of barware; this kitchen shop has it all. The cooking center has a state-of-the-art kitchen that hosts many instructional and guest chef events. And you'll find our Acadiana Table cookbook and Rox's Roux sold there. (Tip: Go online and sign up for their email newsletter announcing special functions.)
456 Heymann Blvd (in the Oil Center)
Lafayette, LA  70503
337- 264-1037
http://www.thekitchenary.net
https://www.facebook.com/thekitchenary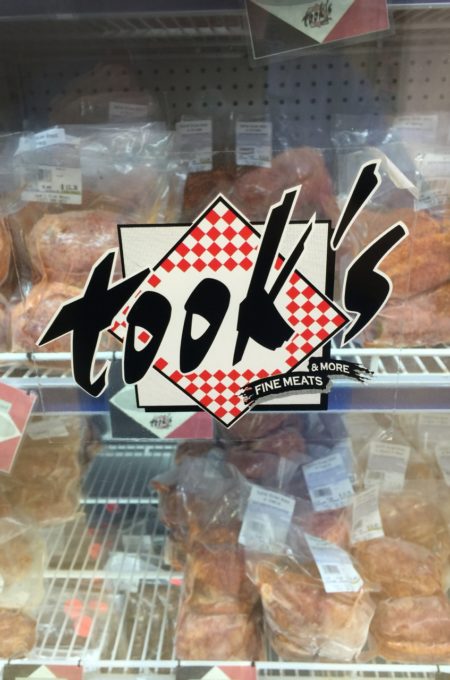 Took's Fine Meats
Owner Chris Helo has built this little butcher shop into a mecca of custom-cut meats and specialty items that cater to a mid-town Lafayette crowd in the know. The usual stuffed pork chops and quality steaks and chops are on hand, but it's Took's service approach that seals the deal. If you want a particular hard-to-find cut or a detailed meat preparation, the butchers here will deliver. (Tip: I love the tied-up crown roast of pork with "Frenched" bone ends.)
3103 Johnston Street (in the Grand Theater shopping center)
Lafayette, Louisiana 70503
337-988-6657
https://www.facebook.com/Tooks-Fine-Meats-More-190930064285629/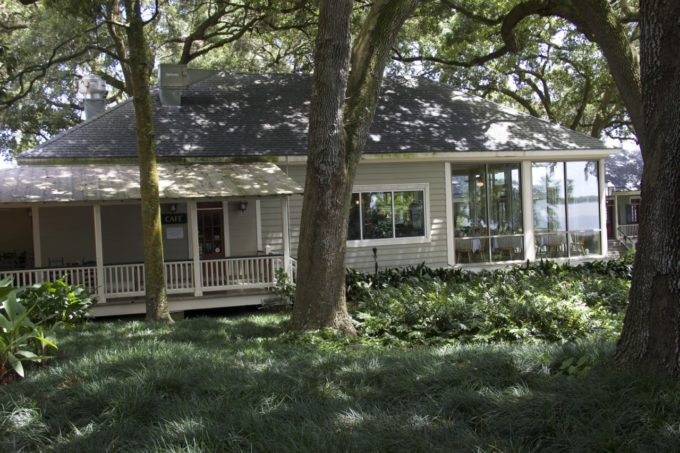 Café Jefferson
Just down the road from Delcambre, Louisiana, this little lunch spot is an oasis of civility and a must-visit for travelers and locals alike. Seven-days-a-week, the menu is classic Cajun and Creole with local standouts like a superb crawfish étouffée and a creamy angel hair pasta dish called Seafood Heaven. The hot, yeasty rolls are legendary, and the bread pudding, made in-house (I suspect from the same yeast rolls), is the perfect finish. (Tip: The Rip Van Winkle Gardens along scenic Lake Peigneur are lushly landscaped for an after-lunch stroll; be sure to keep an eye out for the peacocks.)
Located at: Rip Van Winkle Gardens at Jefferson Island
5505 Rip Van Winkle Road
New Iberia, Louisiana 70560
337-359-8525
http://www.ripvanwinklegardens.com/
https://www.facebook.com/pages/Cafe-Jefferson/414388768771891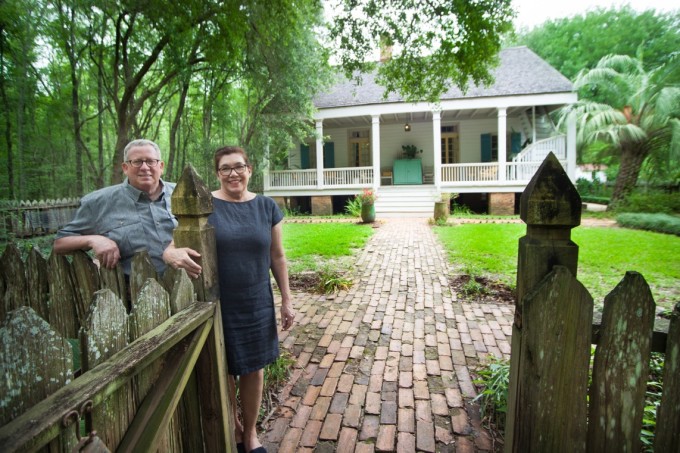 Maison Madeleine
Walter Adams and his wife Madeleine Cenac run Maison Madeleine, a gem of a bed and breakfast on Lake Martin, just five miles east of Lafayette.  The drive down the gravel road to picturesque Lake Martin is to go back in time to a quieter, simpler, slower pace of life.  Located between Lafayette and Breaux Bridge, this venue is a great overnight starting point for discovering rural Cajun life.  With a fully equipped commercial kitchen and sculpted outdoor gardens, this is the perfect event venue. (Tip: Plan your next family reunion in this culturally rich setting.)
1015 John D Hebert Dr.
Breaux Bridge, Louisiana 70582
337-332-4555
http://maisonmadeleine.com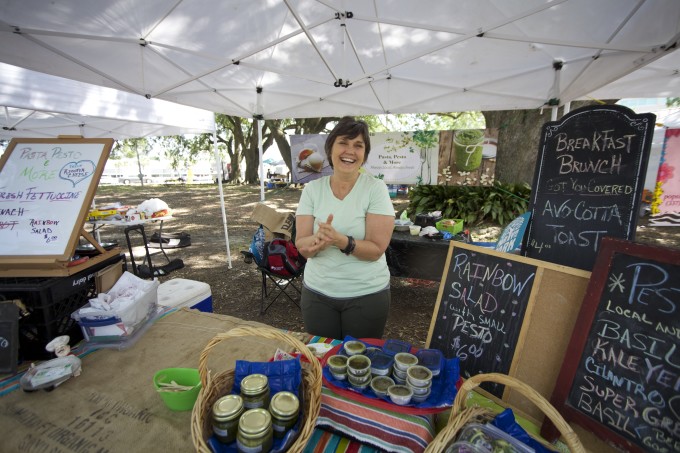 Pasta, Pesto & More
No visit to the Saturday morning Farmers' Market at the Horse Farm in Lafayette, Louisiana is complete without a stop for homemade cheese, fresh fettuccine, ravioli, and gnocchi.  The folks at BonVie pasta know the art of handmade pasta, and you should load up. (Tip: Come hungry and try their Avo-Cotta Toast with fresh avocado.)
Email: tracyardoin1961@gmail.com
https://www.facebook.com/bonviepasta/timeline?ref=page_internal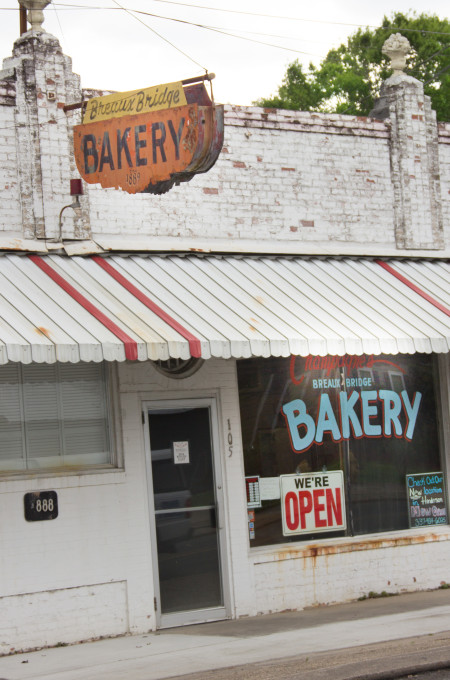 Champagne's Breaux Bridge Bakery
Since 1888, there's been a Champagne running this little bakery and fourth-generation proprietor Paul Champagne, along with his father Sonny, aren't ones to break family tradition. And the same artisan-made French bread loaves keep warming the hearts (and stomachs) of the people of St. Martin Parish. (Tip: Get a bagful of their famous, bite-sized Pink Cookies to bring home. I promise they'll be gone before you arrive.)
105 S. Poydras St.
Breaux Bridge, Louisiana 70517
337-332-1117
https://www.facebook.com/Champagnes-Breaux-Bridge-Bakery-111715518866184/timeline
http://www.champagnesbakery.com/
info@champagnesbakery.com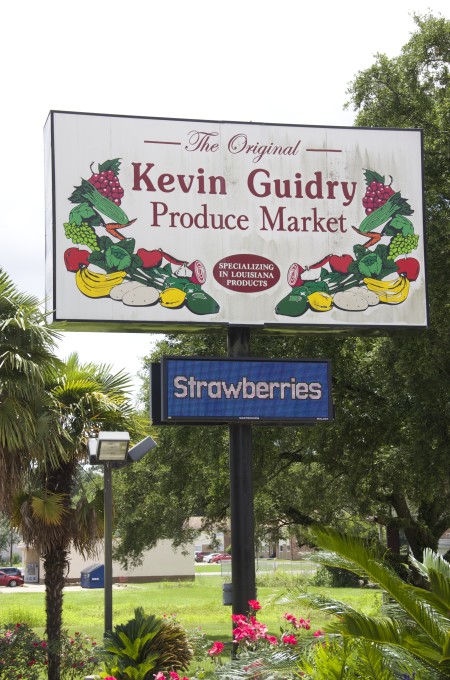 Kevin Guidry Produce Market
This produce stand has it all. The focus is on freshly grown vegetables and other Louisiana staple items, but their selection of prepped and frozen vegetables are a convenient time-saver. (Tip: Check out Guidry's extensive offering of packaged and jarred Louisiana foods.)
3619 Moss St
Lafayette, Louisiana 70507
337-269-4726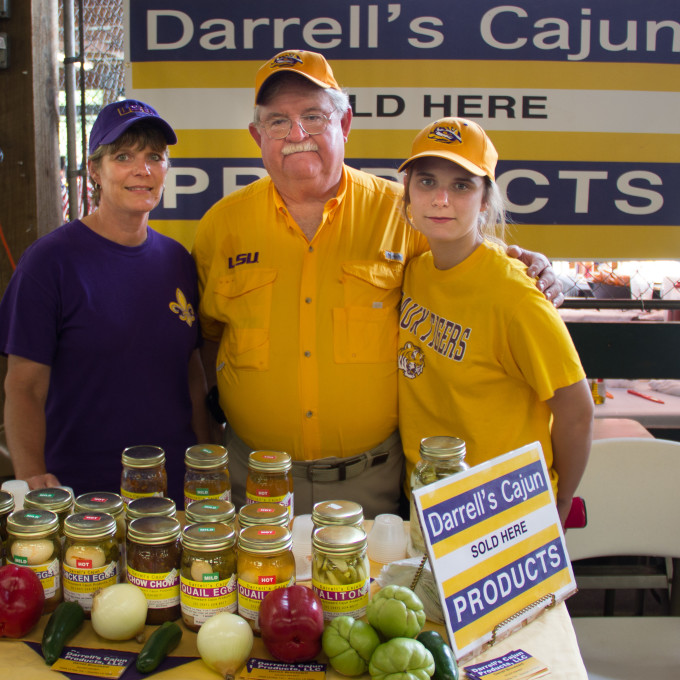 Darrell's Cajun Quail Eggs
Darrell Broussard and his family have cornered the Cajun-spiced quail egg market with their line of products hand-crafted in Gueydan, Louisiana. Spiked with fresh jalapenos, these artisan-made eggs are pickled and jarred, and sold in most every locally-owned market in Acadiana. (Tip: Call or email Darrell, and he'll ship directly to you. And try Darrell's Cajun Maliton (pickled mirliton) and his Cajun Chow Chow relish, too.)
337-224-8517
darrell@darrellscajunproducts.com
http://www.darrellscajunproducts.com/
Richard's Meat Market
This meat market is the epitome of the small-town south Louisiana butcher shop. It's frequented by locals and out-of-towners in the know. It's full service: Custom-cut meats, stuffed deboned chickens, smoked sausage, freshly made boudin, boudin balls, and cracklins are all on the menu. (Tip: Grab a bag of smoked jerky for the road and ask butcher Lethaniel Davenport if he has some fresh-prepped calf's tongue. If so, load up.)
117 Park Avenue
Abbeville, Louisiana 70510
337-898-0836
https://www.facebook.com/Richards-Meat-Market-584001954980171/timeline
Email: richards@ktctelecom.net
Morvant's Bar & Grill
This Cajun roadhouse on the main drag of Youngsville serves up an ambitious menu, but it's the old-fashioned burgers they are famous for (350 sold per day). With just enough Cajun spice, the ¼-pound beef patty is griddled on the flat top and served up on a fresh Evangeline Maid bun all wrapped up in wax paper. The burger to bread ratio is perfectly balanced with a minimal dressing of condiments and garnish. It's all about the beef here! (Tip: Order at the counter and get the half-pound double meat cheeseburger (sliced American, of course) and an ice-cold beer.)
200 Lafayette St
Youngsville, Louisiana 70592
337-856-7469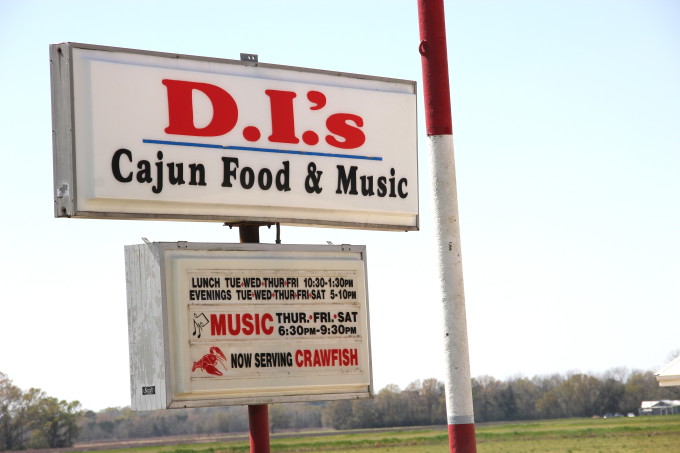 D.I.'s Cajun Restaurant
Crawfish farmer Daniel Isaac "D.I." Fruge and his wife Sherry opened this eatery over 30 years ago. Serving up seafood platters and ice-cold beer is just half the fun of this live music venue located near Basile. With the rice fields to your left and crawfish ponds to your right, you might want to program your GPS to find D.I.'s located between bayous Des Cannes and Nezpique in the northwest corner of Acadia Parish. (Tip: Go for the live Cajun music nightly Thursday thru Saturday.)
6561 Evangeline Hwy (12 miles north of I-10)
Basile, Louisiana 70515
337-432-5141
sherry@discajunrestaurant.com
http://discajunrestaurant.com/
https://www.facebook.com/DisCajunRestaurant/timeline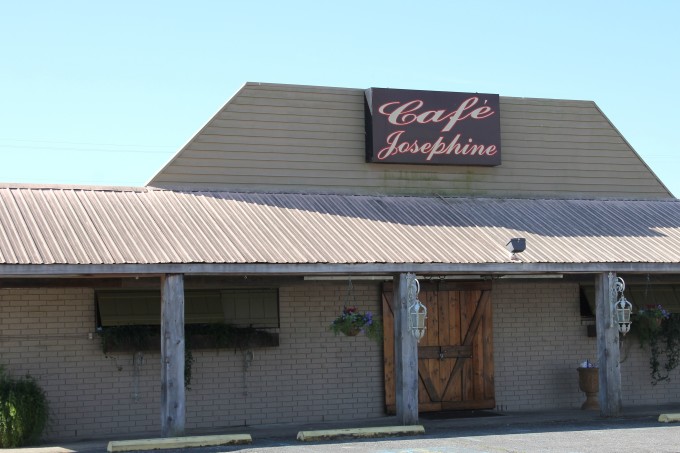 Café Josephine
In 2008, when Troy Bijeaux swapped a job in the flooring business for a ground floor opportunity to open a restaurant in the tiny town of Sunset, he poured his passion into it. He and his wife Melissa now have a solid reputation for delivering delicious Cajun and Creole dishes to a hungry audience. (Tip: The Zydeco Shrimp are a must-have appetizer, and the shrimp and grits get rave reviews.)
818 Napoleon Avenue
Sunset, Louisiana 70584
337-662-0008
http://cafejosephinesunset.com/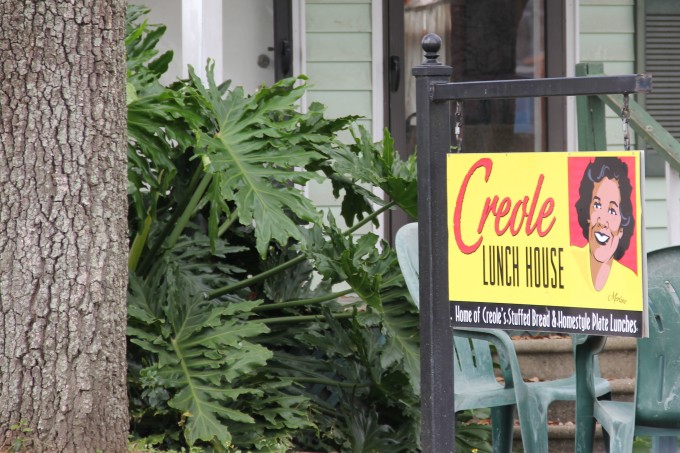 Creole Lunch House
Since 1983, former schoolteacher Merline Herbert has been serving up plate lunches and her famous Stuffed Bread in a small house on 12th Street in Lafayette. It's simple fare with a cultural flair for her Creole roots. (Tip: The daily specials are all good; the Chicken Fricassée is my favorite.)
713 12th St
Lafayette, Louisiana 70501
337-232-9929
https://www.facebook.com/Creole-Lunch-House-202456073128050/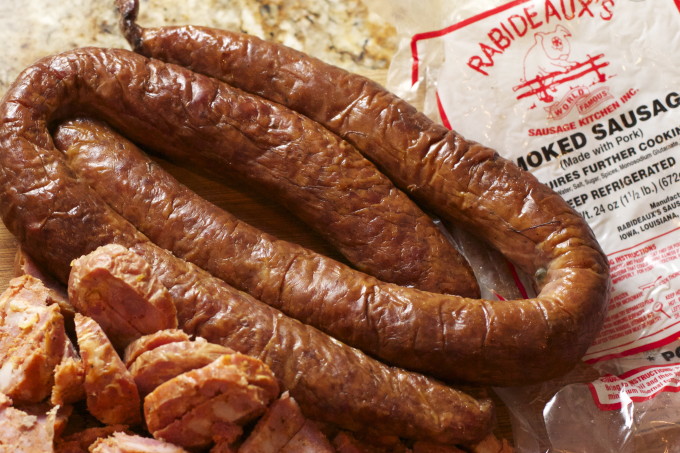 Rabideaux's Sausage Kitchen
This link is the perfect gumbo sausage. Glenn Daigle makes his prized smoked pork sausage in Iowa, Louisiana, and you can find it at most all major grocery and markets in Acadiana. Pull off I-10 and dine at their store for daily lunch specials seven days a week. (Tip: Be sure to try the deep-fried corn on the cob and their A-rated boudin.)
105 Highway 165
Iowa, Louisiana 70647
337-513-4442
337-582-7180
http://www.rabideauxssausagekitchen.com/
https://www.facebook.com/Rabideauxs/
Blue Dog Café
Years ago, when attorney Steve Santillo decided to follow his culinary and artistic passions, he opened Blue Dog Café. Now with two locations, he's serving up Cajun cuisine amidst a private collection of artworks by renowned artist George Rodrigue (the creator of the iconic Blue Dog).  (Tip: You can choose from a wide variety of dishes but be sure to check out the Culinary Classic award-winning recipes that are noted on the vast menu. They are all good.)
1211 West Pinhook Road
Lafayette, Louisiana 70503
337-237-0005
http://bluedogcafe.com/
https://www.facebook.com/BlueDogCafe?fref=ts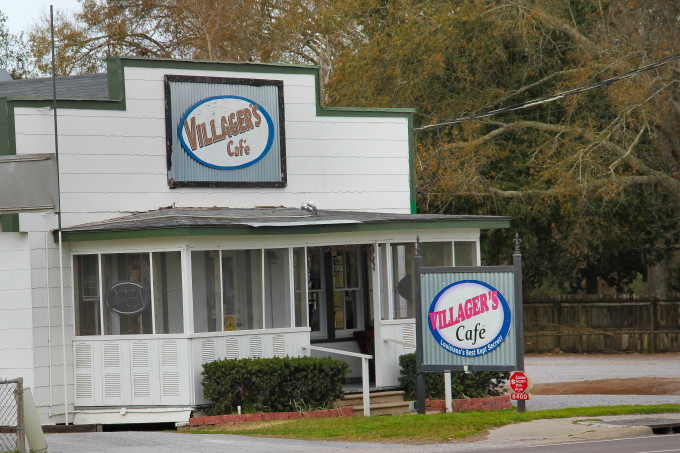 Villager's Café
Located halfway between the South Louisiana towns of Lafayette and Abbeville, this is one of Acadiana's best po'boy spots. Villager's has a full line-up of sandwiches including a killer fried shrimp and a unique chicken fried steak po'boy. Freshly baked Langlinais French loaves are the foundation, and they are served hot and crispy. (Tip: Folks swear by the sweet potato fries and the corn nuggets. Give 'em a try.)
8400 Maurice Avenue (Hwy 167)
Maurice, Louisiana  70555
337-898-1554
http://www.villagerscafe.net/
https://www.facebook.com/Villagers-Cafe-332225680216420/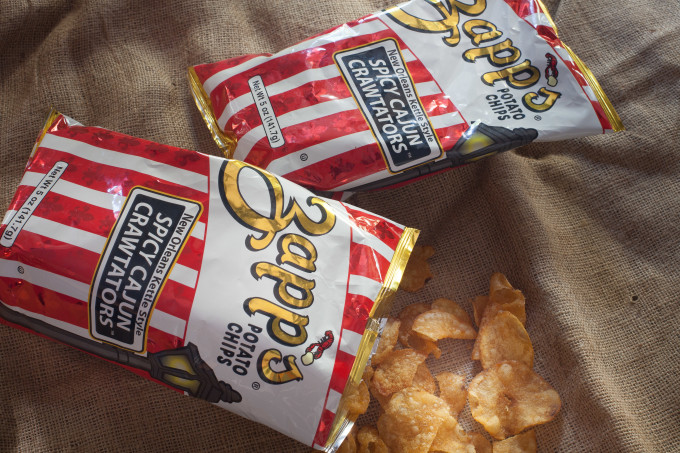 Zapp's Potato Chips
I first crossed paths with the late Ron Zappe in the 1980s when he was a struggling local business owner trying to gain entry into the competitive snack foods market. He succeeded in turning that small chip-making outfit in Gonzales, Louisiana into Zapp's Potato Chips, which are found in every food store in Louisiana. The flavorful Crawtator chips – with the spiciness of a Cajun crawfish boil — are my favorite. (Tip: Cooking with Zapp's is a spice-filled revelation: Try my Crawtator Casserole recipe and discover why.)
P.O. Box 1533
Gramercy, Louisiana 70052
1-800-HOTCHIP
Mail Order: 1-888-744-7889
https://www.zapps.com/
https://www.facebook.com/pages/Zapps-Potato-Chips/30320508147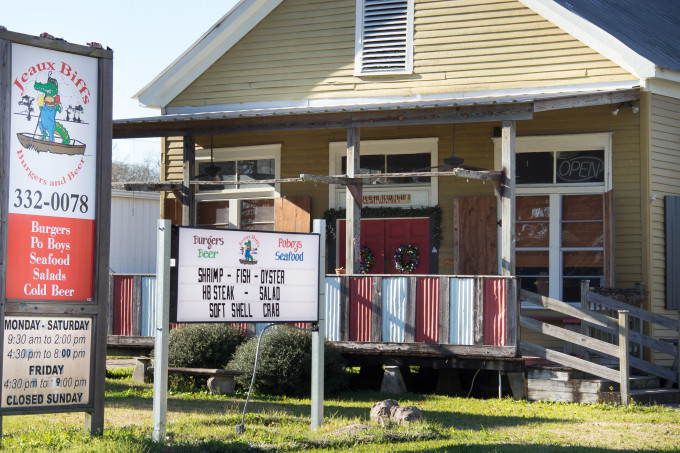 Jeaux Biffs
About a mile off the main drag of Breaux Bridge, this little burger joint along the Grand Point Highway has quickly become a local favorite. And if burgers and beer aren't your ideas of Cajun and Creole cooking, then you won't be disappointed at Jeaux Biffs. Fried seafood, gumbo, po' boys and red beans and rice are just a sampling of their regional specialties.
625 Grand Point Hwy
Breaux Bridge, Louisiana 70517
337-332-0078
https://www.facebook.com/pages/Jeaux-Biffs-Burgers-And-Beer/110289525790220
Santa Rita Honey Bee Farm
If eating local honey is a great way to prevent allergies, then the Vincent family's Louisiana raw honey is the tastiest way I know to stay healthy. Check out Santa Rita Honey Bee Farm every Saturday morning at the Farmers' Market at the Horse Farm in Lafayette, Louisiana. (Tip: Try their lip ointment made from beeswax. It's the balm!)
337-598-5220
337-304-1927
patvincent8950@yahoo.com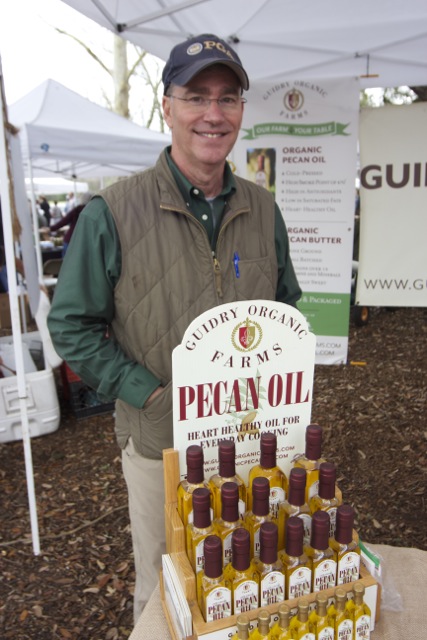 Guidry Organic Farms
Living their farm-to-table dream, Mark and Connie Guidry and their family purchased a pecan orchard and farm in Sunset, Louisiana and began producing their pure, cold-pressed, organic pecan oil. Now they have expanded their artisan-made line of products and produce to include raw, unfiltered honey, pecan butter, blueberries, and figs. Look for them at the Saturday morning Farmers' Market at The Horse Farm in Lafayette, Louisiana. (Tip: After visiting the Guidrys, make a pecan butter and honey sandwich on Evangeline Maid white bread for lunch – now, that's good eating.)
337-962-5617
connie@guidryorganicfarms.com
http://www.guidryorganicfarms.com/
https://www.facebook.com/Guidry-Organic-Farms-LLC-765478970192243/?fref=ts
Suire's Grocery and Restaurant
Walking up to this roadside grocery, you immediately sense this place is special. The handwritten signage, the menu scrawled across the frame building, and the smell of dark roux drifting into the parking lot. And upon entering, you know you've arrived at the Vermilion Parish shrine of down-home Cajun food. Ask Joan at the register what her sister Lisa has cooking in the kitchen, and if it's turtle sauce picante, you're in for a treat. (Tip: Save room for the pecan pie. You can thank me later.)
13923 La Highway 35
Kaplan, Louisiana 70548
337-643-8911
https://www.facebook.com/Suires-Grocery-and-Restaurant-245415545513007/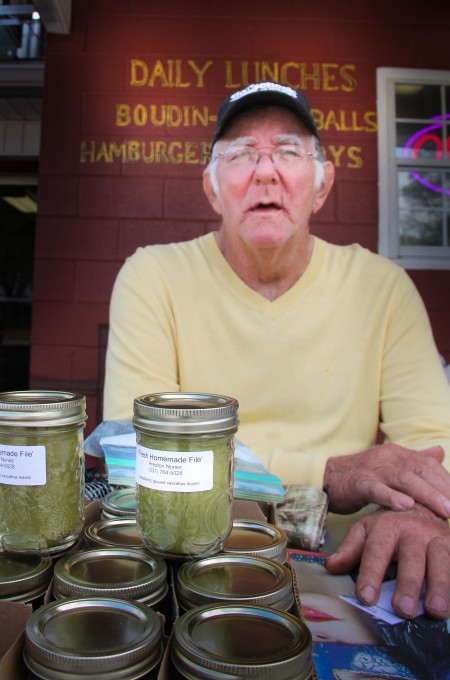 Preston Nunez: Filé Maker
Preston is a third generation filé maker from Creole, Louisiana. Made from 100% pure dried sassafras leaves grown in Oak Grove, Louisiana, Preston grinds them fresh and sells them in Mason jars. You will find him regularly at a table outside Rabideaux's Sausage Kitchen retail store on Hwy 165 (just off I-10) in Iowa, Louisiana, or just give Preston a call, and he'll rig you up with his artisan- made powdered filé.
337-764-5028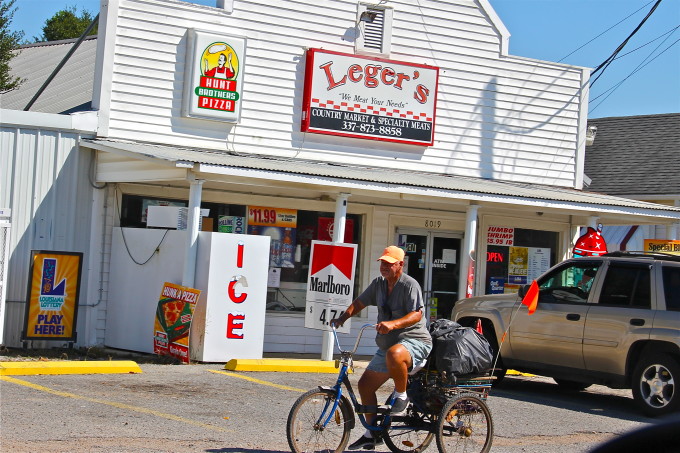 Leger's Country Market and Specialty Meats
The slogan of this little general store is simply put: We Meat Your Needs. And if you happen to be traveling through the community of Mire, Louisiana on the road to Church Point, stop in and see why the town treasures this store. Smoked meats and sausages, cracklins and a tasty hot boudin are just a few of Leger's specialties.
8019 Grand Prairie Highway
Church Point, Louisiana 70525
337-873-8858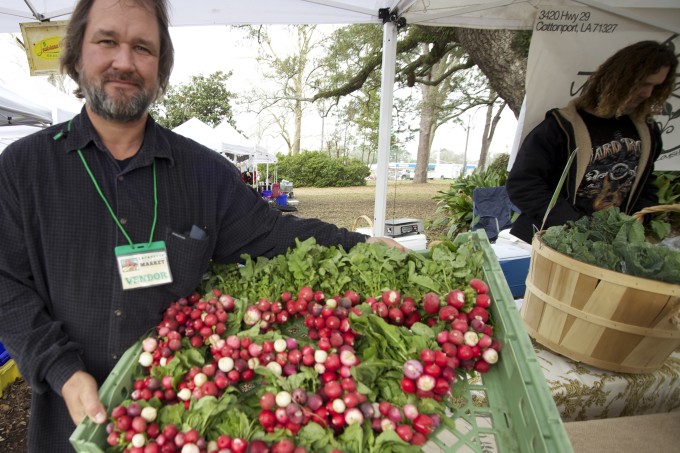 Up To Grow Good Farm
Paul Lyles and Brady Brouillette are "up to grow good" farming their seasonal organic crops and bringing them to market for all Acadiana to enjoy. They make the trek from their Cottonport, Louisiana farm most every Saturday morning, and you can buy directly from these artisan growers at the Lafayette Farmers' Market at the Horse Farm. (Tip: Ask for their heirloom "sun-dried" tomatoes made with Jubilee and Arkansas Traveler tomatoes — organic, local, and no added ingredients.)
337-739-8766
3420 Highway 29
Cottonport, Louisiana 71327
https://www.facebook.com/UpToGrowGood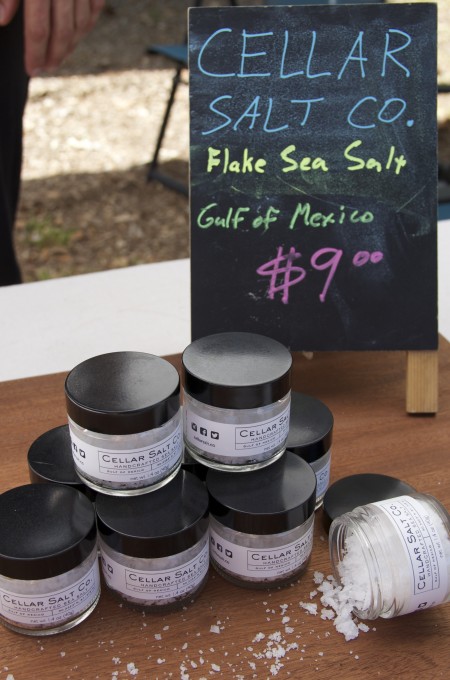 Cellar Salt Co.
Some folks can't wait to shower off the Gulf sea salt after a swim, but Lafayette Chef Jeremy Connor and his wife bring it home by the bucket load. A 10-hour process of filtering and crystallizing the salt produces an ultra-flaky (rather than rocky) finishing salt that dissolves quickly on the tongue. The chef tried it out at the James Beard House in New York to rave reviews. And you can buy it online or locally at Lafayette's Bread and Circus Provisions (see Faces and Places page). (Tip: Simple scrambled eggs take on a sophisticated flavor profile when sprinkled with flakes of Cellar salt.)
805 West Saint Mary Blvd.
Lafayette, Louisiana
337-349-4278
https://www.facebook.com/Cellarsaltco/
http://www.cellarsalt.co/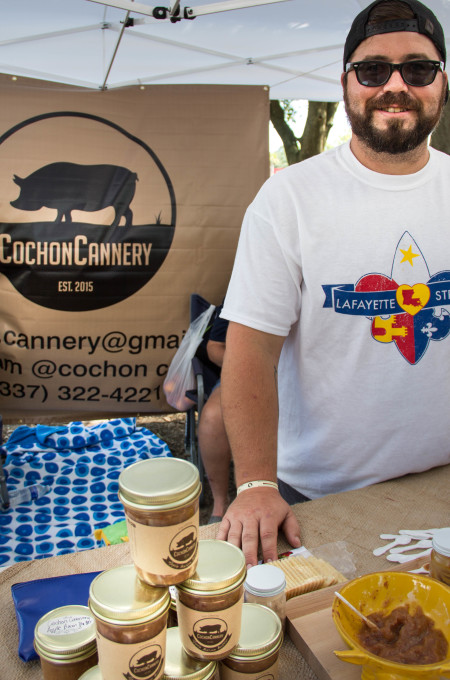 Cochon Cannery
Chef Dustie Latiolais has upped the ante on bacon with his sweet and smoky line of products including Bacon Jam, Bacon Salted Carmel, and Apple Bacon Butter. Try these Cajun-inspired products in a number of sweet and savory recipes. You can purchase them at his retail store on the main drag of downtown Breaux Bridge, or come out and meet Dustie and his wife Denise at the Lafayette Farmers and Artisans Market at the Horse Farm most every Saturday morning. (Tip: Pick up a dozen hot buttery biscuits from Edie's on Pinhook and open a jar of Dustie's bacon jam. Sweet heaven!)
105 North Main Street
Breaux Bridge, Louisiana 70517
http://www.cochoncannery.com/
https://www.facebook.com/Cochon.cannery/?fref=nf
cochon.cannery@gmail.com
(337) 322-4221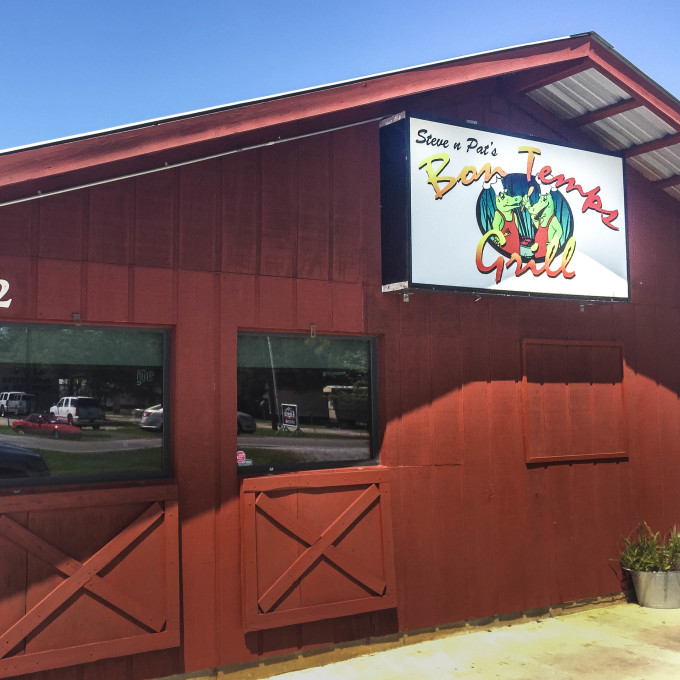 Bon Temps Grill
Let the good times roll at Steve and Pat O'Bryan's Bon Temps Grill! This neighborhood joint, smack dab in the middle of Lafayette, serves up creative Cajun dishes like garlic and cream-infused frog's legs and crawfish pot pie with a rich, flaky crust. (Tip: Start your table off with a sausage and boudin board with an array of smoked Cajun meats.)
1312 Verot School Road
Lafayette, Louisiana 70508
337-706-8850
http://bontempsgrill.com/
https://www.facebook.com/bontempsgrill/
Isle des Chênes Farm
Tommy and Gabrielle Bodin's 23-acre farm just outside of Lafayette in Scott, Louisiana specialize in pasture-raised Katahdin hair sheep. It is a popular breed known for quality meat. You can catch them most Saturdays at the Lafayette Farmers' Market at The Horse Farm or contact them directly to purchase their products.  (Tip: They sell out quickly.  Call ahead and reserve your leg of lamb to pick up at the farmers' market on Saturday morning.)
202 Paul Boudreaux Road
Lafayette, Louisiana 70506
337-981-8140
isle_navarre_farms@yahoo.com
Park Restaurant
Don't let the Park Avenue address fool you: Eating breakfast or lunch in this little Abbeville café is about as close as it gets to sitting at your grandmother's kitchen table. Teresa Lawson keeps it plain and simple with breakfast specials, daily plate lunches, and sandwiches served up family-style seven days a week. The place is always busy, the prices are reasonable, and the food is consistently good. (Tip: The chicken and sausage gumbo is made with Richard's smoked sausage from across the street and is one of the best restaurant gumbos I've ever tasted.)
204 Park Avenue
Abbeville, Louisiana 70510
337-893-9957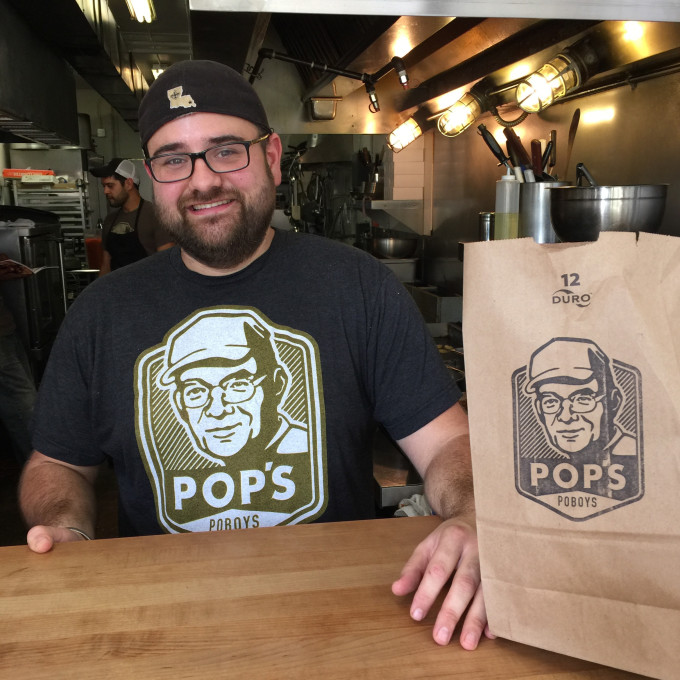 Pop's Poboys
My friend Chef Collin Cormier makes a mean po'boy.  From the culinary idea man that brought the world the Swamp Pop soda, comes a fresh take on Louisiana's favorite sandwich.  The crawfish-boiled Rabideaux's smoked sausage po'boy is fast becoming a Cajun classic, and the Cajun Castro puts a Southern spin on a Cuban classic.  Excellent sides and salads round out the menu.  (Tip: Check out the "Hot Hot" po'boy version of Nashville's famous spicy hot chicken.)
740 Jefferson Street
Lafayette, Louisiana 70501
337-534-0621
http://www.popspoboys.com/
https://www.facebook.com/popspoboys
Carpe Diem Gelato – Espresso Bar
Billed as Lafayette's first and only true Italian gelato and artisan espresso bar, Carpe Diem delivers on that promise of authenticity. And you know it the instant you meet owner Silvia Bertolazzi. Folks line up for her line of artisan-made gelato including eclectic flavors like Turkish coffee, blackberry almond, Mexican chocolate, and her award-winning avocado basil. (Tip: Try Silvia's Love Potion #15 gelato, if it doesn't make you fall in love, her beautiful smile certainly will.)
812 Jefferson St.
Lafayette, Louisiana 70501
337-534-4155
info@carpediemgelato.com
https://www.facebook.com/carpediemgelatoespresso/timeline?ref=page_internal
http://www.carpediemgelato.com/
Kirk's U-Needa-Butcher
Blake Gallet took over this butcher/grocery/smokehouse from the late Kirk Courville and has elevated its reputation for offering a variety of hard-to-find Cajun specialties.  Located in the heart of Lafayette, these guys turn out a killer link of boudin along with daily plate lunches.  And smoked pig's feet, stuffed turkey wings, pork neck bones, and seven steaks are just a few of the down home cuts they offer. (Tip: Load up the freezer with Kirk's assorted meat packs.)
713 Surrey St.
Lafayette, Louisiana 70501
337-234-1787
https://www.facebook.com/Kirks-U-Needa-Butcher-173004679450983/timeline/?ref=page_internal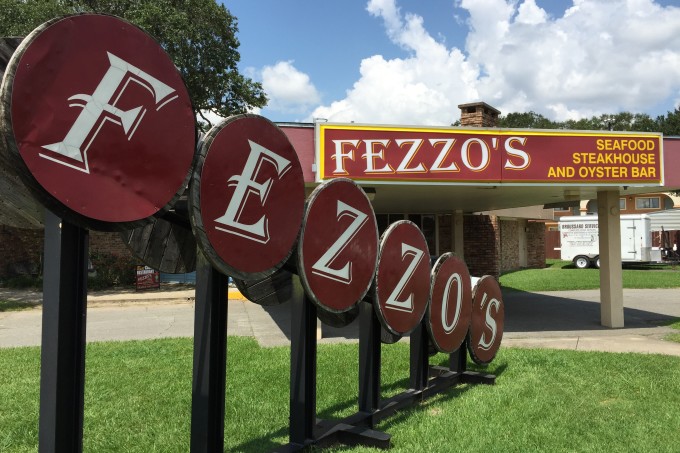 Fezzo's Seafood and Oyster Bar
Pat Bordes runs Fezzo's Restaurant along I-10 turning out excellent seafood dishes that have attracted a wide following of locals and travelers alike.  You can find his three restaurant locations along the frontage road in Crowley or Scott, and in Broussard just south of Lafayette.  (Tip: Try my favorite: Craig's seafood po'boy piled with fried shrimp, oysters and crawfish topped with homemade sauce.)
Scott, Louisiana, Exit 97
337-261-2464
Crowley, Louisiana, Exit 80
337-783-5515
6703 Ambassador Caffery Parkway
Broussard, Louisiana 70518
337-330-2302
 www.fezzos.com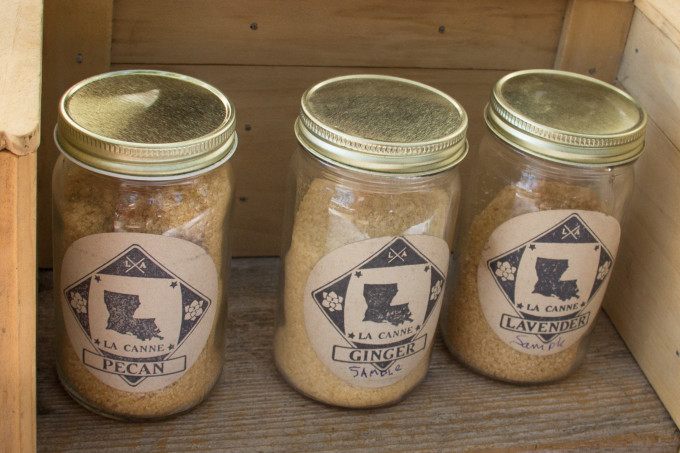 La Canne Sugar Products
Tony Bonomolo had one sweet idea: Infusing raw cane sugar with smoke from pecan shells. I first met Tony at the Lafayette Farmer's Market at the Horse Farm and now with several products in the line, this craft-made sugar is sold in several Lafayette (E's Kitchen) and New Orleans (Mojo Coffee House) retail shops or can be shipped to you from their website. (Tip: Tony says that a bourbon-based Old Fashioned made with pecan-smoked sugar simple syrup will rock your world.)
http://www.lacannesugar.com/
https://www.facebook.com/LaCanneSugar
contact@lacannesugar.com
504-460-6124
The Lunch Box
For over 20 years, Cline LeBlanc has run The Lunch Box, a small Cajun eatery putting out some of the best home cooking on the north side of Lafayette. It's ordinary food cooked with extraordinary skill. So what if it's served on styrofoam plates, these hearty lunches are one of the best values around. (Tip: My favorite is the $7.99 Friday special combination of Catfish Courtbouillon and Fried Catfish (pictured) with a side vegetable, roll and even a scoop of delicious bread pudding.)
3909-B Moss St.
Lafayette, Louisiana 70507
337-233-8298
Thelunchbox507@bellsouth.net
http://www.lunchboxmenu.com/1801.html
Cedar Deli and Grocery
Cajuns have embraced Mediterranean and Middle Eastern ethnic flavors and the 25+-year old Cedar Grocery, with vats of Greek olives and fresh-made tabouli, has become a cultural icon as well as a culinary treasure trove.  Owner Nabil Loli offers up a variety of unique sandwich and salad choices.  (Tip:  Try my favorite: their po'boy version of a Lamb Gyro on a French loaf with a side of tabouli salad.)
1115 Jefferson St.
Lafayette, Louisiana 70501
337- 233-5460
www.cedardeli.com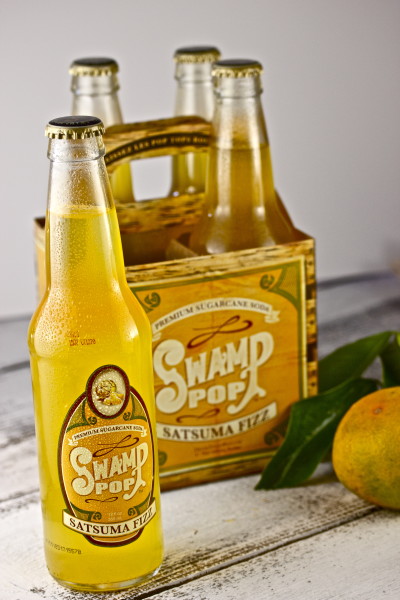 Swamp Pop Sodas
In 2013, John Petersen and Collin Cormier entered the competitive soft drink market with a uniquely South Louisiana drink called Swamp Pop. With four flavors in the line (Noble Cane Cola, Praline Cream Soda, Satsuma Fizz and Jean Lafitte Ginger Ale), Swamp Pop is made using Louisiana sugarcane. The product has taken the nostalgic soda pop category by storm and can be found at Cost Plus World Market locations nationwide and wide regional distribution throughout Louisiana. (Tip: Float your boat by pouring Praline Cream Soda over two scoops of butter pecan ice cream.)
337-366-1059
hello@drinkSwampPop.com
http://drinkswamppop.com/
https://www.facebook.com/DrinkSwampPop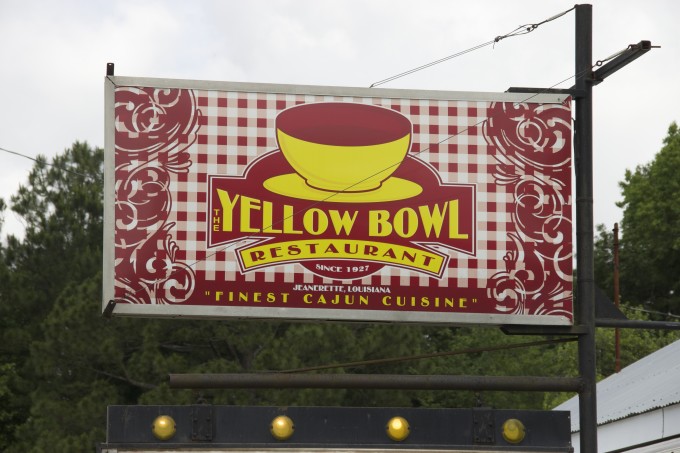 Yellow Bowl Restaurant
What started out as a Greyhound bus stop along a desolate highway in the cane fields of Iberia Parish in South Louisiana has grown into a shrine of classic Cajun food. Now under the expert hands of TK and Colleen Hulin and their chef Kenneth "Tippy" Davis, this family-style restaurant is worth searching out. Not fancy, just down-home good food. (Tip: If soft shell crabs are in season, order the Crawfish Margarite – a perfectly fried soft shell topped with spicy étouffée. And ask for my favorite server Brittany Landry.)
19466 Louisiana 182 (btw Baldwin and Jeanerette)
Jeanerette, Louisiana 70544
337-276-5512
https://www.facebook.com/pages/The-Yellow-Bowl/185799844791834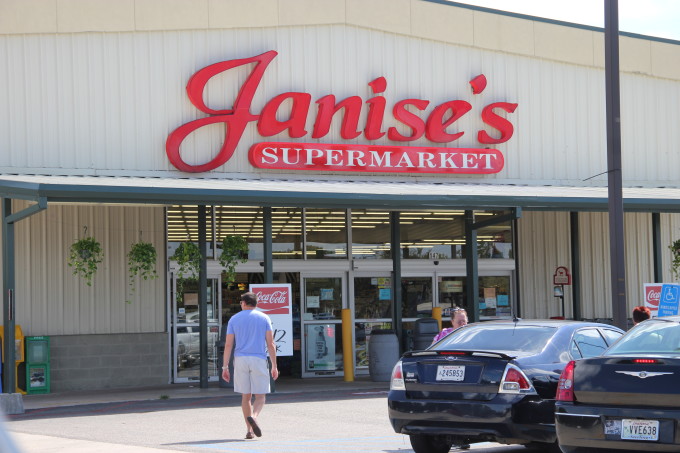 Janise's Supermarket
Janise's in Sunset, Louisiana is one of the best examples of a family-owned, rural Cajun grocery. This second generation supermarket is turning out exceptional stuffed meats, smoked sausages, boudin and baked goods. There is always something unique to be found. (Tip: Look for the stuffed turkey wings and try my Creole recipe here.)
147 Oak Tree Park Drive
Sunset, Louisiana 70584
337-662-5512
info@janisessupermarket.com
http://www.janisessupermarket.com/index.html
https://www.facebook.com/janisessupermarketsunset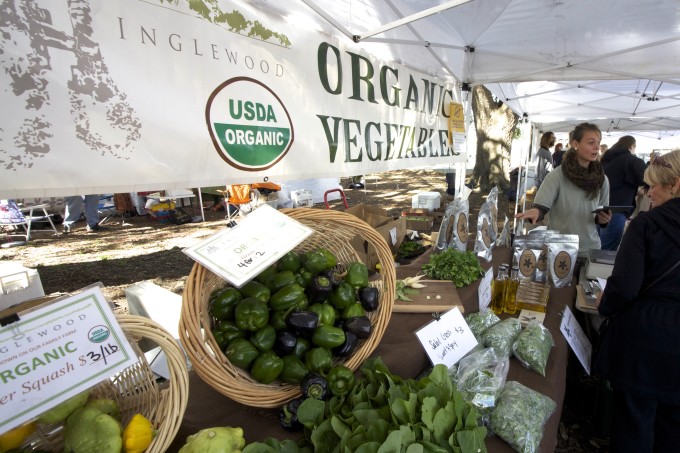 Inglewood Farm
Since its founding in 1836, Inglewood is one of the first farms in Central Louisiana to transition from sharecropping to professional farming and these days it is one of the best examples of an all-encompassing sustainable family farm. You can find Inglewood selling fresh organic produce, Berkshire pork and pastured eggs at the Lafayette Farmers Market at the Horse Farm every Saturday morning. (Tip: Take a ride to Alexandria and visit their Harvest Barn every Tuesday from 3 – 6 pm.)
6287 Old Baton Rouge Highway
Alexandria, Louisiana 71302
318.442.6398
http://www.inglewoodfarm.com/home
https://www.facebook.com/InglewoodFarmLouisiana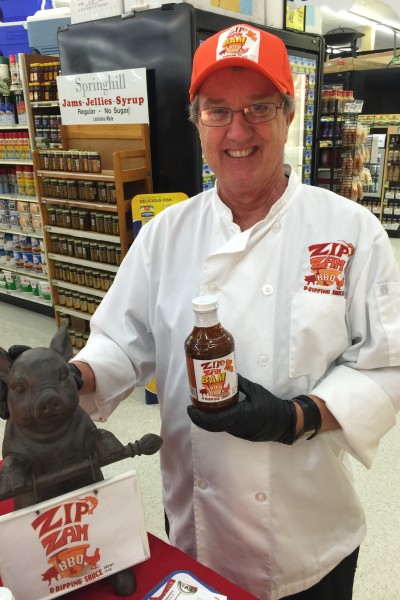 Zip Zam BBQ and Dipping Sauces
Lafayette-based Dan Mackey is out to conquer the BBQ world with his new line of sauces created from his secret recipe of 27 ingredients. It's a mixture of flavors, spices, herbs, and 100% pure maple syrup from Vermont – all natural ingredients, no artificial preservatives.  There are two flavors: Zip Zam mild and Zip Zam Bam spicy (chipotle peppers in the ingredients). Get the sauces at Albertson's in Lafayette and Chris' Specialty Meats in Baton Rouge. (Tip: I've tried them both, and the spicy Zip Zam Bam has just the right heat to spark up your next outdoor barbecue.)
https://www.facebook.com/zipzambbq/timeline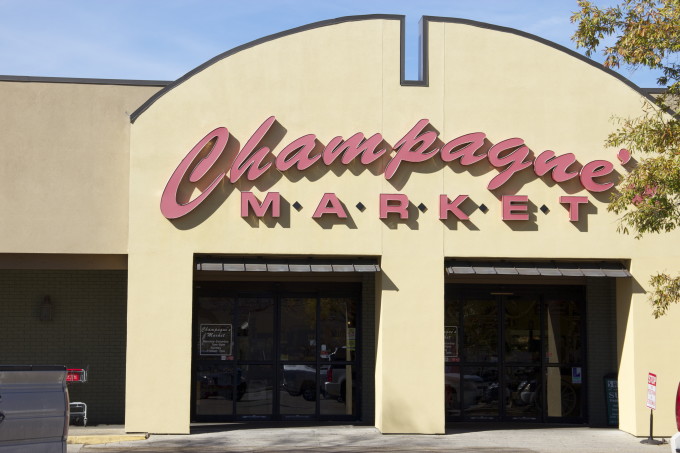 Champagne's Market
This locally owned grocery is a favorite stop whenever I'm in the Oil Center area of Lafayette. Owners Beth and Greg Champagne have created a friendly and accessible neighborhood market and deli that even has a high-end wine department. With a well-stocked meat counter, you'll find whatever you need here, and if you have the time, you can age your beef in their dry aging cooler. Be sure to check out the daily plate lunch counter. The BBQ pork steaks on Wednesday are a favorite. (Tip: They also own The Kitchenary next door where you can find most any kitchen gadget you need.)
454 Heymann Blvd (in the Oil Center)
Lafayette, Louisiana 70503
337-235-4114
337-205-4374
https://www.facebook.com/champagnesmarketlafayette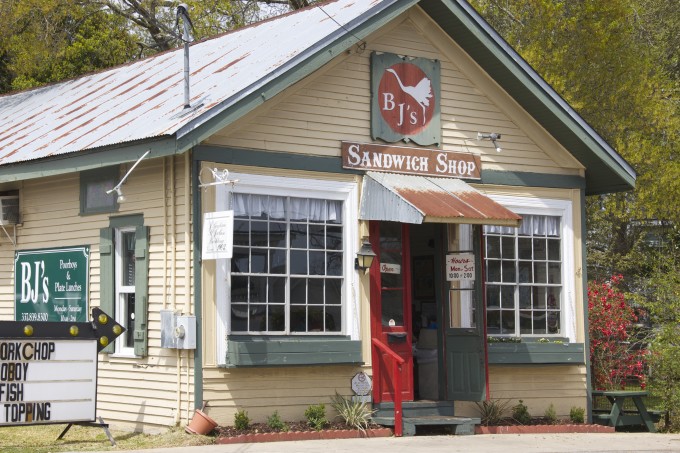 BJ's in Broussard
Built in the early 1900s, this eclectic little building has housed a drug store, post office, grocery store, warehouse and even a dance school. But in the early 1970s, it arrived at its delicious destiny to become a Cajun lunch spot serving up tasty South Louisiana sandwiches and plate lunches.  Under the ownership of Glenn Murphree (Olde Tyme Grocery), BJ's packs them in from 10 to 2 everyday but Sunday. (Tip: get there early on Fridays for a fried seafood plate lunch with fries and two sides for just $10.95.)
107 North Morgan
Broussard, Louisiana 70518
337-839-8300
http://www.bjsinbroussard.com/
https://www.facebook.com/bjspoorpboys?fref=ts
Poirier's Pure Cane Syrup
Like his great, great grandfather Anatol Poirier, Charles Poirier is an artisan syrup maker.  His honey-colored sugarcane syrup is grown, pressed, cooked and bottled within 100 yards of his home in Youngsville, Louisiana.  Like a fine boutique winery, this is seasonally produced, small batch syrup of the finest quality and you're lucky if you can find it in retail stores.  But, just give Charles a call, and he'll let you know how to score a bottle.
Youngsville, Louisiana
337-254-8758
https://www.facebook.com/PoiriersCaneSyrup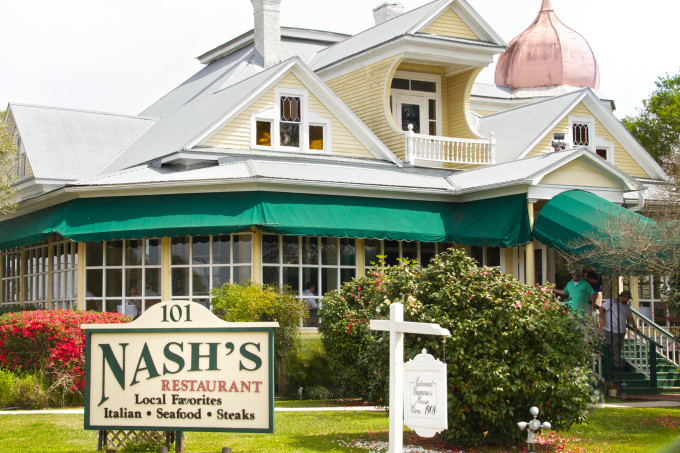 Nash's
There's something for everyone in Cajun country, and Nash Barreca is out to prove it with his Italian meets South Louisiana eatery. Nash's is located in a romantic Victorian home built in 1908 and has become a landmark in the little town of Broussard just outside Lafayette. (Tip: Try any of Nash's Italian specialties, but if soft shell crabs are fresh, get his Creole-inspired fried Soft Shell Crab Lafayette topped with Louisiana crawfish tails.)
101 East Second St.
Broussard, Louisiana 70518
337-839-9333
Nashsrestaurant@aol.com
http://www.nashsrestaurant.com/home.html
Zydeco Foods
My friend Michelle Vallot's search for the perfect nutrition bar led her on a decade-long research and development project that produced the Zydeco Bar — the perfect balance between taste and nutrition. Louisiana sweet potatoes and sugarcane molasses are key ingredients that give these bars their distinctive flavor. Recently, she debuted a line of Louisiana-style salsas featuring Cajun and Creole ingredients. All of Michelle's products are in wide retail distribution (I buy them at Drug Emporium in Lafayette) or you can buy online at her website.  (Tip:  Try the new Pecan Brownie Bar for a taste of Louisiana.)
PO Box 53767
Lafayette, Louisiana 70505
337.232.2310
goodhealth@zydecobars.com
http://zydecofoods.com/
https://www.facebook.com/ZydecoNutritionBars?ref=ts&fref=ts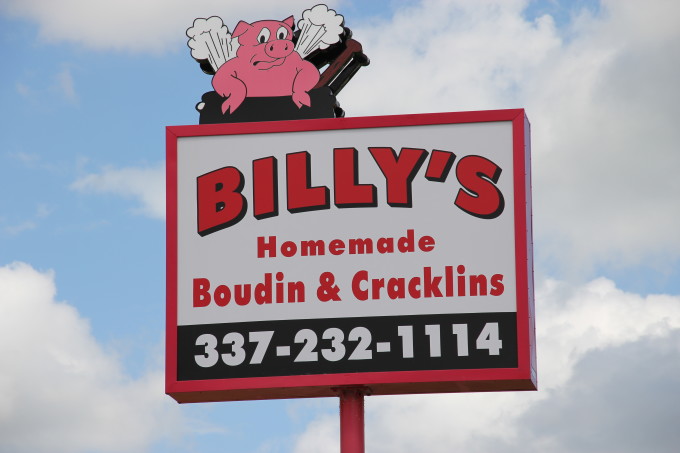 Billy's Boudin & Cracklins
There are lots of reasons to stop at Billy's. Spectacular stuffed meats, killer crawfish pie, crunchy cracklin' and much, much more. But it's the boudin that is the magnet that draws travelers and truckers off the interstate in a catatonic state of obsessive desire for a hit of porcine pleasure. Steamed boudin, crawfish boudin, smoked boudin, and the pepper jack-stuffed boudin balls are some of the best in all of Acadiana. (Tip: It's a stone's throw from Interstate-10 exit 97, so anytime you're driving thru, pack an ice chest and stop at Billy's and several other Scott exit favorites.)
523 Apollo Rd (Exit 97, Interstate 10)
Scott, Louisiana 70583
337-232-1114
Lache Pas Boucherie et Cuisine
Toby Rodriquez is a man of passion, art and the beauty of his French Acadian culinary culture. In his hands, the Cajun boucherie (butchering a whole hog) is both magical and mysterious; Lache Pas is his catering business that specializes in cuisine inspired by traditional Cajun ingredients.  (Tip: Check his website for upcoming culinary events.)
contact@lachepasboucherie.com
lachepasboucherie@gmail.com
337-680-9620
http://www.lachepasboucherie.com/
https://www.facebook.com/lachepasboucherie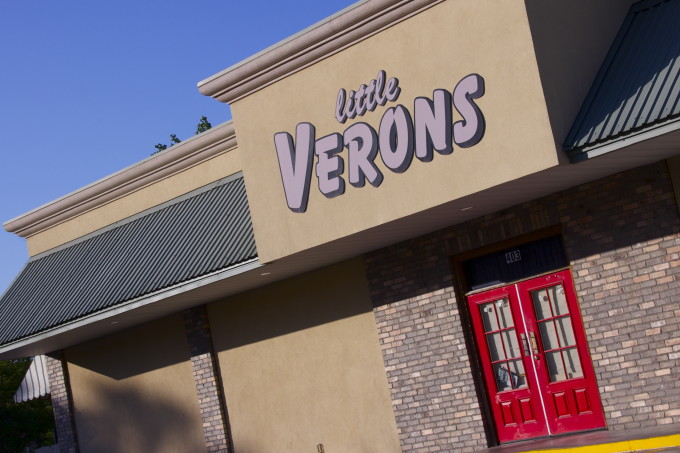 Little Verons
With six butchers with over 70 years of combined experience, Little Verons can cut or grind most anything you can think up. Cathy and Ricky Veron were raised in the grocery business and opened this small, but full-service grocery in 2003. Check out their meat and deli counter with a wide selection of seasoned and stuffed meats and sausages. And you can't beat the in-and-out convenience of this little residential neighborhood market. (Tip: Little Verons' stuffed pork chops are known far and wide.)
403 Rena Drive
Lafayette, Louisiana 70503
337-981-0098
info@littleverons.com
http://www.littleverons.com/index.html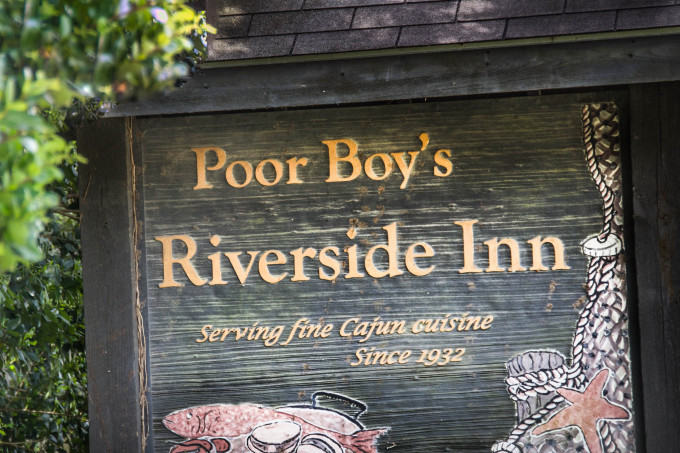 Poor Boy's Riverside Inn
If ever there were a restaurant worthy to be called a local "institution," then I nominate Poor Boy's Riverside Inn. Since 1932, the Hurst family has been serving up a menu of Cajun and Creole favorites. Don't let the name "Poor Boy's" (most folks just call it Riverside) fool you; there's a whole lot more than sandwiches here. Their original recipes (sauteed crabmeat, broiled stuffed whole flounder, crabmeat au gratin) for fresh Louisiana seafood are as good as it gets, and if seafood is not your thing, try their terrific Pepper Jack Chicken stuffed with Shrimp or Alligator and topped with a mushroom sauce. (Tip: Just a mile or so south of Lafayette off I-49 (Hwy 90), the location can be tricky, so call, go online or use your GPS for directions. And visit their sister restaurant Little River Inn in New Iberia.)  
240 Tubing Road
Broussard, Louisiana  70518
337-837-4011
http://www.poorboysriversideinn.com/
https://www.facebook.com/GreatSeafood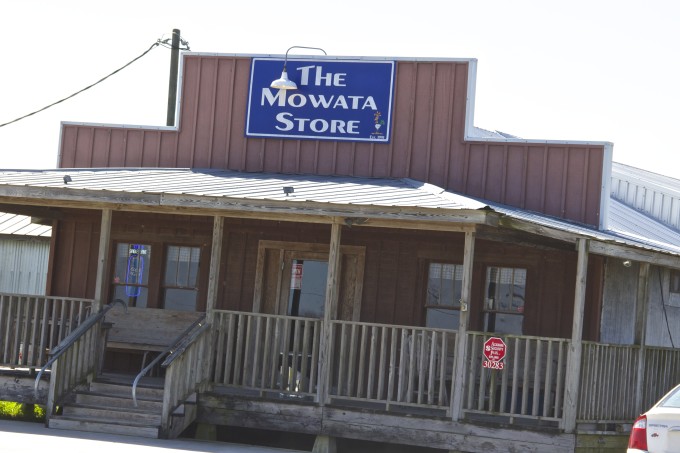 The Mowata Store
The small farming community of Mowata, Louisiana in the prairie region of Acadia Parish is the proverbial one-horse town (actually, it is not even an incorporated town), but to miss it would be to miss one of the hardest working Cajuns in all of Acadiana– Bubba Frey.  Bubba is always busy farming his rice field, smoking his specialty pork sausage, looking after his poultry farm, running his crawfish traps or tending to business in his storefront along the Crowley Eunice Hwy.  The Mowata Store with its polished hardwood floors and pristine meat cases is part grocery and smokehouse as well as a gathering place for local farmers, and an occasional drop-in by the likes of TV star Andrew Zimmern of Travel Channel fame.   (Tip: This is where I buy my guinea hens for down-home Cajun guinea gumbo – a rural South Louisiana delicacy.  Load up your ice chest and get my guinea gumbo recipe here.)
30283 Crowley Eunice Highway (Hwy 13)
Mowata, Louisiana
337-457-1140
https://www.facebook.com/themowatastore/timeline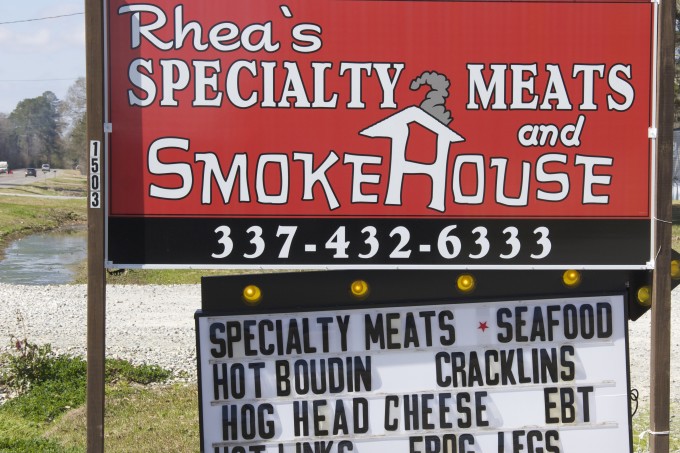 Rhea's Specialty Meats
Just outside of Basile, Louisiana on Hwy 190 heading west toward Elton is Rhea's Specialty Meats, a gem of a family-owned smokehouse turning out quality sausage, tasso, boudin, and stuffed meats of all kind.  Pull over and have a link while you talk with the family about their fresh farm-to-table approach.  (Tip: Be sure to ask for their spectacular hog's head cheese.  And deer sausage, if in season.)
1503 Basile Eunice Highway (Hwy 190)
Basile, Louisiana 70515
337-432-6333
https://www.facebook.com/RheasSpecialtyMeats/timeline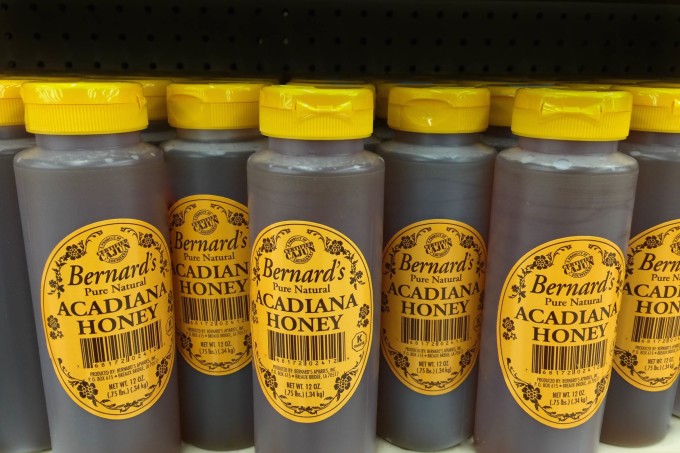 Bernard's Apiaries
This is swamp honey; Atchafalaya Basin swamp honey to be exact. Steve Bernard is one of the largest honey producers in the South and sends his honey out to the world from his apiary in Henderson, Louisiana. These bees produce a local honey that has a distinctive fragrance and flavor, which is why it is the favorite of many Acadiana cooks. (Tip: Look for Bernard's honey on the shelf of every supermarket or small-town grocery in Acadiana.)
1025 Bernard Street
Henderson, Louisiana 70517
337-228-7535
sbernhoney@aol.com
Lafayette Hub City Farmer's Market
Rain or shine, the tents are up every Saturday morning from 8 am until noon at this farmer's market in Lafayette's Oil Center. Look for artisan-grown produce from Charles Thompson and farm-fresh eggs from the Gotreaux Family Farm as well as many other great vendors.  (Tip: Be sure to pick up one of Brian Gotreaux's free-range chickens to roast along with the fresh vegetables.)
427 Heymann Blvd.
(In the Oil Center across from Champagne's Supermarket)
Lafayette, Louisiana
https://www.facebook.com/LHCFM?ref=ts&fref=ts
http://lafayettehubcitymarket.com/site/
hubcityfm@afo.net
Water Oak Farms
The way I see it, Pam Gautreau is a walking advertisement for her line of natural beauty products. This beautiful lady blends the scents and flavors of Acadiana into an all-natural line of plant-based, artisan soaps, and skincare products. These days she has added quality olive oils to her product line-up that you can purchase at her eclectic little shop in Sunset, Louisiana.  Stop by.  It's good for the mind, body, and spirit.
832 Napoleon Ave.
Sunset, Louisiana 70584
337-662-3276
877-226-7627
https://www.facebook.com/pages/Water-Oak-Farms-Inc/122530911120805
http://wateroakfarmsinc.com/
Rêve Coffee Roasters
Thankfully, Nathanael Johnson had a dream – bringing a new tradition of coffee-roasting to Acadiana.  His Rêve Coffee Roasters has quickly become one of the region's premiere locally owned micro-coffee roasters in the retail and wholesale of specialty grade coffee beans.   Stop by for a fresh cup at their downtown Lafayette store on Jefferson Street or at Rêve Coffee Lab in River Ranch. (Tip: Go for lunch and try their Cafe Club sandwich with housemade bacon jam and avocado-chipotle mayo.)
200 Jefferson St.
Lafayette, Louisiana 70506
337-224-9778
sales@revecoffeeroasters.com
http://www.revecoffeeroasters.com/home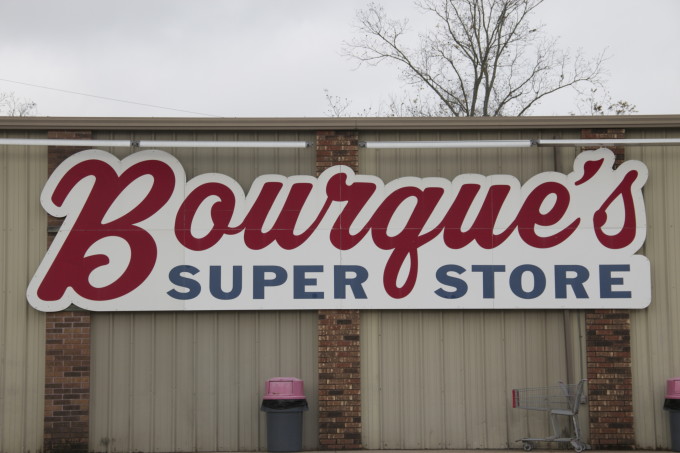 Bourque's Super Store
In 1948, Adolph and Yvonne Bourque had no idea that what started out as a small, family-owned market would grow into a grocery "super store". Four generations and 20,000 square feet later, Bourque's in Port Barre is the culinary anchor of this region of St. Landry Parish. It is acclaimed for its boudin, cracklins, smoked sausage, and a unique jalapeno sausage and cheese bread.  (Tip: Buy their whole quail stuffed with jalapeno sausage and try my stuffed quail gumbo recipe here.)
581 Saizan Avenue
Port Barre, Louisiana 70577
337-585-6261
http://www.bourquespecialties.com/
https://www.facebook.com/pages/Bourques-Supermarket/148470321847147


Lafayette Convention and Visitors Commission
Lafayette has a strong presence in the US travel market by virtue of a well-organized CVB.  Ben Berthelot and his staff have an excellent program in place and are ready to help any traveler or organization looking to plan a visit.  While they focus on Lafayette, they understand their role as the key destination in the broader Acadiana region.  When in Lafayette, stop by the welcome center or visit the website for information about Acadiana.
1400 NW Evangeline Thruway
Lafayette, Louisiana 70501
337-232-3737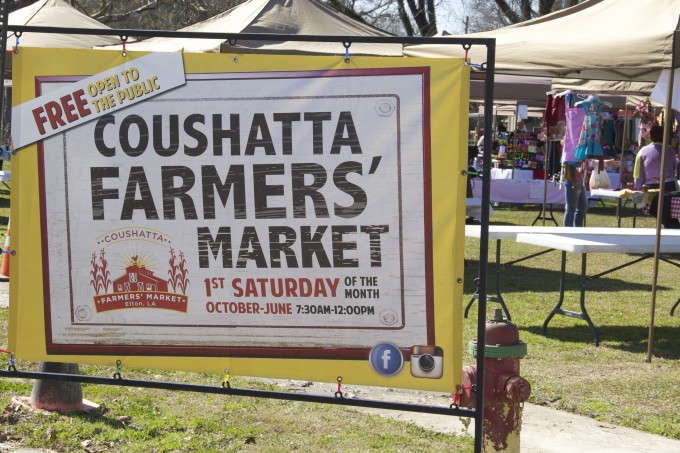 Coushatta Farmers' Market
The Coushatta Tribe of Louisiana is championing the growth and sustainability of the many farmers and artisans (food and crafts) from the southwest corner of the state.  Located in Elton, Louisiana, the Coushatta Farmers' Market is open the first Saturday of the month from October thru June.  Check their schedule online for cook-offs and other special events.  (Tip:  Be sure to sample authentic Coushatta tribal culture with a taste of the delicious Indian Fry Bread made from scratch.)
Corner of Hwy 190 and Pine Street (adjacent to Capital One Bank)
Elton, Louisiana
337-246-3199
First Saturday of the month (Oct-June) from 7:30 to Noon
imperialcalcasieu@yahoo.com
https://www.facebook.com/coushattafarmersmarket/timeline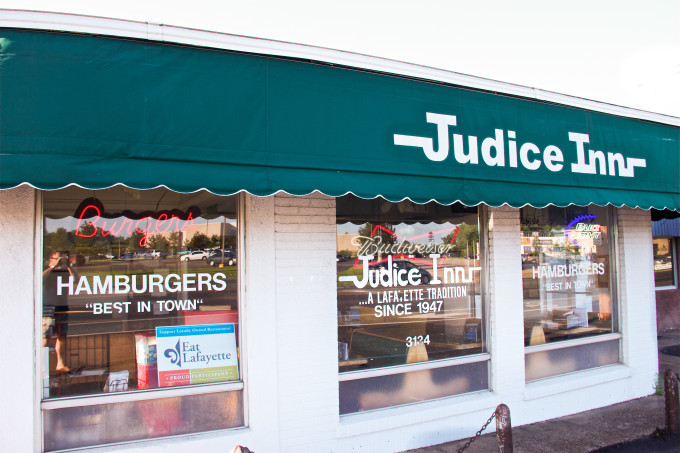 Judice Inn
Brothers Alcide and Marc Judice opened this burger joint in 1947, and it has stood the test of time. Literally. Not a thing has changed in all those years, and that's just the way the loyal crowd that packs the place wants it. Some out-of-towners miss the point about Judice Inn – just a simple burger with a thick slice of onion all wrapped up in white paper with an ice-cold Coca-Cola in the little green bottle.  It's culinary perfection. Get there early on a Saturday or be prepared to wait. (Tip: Order a bag of Zapp's Crawtator potato chips because they don't serve fries. Not ever.)
3134 Johnston St
Lafayette, Louisiana 70503
337-984-5614
http://www.judiceinn.com/
Marcelle Bienvenu
Bigger than life.  Bubbling over with passion.  Brimming with knowledge.  I first met Marcelle Bienvenu over twenty years ago when she asked me to guest chef at her bistro, Chez Marcelle.  She was born in St. Martinville, a small historic town on the banks of Bayou Teche in South Louisiana where she and her husband Rock still live today.  Writer, cookbook author, restaurateur, culinary instructor, Marcelle is the "Queen of Cajun Cooking."  Visit her website at: www.marcellebienvenu.com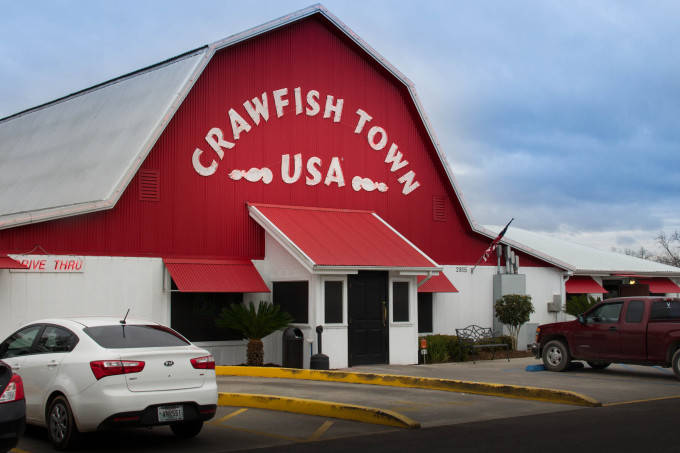 Crawfish Town USA
At age 12, Johnny Hebert was washing dishes in a Cajun restaurant dreaming of owning his own place. A bunch of years (and invaluable experience) later, he and his wife Wendy are the proprietors of Crawfish Town USA, a Cajun institution. Seafood is Chef Dustie Latiolais' specialty, and the crawfish pot is always boiling when the season is in full swing. Just off I-10 in Henderson, Louisiana, Johnny's place is easy to find, or he'll bring it to you with their extensive catering operation. (Tip: Bring an ice chest and check out their Fresh Market retail store next door.)
2815 Grand Point Highway
Henderson, Louisiana 70517
337-667-6148
https://www.facebook.com/CrawfishTownUsa
http://www.crawfishtownusa.com/
Lafayette Farmers and Artisans Market at the Horse Farm
Under the moss-covered oak trees of the soon-to-be-built Horse Farm park in central Lafayette is one of the premier farmer's markets in all of Louisiana. Meats, vegetables, fruits along with artisan crafts – this market has it all. Even live Cajun music performed in the round. (Tip: Bring the kids for face painting fun.)

Every Saturday, 8am-12pm
2913 Johnston Street
Lafayette, Louisiana 70503
337-944-4167
www.marketatmoncuspark.com
https://www.facebook.com/LafayetteFarmersAndArtisansMarketAtTheHorseFarm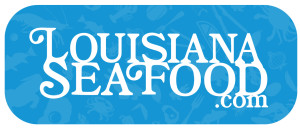 Louisiana Seafood Promotion and Marketing Board
One of many sources for information about our incredible Gulf seafood is LouisianaSeafood.com.  The Louisiana Seafood Promotion and Marketing Board's mission is to support the many fishermen, harvesters, processors, retailers, and restaurateurs that make up the seafood industry in Louisiana.  Visit the website for more info and recipes.
http://www.louisianaseafood.com
Rusted Rooster
Alex Andrade and John Bienvenu are turning out a creative menu of Cajun Creole specialties from their Rusted Rooster café in the heart of Lafayette. Located just across the street from city hall, this compact eatery is a must-stop and only open for breakfast (killer chicken biscuits) and lunch (a unique Reuben sandwich called the Zerben).  Lots of great menu choices.
105 St. Landry
Lafayette, Louisiana 70503
337-534-4135
https://www.facebook.com/RustedRoosterLafayette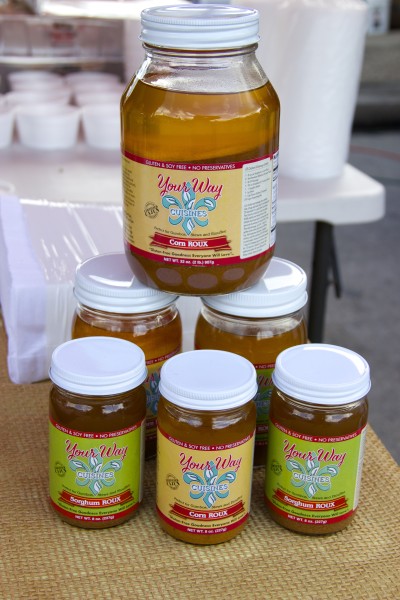 Your Way Cuisines Gluten-Free Roux Products
In the past, it's been difficult for the gluten-free crowd to enjoy a classic Cajun gumbo.  But now, you can have it your way with Kristie Buford's Your Way Cuisines line of gluten-free roux products made with coconut oil.  Corn roux and sorghum roux take the wheat flour out of gumbo and a host of other down-home Cajun and Creole favorites.  Plus, there are fewer carbs and calories per serving than a traditional roux.   The taste (I tried the corn roux) is terrific, and you'll be hard-pressed to tell the difference.  Look for the products in Lafayette at Drug Emporium, Rouse's, Fresh Pickin's and other area retail outlets.  (Tip:  For phone orders, just give Kristie a call, and she'll ship the product directly to you.)
209 E. Vincent St.,
Maurice, Louisiana 70555
337-257-7328
kristie@yourwaycuisines.com
http://www.yourwaycuisines.com/home
https://www.facebook.com/pages/Your-Way-Cuisines-Gluten-Free-Goodness-LLC/271542289633077?sk=timeline
Duos Cajun Corner
Jean Duos and his wife Mia have put their heart and soul into this eclectic little stop along the highway between Opelousas and Washington.  Smoked meats and a top-notch cracklin' are the main reasons to pull over.  And Jean's mother will always have fig, sweet potato, and blackberry sweet dough pies for sell.  (Tip: Load up on Jean's hickory-smoked turkey necks and make my recipe for Smoked Turkey Neck Gumbo.)
840 U.S. 167
Opelousas, Louisiana 70570
337-628-0123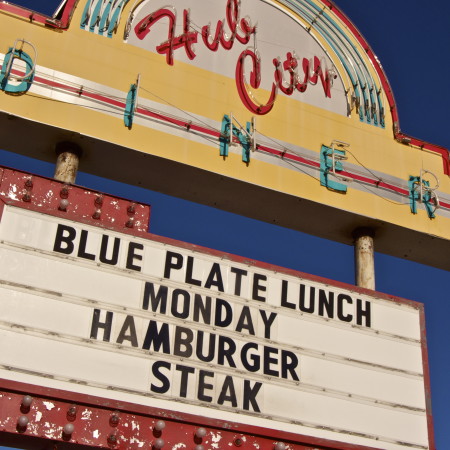 Hub City Diner
I opened this rock and roll concept restaurant with Charlie Goodson and Pat Mould over 20 years ago, and it's still going strong, now under the expert eye of Jimmy Guidry.  Southern Living magazine recognized it as one of the best examples of the retro fifties diners in America.  (Tip: Put a quarter in the jukebox and sit at the counter for a Chocolate Malt and an order of Atomic Q's.  And say hello to my friend Jimmy.)
1412 South College Road
Lafayette, Louisiana 70503
337-235-5683
www.hubcitydiner.com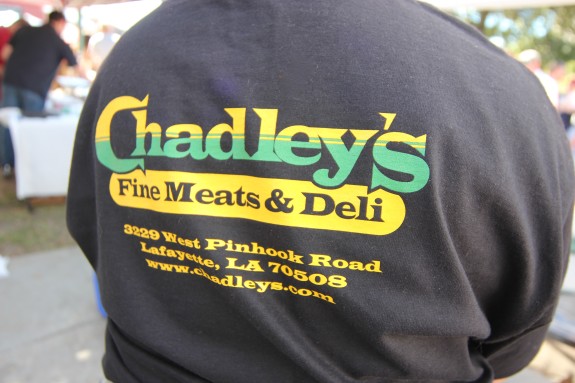 Chadley's Fine Meats and Deli
Check out Chadley's in Lafayette for a wide selection of meats and deli items.  Try their daily plate lunch (the Fried Pork Chops are tops) and a killer boudin.  And if you are a hunter, they will process your wild game and turn it into some tasty sausage.
Chadley's Meats
3227 West Pinhook Road
Lafayette, Louisiana 70508
337-889-3886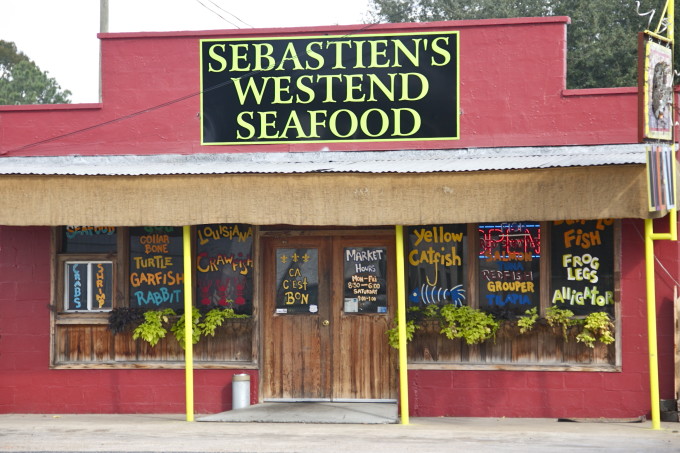 Sebastien's West End Seafood Market
Sharon Sebastien is the least likely fishmonger you'll ever meet.  Along with her husband David, she runs her Opelousas seafood market with an eye toward bringing her customers exactly what they want, no matter where it comes from.  Decked out in his long bib apron, Troy Deville will be prepping fresh crabs, gou, garfish, snapping turtle (live and dressed),  catfish (whole, nuggets, or heads), collar bone, frogs legs, and crawfish – all straight from the bayous, basin, or Gulf.  (Tip:  Find out when they have a new supply of fresh-caught snapping turtle for making the best turtle soup ever.)
1538 West Landry St
Opelousas, Louisiana   70570
337-407-0780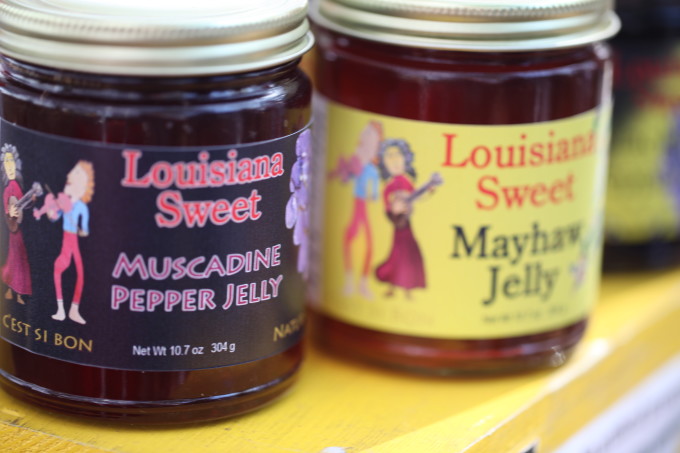 Louisiana Sweet
Jack Deshotels and Jim Leonard are passionate about jelly – pepper jelly to be exact. What started over a cup of coffee has grown into a Louisiana orchard turning out satsuma, mayhaw, blackberry, blueberry, fig, persimmon, and muscadine spiced-up jellies. You'll find Jack at the local farmer's markets, and you can buy the products in many Acadiana area retail locations, or they'll ship directly to you. (Tip: Try the Muscadine Pepper Jelly (my favorite) spooned over cream cheese for a quick and easy dip.)
Lafayette, Louisiana
337-371-7825
Annett@louisianasweet.net
http://www.louisianasweet.net/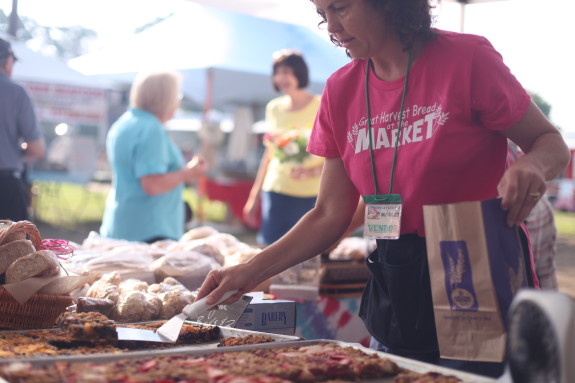 Great Harvest Bread
Michelle MacFadyen along with her husband JP moved back to South Louisiana from Colorado and brought their dream of artisan-baked bread with them. Their green-certified restaurant serves up tasty salads as well. You can find them at the store every day but Sunday and on Saturdays at the Lafayette Farmers and Artisans Market at the Horse Farm. (Tip: Michelle's Bayou Bars are addictive – buy a sack full.)
Great Harvest of Acadiana
854A Kaliste Saloom Road
Lafayette, Louisiana 70508
337-236-8966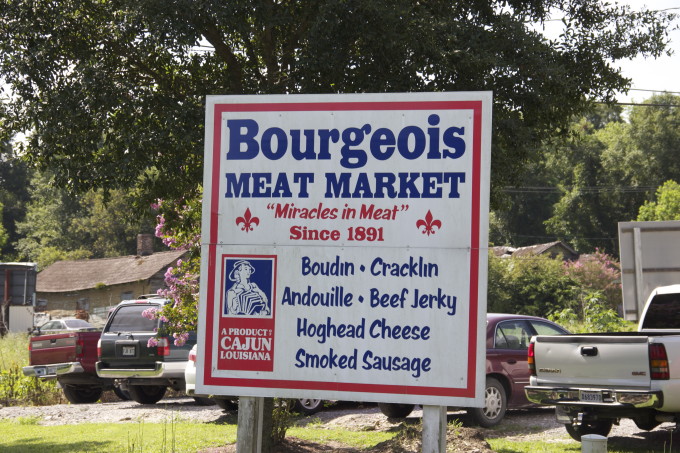 Bourgeois Meat Market
In 1891, Valerie Jean-Batiste Bourgeois slaughtered one pig at a time and peddled the fresh cuts by horse and carriage to bayou villages in rural Lafourche Parish; not returning home until the entire animal had been sold. Four generations later, the Bourgeois family is still at it, working from their storefront in Thibodaux. Meats of all kinds are their specialty, and it's worth a detour off Hwy 90. (Tip: Their one-of-a-kind Cajun beef jerky is world famous and addictive. Load up.)
543 W Main St
Thibodaux, Louisiana 70301
985-447-7128
https://bourgeoismeatmarket.com/
https://www.facebook.com/pages/Bourgeois-Meat-Market/381372765305482
Keeper's Specialty Meats
Keith and Cathy Venable are carrying on the French Acadian tradition of butchering and smoking meats the old-fashioned way. This hard-working and highly skilled couple own Keeper's Specialty Meats located on the Church Point Highway just outside of that sleepy little town.  Keith is the meat master turning out a long line of delicious Cajun specialties including a tasty rendition of smoked ponce (stuffed pig's stomach). (Tip: Stop for a quick bite on a day when Keith is serving up his fork-tender tasso sandwich.)
9698 Church Point Highway
Church Point, Louisiana 70525
337-684-0409
keeperscp@yahoo.com
https://www.facebook.com/KeepersC.P
Carmichael's Honey
Nathan Carmichael runs a third generation bee-keeping operation on the outskirts of Sunset, Louisiana. Carmichael's is one of the largest operations in the state and ships honey to all major grocery chains as well as dozens of rural markets throughout Acadiana. (Tip: Look for their cinnamon honey for a sweet morning treat.)
PO Box 761
Youngsville, Louisiana
337-446-3588
https://www.facebook.com/carmichaelshoney/timeline
Bruce Foods
My friend Si Brown and his family run one of the oldest family-owned food manufacturers in America.  Bruce Foods is a huge international outfit specializing in Cajun specialties such as bottled hot sauce like their "Original" Louisiana Hot Sauce with the famous red dot and the Louisiana Gold Pepper Sauce.   You'll find Bruce's in wide grocery distribution or their products can be ordered online.  (Tip: One of my favorite products is their Bruce's sweet potato pancake mix.)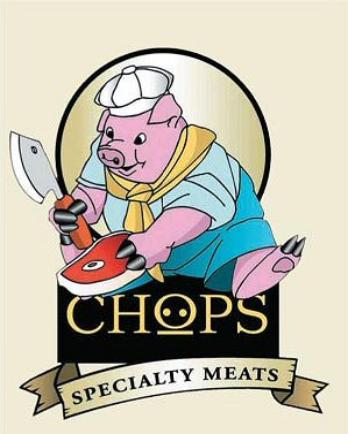 Chops Specialty Meats
Jeff Delahoussaye's world is more than just boudin and cracklin'. This is an artisan meat market turning out some of the most creative Cajun and Creole products around. Deboned stuffed meats are a specialty that is highlighted by a tasty turducken. Fried turkeys are available and don't miss their daily plate lunch.  (Tip: If you're traveling, Chops will ship your purchase home.)
Chops Specialty Meats
1019 Albertson Parkway
Broussard, Louisiana 70518
337-837-6446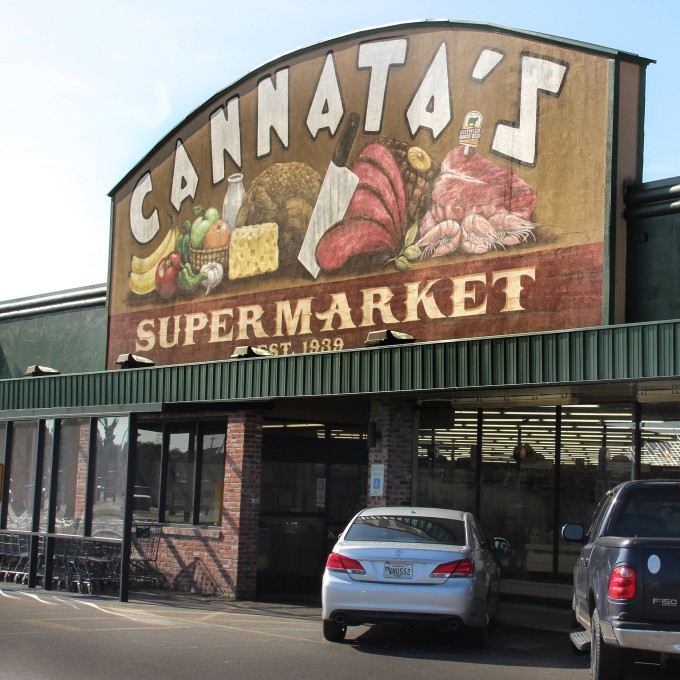 Cannata's Family Markets
Proud Italian immigrant Vincent Cannata started his market in 1939 and is now the oldest family-owned grocery chain in South Louisiana. With Morgan City and Houma locations, Cannata's focus is fresh-baked bread, prepared foods and specialty meats.  (Tip:  With a name like Cannata, you know they have a killer Italian sausage.  Load up.)
6010 Highway Avenue
Morgan City, Louisiana 70538
985-384-5720
1977 Prospect Blvd
Houma, Louisiana 70363
985-872-2900
http://www.cannatasmarket.com/index.html
https://www.facebook.com/cannatas
Bread and Circus Provisions
My good friend Chef Manny Augello is walking a culinary high wire of sorts balancing freelance chef gigs and running his retail shop/café along with the development of a proprietary brand of food products – Bread and Circus Provisions.  With marketing expert Abi Broussard Falgout, the two are creating quite a buzz on the regional food circuit with their line of condiments, pickles, and charcuterie.  You can find them at their Lafayette storefront on Bendel Road turning out an eclectic line-up of artisan pizzas.  (Tip: Manny's daily lunch is famous: Be sure to go on Thursday for his cheese-filled Juicy Lucy burger. )
258 Bendel Rd
Lafayette, Louisiana 70503
337-408-3930
https://www.facebook.com/BreadAndCircusProvisions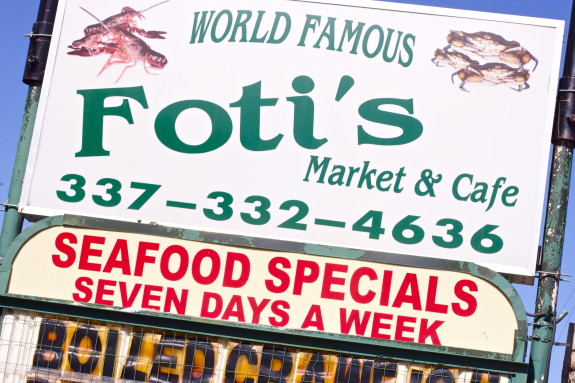 Foti's (aka The Fruit Stand / The Nut Hut)
"World Famous," as the sign proclaims, may be a stretch, but Floyd Foti's little stop at the red light in Breaux Bridge could be the world's hardest working market.  For seven days a week, it's a boiling station, a café, a pecan sheller, produce market, grocery, feed and seed as well as a garden and gift shop.  From frozen frog's legs to fresh fruit, I can always find something of interest at Foti's.  And they buy scrap metal, too.
At the corner of Hwy. 31 and Hwy. 94
200 West Mills Avenue
Breaux Bridge, Louisiana 70517
337-332-4636
www.thefruitstandinc.com
Gotreaux Family Farm
Visit Brian, Dawn and the ten Gotreaux kids every Saturday morning at the Hub City Farmer's Market in Lafayette's Oil Center.  Fresh eggs, organic produce, farm-raised tilapia and free range chicken are just a few of the items for sale.  (Tip: Drive out to Gotreaux Family Farm on Tuesdays or call to book a tour and meet the family.  It's good for the soul.)
205 Facile Road
Scott, Louisiana  70583
337-873 – 0383
www.gofamilyfarms.com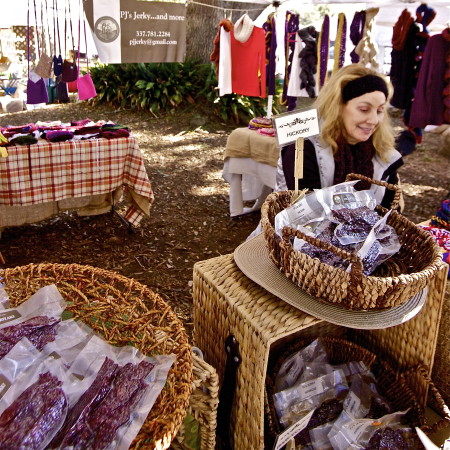 PJ's Jerky
There aren't too many artisan jerky makers in Acadiana.  Linda Parisi-Jarred is the first – and only — one that I've met.  But after just one taste of her Cracked Pepper jerky, I was hooked.   She has some tasty versions such as Inferno, Teriyaki, Sweet Maple and Hickory.  You can find Linda most Saturdays at the Lafayette Farmers and Artisans Market at the Horse Farm.  (Tip:  Try the Sweet Cajun jerky with a balance of sweet and heat.)
pjjerky@gmail.com
337-781-2284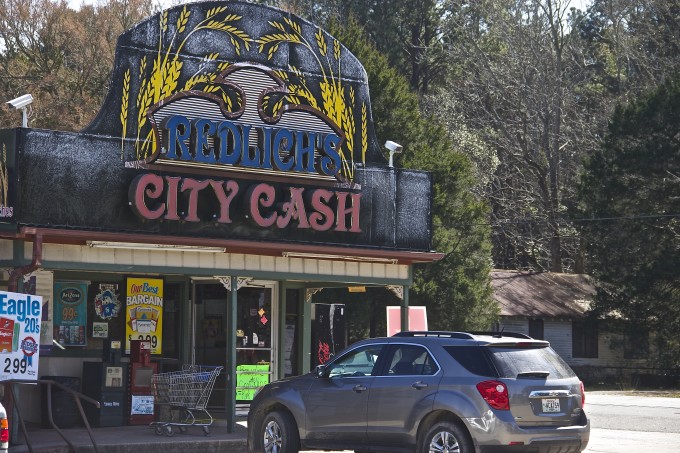 Redlich's City Cash
It's hard not to notice the casino-like signage over the entrance to this rural grocery and meat market.  But instead of slots, you'll find lots of great Cajun prairie smokehouse delicacies like tasso, head cheese, andouille and a spicy, crispy-skinned boudin that packs in the flavor.  (Tip:  Buy their smoked ponce (sausage stuffed into a pig's stomach) and cook it down (see my recipe here) like a pot roast served over white rice.  Delicious!)
2511 Basile Eunice Hwy (Hwy 190)
Basile, Louisiana 70515
337-432-6650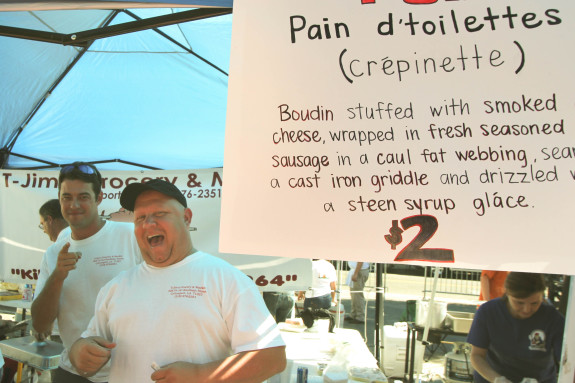 T-Jim's Grocery & Market
When you're driving through Avoyelles Parish just north of Acadiana, head over to Cottonport, Louisiana and T-Jim's place.  This market is serving up some exceptionally creative takes on hand-butchered meats and cracklins along with a fabulous boudin.  I judged their 2nd Place award-winning crepinette at the annual Boudin Cook-Off in Lafayette– DELICIOUS!
928 Kaufman Street
Cottonport, Louisiana 71327
318-876-2351
Charley G's Restaurant
I've known Charlie Goodson longer than I'd like to admit and our friendship endures.  Largely because he is one of the truly nicest guys I've ever met, but also because I have the utmost respect for his talent as a restaurateur.  Charlie likes to say he's never held a real job.  But, I can assure you he works hard putting out some of the best upscale, Cajun Creole dishes in Lafayette along with his daughter Anna, chef Holly Goetting and manager Courtney Vincent.  (Tip:  Try their signature, bechamel-infused crab cakes.)
3809 Ambassador Caffery Parkway
Lafayette, Louisiana 70503
337-981-0108
www.charleygs.com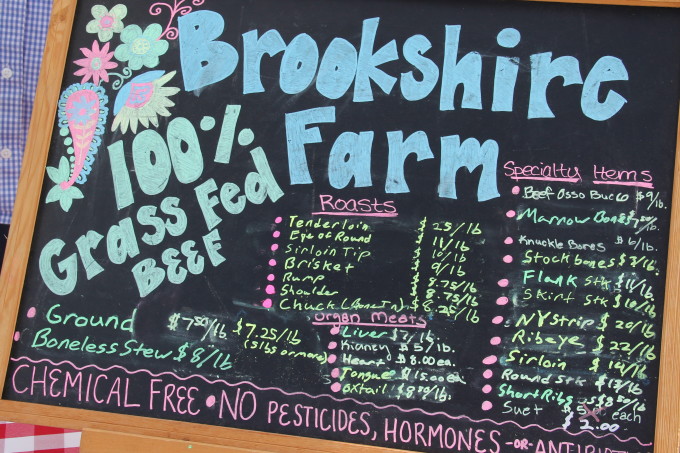 Brookshire Farm Meats
If you get a chance to meet the Blanchet family, you'll find one of the hardest working farm families in Acadiana. They take the craft of beef artisanship seriously and produce only quality, grass-fed cattle with no growth stimulants, antibiotics or other synthetic additives. Look for them at local farmer's markets and order by phone or online. (Tip: Reserve a split half of beef and share it with your neighbors.)
8916 Brookshire Rd
Abbeville, Louisiana 70510
337-893-5115
bob@brookshirefarm.com
http://www.brookshirefarm.com/
Bayou Teche Brewing
After a military stint in Germany, Karlos Knott brought his brew-making skills back home to Arnaudville, LA, and along with his two brothers established Bayou Teche Brewing.  The company has wide distribution, and its acclaimed craft beers have won awards in numerous competitions.  The bronze-colored LA-31 Bière Pâle and the Boucanèe made with cherry-wood smoked wheat are my two favorites.  (Tip:  Take a tour of the brewery Tuesday through Saturday.)
Bayou Teche Brewing
1094 Bushville Highway
Arnaudville Louisiana 70512
337-303-8000
http://bayoutechebrewing.com/
Evangeline Maid Bakery
Smack dab in the middle of Lafayette, Louisiana sits a local gem — Evangeline Maid Bakery. Each day since 1919, in the plant across the street from the iconic giant spinning bread sign, 165 employees work 24/7 producing half-a-million loaves per week. No matter where you're from, this is the white Pullman loaf sandwich bread you grew up eating. Little known fact: The giant spinning bread sign has its own Facebook page (see below). (Tip: Buy the bread most anywhere in Acadiana and try my Peppered Pork Jowl and Fried Green Tomato BLT recipe here.)
720 W Simcoe St
Lafayette, Louisiana 70501
337-232-1611
https://www.facebook.com/SpinningBread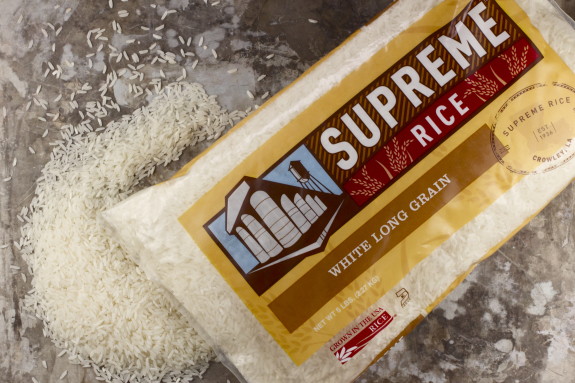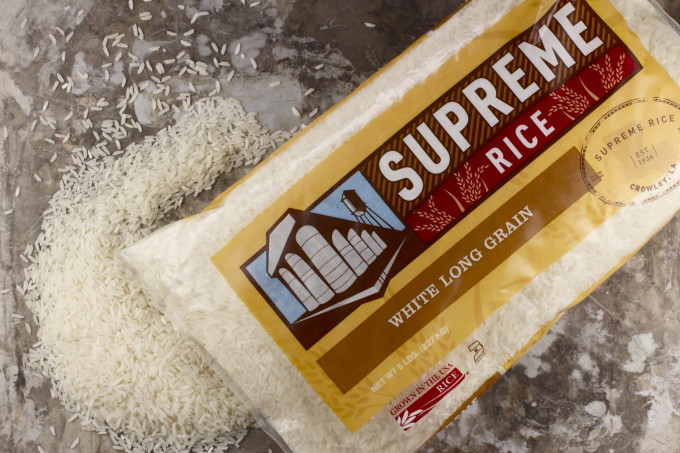 Supreme Rice
Bobby Hanks and Bill Dore know rice.  The Supreme name has been around since the 1930's, and Louisiana Rice Mill has milled and shipped rice worldwide for years.  You can now find the Supreme brand on grocery shelves across Acadiana.  (Tip: Cook their new Louisiana jasmine rice.  The aroma alone is intoxicating.)
Supreme Rice
Louisiana Rice Mill, LLC
PO Box 490
Crowley, Louisiana 70527
337-783-9777
www.supremericeusa.com
https://www.facebook.com/SupremeRice?ref=ts&fref=ts
Ruffino's on the River
Chef Peter Sclafani and Ruffin Rodrique have stormed the Lafayette dining scene with an Acadiana version of their ever-popular Baton Rouge eatery Ruffino's.  Located in a creatively designed space along the Bayou Vermillion in River Ranch, Ruffino's is helping to heighten the local food scene with their self-described Italian-Creole Fusion cuisine.  I am much impressed with Chef Sclafani's well-crafted menu featuring a wide variety of seafood, pasta, and steaks, as well as many lighter options.  (Tip: Get many of Chef Peter Sclafani's best recipes in his spectacular cookbook Seasons of Louisiana on Amazon.com or purchase a signed copy at the restaurant.)
921 Camellia Boulevard
Lafayette, Louisiana 70508
337-706-7333
http://ruffinoslafayette.com/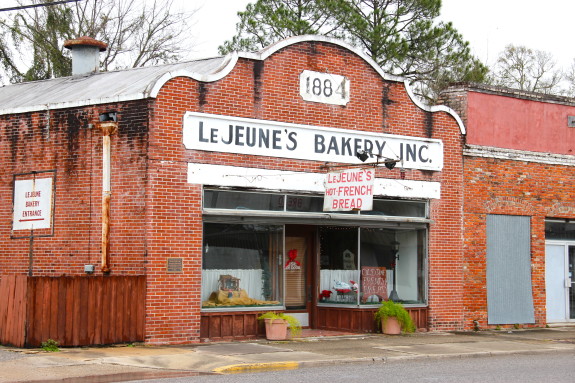 LeJeune's Bakery
Here's where true Louisiana French bread is baked.  Built in 1814 by Oscar LeJeune and presently operated by the 5th generation of the LeJeune family, this bakery is listed on the National Register of Historic Places.  Be sure to make time for a free tour which is given by appointment. Their two flagship products are LeJeune's French Bread and Ginger Cakes.  (Tip:  Just down the road is the Yellow Bowl, an Acadiana original Cajun Creole lunchroom.)
1510 Main Street
Jeanerette, Louisiana 70544
337 276-5690
Helping Hands Farm
Fresh homegrown vegetables are the specialty of David Klier and Stephanie Elwood, who own and operate Helping Hands Farm in Plaisance, LA near Opelousas.  Every Saturday morning at the Horse Farm they bring a truck load of fresh produce, flowers, fruit, and herbs.  It's all grown free of chemicals, pesticides, and herbicides.
https://www.facebook.com/HelpingHandsFarm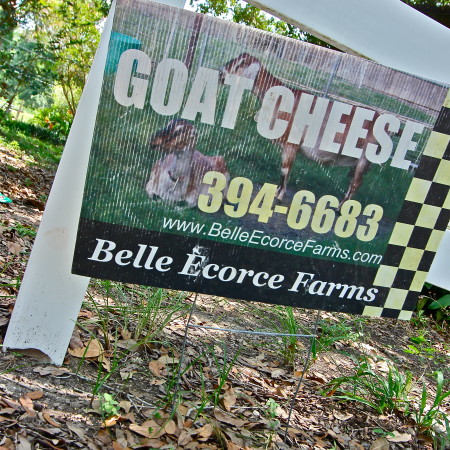 Belle Ecorce Farms
Dairy farmer Wanda Barras runs an artisan cheese-making operation in rural St. Martin Parish.  With a big smile and open arms, she will welcome you into her world of cows, hairless cats, miniature horses, birds, and goats — lots of goats.  You can buy her products at Joey's Market in Lafayette.  (Tip: Call and schedule a visit and while there be sure to buy her Sweet Home Jalapeño and other award-winning goat cheeses.)
St. Martinville, Louisiana
Wanda's Cell: -337-519-0231
www.belleecorcefarms.com
https://www.facebook.com/BelleEcorceFarmsGoatCheese
Simon Citrus Farm
I call him "Satsuma" Simon, but his real name is Lynn.  He will be quick to tell you that his Vermilion Parish citrus farm started as a hobby but quickly grew into an orchard with the guidance of the LSU Ag Center.  The satsuma is what I like to call "the official citrus fruit of Louisiana."  Introduced in the early 1880s, satsuma trees were planted extensively along all the southern Louisiana parishes.  While "Owari" is the most popular variety of Satsuma grown, Lynn grows the "Brown Select" that ripens a little earlier and is much sweeter than other varieties. (Tip: Visit the farm and load up during the fall satsuma season.  Or make plans to attend Abbeville's Giant Omelette Festival in November.  Lynn is always there with his fresh satsumas.)
14405 Gladu Road
Kaplan, Louisiana 70548
satsumafarm@yahoo.com
337-893-3386   337-288-7374
http://www.satsumafarm.com/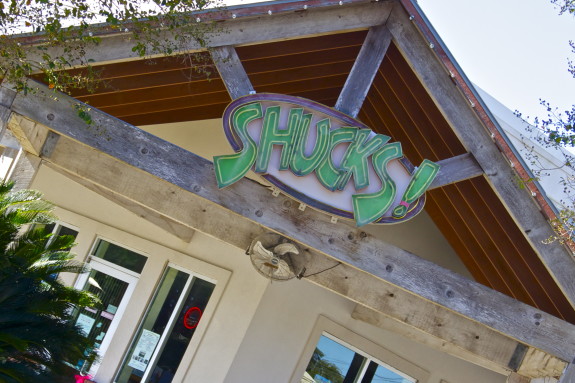 SHUCKS!
If Vermilion Parish is the self-proclaimed "Most Cajun Place On Earth," then SHUCKS! is most certainly "The Most Cajun Restaurant On Earth!"  This authentic South Louisiana seafood house is home to some of the best versions of Cajun coastal classics around. My friend David Bertrand and Bert Istre run the place, and it's a must stop when in Vermilion Parish.  The Fried Shrimp are known far and wide, and the Crawfish Étouffée is one of the most authentic restaurant renditions of this classic.  And be sure to belly up to a dozen briny raw oysters, and a must-try is the crabmeat-topped Oysters Supreme.  (Tip: Be sure to save room for the bread pudding topped with hot white chocolate buttered rum sauce that many have applauded as the "best bread pudding they've ever tasted.")
701 West Port Street
Abbeville, Louisiana 70510
337-898-3311
http://shucksrestaurant.com/
https://www.facebook.com/SHUCKS-THE-Louisiana-Seafood-House-173115886065135/
The Kitchen Shop
Detouring off I-49 into the quaint Cajun Creole village of Grand Coteau is like finding yourself in a time warp circa the mid-1800s.  The Kitchen Shop anchors a line of antique shops and eateries in this tiny stop in the road.  Equal parts gift shop and café, it's an excellent place to stop and shop.  Be sure to meet shop owners Jesse and Nancy Poimboeuf.  Have a quick bite of their signature Gateau Na Na pastry and coffee while you sit in their shady, backyard garden shared with cats and a chicken or two.  (Tip:  Buy a bottle of their Ariston fresh-pressed extra virgin olive oil and bring the bottle back for a refill to save $2.)
296 Martin L King Rd
Grand Coteau, Louisiana 70541
337-662-3500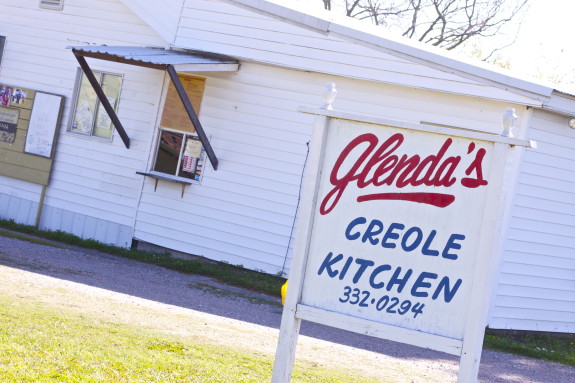 Glenda's Creole Kitchen
This is the kind of place you drive right by without a second thought.  But, you'd be passing up Glenda Broussard's Acadiana original.  From 10 am – 1 pm every day of the week (until 2 pm at the drive thru), options include a fried pork chop sandwich at the window or a sit-down meat-and-three inside.  This is the real-deal Creole lunchroom.  If it's good enough for Anthony Bourdain to pull up to one of her tables, what are you waiting for?
3232 Main Hwy (Hwy 31)
Breaux Bridge, Louisiana 70517
337-332-0294
www.glendascreolekitchen.biz
Henri's Bakery
Henri Moore bakes a killer king cake and a wickedly good wedding cake, but it's for her artisan bread (a whole wheat focaccia you'll not soon forget) that she is gaining attention. Email her and her husband Kevin, or catch them at local events (I first met them at the Giant Omelette Festival) and Saturday mornings at the Lafayette Farmers Market at the Horse Farm to buy some of their scratch-made baked goods.  (Tip: Strike up a conversation with Henri, and let the sun shine on your day.)
337-234-7509
Lafayette, Louisiana
kmoore0752@bellsouth.net
https://www.facebook.com/henrisoflafayettela/info
Chef Patrick Mould 
Pat is a longtime friend and professional chef who helped define Cajun Creole cooking over the past 25 years.  With his television show Cooking Up A Good Life, Pat has helped educate many on the how-to of Louisiana cooking.  He is an affable and humorous spokesperson on camera and off.  (Tip:  Get Pat's cookbook Recipes From a Chef for terrific Cajun and Creole recipes.)
337-739-9404
https://www.chefpatrickmould.com/#home-section
www.louisianaschoolofcooking.com/about.html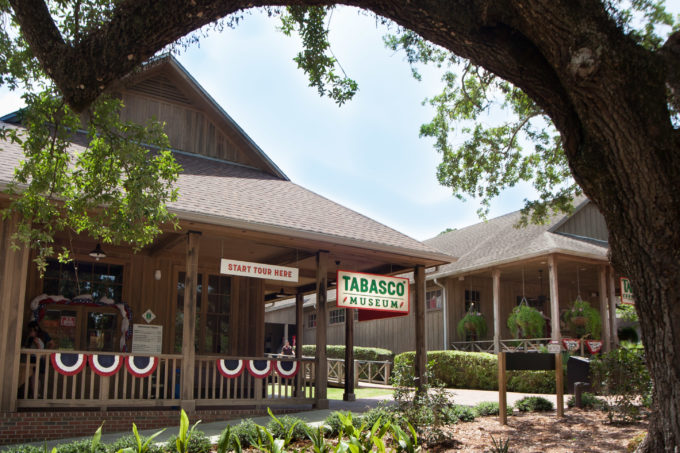 TABASCO Factory Tours And Country Store
Make a trek 30 minutes south of Lafayette to Avery Island and visit the factory where TABASCO brand Pepper Sauce is made.  There is a short film on TABASCO history and a self-guided tour of the bottling and packaging operations.  Spend time in the original TABASCO Country Store and the restaurant next door;  check out a wide array of products and souvenirs for sale.  (Tip:  Spend an hour longer and tour the Jungle gardens and aviary, and be sure to look for the Buddha tample.)
Highway 329
Avery Island, Louisiana 70513
337-373-6129
www.tabasco.com/avery-island
Cannatella's Italian Grocery and Hardware
Italians immigrated up the Atchafalaya River to Acadiana some years after the French Acadians.  Most never made it past Morgan City, but a few Italian families, like the Cannatellas, settled in the town of Melville, in St. Landry Parish.  For the last 90 years, four generations of Cannatellas have been making sweet Italian sausage from a secret family recipe.  Until his recent passing, 85-year-old Pete came in every morning to add just the right amount of fennel to his sausage. His sons Brian and Grant carry on the family legacy and operate a well-run, ultra-clean, family operation turning out some tasty old-country products. (Tip:  Ask to see the "old store" next door which has been preserved since 1923.)
421 Landrum Street
Melville, Louisiana 71353
337-623-4211
https://www.facebook.com/Cannatellas
Randol's Seafood Restaurant and Cajun Dancehall
Frank Randol's place is a rockin' good time and is ground zero for finding out what Cajun and Creole is all about.  You can hit the dancefloor most every night when the live music cranks up around 7 pm and taste some delicious Cajun and Creole food.  (Tip: Frank has a variety of options but when the boiling pot is on the burner be sure to start with an order of crawfish or crabs.)
2320 Kaliste Saloom Rd
Lafayette, Louisiana 70508
337-981-7080
www.randols.com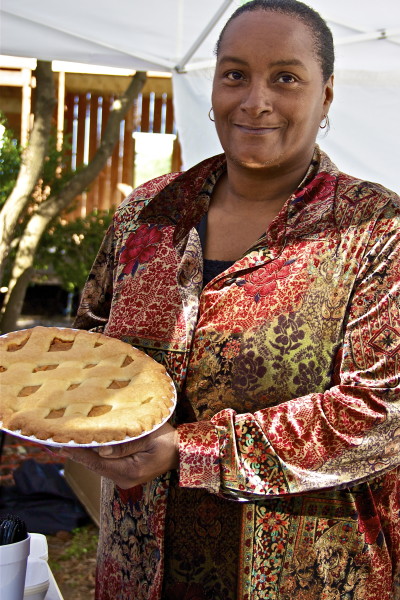 Ms. Frances Cakes, Pies and Sweet Dough
The Creole lady with the big smile and the sweetest sweet dough at the Lafayette Farmer's Market at the Horse Farm is Ms. Frances.  She makes the trip every Saturday morning from Opelousas, Louisiana, and her specialty is a full line-up of flaky, sweet dough pies – blackberry, fig, sweet potato or whatever is fresh and in season.  Buy enough for the week and call her for special orders.
Ms. Frances Chenier
337-739-7438
337-308-6377


Louisiana Kitchen and Culture Magazine
Susan Ford is pursuing her passion for Louisiana food culture as publisher of this excellent publication.  Susan and her editorial team seem to be everywhere on the statewide food scene and have connected with their readers by drilling down into the stories behind the dishes.
www.louisiana.kitchenandculture.com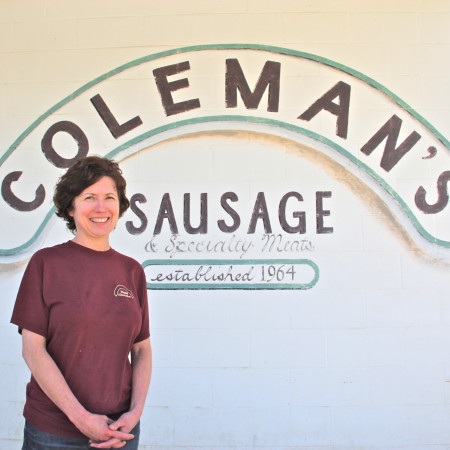 Coleman's Sausage and Specialty Meats
Tanna Pousson runs this sausage-making operation with her dad Lynn Dale Coleman.  You can always find her behind the counter talking proudly about her family's smoked sausages and stuffed meats – some of the best in Acadiana.  Located in northern Acadia Parish, this is a third generation meat market started back in the 1960s by Howard and Winnie Coleman.  (Tip:  Load up on their top-selling smoked pork sausage with medium spice.)
1 mile West of Iota on Hwy. 98
Iota, Louisiana 70543
337-779-3425
Budden's Old General Store
Palmetto is the proverbial one-stoplight town on the road to practically nowhere.  But, along Hwy 10 in rural St. Landry Parish smack dab in the middle of the little village is one of the most charming and well-preserved relics of a long gone time.  In 1934, Allen and Rita Budden opened to serve this community as a one-stop grocery, hardware, and tool supply store.  Walking across the creaky wood floor, you can almost imagine the Depression-era Palmetto town folks snatching an RC Cola from the cold box.  (Tip:  Be sure to meet Guyton Budden and ask him about his collection (not for sale) of culinary antiques lining the top shelf.)
165 W Railroad Ave
Palmetto, Louisiana 71358
337-623-4711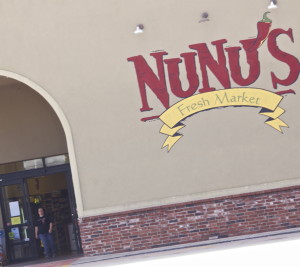 Nunu's Fresh Market
Back in the 1950s, Arthé Broussard opened up a local watering hole called The Blue Room Lounge in the Town of Milton that eventually turned into the first Nunu's Grocery over 30 years ago.  Now the Broussard family is going on the third generation, as well as their third store, with locations in Maurice and Youngsville serving up award-winning boudin, stuffed turkey wings, specialty meats, and smoked sausage.
http://www.nunus.com/home
NuNu's Fresh Market
509 Lafayette Street
Youngsville, Louisiana  70592 337-856-6889
Broussard Supermarket
113 Espasie Drive
Milton, Louisiana  70558   337-856-5650
NuNu's Country Mart
309 East Lafayette Street
Maurice, Louisiana 70555  337-898-3355
Scott Location (formerly Early's Food Store)
1410 Saint Mary St

Scott, Louisiana 70583
337-234-4592
Café de Lasalle 
Darlene Bolfa is a hard-working Cajun French lady who, along with her husband Randy, runs a 20-year success story called Lasalle's.  Believe me, the restaurant business is tough enough, but to appreciate her work ethic you need to take a walk in her shoes.  Darlene wakes up at 4 am every weekday morning, and by 6 am she is behind the wheel of her long, yellow school bus safely delivering the town's children.  By 8 am, she is firing up the burners of her stove at Lasalle's to feed the hard-working parents of those very kids.  After clean-up, she's back in her school bus for the final leg of her day.  Her smoked ponce is one of the best I've tried, and her daily buffet has great Cajun favorites like hen gumbo, mustard greens, and corn macque choux.   (Tip:  Try the meatball stew, a daily feature of the buffet.)
714 W. Lasalle St.
Ville Platte, Louisiana 70586
337-363-7891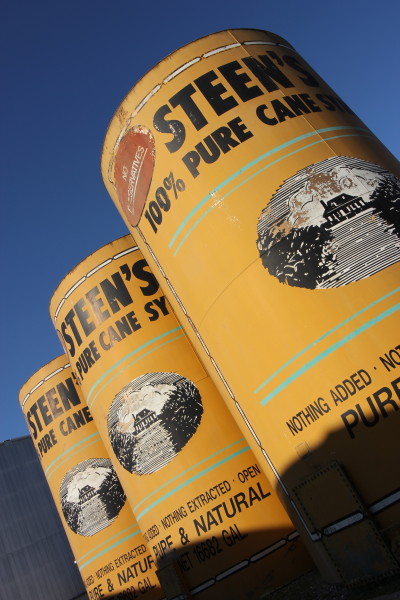 Steen's Syrup
Acadiana is sugarcane country, and fields of the stalks are seen growing along almost every parish road.  One of the definitive Cajun products is Steen's brand cane syrup and molasses.  You will find the signature black and yellow cans on most kitchen tables and many café counters throughout Acadiana.  It is distinctive in taste and can be used in most recipes begging for sweetness.  Visit their mill and gift shop, pick it up at any local grocery or order online at www.cajungrocer.com.
119 N. Main Street
Abbeville, Louisiana 70510
800-725-1654
www.steensyrup.com 
Kartchner's Grocery and Specialty Meats
Krotz Springs is a quiet little town at the outer reaches of Acadiana.  In its day, before the interstate roadway system, this was the crossroads of Louisiana as Hwy 71 intersected US 190 on the way to Baton Rouge.  The coffee shops and lunchrooms were the meeting places for deal-making politicos as far back as Huey P. Long.  These days, about the only reason to stop, is to load up at Kartchner's.  This German family has built a thriving business on top-notch stuffed meats, hardwood-smoked sausage, tasso, andouille along with one of the best cracklin' I've tasted in all of Acadiana.   Smokehouse master Jordan Leger has crafted some unique takes on standard Cajun fare like jalapeno cream cheese stuffed boudin balls and a stuffed ribeye wrapped in applewood smoked bacon.  (Tip:  For the drive home, buy a small bag of intensely smoked beef jerky – the best in Acadiana.)
24562 Hwy 190
Krotz Springs, Louisiana 70750
337-566-0529
kartchnersspecialty@gmail.com
http://kartchnersspecialties.com/20901/20922.html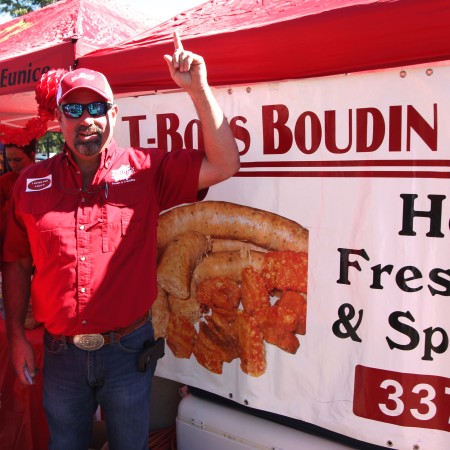 T-Boy's Boudin and Cracklin'
The happy Cajun with his finger in the air is T-Boy himself just after he won First Place in the 2014 Boudin Cook-Off in downtown Lafayette.  This isn't T-Boy's first competition — he won top honors in 2013 and 2012 also.  Based in Evangeline Parish, T-Boy is setting the standard for boudin throughout Acadiana.  T-Boy told me his secret is the quality of his fresh pork straight from the farm to his slaughterhouse.  Order online or check out their store locations in Eunice, Mamou, and Ville Platte.
2228 Pine Point Rd.
Ville Platte, Louisiana 70586
337-498-3333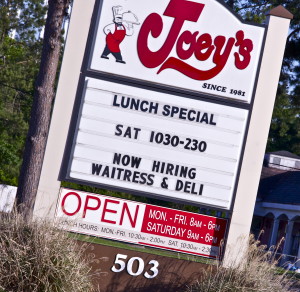 Joey's
Joey Beyt set out to open a simple meat market over 30 years ago and what he wound up with is nothing less than a 10,000 square foot food emporium dedicated to quality artisan products.  While Cajun Creole infuses the product offerings, it is more of a gourmet store that offers handcrafted signature items.  Joey has classic French training in the art of the boucherie that shows in the meat counter offerings.  (Tip: Stay for lunch.   Joey's Fireside Room next door offers a midday variety of light fare and specialty po'boys and sandwiches.)
503 Bertrand Drive
Lafayette, Louisiana 70506
337-237-3661
http://www.joeyslafayette.com/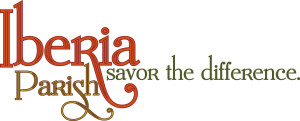 Iberia Parish Convention & Visitors Bureau
New Iberia or "The Berry" as locals call it, is twenty miles south of Lafayette and home to some of Acadiana's unique culinary treasures.  Director Fran Thibodeaux and her staff will guide you to Tabasco, Jefferson Island, and Konriko Rice–all in Iberia Parish–as well as the quaint fishing village of Delcambre.  Explore the tastes along the bayous and backroads.
2513 Hwy 14
New Iberia, Louisiana 70560
888-942-3742 or 337-365-1540
www.iberiatravel.com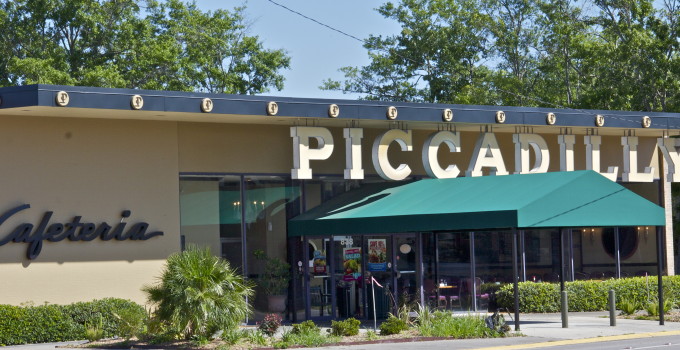 Piccadilly Cafeteria
I know.  I know.  It's been around forever, and every kid grew up pushing a tray down the tracks picking out their own tasty eats.  But, I could never write an Acadiana food blog without paying homage to the one-of-a-kind Piccadilly.  This homegrown Louisiana institution almost went extinct a few years back but was rightfully saved from the growing list of treasured icons that we no longer have.  Don't take it for granted.  Visit one of the two locations–Oil Center preferred for its 1960s art deco design–and feast on terrific Crawfish Étouffée, Fried Catfish, Seafood Gumbo, along with a wide selection of vegetables.  (Tip: My daughter Lauren can't resist the carrot soufflé.)
Two Locations:
Oil Center
838 Coolidge Blvd
Lafayette Louisiana 70503
337-232-4317
Boulevard Shopping Center
100 Arnould Blvd.
Lafayette Louisiana 70506
337-984-7876
Lejeune's Sausage Kitchen
The location was a tip-off – 108 Tasso Circle.  I knew I was in for some tasty Cajun smoked sausage, but I was only partly right.  What I found was not only the shrine of Cajun prairie smokehouse culture but one of the hardest working families I've encountered in all my time covering the South Lousiana food beat.  Nita Lejeune greeted me with a wide grin and a welcome into her world of garlic sausage, tasso and smoked ponce.  No andouille here.  They specialize in what they do best, and after one taste you'll understand why.  It's a family affair with Kermit, Nita and their sons selling 3000 pounds a week out of this little shed just outside of Eunice.  Their customers are evangelists of the smokehouse gospel, and one of those customers from Pensacola makes the pilgrimage once a year specifically for 100 pounds of their famous garlic sausage.
108 Tasso Circle
Eunice, Louisiana 70535
337-457-8491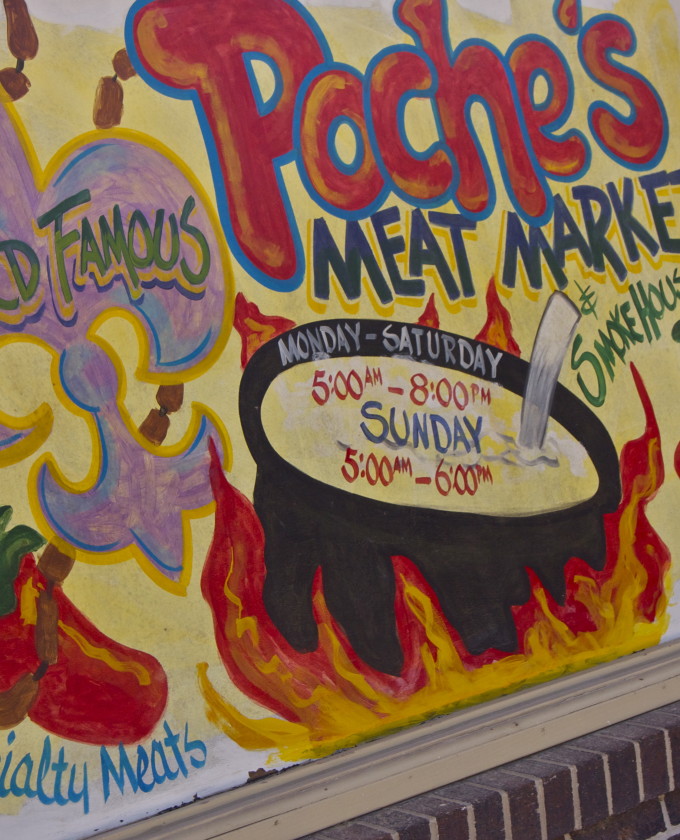 Poche's Market

Just off I-10, north of the Breaux Bridge exit, is a must-stop treasure trove of Cajun and Creole specialties.  Part meat market, smokehouse, restaurant and general store, Poche's is where you stock up.  Excellent andouille and a uniquely dark and rich boudin.  (Tip:  Try their meat and three lunch (Backbone Stew on Saturdays), and bring your ice chest.)
3015 Main Hwy #A
Breaux Bridge, Louisiana 70517
337-332-2108
www.poches.com
Mark and Mary's City Farm
Mark and Mary Hernandez are pioneers in the local Community Sustainable Agriculture (CSA) movement.  Their farm on 7.5 acres in Lafayette features seasonal herb and vegetable gardens, a blueberry patch and fig orchard all grown the old-fashioned way, without the use of synthetics or pesticides.  You can find Mark every Saturday managing the Lafayette Farmers and Artisan Market at the Horse Farm.
http://cityfarmjournal.blogspot.com/
Teet's Food Store
The Deville family has been making sausage in Ville Platte for three generations, and if you doubt it, just stop by their store just outside of town.  Get there early — oh, around 6 am — and you just may be able to talk to Mr. Teet himself.  If not, his son Chris will certainly be there, and his grandson Luke will be making boudin by 7 am.  This is a family run French Acadian boucanière and the sausage variations — smoked ponce, boudin, tasso, and andouille — are worth loading up on.  Teet's is just one of the reasons that Ville Platte is proclaimed the "Smoked Meat Capital of the World."  (Tip:  Check out the family history recounted  in the many newspaper articles displayed on the front wall.)
2144 W. Main St.
Ville Platte, Louisiana 70586
337-363-1839
www.teetsfoodstore.com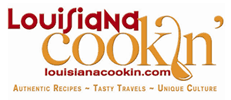 Louisiana Cookin' Magazine
Eric Hoffman and his family at Hoffman Media have taken the gospel of Louisiana cooking national as a niche publication found throughout the nation.  Editor Daniel Schumacher covers the statewide food scene from New Orleans.  Watch for their Chefs To Watch issue in August.
www.louisianacookin.com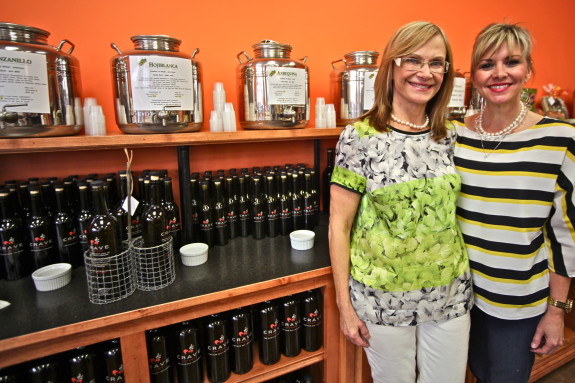 Crave
Fran Avery and Melanie McMullen are putting Lake Charles on the culinary map with Crave, their olive oil outpost, and specialty food shop.  Taste a sample from over 40 olive oils and take home a bottle to pair with the selection of cheeses they sell.  A small, but discerning selection of boutique wines and other culinary treasures are worth finding them just a couple of blocks off I-210.  (Tip: Try the peppery California Kalamata olive oil.  It pairs perfectly with their Point Reyes Blue Cheese.)
2801 Ryan Street
Lake Charles, Louisiana 70601
337-794-6224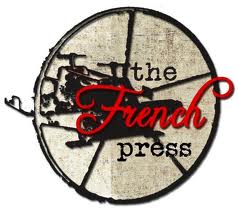 The French Press Restaurant
Chef Justin Girouard and his wife Margaret are helping redefine Cajun Creole cuisine from their small storefront bistro in downtown Lafayette.  Trained in the kitchens of New Orleans, Justin returned to Lafayette to a rousing reception for his unique take on the classics.  His weekend brunch is a favorite hangout for the urban crowd. (Tip: Order his Sweet Baby Breesus–biscuit sliders with bacon, fried boudin balls, and Steen's cane syrup.)
214 E. Vermilion Street
Lafayette, Louisiana 70501
337-233-9449
www.thefrenchpresslafayette.com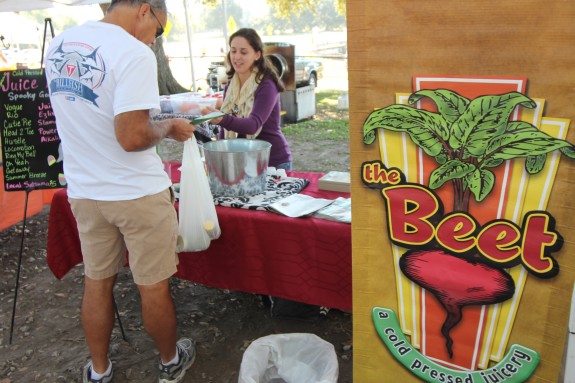 The Beet – Smoothie and Juice Bar
Patti Howell is juiced up and ready to introduce you to her world of organic cold-pressed juice. Patti is a certified holistic health coach and knows her stuff when it comes to the best methods to blend raw fruits and vegetables without pasteurization or preservatives. Patti's beat every Saturday is at the Lafayette Farmers and Artisans Market at the Horse Farm. (Tip: Beat a path to her store and  get a juice cleanse on Kaliste Saloom Rd. in Lafayette.)
The Beet
2722-A Kaliste Saloom Rd.
Lafayette, Louisiana 70508
337-456-7996
You'd have a big grin too if your life's passion was promoting spicy Cajun boudin.  Robert Carriker (aka, Dr. Boudin) is in my words, "the Oracle of Boudin."  This boudin fanatic based in Lafayette runs the definitive blog on the subject, coordinates the annual Boudin Cook-off in downtown Lafayette and has been written up in the national press for his expertise and reviews. (Tip: Check the website to plan your trip along "The Cajun Boudin Trail" and sample the best of the best.)
www.boudinlink.com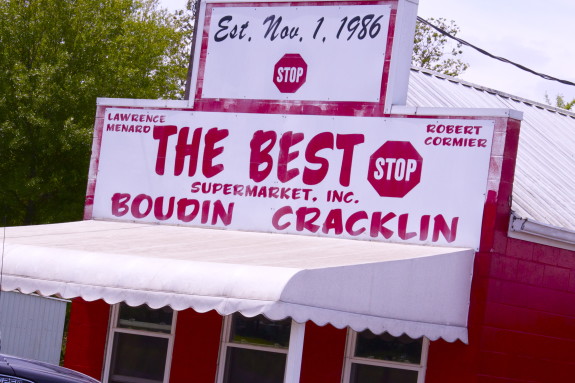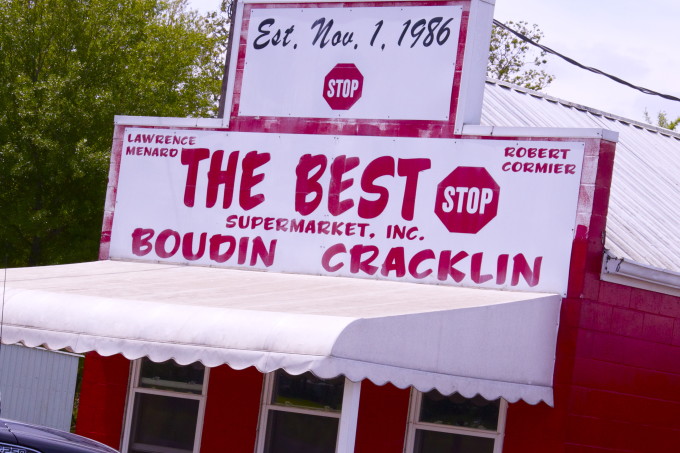 The Best Stop
This aptly named little country store just off I-10 in Scott, Louisiana has many hidden secrets.  Among them are boudin, tasso, andouille, stuffed quail, cracklin', and hogs head cheese.   And they may just be the best versions of these Cajun staples you're likely to find anywhere in Acadiana.  When on my weekend food treks, I always save "The Best" for last.
615 Hwy 93 N.
Scott, Louisiana 70583
337-233-5805
www.beststopinscott.com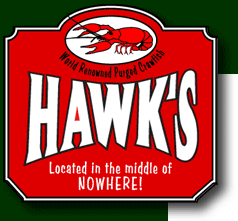 Hawk's Crawfish Restaurant
Hawk Arceneaux knows a thing or two about crawfish, and he has one of the most respected boiling operations in Acadiana. The key is fresh water purging, a technique he learned from Texas A&M.  While the location off the Rayne exit, north of I-10 is a challenge to find, it is well worth the trip during crawfish season.  (Tip:  Set out with a road map or, better yet, a GPS.)
416 Hawks Road
Rayne, Louisiana 70578
337-581-2101
www.hawkscrawfish.com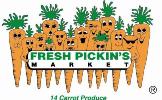 Fresh Pickin's Market
Fresh from the farmers and local producers, Fresh Pickin's has a wide choice of vegetables, fruits, herbs, and spices as well as many Cajun Creole specialty products.  This is a quick in and out stop that has a friendly, down-home, farmers market feel.  They do supplement their local sourcing with products from other parts of the country, but when in season, mostly Louisiana products are on the shelf.  I applaud their connection to these local suppliers.
907 Kaliste Saloom Rd
Lafayette, Louisiana 70508
337-261-2607
http://www.freshpickinsmarket.com/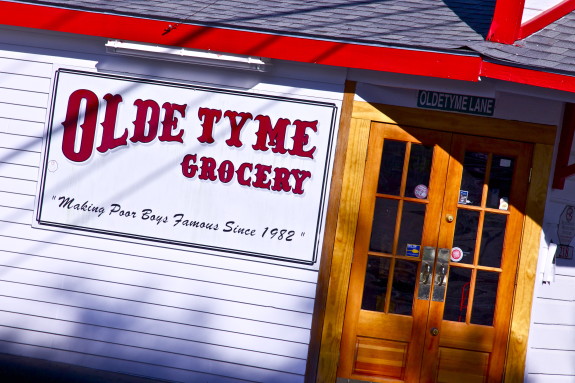 Olde Tyme Grocery
Throughout Louisiana, poor boy (or po'boy) shops dot the landscape.  Every town has them, and inevitably one will rise to superstar status.  In Lafayette, that would be Glenn Murphree's Olde Tyme Grocery.  Get in line at the counter (cash only) and place your order for an exceptional poor boy.   The choices are many, and they are all good.  Go on Friday (the only day available) and get the Fried Catfish Poor Boy.  Grab a cold Barq's and a bag of Zapp's, and enjoy a Cajun Creole treasure.
218 W St Mary Blvd
Lafayette, Louisiana 70506
337-235-8165
www.oldetymegrocery.com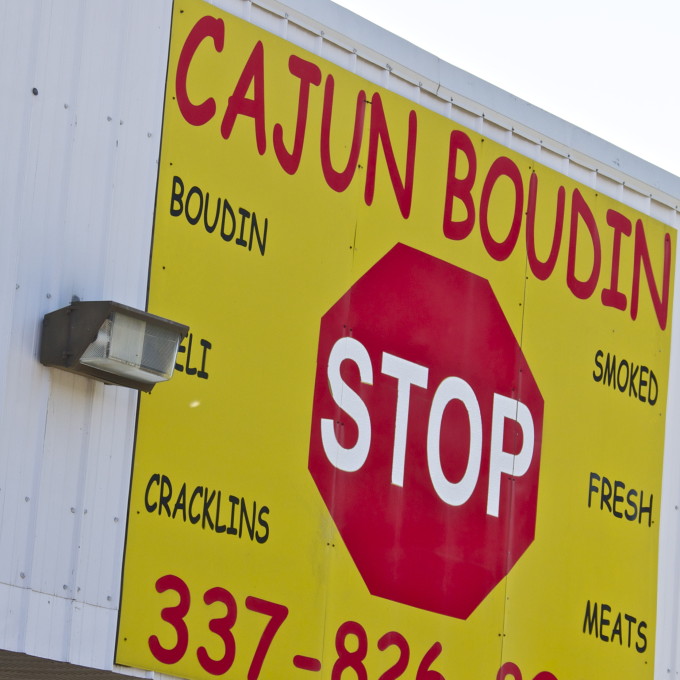 Cajun Boudin Stop (aka St. Amand's)

Traveling from I-49 to Ville Platte on Hwy 167, there is one stop I always make – St. Amand's (Cajun Boudin Stop) in Plaisance.  Although the sign has no mention of the previous owner's name, this little stop at the fork in the road is still called St. Amand's by locals, and it has an assortment of smoked meats, boudin, and cracklins to stock up on.  Their smoked turkey wings and necks are some of the best around.  (Tip: Order a fried pork chop with a slice of white bread for the ride to Ville Platte!)
1691 Hwy 167
Opelousas, Louisiana 70570 (near Plaisance, LA)
337-826-8226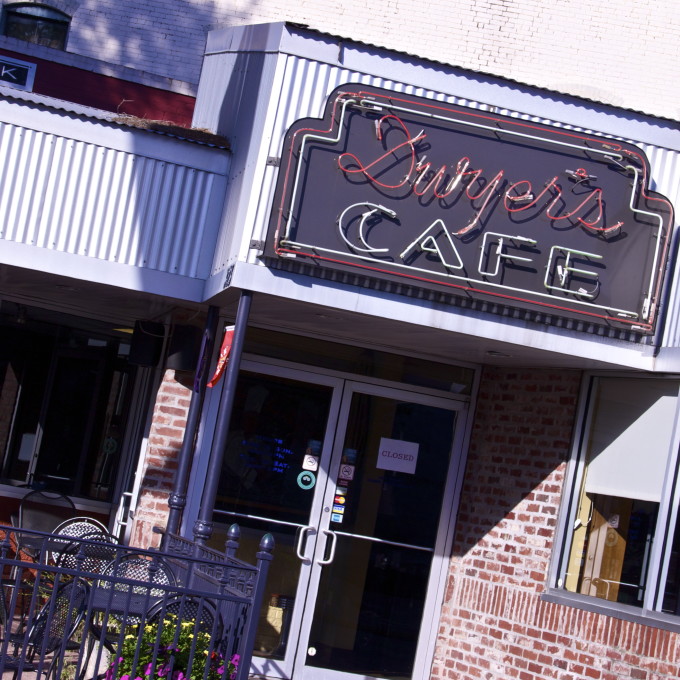 Dwyer's Café
This is the legendary downtown diner.  Breakfast or lunch – plate lunch that is – are down-home, hearty and the definition of comfort food.  So comfortable, you'll be wanting a nap.  Mounds of white rice with gravy and the meat of the day – pork roast, round steak, stewed chicken – rotates through the week.  Lots of choices for sides and a friendly café feel.  I'd tell you to check out their website if they had one.  Gotta love Dwyer's.
323 Jefferson St
Lafayette, Louisiana 70501
337-235-9364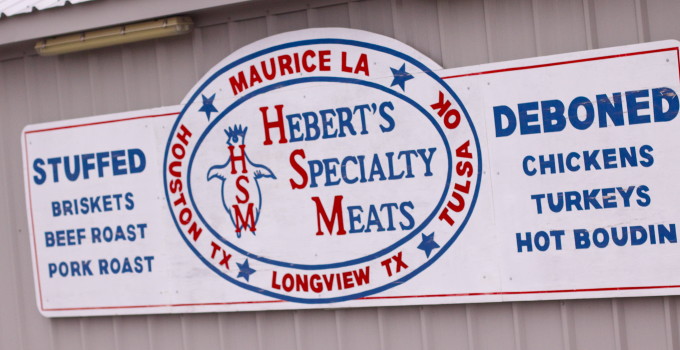 Hebert's Specialty Meats
This is where the deboned Cajun meats craze all started.  Just 5 miles from Lafayette, Maurice, Louisiana is home to Hebert's — the shrine of artisan-prepared stuffed meats.  Pork, chicken, and turducken are the specialties of the house.  Be sure to check out their online list of products before making the trip.  (Tip: Get a link (or a few pounds) of their boudin which I rate near the top of my list.)
8212 Maurice Ave.
Maurice, Louisiana 70555
337-893-5062
Order online at: http://www.hebertsmeats.com
See the in-store products and price list at: http://www.hebertsmaurice.com/Products.aspx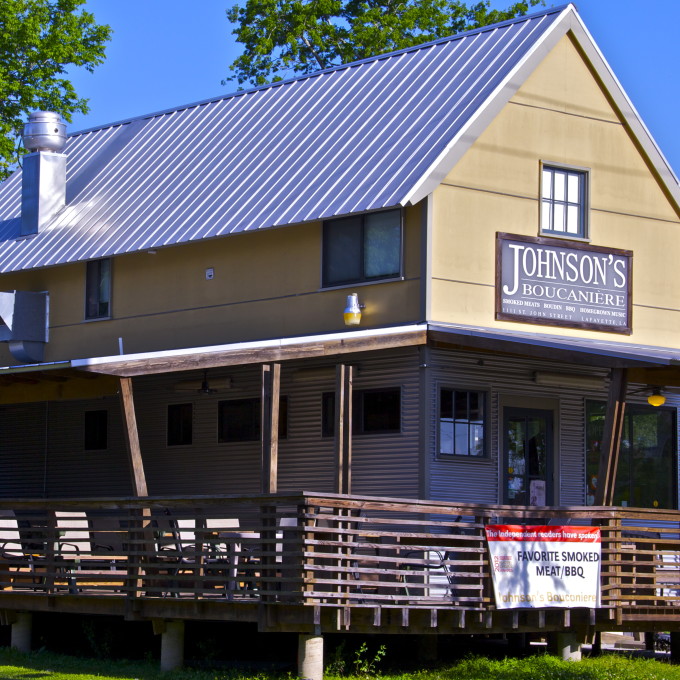 Johnson's Boucaniere
This charming little store is a rural, Cajun smokehouse (boucaniere) right in the middle of Lafayette.  This cool, but compact, building houses some of the best smoky, sausage-based eats around.  Since the 1930s the Johnson family has been making their signature tasso and andouille, and now the younger generation is taking it to a whole new level.  Check them out at lunch and be sure to try their award-winning boudin.
1111 Saint John St
Lafayette, Louisiana 70501
337-269-8878
www.johnsonsboucaniere.com
Joie de Vivre – Coffee & Culture Café
I envy Melanie Harrington.  She is living her dream.  I recently met this bubbly ball of energy at her eclectic little coffee shop in downtown Breaux Bridge.  What could have been a sleepy nondescript storefront in the hands of someone less passionate is a culturally significant expression of Cajun and Creole creativity.  Melanie serves up lattes and cappuccinos along with an impressive vegetarian menu expertly crafted in a minimalist kitchen.  But, it is the weekly jam session of Cajun musicians every Saturday morning at 11am that sets this destination apart.  (Tip:  Check out my friend Janelle's Antiques & Gifts just down the street.)
107 N. Main St.
Breaux Bridge, Louisiana 70517
337-442-6354
Email: mharringtonemail@gmail.com
https://www.facebook.com/JoiedeVivreCafe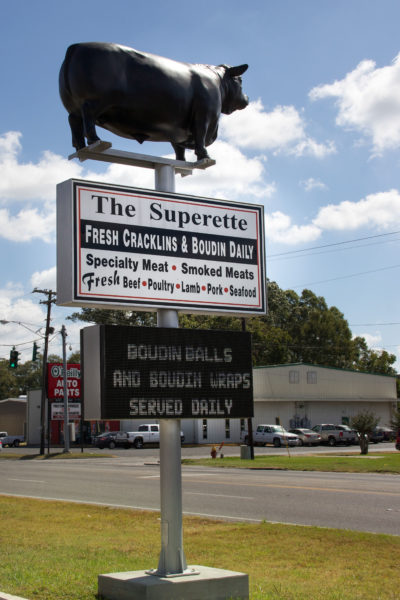 Eunice Superette & Slaughter House
Over fifty years ago, Jerome Moore opened up "The Superette" (Note: not to be confused with Acadian Superette in Lafayette).  What was a typical Cajun prairie grocery store is now the state's largest meat processing facility.  Each morning, trailers full of livestock line up at the slaughter house destined for the "kill floor" and on to slaughter, processing, and shipping.  In the retail center in the middle of Eunice, your senses are overwhelmed with the flavors and aromas of a tamer sort–smoked sausage, fresh boudin, and an endless array of meats.  It is a meat lover's nirvana.  (Tip:  For sure, bring an ice chest, and don't leave without a bag of their famous smoked bacon.)
Slaughter House:
1044 Highway 91
Eunice, Louisiana 70535
337-546-6041
Retail:
1230 West Laurel
Eunice, Louisiana 70535
337-546-6042
http://eunicesuperette.com/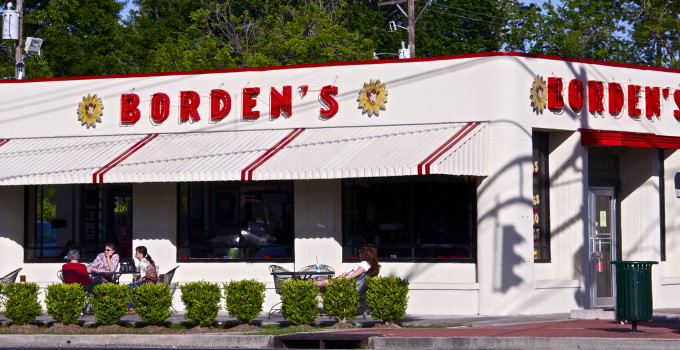 Borden's Ice Cream Shoppe
This place looks like it has been there forever, and it has.  Built in 1940, this was one of many retail ice cream parlors opened by the Borden's Milk Company.  Thanks to a rescue renovation by the local Lerille family, this is the last one in the country.  Have a waffle cone or a homemade ice cream sandwich and linger for awhile.  You just may be transported back to a simpler place in time.  Good for the soul!
1103 Jefferson St
Lafayette, Louisiana 70501
337-235-9291
www.bordensicecreamshoppe.com
Market Basket Farm
Charles Thompson runs Market Basket in Youngsville, Louisiana — a local truck farm producing quality, organically grown vegetables, fruit, and eggs.  As a chef of almost 30 years, Charles knows quality, and on his farm, he refuses to use conventional insecticides or fertilizers.  Rain or shine, Charles can be found at the Hub City Farmer's Market in Lafayette's Oil Center.  (Tip:  Visit the farm by giving Charles a call to let him know when you're coming.)
411 Simon Rd.
Youngsville, Louisiana 70592
(Just south of the 4-way stop sign off Verot School Rd.)
337-856-4296
337-344-7804
http://marketbasketyoungsville.com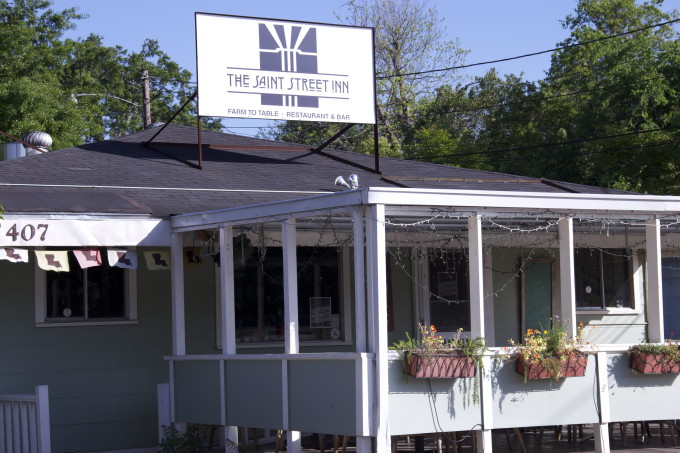 The Saint Street Inn
As a skillful journalist, Nathan Stubbs covered the local Lafayette beat for an award-winning weekly newspaper.   But all along, he longed to be in a kitchen stirring a pot creating farm-to-table dishes that stir the soul.  With The Saint Street Inn, he has succeeded in dramatic fashion.  Front of the house, back of the house, all over the house, Nathan is wearing many hats and loving every minute of it.  (Tip: Linger on the front porch for a late Saturday lunch of his spectacular cochon de lait po'boy.)
407 Brook Avenue
Lafayette, Louisiana 70506
337-534-8112
www.saintstreetinn.com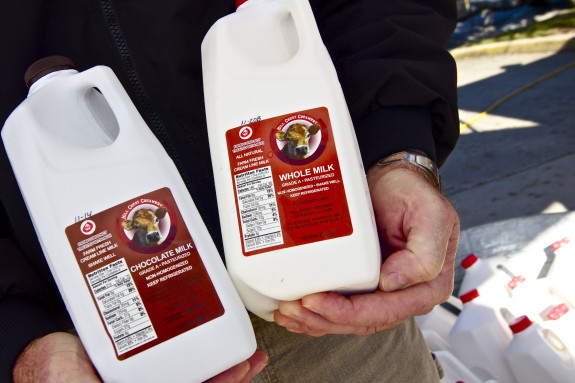 Hill Crest Creamery
Acadiana is not exactly dairy farming country.  The southeastern part of the state around St. Tammany and Washington parishes are where most of the commercial dairy farms are located.  But, what we lack in quantity we make up for in the quality that Farmer Arvin Decker from DeRidder delivers with his Hill Crest Creamery products.  This is fresh milk from grass-fed cows, low pasteurized, quick-chilled, and cream-top.  Every Saturday morning at the Hub City Farmer's market in Lafayette's Oil Center, you can find him with his line of whole cow's milk, chocolate milk, and cream.  I guarantee you will taste the difference.  (Tip:  Buy a tub of the soft cheese similar to Creole cream cheese that is hard to find these days.)
635 Willow Branch Rd (off US Hwy 171)
DeRidder, Louisiana 70634
337-348-9702
http://www.hillcrestcreamery.com/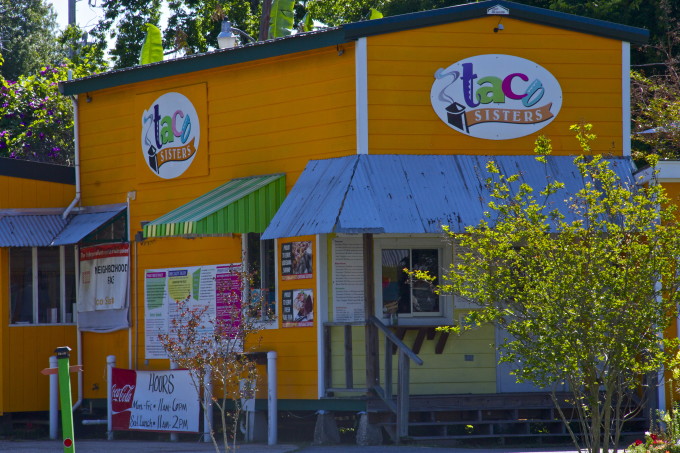 Taco Sisters
Taco Sisters Molly & Katy Richard are defining the taco scene in Acadiana with their cool restaurant in Freetown, and now a new location in Midtown.  Proudly, they are focused on local sourcing with their smoked fish tacos using only Louisiana Gulf seafood.  They're open Monday through Saturday, and you have the option of the drive thru or dine in.
Freetown:
407 Johnston Street (between Downtown and UL)
Lafayette, Louisiana  70501
337-234-8226
Midtown:
3902 Johnston St.
Lafayette, Louisiana 70506
337-889-3902
www.tacosisters.com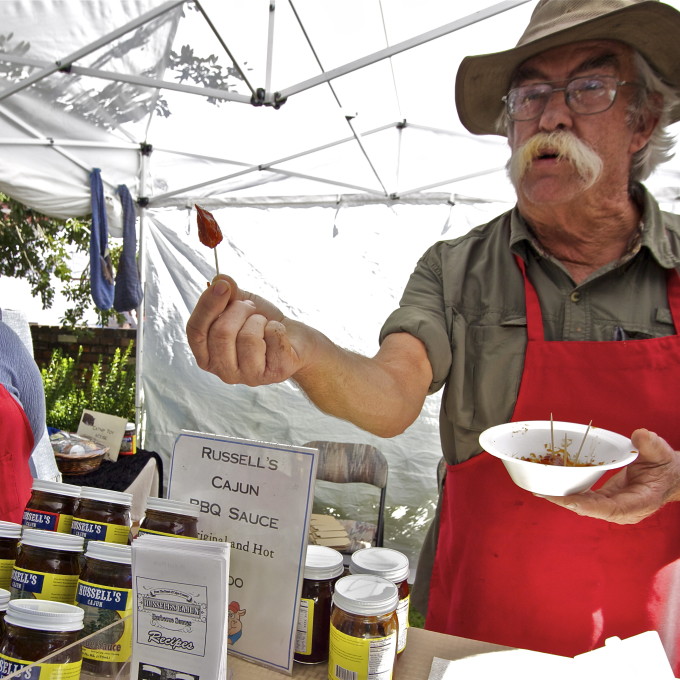 Russell's Cajun BBQ Sauce
I met the colorful, mustachioed Russell Hiltz just recently and tasted his sauce.  Excellent spice with just a little Cajun heat (he has a hotter version).  Russell has won awards and chef's tastings, so I urge you to give it a try.  Get it in Lafayette at Heleaux's on Verot School Road or Nunu's in Youngsville.  Order online at http://www.russellssauces.com/order.htm or email Russell for more info at: russ@russellssauces.com.  Heck, you can just give him a call at 337-212-2552 and Russell will send you a jar.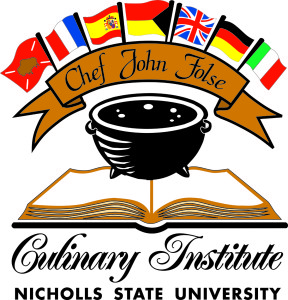 Chef John Folse Culinary Institute
Inspired by the legendary Louisiana icon Chef John Folse, CJFCI is a source of focused education on the Cajun Creole culinary arts.  Al Davis and Chef Randy Cheramie run this degreed program at Nicholls State University in Thibodeaux.  They are sending out legions of highly trained cooks to join the professional ranks in kitchens across America.  The recipe for success is Louisiana ingredients and traditional techniques with a dash of inspiration.  If interested in a culinary education, CJFCI is a cost efficient option to jumpstart a foodservice career.
PO Box 2099
Thibodeaux, Louisiana 70310
985-449-7091
http://www.nicholls.edu/culinary/
Cane River Pecan Company
My friend Jady Regard is the self-described Chief Nut Officer of the Cane River Pecan Company.  Jady's family has been in the pecan business for over 40 years, and after leaving the state to pursue a career in sports management, he returned to Louisiana and the family's orchard at the Cane River Plantation near Natchitoches.  Jady is an idea guy, and the business model for his Cane River Pecan Company is based on a mail-order catalog and Internet-based retailing of gourmet pecans and other pecan specialties.  He is picky about his pecans, so you are assured of getting quality when you shop with Jady.
http://www.caneriverpecan.com/
MaryMary Markets
Mary Patout is the ultimate culinary artisan and combines her Asian roots with her Cajun home to craft delicious handmade goods.  She and her husband Roy are seen frequently at farmers' markets, culinary events, and pop-up dinners with their St. Martinville-grown sprouts and microgreens fresh from the garden.  (Tip: Be sure to stock up on her artisan mustard.)
https://www.facebook.com/MaryMary-Patout-629938240355462/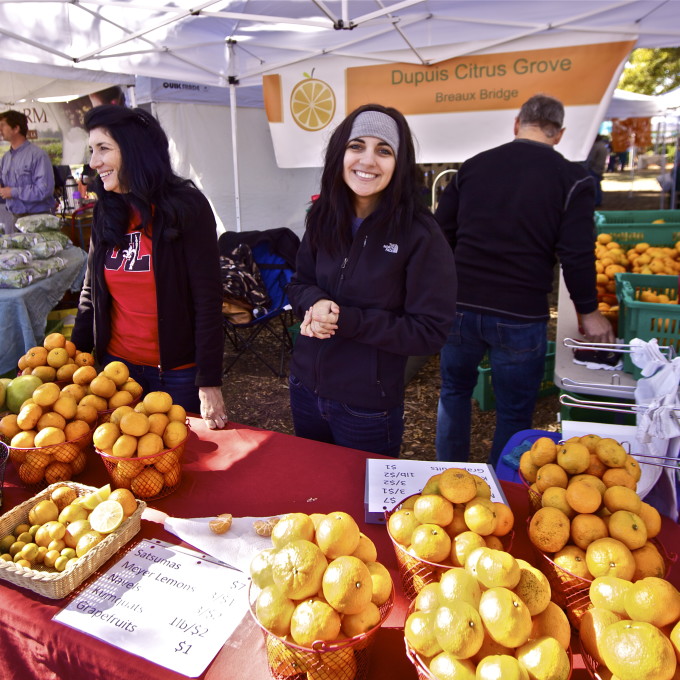 Dupuis Citrus Grove
Jason Dupuis grows some of the most beautiful fruit in Acadiana.  But not nearly as beautiful as his wife and daughter, who work the Dupuis Citrus Grove booth every Saturday morning at the Lafayette Farmers and Artisans Market at the Horse Farm.  Their orchard just outside of Breaux Bridge produces many citrus options such as the sweet variety of kumquats, Meyer lemons, grapefruit, and of course, satsumas.
1510 N. Berard Street
Breaux Bridge, Louisiana  70517
337-332-2815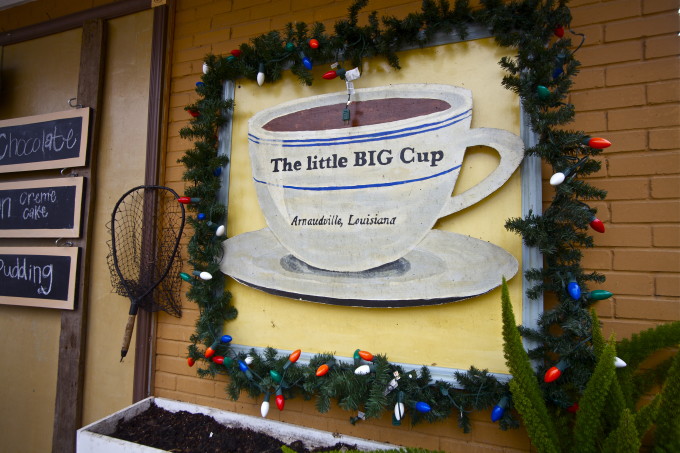 The Little BIG Cup
If you're anywhere near Arnaudville – heck, if you're within 100 miles of Arnaudville – then beat a path over to The Little Big Cup for lunch or dinner.  What Kevin Robin and Sanjay Maharaj have created on the banks of the Bayou Fuselier is nothing short of a community renaissance.  Converting a vintage auto parts store in downtown Arnaudville into a coffee and pastry shop combined with a full-service restaurant is brilliant enough, but it is the quality of the food and service that elevates this to an Acadiana treasure.  (Tip:  Go for the plate lunch and stop off at NUNU Arts and Culture Collective just out of town on Hwy 93 heading to Grand Coteau.)
149 Fuselier Road
Arnaudville Louisiana 70512
337-754-7147
http://www.littlebigcup.com/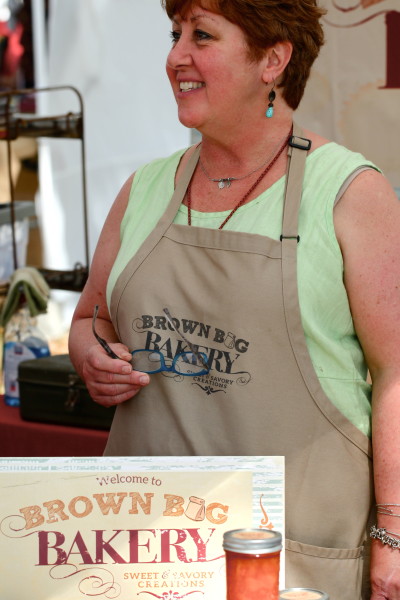 Brown Bag Bakery
No half-baked idea here, Sheila Scully Durel is taking the local food scene by storm with her sweet and savory creations.  You can find her online for handmade cookies and confections as well as savory crawfish pies and meat pies.  (Tip:  Call her to order her best-selling Lemon Almond Raspberry Thumbprints and a jar of Tomato Bacon Jam.)
337-230-0591
sheila.durel@lusfiber.net
https://www.facebook.com/bbagbakery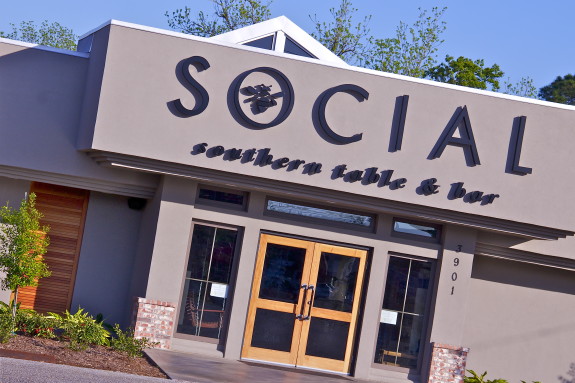 Social Southern Table & Bar
This Southern-inspired gastropub from the Krampe family coupled with Charlie Goodson of Charley G's fame is packing them in nightly.  You're gonna love Chef Marc Krampe's creatively-prepared small plates paired with the extensive craft beer and small-batch bourbon selection.  The casually cool vibe just feels right.  (Tip: For a casual evening's start, sit at the communal table and try a sampling of the local craft beers along with an appetizer or two.)
3901 Johnston St.
Lafayette, Louisiana 70503
337-456-3274
http://socialsouthern.com/
Cajun Cane Kettle Corn
This stuff is addictive! Abby Perkins makes her Cajun Cane Kettle Corn with just enough Louisiana sugarcane sweetness to set it apart from any popcorn you've ever tasted. Find Abby every Saturday morning at the Lafayette Farmers and Artisans Market at the Horse Farm on Johnston Street in Lafayette, Louisiana. And visit her online.
https://www.facebook.com/CajunCaneKettleCorn