"We shall not cease from exploration
And the end of all our exploring
Will be to arrive where we started
And know the place for the first time."
T. S. Eliot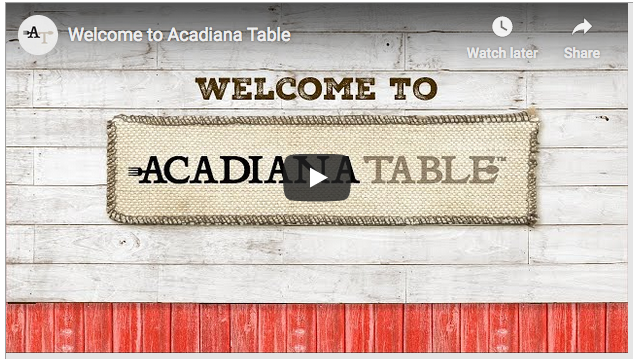 Far-flung corners of the world with unique culinary cultures have always pulled at me in ways that add richness to my life.  Some many years ago my travels led me to Aix-en-Provence in southern France where I discovered the connection between food and art.  Over the course of that short visit, I found that the people of Provence do not just view food as sustenance, they celebrate a reverence for its cultural importance.  It is a market-focused region that revels in its connection to growers, processors, and culinary artisans.  It struck me as a stunningly visual convergence of style and taste that blend deliciously.  Years later it struck me again; it's just like my home.
Acadiana.
That culturally rich region of southwest Louisiana steeped in French tradition and a generational love for food, art, and music.  I've discovered that my years of living in Lafayette have placed me smack dab in the center of an exciting Cajun and Creole culinary landscape.  Acadiana is peppered with amazing stories of colorful people and unique products the rest of the world has yet to sample.
I live, work, and play here with my incredible wife Roxanne, our talented daughter Lauren, and our curious dog Molly.  My writing and photographs reflect our love of life in Louisiana and our passion for good food shared with great friends.
Welcome to our Acadiana Table.

Frequently Asked Questions
What / where is Acadiana?
It is a region, a lifestyle, a state of mind.  Acadiana, located in southwest Louisiana, is the area surrounding Lafayette, where I live.  The spirit of Acadiana weaves throughout the many towns that stretch south all the way to the Gulf.  It's Cajun country and the heart and soul of the French Acadians in America.
What is Cajun cooking?  What is Creole cooking?  And, what the heck is the difference?
I avoid this question as much as possible.  It is the subject of much debate.  The answer I like most is one you will find when someone is avoiding the discussion: A Creole feeds one family with three chickens, and a Cajun feeds three families with one chicken.  The point is that Creole cooking is more associated with citified New Orleans culture of European cooking by servants of African descent–butter-rich sauces and tomato-based dishes.  Cajun is rural South Louisiana–country food that is less fuss and more taste.
Truth be told, in Acadiana those two worlds have blended together to blur the lines of distinction and create a whole new genre of cooking steeped in rural authenticity.
Are you a chef?
No, you will never hear me refer to myself as a chef–I have way too much respect and jealous admiration for the profession.  I am a cook and a self-taught one at that.  I've owned a restaurant, but no, not a chef.  I've cooked on Food Network TV, but still, not a chef.  Perhaps one day, when I don a toque and fire up the burners, sharpen my 10-inch chef's knife and toil away for a fourteen-hour double shift in quiet obscurity, maybe then I can proudly call myself a chef.
How did you learn to cook?
Curiosity.  No really, I've always been intrigued by the art and science of food.  I grew up in a small-town Louisiana restaurant family, and my father was one of the best cooks I've ever known.  For me, he made it okay for a boy to want to stir a pot.  Learning to cook is a matter of trial and error.  You have to burn a roux before you learn to make a roux.  Every kitchen disaster is the path to delicious discovery.
How do you come up with your recipes?
Most all my recipes are unique interpretations of completely different recipes.  This is the fundamental platform for learning how to cook.  I challenge myself to think differently about the tried and true traditional dishes by reinterpreting them into Cajun or Creole versions.  If I see a good recipe, I will experiment with variations of ingredients and wind up with a unique hybrid.  In fact, many of my Louisiana-inspired recipes begin with unrelated ethnic dishes that evolve with the flavors and spices of Acadiana.  From time to time, I will feature a specific recipe of a friend or chef for which I will credit them prominently.  And if you like, please feel free to adapt my recipes and make them into your own versions.  I will be most flattered.
You use a lot of alcohol in your recipes.  What's the deal?
It's all about the flavor that remains as the alcohol content burns off.  Cooking with alcohol is classic French and classic Cajun and Creole as well.  The only difference is here along the bayou we usually drink the alcohol while cooking.
Your recipes list a lot of ingredients that I can't find outside of Louisiana.  What to do?
Just as in any ethnic recipe, to make an authentic Cajun or Creole dish it is important that you source key ingredients.  I have included links to LouisianaDirectSeafood.com and  CajunGrocer.com and other online vendors.  And as a last resort, you can substitute ingredients.  Believe me, I once made gumbo for a crowd at the Sundance Film Festival; just try to find andouille sausage in Park City, Utah.
If I send you a recipe, photo or product, will you feature it on Acadiana Table?
Yes, no, maybe.  If it's good, I'm interested.  If it's really good, I will use it.  If it's delicious and delectable, I will eat it.  Nothing guaranteed.  Nothing returned.
Do you write all this stuff?
Yessiree!  Like it or not, this is my life and my opinion about it.  That's what is so great about blogging–total freedom to express your viewpoint.  And if your view is different, then you should write a blog, too.  As my good friend Aaron Neville says in song, "tell it like it is."
What food writers do you follow?
That's easy, Marcelle Bienvenu.  No one, I mean no one, knows more about Cajun and Creole food lore than Marcelle.  She lives it and is surrounded by it every day, and she can articulate it in words like no one else.  She is James Beard-nominated, along with co-author and food writer Judy Walker, for a post-Katrina cookbook Cooking up a Storm that literally saved New Orleans' recipe heritage, but her first cookbook Who's Your Mama, Are You Catholic and Can You Make a Roux? is my favorite.
No, I mean what writers on the national scene?  
Anthony Bourdain.  Until his untimely passing in 2018, he wrote about our Cajun culture with passion.  His talent was in cutting to the core and sucking out the marrow of a story with words that ooze truth.  In 2011, with his Travel Channel crew in tow, Bourdain came to Acadiana and in one 30-minute segment of No Reservations, he clearly defined Cajun culinary culture.  Rest in peace, my friend.
Do you take your own food photos, and what equipment do you use?
Yes, all of them, unless I clearly credit another photographer.  Check my photography page for more details.
Have you written a cookbook, and can I buy it?
Actually, I've published two cookbooks.
Fresh From Louisiana: The Soul of Cajun and Creole Home Cooking is my newest. Focused on the fresh, seasonal ingredients of our Louisiana cuisine, the recipes are creative interpretations of classic dishes, and new ones that will challenge your thinking about Cajun and Creole. There are stories of interesting places and colorful people that are a part of our foodways. The book is available now in our website STORE, where you can reserve an autographed copy at a 15% discount off retail.
Acadiana Table: Cajun and Creole Home Cooking from the Heart of Louisiana debuted in October, 2016, and is available in bookstores everywhere or online.  And if you would like an autographed copy of my cookbook priced at a 15% discount, then visit our STORE site.  Published by Boston-based Harvard Common Press, it is a 320-page hardcover collection of stories, 125 recipes, and 180 photographs that reflect my passion for Cajun and Creole culinary culture. The reviews of the book have been stellar, and no cookbook collection is complete without it.
What makes your cookbooks different?
More than just recipe books, each cookbook is a kitchen-table conversation about a subject—Cajun and Creole food—that is misunderstood by many, and loved by many more.  I take a deep dive into a mysterious foodway with every tasty bite a discovery, and the sole reason to dig deeper into the story of this fascinating culinary world. If you like taking culinary chances and enjoy a sense of adventure, then these books will play to your passion for creative cooking.  To read media critics reviews, go to the press page, and if you'd like to know what actual readers think, go to the reader reviews here.
I'm traveling to New Orleans, but why should I go to Lafayette?
Think Paris and Provence, San Francisco and Napa.  New Orleans is a must-see city, but to discover the real essence of French Cajun and Creole culture, you need to take a two-hour drive to Acadiana.  Oh, and bring an appetite and an ice chest–large ones.
Where should I locate my stay when I come to Acadiana?
Lafayette.  It is the central point to discover all of Acadiana.  It has good hotels, a vibrant downtown and a cool arts scene.  It is also its culinary capital. Named the "Best Food City in the USA" in the Rand McNally/USA TODAY Best of the Road® Rally, Lafayette has more great restaurants per capita than most any place in America.  Additionally, and for good reason, Southern Living magazine named Lafayette, the "Tastiest Town in the South."
Do you have restaurant tips for when I travel to Acadiana?
Generally speaking, if I write about it, it is worth a stop.  But, like most adventures, you should come without an agenda.  Explore the backroads and find where the locals eat.  Stop for quick bites along the way.  If you need a heading, be sure to go online and visit Lafayette Convention and Visitors Commission.
Hey George, did you know you had a run-on sentence on page four and a typo on page six?
Yep, you win the prize.  I secretly hide subtle grammar errors in all my posts just to see if you're paying attention.  Seriously, I'm out here all alone with no editor or proofer.  If something bothers you, let me know so I can fix it.  Most constructive input is well taken and appreciated.
Where can I get authentic Cajun and Creole food outside of Louisiana?
You can't.