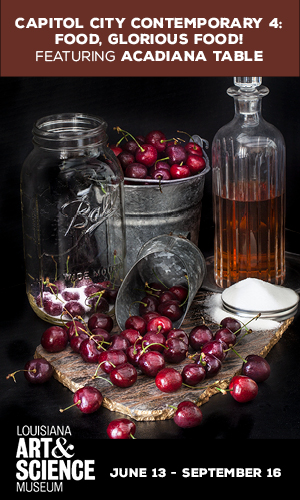 Lafayette, La. – Louisiana Art & Science Museum in Baton Rouge will open its show Capitol City Contemporary 4: Food, Glorious Food! on Wednesday, June 13 in its Soupçon Gallery, and Acadiana Table is proud to be a part of it.   Running through September 16, this exhibition is a celebration of local and regional artists who have captured Louisianans' overriding passion for food.
Featured in the show will be the photography of Lafayette-based writer and photographer George Graham, author of the cookbook "Acadiana Table: Cajun and Creole Cooking from the Heart of Louisiana," based on the internationally acclaimed food blog of the same name. "I am honored to be selected to be a part of this art exhibit, and the photos they have chosen from the pages of Acadiana Table showcase the food culture and culinary heritage that make Louisiana such a unique place to live," said Graham.
The Louisiana Art & Science Museum honors local and regional artists who are contributing to the vitality of Louisiana's current art scene. Begun in 2014, Capitol City Contemporary spotlights a different theme or medium, and a dozen artists are invited to participate. The fourth in this series, Food, Glorious Food includes photographs, paintings, prints, and porcelains by Julie Crews, Ruston; Denny Culbert, Lafayette; David Carlysle Humphreys, Baton Rouge; George Graham, Lafayette; Ross Jahnke, Baton Rouge; Libby Johnson, Baton Rouge; Jodi Masterman, Baton Rouge; Collin Richie, Baton Rouge; Herb Roe, Lafayette; Eugenia Uhl, New Orleans; and Jeromy Young, Lafayette.
"Food plays an important role in Louisiana's shared cultural identity and thus is a natural subject for our state's artists to depict," said Elizabeth Weinstein, Assistant Director for Interpretation & Chief Curator. "Whether digital photographs of stylishly plated dishes, traditional still life paintings of carefully arranged vegetables or tempting fruits composed in porcelain, these thoughtful works of art provide fresh insight on this familiar subject."
About George Graham
For George Graham, his AcadianaTable.com food blog and cookbook combine two passions – cooking and the rich, cultural heritage of the region he calls home.  Raised in a Louisiana restaurant family, Graham discovered his curiosity about food and talent for cooking at an early age.  He has owned a restaurant, cooked on Food Network Television and had his work featured in numerous national publications.  Over the years, Graham has collected a wealth of recipes, local sources and food industry contacts.  Along the way, he met the colorful characters and plain ordinary folks that make living in South Louisiana so fascinating.  As a cook, photographer and writer, Graham aims to bring the stories of Cajun and Creole cooking from his Acadiana Table to your table.
About Louisiana Art & Science Museum
A nonprofit organization housed on the banks of the Mississippi River in downtown Baton Rouge, the Louisiana Art & Science Museum enhances the understanding and appreciation of art and science for general audiences and students by presenting unique, educational and entertaining experiences that encourage discovery, inspire creativity and foster the pursuit of knowledge. More information on the Art & Science Museum is available at lasm.org.