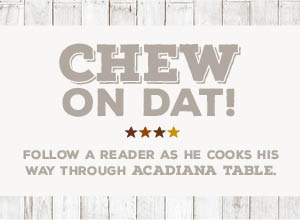 Meet Jack Chew: Two decades ago, he fell in love with Louisiana cooking during a whirlwind tour of the bayou country in his Airstream trailer. Today, he's a retired police officer living in Ft. Lauderdale, Florida who cooks for fun and friends. In fact, every Monday night he cooks for the "Marching and Chowder Society"–a group of retired guys who Jack says, "enjoy good food and conversation with cold beer and cheap wine."
And now, Jack is chewing his way through the pages of Acadiana Table recipe-by-recipe. Check back weekly for new episodes and join my friend Jack Chew on his culinary adventures.

Episode 64
This week's meal turned out to be a redux of a previous offering, one I hadn't made in over a year for my Monday night buddies. By popular demand, I was asked to once again make Crab Gumbo (from the cookbook, pg. 191).
The recipe isn't complicated but requires a couple of ingredients that may not be readily available to those outside of LA. Fresh hard crabs are a problem in my area, and when available may be a size less appropriate to this recipe. My impression is that they are intended more as a flavoring and appearance element than something that is necessary to the overall concept. When I have used them in the past I found that the meat, after cooking for an hour, was difficult to remove from the shell and made a mess for the diners. I substituted two cans of Chicken Of The Sea white crab meat ($2.69 ea./6 oz.). This stands up well to the long cooking time and substantially adds to the flavor of the stock.
My stock was made from a combination of Dungeness Crab shells (1 qt.) and Dolphin carcasses (1 qt) to which formed the basis of the dish.
As I have noted previously, my roux is made in the microwave because I just don't have great luck starting from scratch in a skillet. It works for me. I have observed that it is necessary when making a microwave roux, to stop the process when you are a couple of shades lighter than you want for the final result. Continuation cooking will usually proceed for at least another three or four minutes, so a milk chocolate shade coming out of the microwave will darken into a bittersweet color on the counter. I'm not sure that this holds true for a traditionally prepared roux, but I suspect that it does.
As I have noted on many occasions, George's cooking times are usually spot on, and, if followed, will yield a perfect dish.
Whenever I am cooking "Cajun", I make "Holy Trinity" ahead of time in a larger quantity than I anticipate for a single dish. Since the ratios of celery, onion, and bell pepper can vary from recipe to recipe, I simply chop them separately and store each ingredient in a separate bag for mixing as needed. I have a vacuum sealer for this purpose that allows storage for at least ten days or so, but even using a ZipLok bag you can expect a shelf life of 4 to 5 days.
When making rice, I always add an appropriate quantity of Better Than Bouillon Chicken Base and a tbs of butter for every two cups of raw rice. The result is a very flavorful product that will usually enhance any dish you prepare. This isn't just for my "Cajun" recipes, but I do it for nearly every batch of rice I cook. Before I discovered Better Than Bouillon, I used home-made chicken stock for the same purpose. If you think that "plain" rice is more appropriate for your recipe, eliminate the stock/bouillon but use the butter.
In this recipe, I found that I used a little more than the specified quantity of roux, (I added 1/2 C), but that is my personal preference because I like a thicker gumbo. File powder is readily available from any supermarket that carries Zatarain's products. This was served tableside along with additional hot sauce. I use only Tabasco or Crystal original formula hot sauce; the exotic sauces (Chipotle, Habanero, Ghost Pepper, etc,) now on the market often overpower a dish with additional heat or an off-putting flavor note that isn't compatible with the traditional "Cajun" cuisine.
When all is said and done, you are the final arbiter on flavor and ingredients in any dish that you prepare. My advice is to make any recipe the FIRST time following the directions, then enhance/alter to your heart's content for the second time. Using this method, you can then compare your version to the one originally written.
When I change something from Acadiana Table it is usually out of necessity because a key element isn't available locally. Over time I have come trust George's palate and almost never make unnecessary substitutions/alterations.

Episode 63
This week's offering of Baked Flounder came as a great opportunity. Winn Dixie had flounder fillets on a BOGO, 12 oz. pkg, so a pound and a half only cost $7.79. Unfortunately, the ad came too late for me to plan this meal for my Monday night crowd, so I bought two deals, one for the freezer and one for Wednesday night with Tracy and Shawn.
Randy came through Clewiston on Sunday and bought a case of fresh corn, picked on Saturday, and on my table for Monday night. This is the peak of the spring harvest in my area and the ears were plump and delicious, a dozen ears for the Monday guys, and plenty left over for the rest of the week.
The recipe for this dish is dead easy, but I changed a couple of things: I increased the butter by 1/3, added two tbs. of EVOO and divided them along with the garlic which was unchanged. The reason was that it was necessary to cook the fish in two batches and I feared that the butter would get too brown and the garlic would get too dark if I used the recipe amount for both.
Spring Onions, as George noted, are hard to find, I substituted two bunches of scallions and could probably have used another. The Parmesan cheese definitely needs to be either freshly shredded or bought in a pack from the grocery store. The Kraft stuff you use on your spaghetti just won't do the trick for this recipe. I also increased this amount by 1/3 but could have used even more.
I made a Balsamic Vinaigrette with EVOO, Balsamic Vinegar, Dijon Mustard, and two tbs. of dried Tarragon. When I make one of these I usually do at least a pint and reserve the leftover in the refrigerator. This is a lot cheaper than the stuff you get in the store with the added advantage of not having ANY extra ingredients for preservation. Again, dead easy, 3:1 ratio of EVOO and Balsamic Vinegar, 1 tbs. of Dijon Mustard, and for this one, one tsp. of dried Tarragon. I served this over a salad of mixed greens with cherry tomatoes. Fresh corn on the cob completed the meal. Be sure to have plenty of crusty French Bread on the table for sopping up the sauce, the stuff is almost addictive, and three of us ate every bit of the 24 oz. of fish.
As usual a great recipe, and one that I would not have considered unless I had seen it on Acadiana Table.

Episode 62
I mentioned a couple of weeks ago that I had never made risotto, but that changed when George posted his Shrimp and Risotto recipe. I was so encouraged by the results of my first effort that I decided to strike out on my own for a variation.
Lucky's Market advertised sea scallops for $11.99/ lb., the cheapest price for this product that I have seen locally for several years. When I got to the store I discovered that they were U10 size– huge, white, tender and perfectly appetizing. I bought 2 ½ lbs. for my Monday group. That came to only 20 scallops, but they were perfect. It was my original intention to serve them in the risotto in the same way that George had described, but when confronted by the sheer beauty of these seafood jewels I decided to take a slightly different path.
After defrosting and drying each piece I wrapped the medallions in a half slice of Prosciutto Ham (Citterio brand from Costco). To prepare the ham I removed each slice from the package, letting it remain on the separating paper. I cut each piece evenly all of the way through the meat and the paper. Once separated, I took a single scallop, placed it on the meat side, and started to roll. When the end came up to the top, I separated the paper from the meat and continued to roll until the wrap was complete. Using this method enables you to handle the delicate slices of ham more easily and prevents them from breaking up while you are wrapping the scallops. The mild flavor of this product enhances rather than overwhelms the flavor of the scallops.
Since I was expecting five for dinner, I took two wrapped scallops, faced them together with the loose end to the center, and used two 6" bamboo skewers (INSERTED PARALLEL) to secure them. No loose ends, easy to handle, four skewered scallops constitute a single serving.
For a finish, I lightly brushed the top side of each scallop with a combination of EVOO and melted butter then sprinkled a pinch of Cajun Seasoning on the top. The scallops were set aside on a covered dish while I prepared the risotto, roughly a half hour, following George's process to the letter.
Using a cast iron griddle, I oiled the surface, heated it almost smoking hot and placed my skewered medallions prepared-side down. Once on the griddle, I seasoned the tops as they cooked. Even though the scallops were thick, they required only about a minute per side to be perfectly done; remember, they were totally thawed and dried and had been on the counter for a while before being grilled. Using this method, you will create a not quite blackened finish on both sides, with a trace of Cajun flavor that doesn't overwhelm the delicate flavor of the scallops themselves. At the table, you should have slices of lemon available. This meal was also served with garlic bread and lots of wine. I hid every bottle of hot sauce in the house because a few of my friends splash it on nearly everything and I wanted to remove all temptation.
Springtime is a great season for fresh green beans; I found them in the supermarket this week for $.98 per lb.–dead cheap and a no-brainer. I prepared a batch of green beans (2lb.+) by soaking them for about an hour, then trimming and cooking. I like my green beans al-dente, so I cover them with water, bring them to a boil, reduce the heat, then cover and cook at a low simmer for an additional ten minutes. When done, shock with ice water and set aside. I like "Garlicky Green Beans and Mushrooms" for a side dish, so while the beans are cooking, thinly slice a large onion and two to three cups of portabella mushrooms, combine them with a couple of tbs. of unsalted butter, some EVOO, three cloves of minced garlic, and a tsp. of onion powder. Saute this combination for about three minutes or so, just until the onions are starting to brown and the mushrooms are gaining some color. Add salt and pepper to taste after cooking the mushrooms, otherwise, the salt will cause the mushrooms to lose a lot of liquid and make a messy dish. You can now set this aside until the time for final preparation. For final service combine everything in a saute pan with a little more butter and cook until heated through, usually about 3 minutes or so.
This wasn't a cheap meal by any means, the cost of the scallops was about $31.00 and Arborio rice is about three times the price of regular rice. That put the entrée for each diner at just over $6.50, but, even at that price, the result was so spectacular that I would repeat it in a heartbeat.
Until a few weeks ago risotto was a dish that I avoided, simply because of its reputation for producing spectacular failures; now that I have had the experience of preparing it by George's method it is going to be a frequent star at my table.

Episode 61
Raised in Maryland with the bounty of Chesapeake Bay seafood as a backdrop, I naturally gravitated to oysters in any form. In my family, we had Oyster Stew, Oyster Fritters, Angels on Horseback, Fried Oysters, Oyster Pie, and, of course, the fabulous Oysters On The Halfshell, all prepared from oysters shucked at home and served on the same day that they arrived at the dock.
I was four years old, it was Sunday, and my family was in the kitchen shucking a sack of oysters that my father had brought home that day from the Eastern Shore. The Vaughn Monroe Program was on the radio and I was in the living room playing with my electric trains which had been set up the day before. At 1PM the program was interrupted with the announcement of the Japanese Attack on Pearl Harbor. December 7, 1941. Everyone remembers the day, but I also remember the meal that night, somber but reverent, and the fried oysters were unforgettable as well.
Through the years until 1957, when I left MD, oysters in any form were a major feature on our table from September through April. Christmas was an especially bountiful season because it always featured several meals centered around Smithfield Ham and Oyster Stew, served buffet style with generous helpings of George Washington's Eggnog to wash it down.
When Geroge mentioned his bonding experience with his father over raw oysters it recalled a significant moment in my own life. The year was 1980 and I had combined a Police Conference in Phoenix with a three-week cross-country camping tour with my whole family. We visited all of the major attractions but I had planned New Orleans as the last and biggest stop. We camped in Slidell and commuted across the causeway for each day's touring/exploring excursion.
Bourbon Street was the second half of the first day, and, as we were walking toward Canal Street, we passed a Bar Dining Room (could it have been Sam Wilson's Old Place?) that was advertising 10-cent oysters. I had introduced my son (15 at the time) to oysters many years previously and he was an enthusiastic consumer of the delicacy; my wife and daughter were less than charmed and declined to participate.
While the female half of the family dined on hamburgers, my son and I enthusiastically dug into plate after plate of the biggest oysters I had ever seen in my life. The shucker indicated that they were a local product, probably from Lake Pontchartrain. My son and I pigged out on this bounty for well over an hour and only stopped when the female half of the family insisted that we move on. It was a Father/Son "bonding moment" that neither of us will ever forget. I think that we ate about 3 doz. each and I left a $10 tip, cheap at the price!
This was my first KNOWN encounter with the Louisiana Oyster and I was greatly impressed with both the size and flavor. I still serve Oyster Stew and Smithfield Ham at Christmas, and, whenever possible, I use those with the Louisiana label.

Episode 60

President's Day Weekend is a big event for our Police/Fire Retirees, an Annual Meeting on Sunday with a lunch and an FOP event on Monday, also with a lunch.
For the Sunday event, I smoked 40 lbs. of pork butt, made five trays of baked beans and three gallons of vinegar coleslaw, and by the end, I was exhausted and called off the Monday night gathering at my house.  For this week I prepared the Shrimp and Egg Stew from the 2/19 blog.
I have had a problem in locating dried shrimp; they just don't seem to be in much demand here, possibly because we have only a small population of Orientals and they aren't concentrated in any particular area. I finally located a market, newly opened, that carries dried shrimp for $8.99 per 3 oz. pkg. I drove the ten miles and picked up a single package. I usually double George's recipes since my gatherings vary from 3 to 7 diners. I did so for this one but (fortunately) used only the one package of dried shrimp.
For the eggs, I used my microwave. I have never been very successful in peeling hard-boiled eggs and find that you can get a similar result by cooking them in the microwave. I used 3 Anchor Hocking Glass 4 oz. Custard Dishes, oiled on the inside and with about 1/8 teaspoon of water in the bottom. Break a single egg into each dish and puncture the yolk in two or three places with a skewer. Cover with a paper towel and microwave on high for about a minute and a half, check that the yolks are solid, and set aside. I made 9 hard-cooked eggs this way and didn't have to peel one of them. Not as round and pretty but the taste is the same–no harm, no foul.
Preparing the stew base was straightforward with no complications. I made one batch of roux (1C flour/1 C oil) and used it all in the doubled recipe. I have been making my own shrimp stock from the cookbook (pg. 55) using the reserved shells and tails form the shrimp I buy at the store. I don't salt this when I make it; tasting after incorporating it into a recipe allows you to adjust the flavor
After cooking for the initial 30 minutes, be sure to taste the mixture. In this recipe, the shrimp I used were so salty that they nearly ruined the final flavor of the dish. My remedy was to quarter a medium-sized potato, add a little water to the stew, and then cook for an additional ten minutes. The potato absorbed the excess salt very nicely and saved the dish. Discard the potato before adding the final two pounds of shrimp.
The reserved eggs went into the stew about a minute before the shrimp were done, and the dish rested on the table for another ten minutes before service. The white rice that I make is a little different. I first spray my cooking pot with Pam, boil the proper amount of water, then add about 1 tablespoon of chicken base for extra flavor. This is just something that I do, but you may want to try it once to see how your diners react.
This meal was very well received and the eggs were the subject of a lot of favorable comment. Nobody at my table observes the fasting rule for Lent, but this dish meets all of the requirements for those who are observant.
A while back, I realized that I was frequently making a dash to the grocery store to pick up green onions–they are a frequent item in George's recipes, used both for flavor and garnish. I decided to save the last inch or so of the root ends and try to grow my own. I filled a Home Depot "Homer Bucket" halfway with vegetable potting soil, drilled a small drainage hole in the bottom, watered the whole thing, and planted 6 root ends. In about 2 weeks, each had sprouted to the point that I could cut off the tops for enough to use as garnish. The next time I went to the store I bought another bunch ($.89) reserved those bottoms and planted them. I now have a "bucket garden" of twenty or so scallions sitting next to my mailbox that I can harvest at will when I need them for garnish or flavor. Just throw a couple of cups of water on them every other day and they will thrive.

Episode 59
This week's blog hit me right between the eyes; a real blast from the past. Back in the 1970s, Marylou and I belonged to the Couples Club at our church. Once a month each couple hosted a group meal, the host couple preparing the entrée and others providing the sides and dessert. When it was our turn to host, we often received requests for Marylou's Chicken Marsala, a recipe handed down from her family. It was delicious, pretty easy to make, and incredibly tasty. I hadn't prepared this dish for at least a couple of decades but George's version provided instant inspiration and brought back a lot of pleasant memories.
The chicken breasts I bought at Penn Dutch (in a family pack) were a bargain at only $1.29 per lb., but when I got them home, they turned out to be from the biggest chickens I have ever encountered. Whole and untrimmed, these breasts weighed in at more than a pound each.
To prepare the breasts as paillards, it was necessary to cut them in half, trim off all fat and then butterfly each side. When butterflying, I start from the thin side and cut toward the middle; I don't know if this accepted procedure but it seems logical to me. The resulting cutlets still came in at a little more than ½" thick before pounding. To make the cutlets I placed each butterflied breast half in a gallon freezer bag before pounding them. I find that using a bag in this manner contains the mess created when small pieces break off and also facilitates holding the meat in one place during the procedure. My cutlets came out at just about the recommended size when I was done.
The addition of carrots, zucchini, and yellow squash, as George notes, are optional, but I recommend that you do it, they add an intriguing flavor note to the recipe. For this recipe, I diced my onions, but in the future I will cut them pole to pole and then make thin slices to enhance eye appeal at service–picture very thin half rings. I diced the carrots this time but probably will cut them on a mandolin for the next recipe for the same reason as cited above.
I made a minor change in the order of prep, first putting the carrots into the pan for an extra few minutes to allow them to soften, mushrooms next, followed by onion, garlic, and finally the squash and zucchini.
I used a California Marsala, which I had on hand, rather than buying a separate bottle of a dry variety for a single recipe. The crisp finish on the cutlets lasted throughout the entire cooking process and made it to the table in good order.
I found that the addition of the gelatin made it somewhat easier to thicken the sauce, something I would not have known to do otherwise. By the way, the only unflavored gelatin in the store was Knox Brand, so naturally, it was the most expensive.
I doubled the Marsala and gelatin since I was making the recipe for six hearty eaters. The vegetables were only increased by 1/3, but you can do more if you like, just remember that they need to be proportional in order to retain the integrity of the various flavors.
When preparing the fettuccine, try spraying the bottom of your pot with a light cooking oil, this will prevent the annoying tendency of the noodles to stick to the bottom of the pan when you drain them. Add a generous amount of salt to the boiling water just before putting the noodles in; this will prevent the salt from eroding the bottom of your pot. Just before you drain the noodles, take out a cup of the starchy water and reserve it. When you return the noodles to the pot add a little of the reserved liquid back in, this will prevent them from sticking together and also enhance the ability of the noodles to incorporate with the sauce. A couple of teaspoons of EVOO are also required for this recipe.
The dish was served with a side salad fresh from Randy's garden, lightly toasted French bread and lots of butter. Mike brought some Winn Dixie ice cream sticks for dessert but only two had room enough to eat them.
This was a very satisfying meal that brought back a lot of fond memories, I'll probably prepare this one at least once a month for family as well as my Monday night crowd. A five-star meal for my money.

Episode 58
When George wrote the recipe for the Lamb Necks a few weeks ago, he included a really unique recipe for Honey Sriracha Glaze. This was a tasty glaze with just the right balance between heat and sweetness. It was perfect for the lamb recipe, but I saw infinite possibilities for using it in other dishes as well.
To date, I have used the glaze in making the Lamb recipe, Trinity and Ham Stuffed Chicken Thighs ( not one of George's recipes), and, this week, for a modified version of George's Bacon-Wrapped Meat Loaf ((04/18/2016 on Acadiana Table blog). I first made the meatloaf at the time it appeared on the blog in April 2016, and have repeated it twice since then, always to the great satisfaction of my guests.
I modified George's Meatloaf recipe slightly in both ingredients and presentation, but only so that I could make the Honey Sriracha Glaze the star of the meal. The adjustments I made were as follows: The Ketchup and pepper Jelly were replaced by 1 can of Original Recipe Rotel Tomatoes and ½ C of Sriracha Sauce straight from the bottle. The Rice Dressing was eliminated because it isn't available locally. I didn't use the Spinach and Pepper Jack Cheese. I used a beaten egg along with the breadcrumbs for the binder. I used only 4 slices of thick-cut hickory smoked bacon for the whole recipe.
I took a little help from the grocery store and bought their prepared meatloaf mix, 2/3 ground beef, 1/3 ground pork. After mixing the ingredients, I divided the meat into eight equal-sized portions and shaped them into individual loaves for baking. Each loaf was sprinkled with Cajun Seasoning and then an initial glaze of the Honey Sriracha. I then topped each loaf with a 1/2 slice of bacon and another liberal dose of the glaze.
Everything was arranged on a parchment lined sheet pan and roasted at 350 deg. for about 40 min. Since the loaves were separate they reached 160 deg. much faster than a single loaf would have. At 35 min the loaves were given a final brushing with the glaze, which put a glossy finish to the dish and allowed the bacon to be cooked perfectly.
This was served with a side of Glory Brand Southern Style Collard Greens (28 oz. can) to which I added a cup of diced turnip and one chopped yellow onion. The second side was mashed potatoes.
This wasn't prepared for my Monday night crowd, the meal was served with my daughter and her husband as guests; house-mate Mitche had a meal with his girlfriend and couldn't make it.
I'm looking forward to later in the week when I can have the leftover meatloaf, it should accumulate even more flavor after resting for a day or two.

Episode 57
Winter has arrived in South FL, and with the lower temperatures, comfort food season is at hand.
For this week's menu, I chose the Chicken and Smoked Sausage Gumbo (Pg. 14). This is a go-to recipe for me and a real winner for all of my buddies.
I believe that I have reported on this recipe before, but I changed a couple of things–the order of preparation and a substitution of some ingredients to make the dish from locally available ingredients.
I substituted 3# of boneless/skinless chicken thighs for the legs and breasts, and 1 ½# of Roger Wood's Hot Smoked Sausage for the Andouille. Good Andouille is difficult to find, and the product marketed by Aidell's doesn't really replicate what is served in Acadiana.
The order of cooking was changed. In an iron skillet, I browned the sausage first; removed it, then browned the chicken; removed that, and finally the trinity and spices. By following this order, the bottom of the skillet was completely clean when the vegetables were done and the sausage and chicken flavors were infused in the oil; it was unnecessary to deglaze. The chicken was cut into bite-sized pieces once it had cooled sufficiently to handle.
I think that I finally nailed the preparation of the roux, although I am looking forward to finding Rox's Roux on the grocery shelves soon. I am sure that George will report when the market has expanded from the local area. I have been making my roux in the microwave for a while now, and I have finally reached the point where every batch prepared is consistent.
My method:
1 Cup Canola Oil and 1 Cup of flour. Pour the oil into a CLEAR mixing bowl or a large measuring cup. Add the flour and then mix thoroughly, making sure that no unincorporated flour is sticking to the bottom. This is important because even a tiny bit of unincorporated flour will burn and give your roux a scorched taste (I found out the hard way).
The total cooking time should be 10 min. or less depending on the desired color. Set the microwave to 90 sec. and process the mixture; repeat stirring each time. Set the timer for 1 min., remove, stir and repeat. The mixture has now been cooking for a total of 5 min. and should resemble a blond roux in color but still be pretty thin. When the process reaches this stage, the roux will begin to have a bit thicker surface when you take it out to stir, sort of a bubbly appearance. Set the microwave for 5 min., put the mixture on the turntable, then remove and stir every 20 seconds. At around 8 min. the roux should be about the color of peanut butter and is nearly done. Continue processing and stirring until the color darkens to a light caramel (somewhere around 8:40 to 9:00 min). Remove from the microwave and set aside. Continuation cooking will allow your roux to darken to a dark milk chocolate shade. Be very careful with this mixture, it is called "Cajun Napalm" for a very good reason and third-degree burns are not uncommon if it gets on your skin.
I usually make the roux a couple of hours ahead and let it rest. If you attempt to pour just cooked roux into your gumbo pot you are likely to have a spitting mess on the stove. This stuff is 300 deg.+ fresh from the microwave, and it will instantly boil any liquid it comes into contact with and can sear unprotected flesh right down to the bone.
I always cook my rice with chicken stock and a couple of Tbs. butter. I also find that spraying the inside of the rice pot with cooking spray eliminates most of the sticking and eases cleanup.
There were five at the table for this meal, which was served with a side salad and French bread; there was barely enough gumbo left for a snack.

Episode 56
The Red Bean, Mustard Green and Green Onion Sausage Soup was cooked the same day it appeared on the Blog, but, due to a couple of factors, I have no idea whether or not if the version I prepared tasted the same as the recipe George made.
The problem was rooted in individual preferences and the availability of ingredients. Two of my buddies are non-observant Jews, but when I ran the pig's feet by them, both said that they would prefer something else. I decided on smoked ham hocks as a substitute for the feet in the recipe.
The second deviation was the sausage; I substituted Tennessee Pride Hot Sausage for the Green Onion Sausage because the latter isn't available here. The third deviation was that the Salt Pork I used wasn't the pickled kind, and I used 12oz. instead of a pound because that is the size package I found at the grocery store.
The fourth departure was preparing the beans. Since I was cooking for the same day, I couldn't do the overnight soak. The alternative chosen was to boil them on the stovetop for two minutes and then let them stand for an hour before use. A small tip here: Empty your dried beans into a colander with large holes and then shake vigorously over the sink. This will allow most small pieces of grit to fall out and you can then pick the beans from the top. Any small pieces of grit that didn't end up in the sink will be separated and remain on the bottom of the colander.
The fifth departure was to add a few TBS of pickle juice to compensate for the missing ingredient that would have been part of the pig's feet and pickled salt pork. BTW, pig's feet are readily available at Winn Dixie and Walmart. They are a Hormel product and can be found in jars on the same aisle as the canned meat.
Once the beans were ready the recipe followed directions, sausage, trinity, salt pork, bay leaves and garlic were cooked together. Next, two smoked ham hocks went in and then the stock. The recipe was followed for the next three steps, spices added, stirring and simmering as directed.
After an hour of cooking, the hocks were removed, de-boned, and the meat diced to about ¼". This went back into the pot for the final hour along with the Rotel, mustard greens, and green onion tops. Also, at this step, some beans were removed, processed down to a creamy consistency with an immersion blender, and returned to the pot for the final hour.
There was quite a bit of leftover mustard greens, most of these went into the side salad. Randy brought some Star fruit and his homegrown kale to which he added the mustard greens and a healthy dose of freshly shredded Parmesan Cheese.
There were five at the table and, at the end of the meal, there was barely enough soup left for one more serving. Shawn took this home for wife Tracy, solving the leftover problem. As I said at the beginning, I have no idea whether the final flavor matched what George intended, but, the jury is in and the verdict was a delicious soup despite my heavy-handed changes.

Episode 55
The week after New Years Day is always a busy one for my family, and this year our gathering was held on the following Saturday. Our traditional meal is pulled pork, baked beans, vinegar Cole Slaw, potatoes and a side of some sort. I smoked a 10# pork butt early in the week and, when I did my shopping for the rest of the meal, I purchased a wheel of "Presidente" Brie at Costco. I got puff pastry sheets and a package of frozen pie crusts at Winn Dixie.
The Blog on 12/1 featured an excellent recipe for Baked Brie, giving the traditional "Brie en Croute" a Cajun twist by the addition of Bacon Jam as a filler with apple slices, crumbled bacon, and pecans as a base beneath the cheese. I wanted to make this for an earlier party but was unable to find the Bacon Jam in time for the event.
If you google "Bacon Jam" you will find several recipes with various ingredients, I settled on one published by Martha Stewart, but modified it slightly by the addition of some thyme (about 2 TBS per batch) that I saw in one of the other recipes.
The entire recipe can be made on the stovetop, or, you can use a slow cooker (as she did) if you need time to do something else while it simmers. Both methods will produce the same result.
I first decided to make a double recipe, however, upon completion of the first one, I immediately made a second batch, it was that good. I bought a case of 1 pt. mason jars, filled them to within ¼" of the top with the jam, and put them in the pressure cooker four at a time for fifteen minutes. At the end of that period, the lids had vacuum sealed. I put 5 pints of Bacon Jam aside for gift giving and kept the other three for use at home.
Bacon Jam seems to be an almost unknown product in S. FL, but judging from the reactions of the recipients it is going to be a lot more popular in the future.
All of the recipes called for 1 ½# of thick cut bacon, however, I used one 3# package of bacon "ends and pieces" for my double recipe; this product is around half the price of sliced bacon, and, since it is going to be processed anyhow, it made no difference to the completed recipe.
You can make the bacon for the bottom of the Brie a day ahead of time, this will reduce the prep time for the entire recipe to under fifteen minutes.
The "Presidente" Brie sold at Costco comes in a 9" wheel. When I began preparing the recipe, I found that this was entirely too large. The wheels of Brie in a regular grocery store are commonly about 6" in diameter and are the proper size for the method George uses in his version. My purchasing error resulted in the pie crust not being quite large enough to fold over the top of the cheese wheel. Not a critical mistake but the finished product wasn't as pretty as the one George made.
Baking time was spot on at one hour, but your oven may differ in heat distribution so start checking at 45 min. to be sure that the crusts don't burn.
I'll probably make the next one in a 7" cast iron skillet, primarily for eye appeal at the table. The aluminum pan worked fine but removing the Brie to a plate proved impossible.
The Baked Brie was DEVOURED at the family meal even though my version wasn't particularly eye appealing. Sometimes taste is what counts.

Episode 54
This week's recipe was taken from the blog published on Jan. 1st.  Stuffed Brisket captures the imagination, if for no other reason than the fact that it is rarely served in this fashion. I have several decades of experience in smoking brisket and pork, but I had never tried this concept, or even imagined it. If George wrote this one himself (and I suspect that he did) his culinary genius has just shot up another notch in my book.
From the start, I decided to make this recipe as a "one-pot" meal, so, I added 3# of Sunlite "Gourmet Taste" potatoes to the pot. These are a "golden" potato sold at Publix in 3# bags. According to the label, they are 25% less calories and 30% less carbs than Russet Potatoes and have no fat or cholesterol. They are grown in the St. Augustine area and may be available outside of Florida. If not, then Yukon Gold would be an acceptable substitute. The entire bag was used, with larger spuds cut down to match overall size and ensure even cooking.
I also peeled 6 yellow onions (about racquetball size) from the top down, leaving the root ends so that they wouldn't separate during cooking. The onions were to be one side dish, the potatoes the second. They went into the pot with the meat and potatoes four hours before planned serving time. I was determined that, for once, the ENTIRE meal would be ready when the guests arrived.
My third side was Sweet Heat Carrots from the cookbook (pg. 137). I haven't made this one in a long time, and, when I read the recipe, I realized that I could make a large batch of the seasoning and save a lot of time. Nothing in that recipe appears to be perishable, so I prepared 3 cups of seasoning ahead of time, used ½ cup, for this session, vacuum sealed the rest in plastic, and froze them. This seasoning could be used for almost anything–pork butt springs to mind immediately.
For the carrots, I purchased a 2# bag of Cal-Organic Rainbow Carrots. This product has been popping up around some of the specialty markets for a while now. I got these at Penn Dutch but I have seen them advertised at Whole Foods and Trader Joe's, so they may be available in your area. The sole reason I bought them was for eye appeal at the table, ordinary garden carrots will do (and I used a couple here), if this brand isn't available. Preparation was by the recipe, no changes. These were cooked on a baking sheet lined with parchment paper to facilitate cleanup.
My brisket was somewhat larger than George's, tipping the scales at just a little over 4.5#. This was a first cut brisket with only a small fat cap, no trimming necessary. At $5.99 per # it came in at $26.99.
Because the brisket was larger I doubled the Trinity in the recipe, feeling that it would be necessary. I also added a half cup of Red Bell Pepper to the mix to enhance eye appeal.
While studying the brisket itself I realized that the proper way to pocket it would be to start on the NARROW end; doing it this way there is less chance for you to make a mistake and cut through the bottom. I use a generic fillet knife, available at Cabela's or Outdoor World for less than $5, they are a bargain and I have four of them. When cutting any piece of meat, it is important to have a SHARP knife, get one of those 3-stage "pull through" sharpeners and re-sharpen your knife every time you use it. The same goes for every knife in your kitchen; sharp knives cut cleanly and are safer for the user.
I prepped the meat by first scoring the fat cap in 1" squares, similar to the way you would prepare a ham, cutting into the top layer of the meat just a little. From my experience in smoking meats I have found that flavor has a difficult time penetrating fat; if you score your fat prior to cooking, you expose more of the meat to the spices that you are depending upon for the final flavor note.
After scoring the fat cap, I cut the pocket to within a half inch of the sides and bottom. I turned it lean side up and made small slits about 3" apart in a grid pattern, then stuffed in very thin slices of garlic; this was repeated on the fat side as well.
The next step in the prep was to stand the brisket on end and stuff it with the trinity mixture; make sure that you reach down inside (hands are OK here) and force stuffing into the corners. If you miss doing this here, your end product will not be uniform in appearance at service. Use a couple of skewers to close the opening, you probably won't need to use any string.
The last step is coating the brisket before putting it into the roaster. I have again borrowed a process from the BBQ circuit. Rubs (and Cajun Seasoning is a rub as used here) have a difficult time adhering to meat during a long cook, thus a lot of your seasoning rolls off and becomes part of the gravy. In order to alleviate this problem, I first rubbed the brisket on both sides with Zatarain's Creole Mustard. Do the lean side first, wearing gloves, then sprinkle heavily with Cajun Seasoning (recipe pg.13); rub it thoroughly into the meat so that it is stuck to the surface, repeat on the fat side. Since the Zatarain's is suggested as a serving enhancement at the table, I felt confident using it as a component of the cooking process.
There were a few tablespoons of Trinity and a dozen or so slices of garlic left, so these were scattered across the top as a garnish when the brisket went into the oven. Potatoes went into the roaster first, followed by the brisket, and the onions were arranged around the sides.
I followed instructions exactly when making the gravy, I had extra cans of Rotel Tomatoes and beer standing by, but they weren't needed. I don't think that George's intent was to completely immerse the meat during the braising process; by having the gravy extend about halfway up the sides I think that the recipe amount was correct even though my brisket was larger.
I used the "Original Recipe" Rotel in the gravy, but I did make another small departure; I had some small red "bird peppers" retrieved from the hunting camp and home-dried on my windowsill; these are super-hot if you try to eat one, but they work well in adding a controlled amount of heat to the pot. These were put on a skewer (for easy retrieval) and removed before serving. They added a touch more heat, but nothing fiery.
The recipe calls for a 3 hr. cooking time at 300 deg., but you should begin to check the internal temperature with an instant-read thermometer after the second hour. Look for a temperature of about 180 deg. or more in the solid part of the meat. This brisket reached the proper range at 3:15min. It was removed from the oven and set aside for continuation cooking; I never checked the temp again, but it was probably 185 deg. by the time it got to the table. I re-set the oven to 400 Deg. and put the carrots in at 6:15 PM for a 7 PM service, check with a skewer for doneness at 30 min. to be certain that they don't overcook.
The addition of the red bell pepper to the stuffing was a definite success, and the use of the mustard to make the Cajun Seasoning adhere gave the final presentation at the table an elegant touch. The brisket was sliced in the kitchen and served on a platter with just a splash of gravy for accent, the rest of the gravy was on the table for individuals to use as needed. The gravy also made an excellent addition to the potatoes.
I hadn't served the Sweet Heat Carrots to this group before, so they were pleasantly surprised with the flavor. No leftovers, always a good sign. There were a few potatoes, two onions, and a couple of slices of brisket left which was divided and went home with the guests.
A side salad of fresh spinach was hardly touched, but toasted French Bread with garlic and cheese vanished in an instant. No dessert for this meal, but five well-satisfied diners sat around the table for another hour and a half drinking wine, swapping stories, and criticizing politicians before the evening ended at a little past 10 PM.

Episode 53
For this week's gathering, I decided to serve Stuffed Collard Rolls with Red Gravy from the 12/25/17 blog. The "season" is underway in So. FL and most of the Monday night regulars have returned from the north, so I planned for six at the table. As it turned out, only four actually made it.  This dish was served on Tuesday 12/26 since everyone spent Monday with family. I was "in the weeds" from the beginning when preparing this recipe; there was no opportunity to make the gravy or stuffing ahead, so everything came down to a mad scramble to meet service; I failed miserably and dinner was 30 min late.
The "Pig Stand" BBQ sauce wasn't available, so I substituted another brand which purported to be "vinegar based", more about that later. The Black-Eyed Peas used were "Glory Brand" flavored version. I have come to trust products from this company and they have never failed to produce a satisfactory result at the table. This time was no exception. Glory Brand products are just a little more expensive than the store brands, but their flavor more than makes up for the higher price.
Tomato sauce comes in 15 1/2 oz. cans, so if doubling the recipe you will only need about 1 1/3 cans total, or about 2/3 can for the recipe as written. Freeze the rest. I bought two large bunches of Collard Greens which produced 21 leaves of the proper size. Prepare these according to the recipe and they will be perfectly cooked at slightly over 15 minutes. I cut the bottom of the stems before steaming/simmering and gave each leaf a good whack at the thickest part of the remaining stems with a meat hammer. This produced a flexible and easily rolled final product. Extra leaves were deveined, chopped, and added to the salad at service.
I prepared the leaves first, and, while they were cooking, made the gravy. This turned out to be an issue; the substitution of another brand of BBQ Sauce left the gravy tasting a little too much like ketchup for the taste of my guests. While I was otherwise engaged, Mitche and Randy added a LOT more Cajun Seasoning ( I don't know exactly how much), some cayenne pepper, some honey, and an extra shot of hot sauce. The result was unintentionally satisfying because there are no measurements; I urge you to carefully adjust the gravy seasoning to your own taste. I probably wouldn't have used either the cayenne or the honey, but no harm, no foul, it worked this time
The volume of the stuffing in the recipe is enough to make the eight rolls and there will probably be a little left over when you finish. Doubling the recipe yielded enough stuffing for 21 LARGE collard leaves and at least enough to make an additional half recipe from the leftover.
I used 2# of Publix hot sausage and 4 strips of thick cut bacon for the meat portion, nothing complicated or changed here except the volume used. When breaking up sausage (or ground beef), I use a potato masher. I find that this method is a little more efficient than stabbing the lumps with a spatula until they break up. The bacon went into the skillet first and was allowed to cook for about 2 min on high to render some fat; done this way, everything breaks down nicely.
I mentioned that I was "in the weeds," this was caused solely by the necessity to cool the stuffing before adding the egg/breadcrumb mixture at the final step. I think that, had I added this to a hot bowl of stuffing, the eggs would probably have cooked out and ruined the star of the show. I have a large reach-in freezer, so was able to put the stuffing in for 30 min. of cooling time. It is important to use a metal bowl if you do this, a ceramic one could crack at the sudden temperature change. In any case, this was the reason that service was late on this particular night, and also the reason that Mitche and Randy were able to work their mischief and alter the original gravy recipe. I could have avoided both problems if I had prepared the stuffing early.
For the rice, I used two cups of uncooked, one TB of Kosher Salt, a TB of unsalted butter and a quart of chicken stock. I pulled the rice off the heat at 15 min. because I felt that it would cook further when the stuffing was added to the rolls.
Even though I prepared 21 rolls for this recipe it would have been just enough for 5 servings if all of my guests had shown up; each of us ate 4 rolls apiece. This is a great recipe, not complicated as far as ingredients go, and easy to prepare ahead. I think that the flavors of the gravy and stuffing would actually improve with an overnight stay in the refrigerator, sort of like spaghetti sauce on the second day.
I had planned a side of Rosemary/Garlic Gold Potatoes but changed plans and served only a side salad and French Bread w/Parmesan and garlic butter topping. Make this one and keep the recipe on the top of your list, you are going to make it a couple of times a year by popular demand.

Episode 52
For this week's recipe, I chose Mini Bell Peppers Stuffed with Crabmeat, published on the blog 9/12/17.
The recipe is pretty straightforward, easy and fast to prepare with no complicated steps or ingredients. I changed nothing in the process, although I was forced to substitute Miracle whip in the Remoulade because I didn't have enough mayonnaise for it and the crab stuffing. I felt that the crab stuffing was the more important of the two and so I used my mayo there.
I used only three stalks of celery and one quarter each of red and yellow onions for the entire recipe. This worked out almost perfectly to the ratios George used. I was maybe a little over but not by much.
In making the Remoulade, the flavor of the Cajun Seasoning almost disappeared when the Creole Mustard was added to the mix. Next time I will probably add a little more spice there. The Remoulade definitely needs the rest time in the fridge, so prepare it early.
The Crabmeat Stuffing went together like a breeze, probably because the celery and onions had been prepared much earlier. Cooking time was spot on both for blanching the peppers and baking in the oven.
The resulting dish was four servings of more than adequate size for the hearty appetites at my table. The meal was served with crusty French Bread, a spinach and kale salad, beer and red wine, and Key Lime Pie for dessert. I bought the pie at the grocery store.
The next time I prepare this dish I will do a few things differently: I will use one each of red, green, yellow and orange peppers. The various colors will add eye appeal at service.
I will cut the peppers "pole to pole" because that will allow more of the crabmeat to be exposed during cooking. This will also allow me to make the same dish for eight if I add a couple of sides while sticking to the original recipe. (Probable sides would be steamed asparagus with George's Hollandaise Sauce and roasted fingerling potatoes with olive oil and Cajun Seasoning.) The "pole to pole' prep may shorten the cooking time by a few minutes, I will need to keep a close eye on this.
Mitche suggested that the recipe needed more bread crumbs. I disagreed that they aren't needed in the stuffing itself. The next time I will combine a cup of bread crumbs, a quarter stick of butter, and 2 TBS of Cajun Seasoning to use as a very light spread on top of the stuffing. I feel that a brown crust here, especially since I am going to be cooking half-peppers, will add another layer of eye appeal at service.
Two prep tips: If you use a measuring cup to prepare the Remoulade, line it with a piece of plastic wrap, the mixture will fill the cup to the proper capacity and you can re-use the cup without having to rinse it. When mixing the stuffing use the largest bowl you have, put half of the crabmeat and half of the dressing, use your fingers to gently combine them, then proceed to stuff half of your peppers, repeat for the second half. The crabmeat is delicate (and expensive) so you need to treat those lumps like the delicate children that they are.
This is a delightful taste treat and yet another way that George has found to bring me out of my traditional comfort zone. By combining familiar ingredients with innovative techniques he is leading us down a path that he has been travelling all of his life in his area of rural Louisiana.

Episode 51
For this week's Monday group, I chose the Cheesy Corn Casserole from the Blog published 12/08/17. Apparently, this recipe is a repeat, but I had never seen it and it looked like a real treat as a side dish for my group.
My first clue that I wasn't going to be able to follow the recipe exactly came when the produce departments of both local supermarkets were out of fresh corn. Mid-December falls between the dates when sweet corn is maturing, the next available will be some time in mid-January. So, frozen appeared to be the best option for a substitute. George cautions that some flavor will be lost by using anything but the fresh product.
My next dilemma was determining the correct proportion of frozen corn to fresh corn cobs. Recipe sites on Google came to the rescue here and advised that the kernels from one cob are equivalent to 2/3 cup of canned (and I assumed frozen). That proportion worked out to be nine cups of kernels from twelve ears of corn.
When preparing the recipe, I used eight cups of frozen corn and a half cup of canned cream corn. I believe that the creamed corn probably was stripped directly from the cob during processing and possibly contained some of the "milk" which would be important to the final flavor.
The only other departure from the main recipe was an increase in the amount of Sharp Cheddar Cheese used; I added a generous two cups of cheese at step 5 and used another ¾ cup to top the recipe just before putting it into the oven. This lightly covered the surface of a 9 x 12" deep baking dish and allowed a nice brown cheese crust when served. There was some leftover, but four of us had seconds and two had thirds.
For an entrée, I served stuffed pork loin chops. George has an excellent recipe for this dish on pg. 264 of Acadiana Table and I have made it three times in the past year for family and friends.
If you ever decide to make stuffed pork chops, I would advise you to purchase an entire loin at Costco, BJ's or Sam's. This is a frequent sale item at these stores and sometimes sell at $2.99/# or less. It is easy to slice the exact thickness you need for your recipe; I usually cut mine at about 1 3/4" and use a fillet knife to make the pocket. Since one loin runs about 7#, you are sure to have more than you need for a single meal; I pocket, vacuum pack, and freeze my extras.
For this meal I chose not to make George's recipe, substituting my own version of packaged stuffing for his outstanding apple and ground pork version. I used Pepperidge Farm Stovetop Stuffing and substituted a dry white wine (Vermouth) for 1 cup of the stock. I also added a small (2 tbs.) amount of George's Cajun Seasoning to the mix this put a little kick into the final version that I felt was needed.
Final preparation of the chops was a small amount of EVOO rubbed onto each one, followed by a little salt, pepper, and a generous amount of Cajun Seasoning sprinkled on both sides. Before putting them into the oven for finishing, each chop was seared both sides on a cast iron griddle to produce grill marks for eye appeal at the table.
George is usually spot on with cooking times and this recipe (Corn Casserole) was no exception. Since I have come to trust George's methods, I put the casserole in first since an hour was recommended, followed by the chops 15 min. later. The chops reached 145 deg. at 40 minutes, nearly perfect timing. The casserole was finished at about the same time and both were removed to the table. Service was about 15 min later and allowed to meat to have a little rest. The next time I serve the chops I think that I will also brine them, even though these were perfectly acceptable, I would have preferred them to be a bit juicier. I had considered making a gravy for this recipe, but when I consulted my guests they declined to a man, waist-watchers I guess!
Today I ordered a Paella Pan and will prepare a holiday meal for the family, using the Paella Louisiane recipe found on page 46 of Acadiana Table.

Episode 50

For this meal, I chose the Crawfish Hand Pies from the blog published on 12/4/17
Please be advised that this recipe is dangerous in several ways: you will be tempted to taste the filling from the skillet even before it has finished cooking, your guests will fight over one remaining pie, and you will be tempted to make this dish again and again. It is that good.
Everything was prepared according to the recipe without increasing or substituting any ingredients. As George mentions in the blog, this will work as well with shrimp or crab, so put it near the front of your recipe collection because you will be making this one several times a year.
I used two sheets of Pillsbury Puff Pastry Dough because Pepperidge Farm wasn't available at my neighborhood Winn Dixie store. When I first read the recipe, I questioned why George had been so stingy with the trinity; the reason became immediately apparent when assembling everything for cooking, more trinity would have overwhelmed everything else. I used a very fine dice (about 1/8" or so), anything coarser is going to be difficult to use in the final assembly. I didn't need the full cup of flour for the filling; when all was said and done, I only used a little over a ½ cup.
George never specifies how much hot sauce to add to his recipes, preferring to let the reader judge the amount that can be tolerated by the diners. In this case, knowing what my Monday night crowd prefers, I used about 2 tsp. in the filling and had the bottle on the table at service. I don't get fancy with the hot sauce, I use Tabasco original, Crystal, or Texas Pete brands. With all of the alternate brands and flavors out there today, I prefer using something that I know Cajun cooks have been using for decades.
The only deli lids I could find in my pantry were either less than 5" in diameter or more than 8". I elected to use the smaller size and got a total of 15 rounds from the two sheets of dough. To get this many I reassembled the scraps and rolled them out again–waste not, want not.
Because my dough rounds were smaller, I wasn't able to use a full 2 tbs. of filling; one heaping Tbs. did the trick for each pie. After the 15 pies were assembled, I had about 1/3 of the recipe left. This I put in plastic and will use to make omelets later in the week. Egg washing the pies with a pastry brush was the next step, followed by puncturing each one with a fork to allow the steam to escape.
The final step before baking is to add kosher salt and ground black pepper to both sides of the surface. I used a concoction of kosher salt, coarsely ground pepper, and granulated garlic. This is a recipe I got from Paula Deen's cookbook, "Lady and Sons" and is designated there as Lady's House Seasoning. It is a pretty simple mix to make; the approximate proportions are 3 salts, to one pepper, to 1/8 granulated garlic (or garlic powder); in this particular batch one cup of salt, 1/3 cup of pepper and I Tbs. of granulated garlic.
The pies came out of the oven at 25 min. and were a perfect golden brown color. The meal was served with a side of steamed broccoli and thinly sliced onions. I always add about 2 tbs. of cider vinegar to the steaming water along with a sprinkling of salt over the broccoli. I usually retain the stalks and use a vegetable peeler to remove the tough outer skin before cutting the tender inside into 1/8" medallions. If you don't want to take the time for this step you should still keep them in the freezer for later use in making stock.
This recipe was well received by my guests and four of us ate everything in sight.

Episode 49
The week following Thanksgiving was a little busy for me, but on Saturday I found sufficient time to cook a SOUTHERN RATATOUILLE from George's 11/20/17 blog. This is an easy one-pot recipe that can be prepared as a vegetarian dish by substituting vegetable stock for the chicken stock.
Creole Tomatoes appear to be a regional product and aren't available in my local markets, I substituted four Plum Tomatoes with excellent results. You should select a dense tomato, such as the Plum, because of the cooking time involved. Regular tomatoes would be total mush after thirty minutes on the stovetop.
I purchased an eggplant (the smallest one in the store) and it still weighed in at about 1 ½ lbs. This will equal considerably more than the 2 cups of chopped product needed for the recipe. In order to avoid waste, I used all of the eggplant and increased the amount of squash, onions, and tomatoes to correspond to the ratio in the recipe. Three Mirliton (Chayote) Squash made a quantity approximately equal to the eggplant, three medium sweet onions and two large bell peppers completed the recipe.
I increased the thyme and oregano slightly (just by eyeball), and added 12 pods of Okra on the top.
I placed ten bone-in skin-on chicken thighs on top of the recipe to cook along with the vegetables. I removed everything from the stove at 25 minutes to allow for continuation cooking.
For this recipe, I used a 12" W by 3" D Sauteuse pan with a glass top.
The chicken thighs were removed from the pan at this time, dried with paper towels, and sprinkled on both sides liberally with Tony Chachere's Creole Seasoning. This product has been around a long time and is almost always available at Walmart, if your local grocery store doesn't stock it.
The thighs were flash fried in a cast-iron skillet with about ½ tbs. of canola oil, and cooked about a minute or so to a side so that the skin was crisp but not blackened. Done properly, the thighs will cook up to a dark red color. I returned the thighs to the outer edge of the original pan, placing one pod of Okra between each, and making a star of the remaining pods in the center. This makes a very attractive presentation, and you have the added advantage of serving from the pan at the table.
This dish was served with crusty French Bread and butter and a light salad on the side. I served this on Saturday for family, and it was so well received that I repeated it for my Monday night crowd; a tribute to the ease of preparation and continued popularity of George's recipes in my immediate circle of family and friends.

Episode 48
This recipe was published on the blog Thanksgiving week. Spicy Creole Shrimp Dip was immediately selected as my contribution to a neighborhood gathering held Thanksgiving Day in Shawn and Tracy's neighborhood. I already had most of the ingredients on hand, just needing to buy the shrimp, horseradish, and Creole Mustard at Winn Dixie on Tuesday.
For this recipe, I used Fisherman's Wharf (store brand) "Jumbo Gumbo" shrimp, 71-90. Since this item is packaged in 12 oz. bags, I bought three, I figured that an extra 4 oz. of shrimp would be appreciated by everyone.
After lunch on Wednesday, I put the shrimp in my largest kitchen bowl and covered them with water for about a half hour while I made the trinity.
In reading the recipe I noted that George stresses finely diced fresh product, nothing frozen as it can make the dip watery. I used one fairly large sweet onion, reserving ¼ of it, which I grated over the bowl using a box grater. While this step isn't called for in the recipe, the process of grating reduces the onion to a pulp and allows it to release all of its' juices into the dish.
When preparing the canola oil/mustard, I had an unpleasant surprise, Zatarain's Creole Mustard is now sold in 12 oz. containers, not the 16 oz. size mentioned in the recipe. Unfortunately, I didn't make this discovery until AFTER I had incorporated the oil/mustard in the bowl and was unable to understand why it seemed so thin. In order to make the ingredients emulsify you will find it easier to use an immersion blender for mixing. After I discovered my mistake I added some unflavored bread crumbs to thicken the mixture, about a 1/2 cup was adequate.
After thawing the shrimp, I removed them from the bowl, reserving the ice water to chill the cooked product and also to use in the steam pot when cooking them. Steaming is my preferred method of preparing shrimp; it is much easier to control doneness, and you are assured that none of the flavor is going to boil away in the pot. I used the steam basket of a double boiler and cooked the shrimp in three batches of 12 oz.; anything larger and the top layer will be undercooked when the bottom is perfect. To the 2" of steaming water, I added a tablespoon of Zatarain's Liquid Shrimp Boil. Just before putting the shrimp in to steam I sprinkled each batch with about a tablespoon of Tony Chachere's Creole Seasoning. This spice is not called for in the recipe but I felt that it would add a touch of heat to the shrimp that couldn't be achieved with the addition of hot sauce alone.
Overdone seafood is rampant in restaurants and one of my pet peeves. Probably one in ten cooks in any of the large chains really understands how to properly cook shrimp, fish, and lobster; most just boil or fry it to death, add a lot of sauce and gussy it up with some sort of garnish to justify their exorbitant prices for a product that they have ruined.
The shrimp were steamed for a little over three minutes per batch, stirring once to make sure that everybody got a good dose of heat. A good way to determine doneness is to look at your shrimp about halfway through cooking, if the protein had gone from a translucent shade to a milky white showing a little red you have about another minute or less cooking time left. Perfectly cooked shrimp will have a slightly "al dente" feel when bitten, crisp but not tough, if they are chewy you cooked too long.
The finished dish weighed in at 4 ½ lbs., more than adequate for a party with 20 or more guests. I plan to prepare this dish again for Christmas, but I will use a mixture of red, yellow, and green, bell peppers to enhance the eye appeal; after all, we eat as much with our eyes as we do with our mouth.
I made ten copies of the recipe to take to the dinner that afternoon, it has been my experience that any time I serve one of George's signature dishes everyone will ask me how to make it.

Episode 47
Last week an unexpected bounty found its way to my table: Penn Dutch market had yellowfin tuna steaks on sale–$9.99 for a 2 lb. bag. I bought 8 lbs. for myself and another two lbs. for Shawn and Tracy. Later, I returned and bought another 4 lbs. because I realized that this was going to be a "one-time" opportunity. These were beautiful 4 oz. steaks, individually wrapped and sealed, so a 2 lb. pkg. made four perfect servings.
I scoured Acadiana Table for a recipe from George and found nothing in the blog or the cookbook, so I contacted George for a suggestion. We agreed that Blackening was the only way to proceed with this bounty.
Paul Prudhomme is credited with introducing Blackened Redfish to the American table from his K-Paul restaurant in 1980. The technique took off like wildfire and today you can find almost any meat or fish sold in restaurants is available "blackened". Unfortunately, many restaurant cooks get the technique wrong, and the resulting dish is a poor substitute for Prudhomme's original concept.
I prepared my steaks by thawing them in the fridge for 24 hrs., followed by an hour on the counter wrapped in paper towels to be sure that the surface was dry before cooking. The drying step is important here; if there is moisture on the surface the meat will steam rather than char and the blackening effect will be lost.
Melt some butter–about 1/3 cup will do for 8 steaks. Rub it on with your fingers. You don't want a lot of butter, just enough to provide some flavor and a medium to make the seasoning stick. Follow it up with a generous portion of blackened seasoning, making sure that both sides and all edges are coated. For this dish, I also lightly coated each steak with sesame seeds for additional flavor. I used Paul Prudhomme's Cajun Magic Blackening Seasoning, but there are other brands available if your store doesn't carry his product.
In a cast iron skillet, brought up to "very hot" on the stove, use a paper towel to rub about a ½ tbs. of oil onto the surface; if the temperature is right the oil will smoke immediately.
I cooked each steak about 30 seconds on a side, then rotated to make sure that all of the edges were also blackened. This is a very quick process and you should take extreme care not to overcook your product. Total cooking time, per steak, should be a little under two minutes. I did two at a time so the entire cooking process was just under ten minutes.
This meal was served with Haricots Verts and a bed of Rice Pilaf for the fish. Accompaniment was a spinach salad featuring George's Caesar Dressing from the blog a couple of weeks ago.
Shawn was a "no show." He got stuck in traffic coming home from Miami and I had two extra steaks left. These were served cold later in the week, thinly sliced with a dressing of homemade dill sauce.

Episode 46
This week's Monday meal is a follow up from last week. I scored a major purchase last week at Walmart; oysters were on sale for $5.99/pt. I bought all they had.
Fried Oyster and Crawfish Caesar Salad (pg. 96) hit all of the right notes for my crowd. I made no substitutions since all ingredients are readily available locally.
I began by preparing the Caesar Salad Dressing, which is a pretty straightforward process, and, except for the addition of the smoked oysters, one that will be familiar to anyone accustomed to making salad dressing from scratch. The resulting dressing is a savory delight, reminiscent of a similar Caesar Dressing that my wife and I made in the '70s for church supper potlucks. Definitely take the time to make this dressing from scratch; you can't possibly duplicate the unique flavor found here from a bottle purchased at the grocery store.
I did cheat on one aspect of the dressing. I coddled the eggs in the microwave. This is an easy process: just puncture each egg, wrap in a paper towel, then microwave for about 30 seconds. Since microwaves differ by manufacturer, it is best to try this with one egg first to determine the proper timing. This beats the bejeebers out of boiling them and eliminates the guesswork involved.
When I made the recipe and tasted the first batch, I immediately prepared a second batch for later use. The recipe for this ingredient alone makes it a "keeper".
Whn preparing the oysters and crawfish, I set up a "breading station" on the counter, right to left, eggs first in a large bowl, cornmeal, flour and Cajun Seasoning next and a large tray lined with parchment paper and a cooling rack to hold the finished oysters and crawfish tails.
I did make one small change to the recipe here: for each egg, I used about a tablespoon of water as a thinning agent; not necessary but it makes everything a little lighter. I also used "hot rise" cornmeal (I have both types on hand) because I felt that it would give a little more volume to the batter. Again, not necessary, but it does work.
The oysters were quite large, so I used two pints for this recipe, which assured that my guests would have enough and there would be a few left over for a sandwich later in the week.
When preparing the crawfish tails, I breaded four at a time; this yielded a finished product that was about the same size as the oysters. For those interested, I used Riceland Brand frozen crawfish tails available in the frozen section at Walmart. These are an American product, you should avoid those sourced from China (Boudreau's) that have a similar packaging as Riceland and are side by side in the freezer section.
I have a small countertop fryer, which limits the number of items that I can cook at once to batches of four or five at a time. For this recipe, I removed the basket and dropped each oyster/crawfish directly into the oil. Remove them with a slotted spoon or a spider and set under foil in a 200 deg. oven until ready to serve.
As an afterthought, when I was finished with the breading, I mixed the eggs with the leftover flour/cornmeal mix. I added a little more flour and cornmeal to the mix and the result was enough batter to make a dozen large hushpuppies that I fried up last. Waste not, want not.
This meal is another winner in the long line of things I have prepared from Acadiana Table and was well received by my guests, there were only four at the table for this meal but everything that I plated was eaten. I held back four oysters for my Po'boy later in the week.

Episode 45
This week's recipe is FRIED SOFTSHELL CRABS WITH CRABMEAT REDUCTION that first appeared on the blog Aug. 14. I had planned on preparing it for my guests the following week, unfortunately, health issues and a hurricane intervened, and I wasn't able to try it until a couple of weeks ago.
I'm a Marylander, born and bred, with Tidewater running through my veins. That being said, this method of preparing softshell crabs was entirely foreign to me, but I was intrigued by the flavor possibilities, and I was eager to get into the kitchen and see if the product matched the promise. Rest easy, it passed with flying colors.
Growing up in Baltimore in the '40s and '50s there were three large public markets run by the City, where farmers and fishermen could bring their bounty fresh to the tables of the citizenry. The current trend of "Farm to Table" is not a new concept; it is how our parents and grandparents bought food prior to the advent of the "SUPERMARKETS". Everything was fresh to the table and only a day or less removed from the field where it was grown or the waters of the Chesapeake Bay. Each farmer or fisherman had a rented stall where their products were displayed.
My grandmother would only buy seafood from one stall at the Broadway Market; it was a family run operation and she had already been a customer for several decades when I came along. I remember softshell crabs on display arrayed in wooden boxes, on a bed of seaweed with a sprinkling of ice. These crabs had been swimming in the Bay only a day previously, or maybe even that morning, and were a live product. If it didn't wiggle, she wouldn't buy it!
Today sadly, only one of these markets survives–the one on Lexington St. in the downtown section of the city. It is on the National Register of Historic Places and is much larger than when I was growing up. Whenever I visit the city, I make it a point to stop there to just wander around and reminisce.
I have attempted to remain true to my heritage and so, I buy softshell crabs from a family operation, Marshalls Seafood and Farming, Marion Station, MD. 21838. (www.MarshallsSeafood.com). They are located on the Big Annemessex River, on Maryland's Eastern Shore, I have been dealing with this family for about a decade and I find that their prices are reasonable, the product is OUTSTANDING, and they ship promptly via FEDX next day. I buy the WHALE size of soft crab (the largest), and they come cleaned and individually wrapped in cellophane envelopes, ready for freezing or the table. I usually purchase about 3 dozen which makes a six or seven month supply for my purposes. When freezing these, I use a "Foodsaver" to vacuum pack two at a time; this avoids "freezer burn" since they aren't exposed to any air.
For this meal, I had only four at the table, so the economics worked perfectly. For the size of my crabs, I prepared six, giving each diner a crab and a half which is more than adequate even for a big appetite.
I deviated from the recipe sequence and prepared the Crabmeat Cream Reduction first. For this, I used 2 6oz. cans of Lump Crabmeat from Trader Joes, only because that is what I had on hand. I think I have seen the same product in Winn Dixie and Publix made by either Wishbone or Chicken Of The Sea. In any case, this is an acceptable quantity (12oz.) rather than opening a 1 lb. can and using only part of it.
When making the reduction, be extra careful when adding the cream. I control the temperature by sliding my pan about halfway off of the burner, and I start with a very low flame. If you allow the cream to boil, and it can happen in a flash, your reduction is likely to curdle and you will have to start over.
Steaming the asparagus came next. I use a double boiler, a few Tbs. of salt, and pencil-sized asparagus. Break off the stem of the thickest stalk then trim the rest to that size. I used a pound of asparagus that yielded about 10 stalks per person. I find that I prefer to steam my asparagus rather than boil them; the taste seems to come out better, maybe the boiling just takes away from the flavor. Once cooked, they can remain covered in the steaming basket, or wrapped in foil until time for plating.
I added a step when preparing my crabs: my breading station consisted of a baking dish filled with buttermilk where the crabs rested for about 5 minutes, drained on a paper towel, followed by a sprinkling of Cajun Seasoning, and then a dredge in the cornmeal/flour mixture. They then rested on a cake rack until ready for the fryer. The buttermilk is a feature that I grew up with, and I'm not sure just what it is supposed to do, but, there have never been any complaints. I also believe that the buttermilk bath allows the ensuing coat of Cajun seasoning/cornmeal/flour to stick a little better.
While the crabs were resting, I prepared the Hollandaise Sauce; once again, George has simplified the preparation of what is a sometimes tricky component. Most recipes call for whisking on the stove and this can result in either "breaking" the sauce or scrambling the eggs if the heat isn't precisely controlled. The sauce took only a few minutes to prepare and came out perfectly.
The crabs were fried in my (very small) fryer @350 degrees. Since my fryer has a lid, there was no need for a splatter shield but things were pretty lively in there as each crab went in.
The resulting product was a crab with a somewhat thicker coating than what I am familiar with, but, the added coating took nothing away from the fresh and juicy crabs themselves.
The asparagus and Hollandaise Sauce, in my opinion, are what makes the dish's eye appeal. I am used to simply serving soft crabs either alone, with French Fries and/or coleslaw, with a side of some sort. Most of the time they come to the table in the form of a sandwich, this is definitely a culinary departure for me and an eye-opener, as well.
The addition of Hollandaise Sauce and the Cream Reduction added what can only be described as a "tony" aspect to this dish. The flavor was excellent, everything came together in a single burst of deliciousness, and my guests were completely satisfied

Episode 44
This week's recipe is PECAN-CRUSTED OYSTERS WITH MEYER LEMON AIOLI (pg.114)
This week's choice was more or less forced upon me by a "lucky find" at Walmart. While shopping I noticed that the Fish Department had seven pints of Hilton's Extra Small Willapoint Oysters in the case for a mere $5.99/pt. This was a clear saving over the usual price at Costco ($7.99) and beat Publix ($9.99) by a whopping $4 per pint. The reason for the sale was that they were nearing the expiration date. I bought all seven (that was all that they had or I would have taken even more).
For those living in an area where you can purchase oysters fresh from the bay this might not seem to be anything spectacular, but believe me, this was the buy of the year at this price.
I have been using this Hilton's brand for several years now and, while they are definitely not as good as the freshly shucked product, they are a reasonable substitute and you will never go wrong using them. The only thing missing is the salty taste from the seawater you always find in fresh oysters.
I froze 5 pints and used the other two for this week's recipe. They freeze easily in their vacuum-sealed container and lose nothing in the thawing process.
Meyer lemons are out of season now ( they were in the markets only a few weeks ago), so I had to substitute regular California lemons when making the aioli. This is a quick and easy process and I was done in about 10 minutes. The aioli was made early in the day and refrigerated to give the flavors time to meld.
I always zest lemons before squeezing and either freeze it or use it in the recipe to enhance the lemon flavor. In this case, I froze about half and added the other half to the aioli.
For an old Maryland boy, born and bred in Tidewater, I was more than skeptical about the Pecan-Crusted Oysters. When growing up, the only breading used on fried oysters consisted of crushed saltines, yellow cornmeal, and a healthy dose of McCormick's Old Bay Seasoning; they were fried in a mixture of Crisco and butter and served with Crosse and Blackwell's Seafood Cocktail Sauce. So, believe me, I was venturing boldly into unknown territory when it came to George's version. Pecans and oysters: what is this going to taste like? Rest easy, the recipe is a keeper and it opened my eyes to other flavor possibilities.
In preparing the breading I used pecan pieces, toasted them as George suggests, and reduced them to the consistency of Panko bread crumbs with the immersion blender. This seemed to be about the right consistency, too coarse and they would not have blended well into the breading, too fine and the flavor would have been lost. Making the breading as instructed, I went a little heavy on the Cajun seasoning because I understand what my guests like for a heat level.
There is no way to bread oysters without creating a mess. I first drained 2 pts. of oysters (about 25/30, they were big) and reserved the liquor for later use. I then fired up the deep-fryer (to 375 deg.), coated my hands with olive oil, and started dipping the oysters into the breading. Use only one hand and put each oyster aside; if you use a large platter up, you can bread all of your oysters before beginning to fry them. With a small fryer like mine, it is best to cook no more than four oysters at a time, any more and they will stick together. Given this limitation, cooking was the longest process, about 25 minutes or so. I prefer to use one hand for the breading and keep the other one free for the transferring. Each batch was plated and put into the warming drawer of the oven to await serving.
I was pleasantly surprised by the flavors imparted in this recipe. The aioli provided a different perspective than what would have been the case with either tartar sauce or seafood cocktail sauce, I guess it can best be described as delicate rather than hearty, but that was a good thing and was well received at the table. Likewise, with the pecans, the nutty note in the breading was prominent and pleasant but not overwhelming, you still got the flavor of the oyster as the dominant note in the dish. While the aioli was pleasant, I used very little at the table, my personal preference was to get the flavor of the oysters first.
Instead of my usual six guests, only four showed for tonight's meal, but when the evening was finished there were no leftovers (well, I did hide five of the oysters for a sandwich later in the week).
This recipe is another "keeper", and, with oysters on hand, I plan to make the Fried Oyster and Crawfish Caesar Salad next week. (I hope some of my guests are no-shows again, I want leftovers)

Episode 43
After a bout in the hospital (4 1/2 weeks), a hurricane, and three weeks of cleanup, I finally got my Monday group back last week. For this week's meal, I settled on the Speckled Trout and Shrimp Chowder (Pg. 173).
Naturally, Speckled Trout as described in the cookbook, isn't available anywhere in South Florida. Rest easy, any solid white meat fish will substitute. I settled on Cod fillets at $6.99 lb. Try to select the thickest cuts, since you are going to be slicing them into serving chunks before cooking (about 1 1/2″ makes a good size for the pot).
The session began by shelling and deveining 4 lbs of Royal Red shrimp which I cut in half lengthwise and set aside. The shells went into the 10 qt. black pot covered with water, celery, onion, bay leaf, salt and pepper, then simmered for about 30 minutes. The yield was about 8 cups of dark seafood stock after straining; 4 cups (1 qt.) was put into a ZipLock bag and reserved in the freezer, the rest was set aside for use in the recipe. (BTW, the list of ingredients doesn't include any mention of the stock, probably a printing error since it is covered in the narrative).
I deviated a little from the instructions by browning the sausage first in the black pot with a little EVOO, then adding the onions, celery, and butter. The browning of the sausage leaves a bit of "fond" on the bottom of the pot which will enhance the overall flavor; I don't think that you would get as much flavor by doing everything at once. From this point forward it is just a matter of assembling ingredients and putting them into the pot.
The red potatoes were cooked in the microwave and allowed to cool before dicing. I used two 10-oz. pkgs. of frozen yellow corn and substituted evaporated milk straight from the can instead of whole milk.  I found that the 15 minute cooking time for the fish and shrimp was a little long and reduced that time to 10 minutes, as George says in the recipe, simmer until it is cooked through.  Seasoning is up to the individual, and the recipe as it stands is acceptable to most palates; hot sauce was provided at the table for those requiring extra heat.  Oyster crackers, as well as crusty French Bread, were served as accompaniments.

Episode 42
For this week's recipe, I chose to serve my guests "SWEET DUMPLING SQUASH STUFFED WITH JASMINE RISOTTO" (pg 138).
As usual, the local grocery stores didn't stock dumpling squash, so I substituted some great looking acorn squash and changed the preparation slightly. Since the acorn squash have a very firm outer shell, I decided to cut them "pole to pole" rather than remove the tops. Cutting them in this manner served a second purpose, as well; by splitting each squash into two parts, I derived a total of eight pieces to serve.
I have found that using a melon baller (large end) or a small ice cream scoop makes very quick work of removing the flesh from squash, potatoes, etc. A spoon has a less comfortable handle, is not as sharp, and is harder to manipulate than either of these tools.
Everything went quickly and once the ingredients were combined I began adding the rice. The jasmine rice that I bought at Winn Dixie came from Louisiana but wasn't Supreme Brand that the recipe recommends. Make sure when you begin to add the rice to the squash puree and spices that you closely watch your temperature. I think that I had my temp a little high, because the mixture began to brown too quickly, and my final result was slightly darker than the picture in Acadiana Table. It may have made a slight difference in the final taste, but I can tell you that the finished product was delicious and well received by my guests.
The long slow cooking of the rice to make a creamy "risotto" probably was the most difficult aspect of the entire process, and I found that my skill in this area needs a little more work.
I intend to make this dish again using shredded sharp white cheddar cheese, I think that the contrast will catch the taste buds in a different area and give the dish another aspect.
All in all, this was an easy dish to make and was well received by everyone. My strategy of splitting the squash was right on; I had two leftover pieces for lunch later in the week.
This dish was served with haricots verts (green beans) and a side salad of kale, mixed bitter greens, and cherry tomatoes dressed with a homemade red wine vinaigrette. Desserts were small Italian Ices purchased in an 8 pack from the store.

Episode 41
This week's selection was the SEAFOOD SKILLET LASAGNE (pg. 195). This is a ROCK STAR of a recipe and one that will be trotted out for special occasions. The reason for the "special occasions" designation has to do with cost. I scaled this recipe up with more celery, onion, mushrooms, shrimp, and cheese.   Otherwise, it was made according to George's directions. By adding a little more of these items I was able to scale the recipe up to ten servings, I was expecting seven for dinner.
For the cheeses, I bought the 8 oz. bricks of mozzarella and white cheddar, for the Fontina I bought a wedge weighing less than 8 oz. which still cost $6.70.
The Crabmeat was $20.00 and Crawfish Tail Meat was $15.64. I scaled up the shrimp to 24 oz. which cost $13.99. I bought one bottle of clam juice and could have used two. When all expenses were totaled up food cost came to $72.90, and made enough for ten servings plus seconds, so, serving cost came in at a little than $7.00 per person for a meal that would have cost at least $25.00 or more in any restaurant you could choose.
Preparation was straightforward and went rather quickly, I think everything was ready for the oven in a little over an hour. One thing I will do differently the next time is to use a package of frozen spinach instead of the fresh; to stem and sauté this ingredient took at least fifteen minutes. By using a 10 oz. pkg. of frozen chopped spinach and squeezing out the water in a dish towel or cheesecloth, you will eliminate an entire step in preparing this dish.
Once the vegetables and mushrooms were cooked, I added the shrimp but only cooked them for about a minute before removing the mixture from the heat. Since this dish is going to bake for 45 min. in the oven, the shrimp will complete cooking there, and in my opinion, be much more tender in the final outcome.
I used some half and half instead of the whole milk called for in the recipe simply because I had a quart in the fridge and nothing else to use it for.
When making the sauce, be sure to use a large pan, this will take up a lot of room, especially if you increase the recipe as I did. In retrospect, the sauce was perfect but a little thick and there wasn't quite enough to completely cover the top when the dish went into the oven. In the next recipe, I will be stingy on the first two layers to ensure that I have enough left to cover the top layer of noodles adequately. Given the dearth of sauce for the last layer, I shredded more mozzarella cheese onto the top.
A recipe of this size would have overwhelmed my cast-iron skillet, so this meal went into a large baking dish for cooking. It was done in the allotted 45 minutes, and an additional 3 minutes under the broiler resulted in a dish whose picture wouldn't be out of place in Southern Living magazine.
Service was with a fresh kale and zucchini salad topped with honey Dijon vinaigrette and shaved mozzarella cheese along with crusty French bread and butter and lots of wine. Everyone had seconds and there were enough leftovers for another two or three servings.
Once again, George has combined what is an ordinary dish, such as lasagna, with nonstandard ingredients reflecting the Cajun tradition, and has come up with another winner. You won't regret making this one.

Episode 40
This week's selection was SNAPPER IN CREOLE TOMATO BROTH (pg. 181).
Following the selection of the recipe from Acadiana Table, I went to the market to purchase the snapper. STICKER SHOCK!! Snapper and Grouper, which had been in the $11.99 range only two weeks ago, has now soared to $15.99 per pound. I seriously considered substituting the Snapper with Orange Roughy but decided to bite the bullet and prepare the recipe as written.
Following this recipe was delightfully uncomplicated, and I had some help from the store. I purchased prepared carrots (julienned), which saved me at least 10 minutes of prep time. Find them in the produce section right next to the salad mixes.
Everything in this recipe was re-calculated to six servings.
Tomatoes from the supermarket are almost always a problem; they are artificially ripened and lack the flavor of those picked from the vine. That was the case here, and I must have sorted through a couple of dozen before I found two that were even remotely suitable.
I had just purchased a $4.99 basil plant at Publix and this was the first opportunity to use it. Fresh really makes a difference! Fresh lemons, sliced paper thin and seeded, completed the garnish.
I used a pound and a half of Royal Red shrimp (U 16) and used the shells to make a stock. My crowd is very appreciative of properly cooked shrimp so I added four to each bowl instead of two.
I know that the recipe calls for the stock to be made from the tomatoes, but these were pretty wimpy in the flavor department so I made an executive decision to substitute the shrimp shells as an additional ingredient. It was only a small amount of extra preparation that wound up making a big difference in the final product. Even when the stock was done and the tomatoes removed, I still found that there wasn't enough tomato flavor there. I added an additional 2 TBS of Tomato Paste to the final product and it came alive for me.
Icing of both the fish and the vegetables was another stroke of culinary genius. The vegetables were crisp/tender and the firmness of the fish complemented the stock perfectly. I could have used the commercial chicken stock but, since I already had the shrimp shells, I decided to go that way.
Randy brought about a quart of fresh cherry tomatoes from his garden and these were used in the Arugula/Zucchini Salad with homemade dill vinaigrette dressing. Top this one with thinly shaved/flaked cheese (I used Parmesan/Reggiano) and you have the perfect accompaniment to a great broth.
Other than some crusty French bread and an Italian Ice for dessert, nothing else was needed to complete this meal.

Episode 39
Jack Chew writes: The chosen recipe this week is SHRIMP-STUFFED AVOCADO SALAD (Pg. 174). This recipe is a real winner and a terrific dish to go with any meal, or it can serve as an entree.
When preparing the ingredients, it is important to follow the directions, use small shrimp and dice the celery and onion exceedingly fine. Unless you are using giant avocados, larger shrimp or coarsely diced onions/celery will result in a filling that doesn't fit well into your shells.
For those living in regions where fresh shrimp aren't readily available, Winn Dixie Fisherman's Wharf brand has 12 oz. packs of 41/50 in the frozen fish section. For this recipe, I used 2 pkgs. (24 oz.) since I was preparing the meal for six.
The only cooking involved in this recipe is the shrimp, otherwise it is just a matter of scooping out the avocados and combining everything else in a large bowl. I prepared this recipe early in the afternoon and let everything rest in the refrigerator for a few hours so the flavors had a chance to meld. About a half hour before serving, I plated everything.
The Haas avocados I used are much smaller than the Florida variety but have a richer flavor. If the Florida fruit had been available I would probably have used them because of the size difference.
Using the proportions in the recipe, you will probably have an overflow of the filling; I just piled the excess on the plate and garnished it with some parsley.
The recipe was prepared as a side. The main course consisted of a large Maryland Crab Cake cooked ahead, and served with sweet potato curly fries made with my Vegetti tool. The fries were prepared in the kitchen prior to service and kept warm in the toaster oven until everything else was on the table.
This is an outstanding recipe: fast and easy to prepare with little cooking required. This one goes on my list of standby salads.
Thanks, George

Episode 38
Jack Chew writes: This week's menu choice was the Shrimp and Artichoke Soup (pg. 71) I served as an entree portion (scaled the recipe up to eight servings) to my six guests with a couple of sides and a small dessert.
As usual, the meal began in the morning when I prepared by trinity and bagged for later use. Don't worry about making too much of this, it will keep in the fridge for at least a week if you force the air from the storage bag.
At one point, I did depart from the recipe. I used evaporated milk (2 cans) as a substitute for the whole milk and heavy cream.
When purchasing the artichoke hearts, you should try the store brands; in some cases, they are half the price of the name brands, and I have never been able to detect a taste difference.
Instead of the seafood stock in the cookbook, I used the shells and heads from the 2 pounds of shrimp. This was combined with 3 quarts of water, a large celery stick, a large carrot, and a half of an onion, all cut into chunks for cooking. In addition, I added five bay leaves, three crushed garlic cloves, some dried thyme, about a dozen peppercorns, 2 cups of white wine and a little salt. This was cooked at a high simmer for about 45 minutes and yielded a little over 3 quarts of nicely darkened stock. There is need to peel anything, you are going to strain it all when ready for use.
To complete the meal, I steamed a pound of broccoli and a 10 ounce package of pearl onions. The onions should be available without the cream sauce in the frozen food section, if not, prepare the creamed version according to package directions and serve separately. For the steaming liquid, I use about two cups of water and one cup of cider vinegar. The broccoli/onion combination was sprinkled lightly with Cajun seasoning prior to cooking.
The second vegetable served was the Sweet Heat Carrots (pg 137). This recipe was assembled the day before and refrigerated overnight. The first time I made this dish, I prepared enough Sweet Heat Seasoning to make several batches. I thought that the overnight rest and reheating allowed the flavor of the dish to intensify. In any case, the carrots were tasty and received favorable comments from my guests, as did everything else.
The final touch to this meal was a serving of Rum Raisin Bread Pudding, made from leftover baguettes kept in the freezer and dark rum which is ALWAYS on hand at my place.
Once again, Acadiana Table's fine recipes have combined to make a truly outstanding meal. Thanks George.

Episode 37
Jack Chew writes: For this week I chose STUFFED TURKEY WING GUMBO, (pg. 61). I suspect that there are as many gumbo recipes as there are black pots in Acadiana, but this one is very good with a unique flavor combination. This is actually one meal consisting of two recipes that are then combined at the table.
I changed several things:
I scaled up both recipes to six portions from four.
I changed the order of cooking for the gumbo ingredients.
I added a tablespoon of Cajun Seasoning to the gumbo.
I used Spiral Ham Slices and Pieces available from Walmart because I didn't have Tasso.
I used smoked turkey wings bought from Winn Dixie.
I added one Poblano (Cubanelle ) pepper to the trinity of the gumbo recipe.
I didn't use hot sauce in this recipe.
I added another TB of Cajun Seasoning (pg 13) to the stock for the wings.
I cooked the wings in two oval 9X12 aluminum dutch ovens because I was afraid that crowding them into one pot might result in some cooking more than others.
I was forced to use Chicken Stock because my local store didn't have any Turkey Stock. (I have since found out that my local Walmart Superstore has this product on the shelves year around.)
The Trinity for the turkey wings was made and set aside first, then the Trinity for the Gumbo. Both were staged on the counter in the order that they were to be used.
The smoked turkey wings are available at Winn Dixie year around and range in the $3.59 per lb. area. Six wings came to about $9.00. These were browned in the two pots then removed from the heat and allowed to cool. The Trinity for the stuffing was browned in the same pots and set aside. 1 onion, 1 carrot, and 1 stalk of celery were added to each pot and browned.
Once the wings had cooled sufficiently to handle, I used a fillet knife to form the pockets.  Just slice through the meat between the bones, spread the opening, and use your fingers to dig under the skin and upper meat above the bone, then push down and make additional space under the bones. Stuff the reserved Trinity firmly into the cavity; stuffing them like this will nearly double the size of your wings since you are adding ingredients both above and below the bones.
Everything was covered with chicken stock and the pots were covered and put into the 400 degree oven.
For the Gumbo portion of the recipe I started by browning the Andouille, in two batches, in the black pot, removing it when it had taken on a distinct dark color (about 4 to 5 min). The ham followed in the same oil and then the Trinity. The reason that I used this order is that the oil and the bottom of the pot accumulate flavors released by the browning process.
This browning produces what is called the "Maillard Effect", named for a French scientist in 1912 who wondered what caused flavor to change when meat and vegetables were browned. He merely put his name to a process that had been understood by cooks for millenia.
For this portion of the recipe I added a single Cubanelle Pepper to the Trinity for some added heat and eliminated the hot sauce. When the Trinity was done I added the ham and Andouille back to the pot then stirred in 2 TB of flour to make a small amount of roux. Once the flour was cooked I deglazed the bottom of the pot by adding two cups of chicken stock and stirring constantly.
I have never had much success in making roux in the traditional fashion; it often has a burnt taste which then forces me to start over. I discovered "Microwave Roux" a few years ago and have been using that method ever since without noticing a taste difference. The process is really easy, all that you need is 1 cup of oil, one cup of flour, a large glass bowl, a microwave and a whisk.
First, combine the oil and flour and whisk vigorously until you are sure that no stray bits of unincorporated flour remain. This is important because uncombined pieces of flour will begin to brown immediately and ruin the flavor of your roux.
With the microwave on high, set the timer for 90 sec. and cook. Remove the bowl and whisk again, making sure that you get into all of the corners and everything is incorporated. Set the timer again for 90 sec. and repeat the process, your roux has now been cooking for 3 minutes. Return the bowl to the microwave, this time setting the timer for 1 minute. Remove and whisk again. The roux should now be a little darker. Repeat for another minute, whisk and check the color, your roux has now been cooking for 5 minutes. Repeat the same process in 30 sec. stages, whisking each time until the color is a little darker than peanut butter, you should be at about 7 minutes and the resulting mixture should show considerable thickness. At this point, you need to decide how dark you want your roux to be; each additional 30 second period will result in a noticeably darker product. I usually cook for 8 1/2 min and set the bowl on the counter for continuation cooking. This stuff is very hot and takes on a dark mahogany color while resting. The result will be about a cup and a half of roux, use what you need and bag the rest for the freezer.
When the gumbo was put on the back burner (and the roux was cooled), I added the entire recipe to the pot. Dark roux doesn't thicken as much as it adds flavor, which is why I added the flour to the trinity during the browning stage.
This is a BIG recipe when scaled up to six portions and it nearly filled my black pot to the top. After 15 minutes, I skimmed a lot of foam from the top, and then again at 30 minutes. When the gumbo was finished after an hour there was a small layer of oil on the surface, I removed this by putting two paper towels on top and letting them stand for about ten minutes. All of the oil was completely absorbed and the consistency of the gumbo was as thick as I like it (stew not soup).
At the table I combined the two pots of turkey wings into one and served them directly from the cooking liquor. The gumbo was served over rice with a single wing for each diner on his plate. The gumbo bowls I use aren't big enough to accommodate a wing, the rice, and the gumbo.
Gumbo always needs crusty bread with lots of butter, Winn Dixie dollar baguettes are a no-brainer for this one. Hot sauce, which was eliminated from the gumbo, was served at the table with no takers, the heat of the gumbo was nearly perfect with the cayenne and the one Cubanelle pepper.
Salad for tonight was Arugula with fresh basil ribbons, thin bell pepper slices, long beans, and Zucchini strings made with my Vegetti tool. For the dressing I made a lemon infused olive oil/lemon juice vinaigrette to which I added minced garlic and some kosher salt. The entree was followed by a dessert, unusual for this group, of warm Rum Raisin Bread Pudding, with a dollop of French Vanilla Ice Cream on top.
The reason for the bread pudding is really simple, I use baguette rolls from Winn Dixie ($1 each) and there is usually between a quarter and a half loaf left after every meal. Previously this has been converted into bread crumbs, but currently I have a gallon bag of bread crumbs in the freezer and no reason to use them in the near future. The bread pudding recipe is simple, takes about 15 minutes to prepare and an hour to cook, I just put this one in the toaster over an hour before my guests arrived and served it directly from the casserole dish at the table.
I will use the gumbo portion of this recipe as my "go-to" gumbo. I haven't made Tasso for several months now but the next time pork butt is on sale, I'm a customer. I am certain that the "Cajun Ham" will add yet another flavor note to an already awesome gumbo.

Episode 36
Jack Chew writes: For this week's menu, I chose the Stuffed Rosa Bianca eggplant (pg. 132). At first, I was a little confused by the wording describing the preparation of the eggplant, then I looked at the picture and realized that I was simply making a bowl from each one. As usual I scaled this recipe up to six portions to accommodate my Monday guests.
Rosa Bianca eggplant is probably a regional product and unique to the Louisiana Gulf Coast; in any case it is something not carried in the large chain supermarkets locally, so I was forced to use regular eggplants for this recipe. I utilized my trusty grapefruit knife to remove the pulp form the eggplant. Even though I chose smaller eggplants for this dish I ended up with a LOT of pulp; add the sausage and rice to this and you have a very large bowl of cooked filling. Rest assured you will have plenty of extra filling. More about what to do with that later.
For six portions, I had to divide the pulp/sausage/trinity and spices into two batches for cooking on the stove top.  Follow George's sequence in the recipe, divide everything in half and do each of the steps as if you were preparing a smaller quantity.
George is correct in cautioning about adding too much rice, I used a little less than 2 cups of for six portions of filling even though I cooked three cups.
Stuffing and baking went well and cooking times are about right; leave the eggplants in an extra couple of minutes on the final uncovered phase if you prefer a more browned appearance.
Service went well, and the dish was appreciated by all. The only side here was a fresh spinach salad with a three-cheese vinaigrette.
When I was done stuffing the eggplants I had a little less than two pounds of "recipe" stuffing and another cup and a half of cooked rice leftover. I hate to waste food and effort, so, in a moment of inspiration, I realized that this leftover filling contained all the necessary ingredients for making stuffed peppers. I invited my guests back for Wed. night and three accepted.
On Wed. I topped, deveined and seeded six large green bell peppers, parboiled them for about 2 min. each, then put them into an ice bath to stop cooking. Be sure to parboil the removed top portions, you can use them later in the presentation.
To the already cooked rice mixture I added a can of Rotel tomatoes with green chiles (original recipe) a half can of diced tomatoes, and 2 Tb. of tomato paste. I stuffed this mixture into the peppers. I then combined the remaining half can of diced tomatoes, a can of tomato sauce, the rest of the unused rice from Monday, and a little Italian seasoning in a Dutch Oven.
Add about a cup of chicken stock to this and immerse the peppers. You want to have the gravy mixture come nearly to the top of the peppers without actually covering them (about 1/2" or so) add more chicken stock if necessary. Cover the tops of the peppers with the rings left when you seeded them.
Cook in a 350 degree oven for about 40 min, or until the internal temperature reaches 165 deg.
For table service, remove the peppers from the gravy and place in individual bowls then ladle a generous portion of the gravy over each serving. The side dish for this meal was corn on the cob, served at the table with melted butter and a pastry brush, and my 3:1 mixture of salt/pepper. A butter lettuce salad with Dijon/Dill vinaigrette completed the meal.
I know this isn't ALL Cajun, but the leftover filling worked well for another use in a second recipe. My guests were happy to have a second meal during the week that they didn't have to prepare themselves.

Episode 35
Jack Chew writes: For this week's menu I chose the Collard, Black-Eye, Andouille and Sweet Potato Soup (pg.64).
I began preparation of the black-eye peas the evening before, sorting then soaking them overnight. It is amazing how the color of the soaking water changes during this step. I could have used canned peas but I know that the flavor just wouldn't compare.
In the morning, I assembled my trinity and saved it in a plastic bag in the refrigerator, along with the carrots. I also cut the Andouille and bagged it. I prefer to break up meal assembly into several distinct steps.
About three and a half hours before service I started the final assembly, browning the sausage and cooking the trinity. The garlic was added along with the chicken stock, ham hocks (I used 2, they were small) and a single red "bird" pepper. These peppers grow wild and I have a whole jar of them dried and just waiting to be added for that subtle touch of heat that is hard to identify. I always tie bay leaves together with a 6" length of string for easy retrieval after cooking is completed; the pepper was included in this bundle.
I cheated big time by using two cans of Glory Brand Seasoned Collard Greens; they are a superior product with a flavor that is difficult to reproduce starting from scratch. This step also cut about 40 minutes from cook/prep time since they are already done. The previously soaked peas went in along with the greens and cooked for an hour at a slow simmer. For the final hour of cooking the peeled and cubed sweet potatoes went in.
For a welcome change, the whole recipe was done about a half hour before my guests arrived. My greatest failing is that I frequently underestimate the length of time it takes to prepare one of these meals.
At the table, there was homemade vinegar/pepper sauce. This stuff is easy: just boil a cup of white vinegar with two or three hot peppers, your choice of variety; I use the bird peppers. Let the mixture boil for about two or three minutes, set aside to cool, then put the whole mixture, peppers and all in a jar and refrigerate for a day or two.
This can be used on any green vegetable and even as an alternative to dressing on a salad. A little bit goes a long way, but it adds a pleasant note of heat to a dish.
I served this with a packaged cornbread mix to which I added a can of creamed corn, a can of corn kernels, a couple of chopped jalapenos, and a cup of shredded cheddar cheese. Cook this in a cast-iron skillet that has been preheated in the oven and greased with Crisco just before adding the batter. The cornbread in the skillet makes a great presentation on the table, and I have never had a recipe that stuck to the pan using this procedure. The addition of the corn will swell the volume, and one recipe will just about fill a 10" skillet to the top. Yield will be about 8 to 10 servings. Have lots of butter on the table.
Kale salads are now a distant memory, the season for growing is winter/spring, but our salads are still filled out with Randy's long beans that seem to grow all year round.
The black-eye peas make this recipe stand out, if they are prepared from scratch as I did, they come out of the pot a little firm–an al-dente texture. Everyone commented on how tasty the whole recipe was, but they really took note of the peas.

Episode 34
Jack Chew writes: This week's recipe was originally supposed to be the Beer Battered Grouper Cheeks with Sweet Potato chips (pg. 102). Florida has imposed a season and size limit on Grouper (all species) for the past few years, and, as a result, grouper cheeks were nowhere to be found in Ft. Lauderdale.
Grouper fillets were available although at a higher price ($12.99) and smaller than I would have liked (about 5 to 8 oz ea.) I wound up buying the largest that I could find, about 2 ½ lb., then cutting them into medallions of about 1 oz. ea. The result was 33+ medallions for six servings. Make no mistake, the batter is the star of this recipe, and the lighter and airier you can make it the better the final result will be.
I started by sifting 1 I/2 cups of all-purpose flour measured by weight (4 ¼ oz. per cup). I weigh flour in these circumstances because humidity affects the density and a level cup may weigh more or less on a given day. The sifting also adds more air to the mixture. With the flour in the mixing bowl, I assembled the rest of the dry ingredients and set them aside. I used regular canned beer, not the craft brewed stuff, because you need a lot of carbonation when you add it to the batter. For the same reason, I used warm beer–the foamier the better. I also made an egg wash to pre-dip the grouper in before adding the batter and cooking. The egg wash makes the batter stick a little better. Once everything is assembled this recipe goes along quickly.
I decided to do the sweet potatoes first using my tabletop fryer. This turned out to be a little small for the job and I needed to cook several batches. Put these in the oven at 200 deg. while you prepare the fish.
For the sweet potatoes, I changed the recipe to spiral cut rather than chips. I have a Vegetti machine that turns out spiral fries in about a half minute per spud and is much quicker and easier than slicing by hand. The strings are also a consistent size and cook more evenly when prepared this way.
When I began frying the Grouper I discovered that the batter stuck to the basket and made it hard to remove the fish when cooked. After the first batch, I simply set the basket aside and used a spider to retrieve my cooked medallions. In the future, I will use an electric fry pan to cook anything with this sort of batter.
I think that I will use this recipe as a "go to" when preparing fried fish of any kind. It is very light and appears to be flexible enough so that other ingredients (such as cornmeal) and flavors (such as dill, Old Bay, or other spices) would add a different flavor note without changing the overall airiness of the batter.
The only other side was garlic toast topped with Parmigiano-Reggiano cheese. A homemade Honey Dijon Vinaigrette dressed the salad of fresh kale and long beans and a crushed cashew topping. Sadly, this was the last week for the fresh kale from Randy's garden. Kale is a winter/spring crop in S. FL. and dies in our intense summer heat.
Everything went smoothly, with compliments and no leftovers. I have had a little trouble from time to time in locating the proper ingredients, but, to date, any substitutions that I have made seemed to fit smoothly into George's great recipes.

Episode 33
Jack Chew writes: George's introduction to this Blackened and Smothered Ribeyes recipe is spot on. Once you begin to cook in cast iron you will begin to see what our ancestors knew in the previous century and the Cajuns never forgot. I would never advocate throwing away your Teflon and stainless steel cookware, but a cast-iron skillet or two and a Dutch Oven will surely replace them in a lot of your recipes. Just be certain that the cast iron is properly seasoned and, after use, heat it and coat it again with oil before storing away.
I bought six ribeye steaks about 1" thick and seasoned them with my pre-mixed salt/pepper preparation. This is made by combining ¾ cup of kosher salt with ¼ cup of coarsely ground black pepper. Use this sparingly, pour a little out and sprinkle it over your food, a little goes a long way. One cup of this mixture will usually last more than six months and I find myself using it to season everything from vegetables to corn on the cob.
Since my serving was for six, every ingredient was increased by 1/3. I went a little heavier on the mushrooms and used a full pound instead of 3 cups since I had no plans for mushrooms later in the week. I think that this was OK since steak and mushrooms are natural companions. I will admit that my Dutch oven was filled to the very top for the final steps.
Due to the pre-seasoning of the steaks prior to searing, I didn't add any salt and pepper to the rest of the dish. I also used beef stock instead of broth in the pot since I had already opened a box for my rice.
I have been using Tabasco Habanero Sauce in some of my recipes and I did so in this one. I added about a half teaspoon to the iron pot and I also had it on the table for those who desired a little more heat.
My rice was cooked with beef stock and a little butter. I find that spraying the inside of the cooking pan with Pam before adding your liquid will keep the rice from sticking and make cleanup a lot easier.
Be prepared for the steaks to come apart in the hour-long cooking period; the connective tissue dissolves and some of the steaks separated on me. This isn't a critical concern but you should be aware of the possibility. The next time I prepare this dish I will try putting a skewer through the meat to hold it together.
The side for this meal was corn-on-the-cob. I find that serving it with melted butter on the table and a pastry brush works quite well. My salt/pepper combination was also available for those who wanted it.
A fresh kale salad with onions, cherry tomatoes, and long beans (all from Randy's garden) was served with a balsamic vinaigrette mixed at the table and topped with freshly grated Pecorino-Romano cheese.
Hot French bread and butter was available but there was so much food that I had nearly a half loaf leftover at the end of the evening.
Thanks again George, for sharing your native cuisine with the entire country.

Episode 32
Jack Chew writes: Of all the Acadiana Table recipes that I have made over the past several months, the Crawfish Potato Skins recipe is probably the most versatile yet.  As George says, the recipe can be prepared either as an appetizer, side dish, or as a main course depending on the size of the potato used. You can also substitute shrimp (or crab meat) for the crawfish.
For my usual crowd of six, I baked five large (10 oz.) russet potatoes and served them as an entree. I decided to shave a little time in the preparation by doing the initial cooking in the microwave. I still rubbed the skins with olive oil, kosher salt, and black pepper, and cut them before cooking. I used bamboo BBQ skewers to hold them together. They were done in about fifteen minutes; the flesh was firm but not "mushy", and the skins were done, but didn't have that wrinkly finish we associate with baked potatoes. The drier texture will come later during the final 30 minutes in the oven.
I used a small (1 ½") ice cream scoop to dig the flesh out of the skins leaving a nice sidewall about ¼" thick all around. If you have one, the handle of an ice cream scoop makes the chore of digging out the flesh much simpler. Since I was using large russets, there was quite a collection of flesh when this part was done.
My daughter Tracy was going to join us, and since she isn't a great fan of crawfish, I reserved two "skins" to stuff with shrimp (51/70), everything else was prepared according to the recipe.
When upsizing a recipe as I do for most of them in the book, it is important to really pay attention to the spice content. George's use of metric weight allows for easy adjustments; just divide by the portions in the recipe, in this case everything was doubled, and I added a smidge extra to account for potato size.
I used extra sharp cheddar cheese, shredded on a box grater. I tripled this component to 3 cups, divided. Two cups went into the skins with the potato flesh, meat, sour cream, and vegetables, the third cup I reserved for the final topping.
After the skins had been cooking for 15 minutes, I added the third cup of cheese mixed with a half cup of panko bread crumbs and three tablespoons of melted butter. I spooned this mixture over the top of each individual piece and patted it down. The skins were returned to the oven and the final product, 15 min. later, sported an elegant crust of melted cheese and breadcrumbs browned to perfection.
I served this with steamed broccoli and onion quarters, seasoned with vinegar in the steaming water and a light sprinkle of Cajun seasoning just before bringing to the table. Randy again brought his home-grown kale, and this was served with long beans, shredded carrots, and a homemade Dijon dill vinaigrette.
The meal was well received and I was again left with no uneaten food.

Episode 31
Jack Chew writes: The moment I saw this Cajun recipe for Shrimp and Mushroom Cream over Puff Pastry Shell it captured my imagination like one of those tunes that you can't get out of your head. The Monday post on the blog came too late for me to change my planned menu for that night, but I had nearly everything on hand except the Campbell's Cream of Shrimp soup and the pastry shells. I mentioned it to the Monday crowd and two said that they could make it for a Wednesday meal. Done deal, the itch was scratched!
The two major chain supermarkets in my area, Publix and Winn Dixie, do not stock the Cream of Shrimp soup so I had to settle for Cream of Mushroom. I have never noticed any major difference in this type of product between brands so I bought a can of Winn Dixie Cream of Mushroom soup @ $.69 instead of $1.29 for the Campbell's, just me being frugal, I guess.
I had plenty of Royal Red shrimp, frozen when Penn Dutch had that great sale last month. I used a little over a pound of the U16. I peeled and deveined the shrimp and cut each one down the center lengthwise, both to shorten cooking time and to give the appearance of more volume in the finished product.
I departed from the recipe in a couple of minor ways, I used evaporated milk straight from the can for the milk component, and some pre-sliced Portobello mushrooms which happened to be on sale Wednesday.
To compensate for the flavor component lost when the mushroom soup was substituted I made a small batch of shrimp stock from the leftover shells. This is pretty simple to make: a couple of stalks of celery, a quarter of a large onion, two bay leaves, a dozen peppercorns, four cloves of smashed garlic, and a tablespoon of salt. No need to peel the onion or garlic, you are just going to strain them off anyhow. Cook everything with enough water to cover in a 5 qt. saucepan; add a cup of dry white wine (I used dry Vermouth); bring to a boil, then reduce to a simmer for about an hour. The yield will be around a quart of very strong shrimp stock.
Prepare everything as the recipe suggests; I went a little heavy on the butter for good reason. When the mushroom/onion/celery/pepper mixture was cooked through I added 1 Tb. of flour and stirred it in to make a roux. I then added a cup of the shrimp stock, deglazing the pan and thickening the stock. This returned the flavor component lost when the mushroom soup was substituted in the recipe.
In went the mushroom soup, the ketchup, and a half can of evaporated milk. The result was a pretty thick sauce, so I added another half cup of stock and the sherry. At this point you should taste the recipe for balance and add more seasoning if needed, in this case it wasn't necessary.
Since the cooking time for the shrimp is so short you can pause the main course, covered, on a back burner and make the other components of the meal.
The pastry shells were the perfect vehicle for an elegant presentation and cooked in exactly 18 minutes at 450 degrees.
The only side for this meal was Haricots Verts, which I prepared sauted with onion and garlic in butter and olive oil. At the table, you may want to serve the beans with a little balsamic drizzle. You can make this at home and only a little is needed to enhance the flavor of any green vegetable.
When everything was ready and the guests arrived, I brought the sauce to a low boil and added the shrimp. The preparation was allowed to cook an additional two or three minutes then plated in the kitchen.
Cost of preparation came out to a little over $22.00. Divided by three the result was $7.50 per serving but this recipe could have served six that would bring per serving cost to $3.25 for normal portions.
There were only three of us for the meal and twelve shells to consume along with the beans. No leftovers, and in retrospect it wasn't that filling. Nothing but compliments from my other diners, as I have come to expect when I serve one of George's Cajun recipes.

Episode 30
Jack Chew writes: The Crawfish and Asparagus tart pictured in the book on pg. 169 really caught my eye and I launched a search for a rectangular tart pan like the one George used for this Cajun recipe. Absolutely no luck at all! I finally wound up buying a set of six 6" individual tart pans at Bed Bath and Beyond, these served quite well and turned out to be a perfect individual serving size for this recipe.
Prepping the pie crusts on the counter and rolling them out was a little messy but quickly accomplished, maybe ten minutes or so. For the asparagus, I decided to trim the tops to form radial arms about 3" long which I used to form a star pattern on top of the custard. The remaining pieces of stem were chopped to about 1/8" and spread on the bottom of the tart pans along with the cheddar cheese. I used 36 asparagus spears for this recipe.
As usual I made the buttermilk portion from evaporated milk and white vinegar, primarily to avoid leftover buttermilk, which no one would drink. From here on, I followed George's instructions about distributing the crawfish tails and cherry tomatoes. I used about a half pound of tails and placed them individually in each dish. The end result was visual perfection.
The next time that I prepare this recipe I will blind bake the crusts for about 15 minutes before filling, my bottoms were a bit soggy, no complaints, but I noticed, if no one else did.

Episode 29
Jack Chew writes: Reading the blog I saw George's recipe for Smoked Pork Neck Bones and was intrigued. As usual my regular Winn Dixie and Publix stores didn't carry the item. About five miles from my house is Broward Meats a Latin/Caribbean food store and a quick phone call verified that they had plenty in stock.
If you have never visited one of these stores you are in for a treat. The shelves are crammed with exotic (to my palate) items like canned Aki, at least twenty varieties of jerk seasoning, the fish counter has all of the salt cod you would buy in a lifetime, and the vegetable counter has lots of fresh items like collards (big bunches and cheap), and a dozen different staples from the Caribbean. There is goat, there are whole chickens with the heads still on; I could go on forever.
The smoked neck bones were cheap, so I got two packages totaling a little under 5 lbs. Since they were pre-packaged I didn't think to check on the size of the pieces, big mistake as I discovered when I got home. The small pieces were on top and there were a lot of BIG pieces hidden underneath. Chopping this stuff into small pieces with a lightweight Chinese cleaver was a chore that added at least 15 min to prep time. Trust George when he advises to have the butcher do the cutting.
Preparation of this dish was simple and straightforward according to the recipe. Even though it sounds a little complicated a lot of the stuff in here is things that you will have on hand if you cook regularly from George's recipes.
When the time came to finish the dish I used almost two cups of roux to produce a thick texture and a finish that can best be described as looking like freshly melted dark chocolate.
Presentation was no problem, just bring the black pot to the table and let everyone dig in. Extra hot sauce on the table is a must for this dish, this definitely requires an individual decision on the amount of heat to add (I always use a lot).
The meal was well received but we needed a boneyard dish for the pieces. I will make this again, but try to figure out some method of removing the bones either before cooking or prior to service.
Monday night was the Chick Steak Sandwich (pg.106) and it was a real hit. I had Costco pork chops in the freezer and it was a simple matter to thaw and slice them. Chops from this source are generally over 1 ½" thick so the sliced meat was nearly perfect for the recipe requirements. Since I had to make the chops thin I first "tenderized" them with a meat fork, just stab each chop about a dozen times just before cutting.
To make the thin chop that the recipe recommends I placed each one in a heavy-duty gallon freezer bag then pounded them with a scaloppini maker. You can use a rolling pin, a wine bottle, a mallet or anything else that will provide a broad striking surface. Beat each chop until it nearly fills the bag, making sure to kind of slide the beating instrument as you go. Make certain that you don't beat them to the point that they are too thin in the middle and too fat on the edges.
Since I don't have a fryer big enough to fit a serving of this size I used a large cast-iron skillet. To judge the temperature I used the butt end of a wooden chopstick, when it bubbles vigorously the oil is right around 350 degrees (more or less). This process took from 3 to 5 minutes (each) and resulted in a perfect crispy, golden brown finish.
I served with dirty rice and collard greens, potato chips on the side, and lots of cold beer. As usual, no leftovers.

Episode 28
Jack Chew writes: This week began with choosing the Crawfish Etouffee recipe (pg. 82), and that meant I had to locate crawfish tail meat, a task that had become increasingly frustrating. After messaging with George I decided to pass on the imported tail meat and concentrate my efforts to locating genuine LA product here at home.
I called a retired friend of mine in Miami who had been associated with a high-end restaurant during his working years. He suggested that I try a fish wholesale house located nearby in Ft. Lauderdale. A quick phone call to them resulted in another referral, and a third call resulted in "JACKPOT"!!! I was able to source "Riceland Crawfish" Cleaned Crawfish Tails. These are produced by Beauchamp Crawfish of Eunice, Inc. 101 South East Street, Eunice, La 70525, 337-457-1811 http://www.ricelandcrawfish.com. Since this source was a wholesaler in the restaurant supply business, he did me a great favor by selling in less than a case lot. I paid full retail for the product ($15.60 lb.) and I happily bought 4 lbs.
The rest of the recipe went as outlined in the cookbook. I made my trinity in the morning and set it aside in the fridge. I retrieved a quart of homemade seafood stock from the freezer and set it out to thaw.
At 5 pm, I began preparing the Etouffee in a cast iron Dutch Oven. Everything went smoothly, and the meal came together in just under half an hour, time enough for the final touch of butter, parsley, and green onion tops leading to the pre-serving rest on the stovetop. The result was a beautiful mahogany colored Etouffee, which presented well at the table.
The rice in the recipe was made with the unused portion of seafood stock (1 1/2 cups) plus stock-in-a-box to fill out the necessary 4 cups needed.
For the past few weeks winter corn has been plentiful and cheap at the grocery store, frequently selling for 30 to 40 cents an ear. These are fresh and only a day or two removed from the field. Those living farther from the winter vegetable belt may be buying ears that are a week or more ago and may be a little dry. If your husks appear to be dry, soak the un-shucked corn for about 30 min in cool water to re-hydrate.
I now prepare my corn in the microwave using a method I found on YouTube. First cut off the long part of the stem, leaving the husk alone. Microwave on high, husk and all, for 3 minutes an ear (18 min. for 6 ears). Remove from the oven, cut off the BUTT end at the first row of kernels, then just squeeze the tassel end firmly and pull a completely silk-free ear from the other end. Oven mitts and a very sharp knife are necessary, but once you have tried this method, I doubt that you will ever again hand strip and boil your fresh corn. This was served at the table with a bowl of melted butter and a basting brush, plus a salt/pepper mixture (2/3 kosher salt, 1/3 black pepper). You can make a couple of cups at the beginning of the fresh vegetable season and there is never a chance of spoilage.
South FL has several fruit seasons, and we are currently at the height of the papaya bounty. I get mine for free from Tracy or Randy, but they are everywhere in stores right now and not very expensive. For a side dish, I decided to serve a Ripe Papaya Salad. This is simply one ripe papaya, seeded and cubed, combined with a chopped red onion and a diced cucumber. A vinaigrette of olive oil, fresh lemon juice plus zest, raw honey, cinnamon, fresh ginger, chili flakes, coriander leaves (as garnish), plus salt and pepper to taste. Make this an hour ahead and allow everything to come together in the fridge. The recipe is on the Internet but I will be happy to share if anyone needs it. Just ask George and I'll post it.
Fresh garlic bread rounded out the side dishes, along with wine and/or beer.
The meal came together at 7 pm with six at the table. The corn was served first along with the salad. The main event was the Etouffee and it was THE MAIN EVENT. Gumbo mugs were the vessel of choice and a half cup of the seafood stock infused rice was covered by a generous portion of Etouffee. Everyone had seconds. There was some leftover rice, but alas only a scant 8 oz. of Etouffee remained when my crew was finished eating.
This turned out to be an expensive meal as far as the entree was concerned, Crawfish Tail Meat ranks right up there with Filet Mignon in price. Broken down, however, total food cost was a few cents over $40.00. For a meal of this high quality, that came out to around $6.50 per serving; cheap at five times the price and you would certainly spend at least that at Emeril's. (yes, it was THAT good, BAM!)

Episode 27
Jack Chew writes: Since I jumped off the reservation for Monday's meal, I decided to have a second meal on Thursday. Tracy's birthday was on Wednesday, and it was a good excuse to have a small celebration.I had bought a large pack of Asparagus at Costco on Saturday intending to use it as a side for the Monday meal, and since I changed the menu last minute, I had to find another dish to serve. I settled on Asparagus With Shrimp Creolaise (pg 124).
The package indicated that the asparagus had been picked on 2/27, so as soon as I got home I trimmed off the bottoms, put all 46 spears, cut ends down, in a plastic storage container filled halfway with water and loosely covered on top with the cellophane bag they came in. You can store them, as I did, in the refrigerator on an open shelf. Asparagus treated this way are rejuvenated and will stay fresh for as long as a week or more after you bring them home.
I made the dressing on Wednesday for two reasons, first I wanted to cut down on the prep work Thursday, and second, a dressing such as this one will benefit from a day's rest while the flavors meld. I also zested the lemon and added it to the dressing to intensify the flavor.
Everything else went as outlined in the recipe. I even used the Zatarain's Crab and Shrimp Boil rather than my customary Old Bay and Vinegar seasoning (I didn't want to risk changing the flavor of the dish).
I have never had very good luck peeling hard boiled eggs, they always either stick or break up, look like a mess when I and done, and, inevitably, there is a piece or two of shell that I missed.
I discovered that poached eggs in the microwave are a better solution for me. You can use either a plastic cup with a round bottom ( think small Tupperware 1/2 cup size) or a microwave egg poacher, just remember to put a little oil and a few drops of water in the bottom. Puncture each yolk (very important, they will explode if you don't), cover them loosely, and only do two eggs at a time. For two poached eggs the cook time is approximately 47 sec. in my microwave. For hard boiled, I set the timer at 90 sec., then checked for doneness; added another 30 sec, and they were finished. The result was 6 perfectly cooked hard-boiled eggs with beautiful yellow yolks, a firm fleshy white and no pieces of shell to worry about. Total cook time 6 1/2 min. Your microwave may vary a bit on the timing, just be sure to check the eggs for doneness. This won't work for deviled eggs, so I never make them.
A perfect side dish for this recipe is a Rice Pilaf to which I have added a little Cajun flavor (I know, the shrimp is CREOLE). Roll a quarter of a box of thin spaghetti in a clean dish towel then break the noodles into quarters. The result will be 3″ pieces which will fit nicely into a 5 qt. saucepan. To the saucepan, add 2 TB of olive oil and heat over a medium flame; add 1 TB of butter and, when it has bubbled up, add the spaghetti pieces and a small onion finely diced. Stir fry this concoction for a few minutes, then add 2 cups of long grain rice, a teaspoon of kosher salt, and 2 TB of Cajun Seasoning. Continue cooking this for another few minutes to coat the rice with the oil and butter. Add one qt. of seafood stock (chicken stock is also acceptable), bring to a boil and then reduce to a simmer and cook covered for 20 min. The result will be a savory rice dish with a distinct flavor of Acadiana, not hot but you will know that it didn't come from a box. Yield will be about 5 cups of finished Pilaf. Just before serving, stir in about 1/2 cup of chopped fresh parsley to enhance eye appeal. This will make six ¾-cup servings with a little leftover.
When preparing the asparagus for cooking, you should take the time to divide the stalks into serving portions and tie them loosely with kitchen twine, this enhances handling when removing from the heat and chilling. In this recipe it worked out to 7 stalks per serving; the remaining four were reserved for use (uncooked) in the table salad.
I know that the recipe calls for small (61/70) shrimp, but I had that bargain purchase, and I couldn't resist using them–2 lbs. seemed about right. I first split each shrimp down the middle before cooking in the crab boil. I shortened the cook/stand time by a minute or so since the shrimp were cut and needed a little less cooking time.
Serving was on six stainless steel ramekins for the asparagus/shrimp, prepared as George suggests, then plated with the rice pilaf on the side and a fresh table salad. This was served with garlic bread, white wine, and a little hot sauce on the side.
The Creolaise Dressing is an interesting take on a more traditional sauce. Many Creolaise sauces have a Bechamel / Hollandaise base, which means that there is cooking involved. George has taken an alternate path and substituted mayonnaise for the Bechamel/Hollandaise base. The addition of finely diced celery, onions and chopped eggs give the dressing a unique "mouth feel" not found in other preparations. The citrus tang of the lemon and the bite of the Creole mustard perfectly complement the spicy flavor of the shrimp. If you have prepared this dressing the day before, as I did, put it on the counter an hour or so before serving, it will still be cool but loose enough to combine easily with the eggs and shrimp.
This recipe ROCKS, and six cleaned plates testify that everyone in my group concurs. No leftovers.

Episode 26
Jack Chew writes: Monday night saw the first deviation from my self-imposed regimen of cooking exclusively from the Adadiana Table Cookbook. George threw me a blistering curve ball on the blog with Monday's Mac and Cheese recipe, one that I just couldn't resist taking a swing at.
For the previous two weeks, the local Winn-Dixie store had advertised Jumbo Key West Shrimp, first at $7.49 per lb., then at $9.00, but never had them in stock. There was a 4- lb. limit on the $7.49 price, and I had managed to get two rain checks at that price. Finally, this week on Monday, they had a supply in stock. I had been dealing with the Asst. Mgr. of the Meat Dept. and he understood my frustration at the lack of product. When I arrived at the counter there was only a scant 7 1/2 lbs. (now @ $9.00) of shrimp left, but he did me a great favor and re-priced everything @ $6.99 per lb.–great treatment from the store (and I still have two rain checks for the NEXT sale).
I got home and proceeded to peel and devein all of my purchase, reserving the shells for stock, and freezing all but 1½ lbs. for the Mac and Cheese.
This is a short, down and dirty recipe with no complications or curves. Knowing my crowd, I scaled the quantities up by 1/3, and proceeded to prep everything. I did double up on the trinity simply because I had it on hand in the vegetable drawer in 1 cup quantities.
I used fresh cheese and shredded it by hand; the Fontina was a little pricey, but I soldiered on regardless. The cheeses will benefit from about 15 minutes in the freezer prior to shredding; if you are using a box grater, you can make the task go more smoothly by spreading a few drops of olive oil on the shredder face to cut down on sticking.
When assembling the dish, I realized that it would be too large for my cast-iron skillet so I used a large baking dish instead. The pork-crackling top was OK but when I repeat this recipe I will either use flavored rinds or add Cajun Seasoning, the rinds themselves were a bit lost in the medley of flavors in this recipe.

Episode 25
Jack Chew writes: This turned out to be a week where one night's leftovers found their way back to the table mid-week for another meal. I mentioned that there was quite a bit of leftover Jambalaya after Monday night's feed, enough to form the basis for a second four-serving meal. Since I had cooked the shrimp on Monday separately from the rest of the recipe, I had two (2 lb.) butter tubs of leftover jambalaya with Andouille but no seafood.
Lurking in the back of my freezer was a little more than a pound of sea scallops, some of which I had used previously in the Pastalaya recipe; these were earmarked for tonight's meal. While the scallops were thawing in ice water, I retrieved the Jambalaya from the fridge and put it into the top of a steamer pot. A couple of cups of water and a dollop of apple cider vinegar went into the bottom. Everything was covered and put on the stove to await heating; allow about 5 min. or so for heating, once the water has started to boil.
When the scallops were thawed I dried them thoroughly, top and bottom on paper towels, and allowed them to warm to nearly room temperature prior to cooking (about 15 min.). The scallops were seared on both sides in a hot pan with butter and a tbs. of coconut oil. It is important to remember with scallops that they must be VERY dry when attempting to sear them, otherwise, they will just steam in the pan and will never brown properly.
The Jambalaya had three days to mature and meld flavors in the fridge, and when served with the scallops, produced a wonderful flavor that was even better than the first serving.
Tasty stuff, George, and the beauty of this meal is that, by using leftovers, everything came together in very short order, probably about 20 minutes or so total, after thawing.

Episode 24
Jack Chew writes: I posted last week about the Royal Red Shrimp purchased from Penn Dutch food store. They were such a bargain that I went back on the last day of the sale and bought another 8 lbs, frozen, which I broke down into 1 lb. lots and vacuum sealed. These are great shrimp, with an almost lobster-like flavor and the shells cook down into an awesome seafood stock.
Sunday afternoon found me once again thumbing through Acadiana Table for a Monday night recipe. Since I had plenty of shrimp on hand, and the price was right ($7.99 lb), I could afford to be generous. I settled on the Creole Shrimp and Andouille Jambalaya (pg.76).
A key ingredient of this recipe is the seafood stock, and, since I had plenty of shells in the freezer, I made up a 3 qt. batch. For my stock, I used about a pound of shrimp shells and tails, 1 onion, 3 carrots, 3 stalks of celery, garlic, thyme, rosemary, a little tomato paste ( 3 tbsp), salt, freshly ground black pepper, and a cup of white wine. No need to peel anything: just cut the onion, chop the celery and carrots, split the garlic and cook away. Minimum cook time for this concoction is about 2 hrs, but I left mine to slowly simmer on the stove overnight, adding water to fill the pot and covering just before bedtime. This will yield three qts. of finished stock from a large stockpot. For additional flavor, you can pre-roast your ingredients in a 350 deg. oven for about 15 min before adding everything to the stockpot. If you decide on overnight cooking, be sure to top off the pot with fresh water.
When going over the recipe I realized that I didn't have any tasso left, so I substituted slices and pieces of spiral ham, available from Winn-Dixie and Walmart as a stand-alone product. I always keep one of these packages on hand; they will last about 3 months unopened, but should be used or frozen after that.
Everything else was on hand (except for the yellow cherry tomatoes; none in the store, so I substituted red) and the recipe proceeded as instructed until it was time to add the bacon, shrimp, tomatoes and the rest of the ingredients. I put everything in EXCEPT the shrimp for two reasons, first, these are very delicate deep-water shrimp that don't stand up well to long cooking times, second there was such a volume of shrimp they would have filled the pot to overflowing and I wouldn't have been able to get the top on. Overcooked shrimp are tough and rubbery and I departed from the recipe in order to eliminate any possibility of ruining the dish. I also think that the use of the stock added sufficient shrimp flavor to the dish, eliminating the possibility of overcooking.
I allowed everything to cook for the first hour, checked the rice for tenderness, shut off the oven and then let the pot rest there for the next 10 minutes. At that point I added my shrimp to the now cooked-down Jambalaya and allowed them to "continuation cook" for another 5 min. on top of the finished rice and sausage. I brought them to the table still covered in the pot, and we dished them out as a topping for the Jambalaya.
The result was a success with my guests, although there were leftovers (six shrimp and about three large butter tubs of rice mixture survived the onslaught), everyone had already eaten their fill.  As suggested, this was served with cold beer, crusty bread, and a fresh kale salad. Homemade Dijon Vinaigrette dressing for the salad complements the lusty flavor of the Jambalaya and provides another layer of flavor to the meal.
Thanks again, George. Your recipes can always make an ordinary cook look good in front of his friends.
PS: Penn Dutch food store has the Royal Red Shrimp again this week and I'll buy another five pounds today. These are U16's and one whopper of a deal @ $7.99 lb. Tonight's dinner will be a grilled Teriyaki Steak with mushroom gravy and Royal Red Shrimp with roasted mini potatoes, steamed broccoli, and Caesar Salad.

Episode 23
Jack Chew writes: This week started with a reversal of concept, instead of finding a recipe to prepare, I had to scan Acadiana Table for recipes based on an ingredient already on hand. On Wednesday, Penn Dutch food store featured Royal Red Shrimp (U 16, wild caught) for $7.99 lb. I rushed out and bought 6 bags (2lbs. ea.).  Now I had to find the proper dish to honor these tasty beauties.
The recipe for Potato Chip- Fried Shrimp Boats (pg. 186) fit the bill perfectly. It calls for COLOSSAL shrimp, string-fried potatoes and cole slaw, all served in toasted bread boats. I could hear Hank Williams and Shrimp Boats Are A- Comin' echoing down the halls of my memory from my teenage years.
Shopping was a breeze: 4 baking potatoes, 4 large Hoagie Rolls (French Bread rolls not found), a bag of coleslaw mix, a jar of Marie Callender's Coleslaw Dressing,  a bottle of Crosse and Blackwell Louisiana Shrimp Sauce, and two bags of Sea Salt and Black Pepper Kettle Chips. I had already decided to seek help from the grocery store on this one since prep time was definitely a consideration, thus the coleslaw mix and commercial sauces.
The curly fries gave me an excuse to spend $12 on a "Veggie Pro" slicing tool that makes short work of any task requiring ribbons or spirals. It works on potatoes, carrots, zucchini, crookneck squash, etc. The tool conveniently breaks down and can be stored flat in a drawer. I got mine at Bed Bath & Beyond.
I was expecting four guests so I prepared 2 lbs. of the shrimp. This is a little generous by my standards but actually less than the recipe that calls for (colossal 8 to 10 per lb.)
Preparation was easy because I used a shrimp deveining tool rather than trying to cut each shell with a sharp knife. These tools have been around for ages and mine dates to the 1940's. Modern versions are available on Amazon for around  $5.00. Remember to save the shells for stock making. You can also avoid this step entirely by purchasing EZ Peel shrimp; just pull the shells off and proceed to butterfly them.
With the shrimp iced down and waiting, I went ahead and started to make the curly fries. I had bought four potatoes, which weighed around 3lb. total, and by the time I had made two of them into spirals I realized that the quantity was sufficient for the meal. Potatoes were bowled and covered pre-cooking.
I used evaporated milk and vinegar to prepare my buttermilk, and this was set on the counter until ready for use. The hoagie rolls were an adequate substitute for French bread rolls and took about 5 minutes to prepare "oven ready". The torn out insides were reserved to make bread crumbs later.
Before starting on the shrimp I unbagged the coleslaw mix, placed it in a bowl of ice water, and left it on the counter to rehydrate (about 30 minutes or so). Just before we began to cook the fries, I drained it, spun it in a salad spinner, and put it in a bowl with the dressing to meld flavors. To the Marie Callendar's dressing, I added a tablespoon of celery seed; it is already in there but I like the taste so I used more. Making the potato chip breading was an absolute breeze, but I used only a single 1lb. bag. This proved more than adequate for breading on 30 or so shrimp.
Shawn arrived early and was put in charge of the curly fries, I have a small countertop fryer and it required several baskets to completely cook all that I had prepared.  The butterflied shrimp were all breaded in about five minutes using the three pan method, flour, batter, breading. Remember to use only one hand when doing this, you should always keep a clean hand in case you have to pick up something.  The shrimp were fried in batches of four, thus it took about 15 minutes to cook all of them. The bread boats came out of the countertop oven just as I finished the last of the shrimp and everything went to the table at once.
This recipe was outstanding, and I would never have dreamed of breading shrimp with potato chips if George hadn't blazed the trail.  The bottom line was that everyone was stuffed after this meal, I couldn't even eat my bread boat, I was that full. Needless to say, no leftovers!  Kudos again to George!

Episode 22
Jack Chew writes: The Monday night meal was moved to Tuesday this week because of Police/Fire Retirement activities surrounding the holiday. I smoked 40 pounds of pork for one of the luncheons and just wasn't able to get home in time to prepare a meal from scratch as I usually do.
I had already decided on the Pepper Pot Egg Skillet (pg.30) for the next meal and needed only a few things from the grocery store.
Left over from the Sunday luncheon was a large plate of smoked pulled pork butt, and I decided to make TWO skillets, one using the Tennessee Pride hot smoked sausage (chaurice sausage is not in stores here), and one using a pound of the pulled pork. Fortunately, I have several cast iron skillets and cooking a double recipe wasn't a problem.
This recipe, like most of them in Acadiana Table, is pretty straightforward and easy to prepare. Prep time for both was about an hour, then twenty five minutes in the stove and a ten minute rest period brought everything together and table ready in a little over an hour and a half.
The recipe didn't mention what to do with the small sweet peppers, but, looking at the picture I could see that these had been sliced into circles.   The big peppers and onions were sliced per recipe instructions. I did add an additional half cup of cheese on the top when the skillets went into the oven, this as much for appearance as enhanced flavor. During the rest period I noticed a lot of fat around the edges, probably due to the extra cheese; a couple of paper towels sucked that right out of there.
I had planned to serve biscuits and gravy along with the skillet, but when I saw the total volume of the finished product, I realized that the recipe needed no further enhancement.
Five showed for dinner, and Randy brought fresh kale, long beans, and green onion tops from his garden for the salad. The bitterness of the fresh kale perfectly contrasted with the spicy heat of the skillet dishes.
I can tell you that when the meal was finished five of us had eaten all but a few slices of both dishes.   Didn't the recipe say "serves 4 to 6 " EACH? No excuses, it was plain and simple GOOD!!
This recipe is flexible in a couple of ways: It isn't only for breakfast, it can be served at any meal, and it lends itself to changes without altering (apparently) the basic nature of the dish. While the pulled pork worked well, and would have been acceptable as a stand- alone dish, it didn't have the same spicy/heat delight as the sausage version. When, and if, I do this recipe with substitute ingredients, I will make it a point to add more heat in the form of extra hot sauce and red pepper flakes.
Thanks again, George, another notch in your belt and an extra hole in mine.
Note: The recipe calls for buttermilk, I used evaporated milk (undiluted) with two TB of white vinegar added. Add the vinegar to the bowl of milk about an hour before using it, then let it stand on the counter until needed. You have a perfect buttermilk substitute. Freeze any leftover in a sandwich bag, label it, and save it for the next time.
This was started on Wednesday and now it is Saturday afternoon and I find myself with still another paean of praise for George's great recipes.
PS: Yesterday was a busy day and I couldn't find time to go to the grocery store, however, I had some chicken thighs in the meat drawer and whipped up a THIRD recipe of Lemon Rosemary Chicken Thighs (pg. 230). This goes together so easily, so quickly, and is so tasty, that it has become a regular item on my menu. Keep this one in mind if you are short on time and need a quick tasty meal for your family.

Episode 21
Jack Chew writes: Penn Dutch Food Center sent an email flyer advertising "JUMBO LUMP CRAB MEAT" for $9.99 lb. Since this is exactly half price, I rushed to the store and bought 5 cans. When I got home I had some critical decisions regarding still edible food in the refrigerator and enough room to store fifty bucks worth of white gold. Needless to say, I made room.
I consulted Acadiana Table for an appropriate recipe and zeroed in on White Asparagus and Crab Meat Au Gratin (pg. 142).  Like George, I had never seen white asparagus on the produce counter at Winn-Dixie or Publix, but many specialty grocers have opened their doors in recent years and I found the product at Whole Foods, Fresh Market, and Lucky's, all for around $4.99 lb. When speaking to the produce people I quickly learned that this product has an average shelf life of only about three days, so I deferred my purchase until Saturday. I bought two pounds since the stalks were kind of skinny, and I needed to feed a confirmed six.
For a side dish I settled on corn pudding, not a dish featured in the cookbook but one that I fondly remember from my early years in Maryland. It is appropriate for almost any seafood entree, slightly sweet with a crunch from the whole kernels of corn. There are a number of recipes for this dish on the Internet, and you can't go wrong with any of them. I'm sure that George can provide a distinctly Cajun slant to this dish, but I had to settle for traditional this time.
On Monday I bought a pound of pizza dough at the grocery, followed the directions for first rising, then rolled it out to 1/2″ thickness. I cut 5″ strips of this dough, rolled them between my palms, dusted them lightly with flour, and tied them into knots. A second rise is necessary once the knots are made, brush them with EVOO, cover them with plastic wrap, and let them rest on a parchment covered baking sheet until they double again in size (at least an hour).  Just before baking, I added a light sprinkle of coarse garlic salt to the now risen knots, this for visible purposes only.
Pre-heat the oven to 400 degrees then put them in about 15 minutes before serving   I made a minced garlic, olive oil, salt and butter topping ( about 3/4 cup) and tossed the finished rolls with this in a large bowl, about a dozen at a time and adding topping as necessary to ensure an even coating. To keep the rolls warm I lined a large crockpot with parchment paper, set it on "warm" and brought it to the table for service. The yield was about 40 rolls, and they were all gone at the end of the meal.
Preparation for the White Asparagus and Crab Meat Au Gratin is pretty straightforward, but peeling the asparagus was another matter entirely. Since I was making six servings, I had two pounds of white asparagus to peel, yield was 7 stalks per serving. I can reliably report that white asparagus doesn't peel as easily as carrots, I tried holding them in the usual manner and immediately broke two stalks. These things are DELICATE. The final solution is to peel them on a flat surface, rotating with each stroke, it takes about six cuts for each stalk. In the end, I had 3 1/2 oz. of peelings. You definitely can't skip this step, the outer skin of the stalk is very stringy and must be removed.
Once the asparagus was cooked and in the ramekins, the rest of the recipe took around 20 minutes to finish. I used 2# of back fin lump crabmeat which yielded just over 5 oz per serving.  This is a little more generous than the 4 oz. the recipe calls for, but I was using half-price crab meat and I feed some very appreciative guests.  Preparation of the sauce was straightforward, although I used evaporated milk as the dairy, cutting it with water as needed until I reached the desired consistency. The evaporated milk is a strategy that I use personally because I'm not a big milk drinker myself (the children are gone thirty years), and it is simply easier to use canned product rather than have fresh go unused and spoil.
I bought a 1/2 lb brick of English Sharp Cheddar Cheese, shredded up two full cups and still have an ounce or two left over. These cheeses are a little on the pricey side but stand head and shoulders over the usual grocery store offerings of domestic product. TIP: If you use a box grater to shred cheese it helps to lightly coat the outside with a little oil, the cheese moves more easily across the surface and doesn't stick to the grater.
Only one diner didn't finish her portion, and that was because she intends to use it in an omelet later in the week.   This meal was well received by all and I will make it again once I have finished cooking through Acadiana Table.
Thanks, George, another "killer" recipe from your fertile mind to the kitchens of America.

Episode 20
Jack Chew writes: Tuesday was a busy day (relatively speaking), and I didn't think about dinner plans until late in the afternoon. Looking for something quick, I recalled the Lemon Rosemary Chicken Thighs that Shawn had prepared several weeks ago, found the recipe on pg 230, and proceeded to defrost some thighs that I had on hand. This recipe is the closest thing to a "30 Minute Meal" (thanks, Rachael) that I have encountered in the book so far.
Departures from the recipe: I used boneless skinless thighs because that was what I had, and they worked just fine. I had acquired a few Meyer Lemons from another friend and substituted them for the ones usually found in the grocery store. If you can find this variety I urge you to try them at least once. The flavor is lighter and less acidic than the fruit we normally associate with lemons, and the end result in this dish is simply outstanding. Since the Meyer Lemon will grow in S. FL I have made plans to buy and plant a tree in my side yard. There is an added benefit; the tree produces several crops a year. I will never recoup the cost of the tree but just the knowledge that the fruit is pesticide free is an adequate reward.
Thursday I had Shawn and Tracy over and we polished off the second stuffed pork loin. I reheated it in a foil pack at 300 degrees, 15 minutes, with about a cup of chicken stock. I must say that this dish is best consumed on the night it is prepared, still full of flavor but it was better the first time.
For my Monday group, I decided on the Crab Gumbo (pg. 191). Winn-Dixie had Dungeness Crab Clusters on sale for $10.99 lb., I bought two packs of about 1 1/4lb. each, this gave me six clusters which were perfect for my needs. These crabs, like our South Florida native Stone Crabs, come pre-cooked and cleaned but still in the shell. This is a very tasty West Coast crab with a somewhat sweeter and saltier flavor, a little different from our traditional Blue Claw Crab of the Atlantic and Gulf coasts but perfectly acceptable for this recipe.
Preparation for this one started on Sunday morning, when I sat down and began picking crab. The claws were removed first, cracked, and set aside for use later in the presentation
.
Since this is a large crab the legs are quite fleshy and yield a lot of meat on their own. I cracked and cleaned the first two joints of every leg, skipping the small secondary joints and the tips since the flesh there is difficult to extract. After about 45 minutes, I had a full pound and a quarter of meat for the gumbo, and a large pile of shell, cartilage, and leg parts. The picked meat and claws were bagged and refrigerated for use Monday night.
The shells were covered with water and put on a back burner to simmer in a stock pot with a little salt, some peppercorns, a couple of bay leaves, and the bottoms of the celery from my trinity. Since 12 cups of stock were going to be necessary I used a lot of water and cooked/reduced the product for three hours to extract every bit of flavor possible. The yield was about 2 1/2 qt. to which I added a couple of cups of chicken stock to round up to recipe requirements.
Everything else was done according to recipe directions and quantities. To make up for the crab bodies that George used, I added two cans of cheap canned crabmeat from Bumblebee for flavor only. I also doubled up on the trinity to give the stew a little more body, not really necessary, but I like a thick gumbo.
By the time I was finished it was late afternoon, and the second seasoning took me to the point where George says the Gumbo can be held indefinitely. Not wanting to warm up my refrigerator with a large quantity of hot stew, I put the gumbo into my large Crockpot, set it on "warm", and went over to the kid's house to watch the Superbowl. The stew remained in the Crockpot until I served it Monday night.
On Monday morning I skimmed about ¼ cup of oil from the top of the bowl, this probably came from the oil used in cooking the trinity and some from the roux itself.
An hour before serving I added the reserved crabmeat and the cracked claws, time enough to heat up the meat but not cook it any further. A fresh kale salad, garlic bread, rice, and corn on the cob completed the meal.
Once again George has come through with an outstanding recipe, but with the quantity prepared, I do have some leftovers which I eagerly look forward to finishing myself in the next few days.

Episode 19
Jack Chew writes: This week actually began last Wednesday when I received an email from Penn Dutch announcing a 2-day sale on pork loins @ $1.99#. I hadn't planned on any particular dish for my Monday night crew but I knew that George had a couple of good pork recipes in Acadiana Table, after all pork is a staple in Cajun Country. The loins on sale averaged a little over 2 pounds, at that price I bought two, came to around $4.40 each.
On Friday I settled on the "BACON-WRAPPED STUFFED PORK LOIN WITH CHARRED PEACH GLAZE" (pg. 256). My first problem was that peaches weren't on the produce counter in either Publix or Winn-Dixie. My alternatives were canned peaches or mango. I consulted George and he advised to go with the mango as he had no fondness for the artificially sweetened and syrupy canned peaches. He thought that Mango would add a South Florida flair to the recipe.
On Monday, as I went to the store to pick up the mangos, peaches had miraculously appeared at the Publix Produce counter. Saved from a messy preparation chore (mangos) by a miraculous intervention. I also found that if I had opted for the mangos there was Mango Nectar right next to the Peach Nectar on the grocery shelf, so a total substitution of two ingredients would have been possible, something to bear in mind for the next time I prepare this recipe.
The pork loins that I bought were a little over 2 pounds each, but I decided to follow the recipe and cook both. Due to the size it was necessary to slightly increase the quantities, 2 pkg of cream cheese and 8 jalapenos, went into the loin stuffing and about a pound and a half of thick-cut bacon was necessary to give complete coverage, my loins were each about 16″ long.
For the glaze, I used 6 peaches plus a little more chili powder and Cajun seasoning than called for. I don't think that the recipe quantities for these ingredients are carved in stone. The pork loins were also pretty long, enough so that I had to use a baking sheet for the roasting. This was also a departure since George had much smaller loins for his recipe.
Everything went like clockwork and the recipe came together in under an hour, a near record time for me. The open roasting at 400 degrees took a little longer than anticipated, the bacon just refused to brown in only 15 min.
A word of caution, if you use a sheet pan for the roasting be VERY careful when you remove it from the oven, going in there isn't much liquid, coming out it is nearly overflowing and constitutes a spill risk (I found out the hard way).
For a side, I served the small purple "gourmet" potatoes that you can find in most stores these days for around $3.00 per bag. One bag will easily serve six. One way to prepare is to cover with water and bring to a boil for about 8 to 9 min, just long enough so that they are still not cooked through. Drain them and put back into the still warm pot to finish drying. In a bowl with about 1/4 cup of EVOO, dump the dry potatoes, a couple of tablespoons of Paprika, a couple of tablespoons of Montreal Steak Seasoning (or another grill seasoning), salt and pepper. Shake everything up then roast at 400 degrees for about 15 min, they are done when the skin just starts to wrinkle. I usually do this in the countertop toaster/oven, the oven pan is the perfect size for the quantity.
We had a cancellation this week so only four were present at 7PM when I served. To a man, they raved over the unique flavor combination, congratulations, George, still another winner from the pages of "Acadiana Table".
Since we were only four at the table this week the second loin wasn't even carved, I plan to have Tracy and Shawn over on Wed. when they get back from their out of town meeting. Maybe the flavors will meld even more over the two-day wait; I certainly hope so, although sometimes it is hard to improve on perfection.

Episode 18
Jack Chew writes: Preparations and planning for this week began as usual on Friday when I started looking for a suitable Monday menu. I finally decided on Creole Oyster and Spinach Soup (pg 56). There were two reasons for the decision, I had almost everything on hand to make the recipe, and it also reflected back on the Chesapeake Bay Oyster Stew I enjoyed growing up (and still make frequently). Just from looking at the recipe I could see that this dish had many similarities to the Maryland version, and they both had probable origins dating back to colonial times and what the settlers brought from Europe.
Sides for this dish were still spinning around in my head on Monday when I mentioned the menu to son-in-law Shawn, He immediately told me that he wasn't a fan of oysters (raised in the mid-west) and especially ones in a cream based soup which would aggravate this lactose intolerance. Time to re-think tonight's menu.
Returning to Acadiana Table I began looking at other seafood entrees, and finally settled on Seafood-Stuffed Poblanos With Mango Salsa (pg. 175). For the side dish I chose Squeezebox Sweet Potatoes with Sugarcane Cream Sauce (pg 126) both of these recipes had ingredients that necessitated a trip to the store.
I have mentioned before that Crawfish Tail Meat is not available in any of the local fish markets. As a substitute I have used either shrimp or Langoustine meat (available from Costco), but since the recipe already has shrimp I was narrowed to a single option, the Langoustine.
I decided that another Internet search might reveal some local source for the Crawfish. In my search I found numerous LA sources, but nothing local. Tucked away in the corner of one page, I noticed Boudreaux's Crawfish Tail Meat listed as a Walmart product, only available in-store. This listing was on a page with other LA sources, so there was only a remote chance that the product would be available in Ft. Lauderdale.
We have a new Walmart Super Center just a few miles from my home. I called them and was connected to the Meat Dept. The first employee I spoke to had no idea of what I was talking about, nor did the second or third, finally, after nearly 30 minutes I spoke to the Frozen Food Mgr. who first checked his order book and then physically confirmed that they had the item in stock.
I immediately dressed and made my way to the store where I purchased three 12 oz. pkgs, one for today. The others went into the freezer for future recipes since the book is full of stuff that requires Crawfish in one form or another. I bought all of my missing ingredients, including some frozen Mango Chunks which were an absolute Godsend; prepping fresh Mango would have used up at least another fifteen minutes and made a real mess.
When I finally settled down to begin cooking it was after 5:30 PM and my butt was so far in the weeds I couldn't see daylight. Dinner was definitely at risk of being VERY late. I called Shawn who volunteered to come over and lend a hand. Whenever I am cooking, I try to use the "mise en place" system, which means all of the measurements are done beforehand, ingredients are separated in order and used at the time when called for. I find that this saves a lot of time and reduces extra effort.
First to go was the sweet potatoes for the Squeezebox recipe. I put two wooden spoons parallel on the cutting board, sat a potato between them and made numerous 3/16″ slices. This works best if you use a VERY sharp knife, the raw sweet potato is very tough and requires a lot of effort if your knife isn't up to the task. These were set aside for cooking in the countertop oven. The sauce had yet to be made but I was more concerned with getting started on the main course.
Rice went on the stove and began cooking. Celery and onions were diced, green onion tops, cilantro, cheese, cajun seasoning, hot sauce, Rotel tomatoes, shrimp, crab, and crawfish were on the counter and waiting. BTW, I wasn't about to open a $20 can of backfin lump to use only a cup or so. I substituted 2 cans of Bumblebee Fancy White Crab Meat that came in under $7. There is a definite difference in texture, no lumps, but I don't think anyone noticed. I prepped the Poblanos on the front burner. I used an older cake rack to arrange them since there was a tendency for the peppers to fall through the grate top and they were difficult to handle otherwise. These were covered and set aside for later peeling.
The rest of the meal went into the skillet and cooked up in less than ten minutes. The mixture was added to the now peeled poblanos and put into the oven for finishing. Just before putting the poblanos in the oven, I added some more cheese on top of each one, this bubbled up while cooking but didn't brown. For the cheese I substituted a shredded Habanero Jack cheese available at WalMart. This may sound like it has a lot of heat but it is actually just a little more spicy than the Monterey Jack.
Shawn arrived and I set him to work on making the Mango Salsa. Tracy arrived also and she was tasked with completing the Squeezebox Potatoes with Sugarcane Cream Sauce. Since the potatoes were already sliced she started on the sauce. It was now 6:30. Tracy came to me and pointed out that the recipe called for the potatoes to cook in the oven for 1 1/2 hours of baking. I had already considered that and we put them in the microwave, without the sauce and cooked them on the "potato" setting. This takes about five minutes. Once the potatoes were cooked, and they were still a little al dente, we added the cream sauce and put them in the countertop at 400 degrees for finishing, about another ten minutes.
With the additional help, the dinner was only about ten minutes late. Served with the Poblanos and Sweet Potatoes we had a fresh kale salad with home grown long beans and home grown green onions. Randy provides these ingredients each week when in season. Service, as usual, is family style at the table. Each diner got one stuffed Poblano and a half of a Squeezebox Potato. There was garlic bread for all, and lots, cold beer, cheap wine and great conversation.
The Squeezebox Potatoes were a sensation, the flavors are intense and unexpected; everybody raved. This will definitely be a consideration for future side dishes and could even substitute for dessert. After preparation there was some leftover stuffing, this was put into two stainless ramekins and cooked along with the poblanos. This filling will no doubt be a lunch or two later this week

Episode 17
Jack Chew writes: This week's menu is a redo of one I attempted earlier in the fall. On my first attempt to cook Shrimp Etouffée Over Softshell Crabs (pg 196) I found that I was out of crabs and substituted Crab Cakes which worked very well. I have since remedied the problem with the purchase of three dozen "whales", the largest size of softshell crab available. I purchase these from a MD supplier, Marshall Seafood and Farming in Marion Station, MD. They are a reliable source, they ship promptly, and I have no hesitation in endorsing them. They are a family operation and the service is personal.
I am originally from Baltimore, MD where everything "crab" takes on a religious connotation, from preparation to consumption there are strong opinions on how the dish should be served.  In my family, softshell crabs were a regular staple, usually served as sandwiches with a side of French Fries, on two slabs of homemade bread. My grandmother was the cook and preparation was simple–flour, salt and pepper, a little cornmeal, and a heaping amount of Old Bay seasoning. These were sautéed in a skillet with butter. My mouth still waters when I recall those meals.  Baltimore's row house neighborhoods, with white marble steps and brick streets, were centers of entrepreneurship. In South Baltimore near the Inner Harbor, and East Baltimore near the brickyards, almost every block had an enterprising housewife who served crabs out of the basement window in the spring and all summer.
Needless to say that the preparation of soft crabs in any other way than what I grew up with required a huge leap of faith.  I made my trinity early, and at the same time I opened a can of Evaporated Milk added two TBS of white vinegar, then set it aside in a bowl at room temperature. This would constitute the buttermilk portion of George's recipe.  The etouffée went together in short order, much easier the second time around. I used 36 oz. of Winn-Dixie Fisherman's Wharf "Jumbo Gumbo Shrimp to make six ample servings. These raw, peeled and deveined shrimp, are a real bargain and they are often a BOGO which makes the price even better.
The leftover Seafood Stock went into the rice along with a generous helping of butter.  Preparation of the crabs was done at the table, I use a West Bend Electric Skillet. If you don't have one they can usually be found at garage sales for less than $5.You won't need a gallon of oil to cook your crabs in this skillet, just pour about 2″ of oil (sufficient to cover your crabs) and deep fry away.  I skipped the half and half but added a half stick of butter to the cooking oil.
Son-In-Law Shawn is from the mid-west and never developed a taste for the crabs; for him I made Tilapia fillets battered in the same flour and buttermilk and sautéed at the table along with the crabs. The etouffée and rice worked just as well for the Tilapia as it did for the crabs.  I find that making the trinity and doing most of the prep work early in the day allows me to prepare these dishes in a more leisurely manner. The etouffée (minus the shrimp) takes about an hour, then can be kept in the oven until about 20 minutes before serving. Add the shrimp at this time, and return it to the stovetop for finishing. Shrimp, if cooked too long, get tough and lose a lot of flavor, I find that adding them as a final stage works very well.
Judging from the reaction of my buddies this will become a regular feature at our Monday night table. The etouffée is also a flexible component which can be used in many other seafood dishes, something like this makes you look like a genius when you serve it.
THANKS, GEORGE!!

Episode 16
Jack Chew writes: This week on ACADIANA TABLE began by thumbing through the book last Friday. Cabbage Jambalaya (pg 145) just leaped off the page at me. Since Jambalaya was one of the first Cajun dishes I ever attempted, and this became the week's project.
I have tried unsuccessfully to locate Savoie's Rice Dressing Mix in my area so I thought I would try to substitute Zatarain's Dirty Rice Mix for the missing ingredient. Fortunately, I emailed George and asked if this would be a reasonable substitute. His reply was a definite NO! He advised that making a recipe of Dirty Rice (recipe on the blog) would be an adequate substitution. The Zatarain's mix is a dried concoction and uses ground beef for the meat and different spices, thus altering the balance of flavors in the final dish.
Shopping was a breeze and I only had to buy Chicken Livers ($1.39) and Pork Sausage. I use Tennessee Pride Hot Sausage frequently and this week it was on sale for $2.69, I bought two and froze one for later. Bell peppers were $1.00 each so I bought two, knowing that any excess would be used in other dishes. Parsley was $1.00 and the 2 heads of cabbage came to $2.67. My Aidell's Andouille Sausage comes in three-pound packs so one pound cost a little over $4.00. It looks like the entire meal went together for under $20 including extras, sides, and dessert.
After shredding the cabbage I looked at the sheer volume of the stuff and realized that I would need a larger pot, it simply overwhelmed my 10″ Dutch oven. Using a large stock pot, I added the ham hocks, chicken stock and cabbage and started the first stage (1 hr.)
In a separate pan, I browned the Andouille and set it aside, then proceeded to cook the sausage and chicken livers with the trinity for the dirty rice. The chicken livers came in a butter tub-size container and probably weighed a little more than a pound, but I used them all anyway.
I cooked the rice in a separate pot with a little butter, some salt and a quart of chicken stock. TIP: coat the bottom of the pot you are using to cook the rice in with a light spray of Pam or other cooking spray, the rice won't stick to the bottom of the pan.
A word of caution here, I used chicken stock for the dirty rice because the recipe called for COOKED rice. The Cabbage Jambalaya recipe calls for UNCOOKED rice. The end result was that:
I used more chicken stock than required. (1 qt for the dirty rice, 2 qt. for the cabbage) The second qt. in the cabbage was needed to cover everything for the initial phase of cooking.
My failure to pay attention caused me to put the COOKED dirty rice in the pot for the last 45 minutes and resulted in somewhat mushy rice.
What should have happened in this case was to add UNCOOKED rice to my trinity/ sausage/chicken liver mixture and finish everything in the last 45 minutes with the cabbage. Doing it that way would have made the 2 qt. in the big pot adequate for the entire recipe.
I had planned to serve Collard Greens cooked with onions and turnips as a side dish, but looking at the quantity this recipe provides convinced me that a salad and some garlic bread would be more than adequate.
Despite my errors the recipe was a success, everyone had seconds, and a couple had thirds. This is a generous recipe even after all of the eating there were leftovers for taking home and enough for another two servings later in the week.
Thanks, George, for the advice on the Zatarain's.

Episode 15
Jack Chew writes: This week's menu began on Friday when I thumbed through the book looking for a likely Monday night meal. The Seafood Pastalaya (pg 75) literally leaped out at me. What in the world is "Pastalaya" anyhow? A brief perusal of George's explanation quickly made me decide that this would be the next star for my Monday crowd.
Costco had oysters for $7.99/pt. and I bought those. Winn-Dixie had bay scallops for $5.99 (12 oz.), so two of the main ingredients were bought on Saturday. I had more than enough shrimp on hand in the freezer.
Monday morning I made my trinity, cut the green onion tops and stored everything in plastic bags in the fridge. The shrimp and scallops were defrosted and joined the trinity to await later use.  I decided to make the recipe for six, so, scaling the ingredients accordingly, my proportions were right on with what the recipe required.  I used half and half to replace the heavy cream.  I weighed out 1 1/2# of rotini twists for the pasta, these curly morsels hold the sauce in the dish much more conveniently than regular strand spaghetti. In retrospect I could have gotten away with just one pound of the pasta, but I erred in the favor of having more.  No local grocery had yellow grape tomatoes, so 1 pt. of red grape tomatoes were substituted.
This recipe lends itself readily to staging, since each step is a logical transition from the previous one.  Prep began at 5:30 for an announced 7:30pm serving.
I cooked the pasta to one minute short of al dente, poured it back into the pot with two TB of olive oil, and left it covered on the count for 7 minutes.  Cooking times for the next ingredients were slightly longer than the recipe indicates because of the increased quantities.
I used a 10″ Dutch oven for cooking the main ingredients, and, while everything was reducing, I prepared a double recipe of corn bread to which I added a can of whole kernel corn. I preheated the cast iron skillet in the oven and then added Crisco to the sides before pouring the batter. The double recipe took about 25 min to cook completely.
I mentioned earlier about the rotini twists, the 1 1/2#, when added at the end, completely filled the Dutch oven nearly to overflowing. That much just was a bit of overkill on my part. If you decide to make this, increase the other ingredients but leave the pasta the same.
We served a fresh kale salad with a Dijon-based vinaigrette, parmesan cheese and lots of real butter for the cornbread. Cold beer and red wine completed the entree. My Tabasco Gumbo Mugs were the perfect serving choice.
There were leftovers this time, but everyone had some to take home and nobody complained.

Episode 14
Jack Chew writes: This was a busy week and I had no time to decide on a menu for Monday night, so, on Monday morning I sat down with the book and began searching. After a few minutes, I zeroed in on the Cheesy Beef and Potato Skillet (pg. 98). It was a perfect fit for the tastes of my crowd. I had the ground beef from last week, lots of green pepper, onions and celery for the trinity, and every spice known to man in the kitchen. I would need to go to the grocery store for russet potatoes, jalapeno jack cheese, spinach, and a red bell pepper, something I knew wouldn't take a great deal of time. Other things kept me around the house until nearly 4 PM, at which time I went to the store and got the missing supplies.
It is my usual tactic to make trinity in the morning, but since it called for RED bell pepper I put off the task until it was time to cook. In retrospect, that turned out to be a mistake, albeit a small one.
I decided to expand the recipe by 1/3, and a lucky thing I did!
Cooking started at 5PM for a 7PM serving.
I bought three large russet potatoes and sliced them on the mandolin so that I would have a consistency of thickness when cooking. I started with the potatoes since they were the longest cooking segment of the recipe. I used a recently acquired Wagner (really old, 1920 or before) 10″W x 3″D cast iron Chicken Fryer skillet. The problem was, because of the diameter of the pan, I was only able to cook about ten potato rounds at a time, and the task required constant attention to avoid burning. This meant that I couldn't leave the stove to prepare the rest of the ingredients and I had neglected to make the trinity first. Bottom line, because of the limited size of the pan, the potatoes took about 30 minutes. I was slightly behind time but not in crisis mode like last week.
Trinity was quickly prepared and left to saute on low. Meanwhile, the spinach was stemmed and the beef seasoned. Things came together rapidly after that.
Once everything was cooked and the beer evaporated, I added the jalapenos, cheese, and potatoes to the pan and put it into the oven. I doubled the jalapenos in the recipe, and there were no complaints.
This left me just enough time to prepare Paula Deen's Cheesy Squash and Onion Casserole as a side dish. Check this recipe out, even though it isn't really Cajun/Creole, it fits the cuisine like a glove. I always use more cheese than is called for, adding Swiss to the squash/onion/cheddar/sour cream mixture and using Ritz BACON flavored crackers as a topping, mixed with a little extra cheddar.
TIP: If a recipe calls for cracker crumbs don't go to the store and buy them, make your own. Take a sleeve of crackers, unopened, and wrap them tightly in a kitchen towel, hit with your fist a few times to break the crackers into smaller pieces then finish the job by squeezing into crumb size with your hands. Unwrap the result, tear the sleeve open, use whatever amount you need, and put the rest in a freezer bag and save for later use. There is no mess, no bowl to clean, and you don't have to buy more than you actually need.
There were only four present for tonight's gathering but when the meal was done only about a single serving for leftovers remained. Another George Graham culinary conquest. Several recipes in the book call for Savoies Rice Dressing Mix, a product which isn't available in S. Fla. I came across Zatarains Dirty rice Mix in Winn-Dixie yesterday and I will try that as a substitute. If anyone has any information about the switch, feel free to let me know.

Episode 13
Jack Chew writes: This week of cooking through Acadiana Table started with an email from George suggesting that I reheat the Boudin by wrapping in a paper towel soaked in water, and then microwaved for a minute or two. This procedure worked quite well and resulted in perfectly steamed sausages.
I had cooked the first of the batch in a skillet with oil, which crisped the casing and made eating similar to a hot dog on a bun. This was good but a little messy. Steaming is not only the proper way to prepare the sausage, it changes the eating experience. I use natural hog casing for the stuffing so it is still raw before steaming or grilling. After steaming I understand what George was saying when he wrote (on pg. 252) that a Cajun squeezes the link like a tube of toothpaste right into his mouth. The practical reason for this is probably that the casing is VERY rubbery and not really chewable. Squeezed onto a saltine with a dab of Zatarain's Creole Mustard is a whole new experience and one that I intend to repeat often.
The menu for this week was the Creole Meatballs in Red Gravy (pg. 270-271). I messed up on this one big time; the principle of "Read the Directions Stupid" rose up and bit me in the butt. I started early making the Trinity for both the meatballs and the gravy, then bagged and refrigerated them. After lunch, I went to the grocery store and bought my beef and pork. Ground Beef was on sale @ $5.49/3#, a bargain from the regular price. Grou d Pork was just over $4.00, but pork shoulder was on sale BOGO @ $4.47. By purchasing two 3/4# pkgs, I got the pork for an effective rate of $2.24# , I ended up paying $5.59 for the pork and $2.74 for the beef. I froze the remaining 1- 1/2# of beef for later use.
With the Trinity made and plenty of roux on hand, my only task before actual preparation was to grind the pork in the food processor. Since that is a five-minute task, I felt confident that starting the prep for the meal could begin at 5 PM for a 7 PM serving. I hadn't read the directions or rather I had failed to notice that there are actually TWO recipes for this dish, definitely not the fault of the author or the printer only the cook who was over confident.
When I actually started at 5:15 I had the meat ground in a jiffy I, mixed it in the bowl and then proceeded to cook the first batch of Trinity. That's when it hit me, it is already 5:35 and I am planning to serve at 7 PM.
Make the meatballs ( 15 min)
2. Brown the meatballs in batches of ten (all that would fit in the pot without crowding, total meatball yield was 43 for the 3# of mixed meats and Trinity (20 min)
3. The meatballs have to cook in the oven for forty-five minutes, followed by an hour in the gravy at a simmer.
4. This leaves me the prep time for the gravy (20 min) once the meatballs are in the oven. That went smoothly and by 6:15 the gravy was happily simmering away on the back burner.
5 At 6:40 the meatballs went into the gravy (a little early for the gravy) and the hour of meatballs cooking in the hot tub began.
Guests began arriving about 6:45, the wine stock was immediately imperiled so two more bottles were put into emergency cooling in the freezer. (about 15 min works, turn once)
At 7:20 the rice went on and things finally began to congeal.
Randy and Attie brought fresh salad makings from his garden: long beans, basil, green onion tops and kale; added were carrots, shredded Asiago cheese, and onions, all from the fridge. The salads are delicious, and so much more flavorful than the stuff that was picked days earlier. A real plus, NO added pesticides, he doesn't use them.
As soon as the rice went on we sat down to eat the salad and drink a little more wine. At 7:45 everything came together and the meal was served 45 min late. This is a great dish, just be ready for a lot of steps because you are actually cooing two recipes for a single entree. I underestimated the cooking times (my fault) but the end result was a great meal enjoyed by all.
George, you may be a little off in your portions for this one, we served four and everyone had seconds (that's 8 servings), I only cooked 4 cups of rice and had leftover. I bagged 8 meatballs and 3 or 4 cups of gravy for Shawn and Tracy (2 more servings) . There are still enough leftovers to make another full meal for two with seconds. By my reckoning that is about 14 servings, give or take a few. Understand, please, I'm not complaining, just wondering how much a CAJUN eats at a serving if this only makes 6 to 8 portions.
I think that the red gravy will go very nicely in other dishes; spaghetti/pasta comes to mind at once, and chicken thighs or quarters as well. I could easily see stuffed pork chops with the gravy and I am sure that other dishes will come to mind as I go along.

Episode 12
Jack Chew writes: This week of cooking through Acadiana Table actually began on Saturday when I decided to serve the Whole Catfish in Creole Red Gravy (pg. 84) to my Monday night bunch.
Catching, skinning, and prepping catfish just wasn't on the agenda, While catfish are plentiful in the S. FL canals, time constraints forced a more convenient substitution for the main ingredient in the recipe. Earlier last month I had purchased a 10# case of SWAI fillets. These are farm-raised catfish and portion controlled to 8 oz. servings. I don't think anyone should hesitate to buy this product, the meat is firm and tasty and stands up well to long cooking times.
While the recipe called for two, whole, 2# catfish, I used four 8 oz. fillets for a four-portion meal. The logic was: A. The whole fish were to be removed and boned after cooking anyhow and, B. I had the fillets on hand, to begin with. With heads removed and skinned I think that the fillet solution probably yielded nearly the same amount of cooked fish. I don't think that the substitution had any effect on the recipe.
To be sure that there was enough volume to the dish I increased the Andouille by one link (about a half cup). I again used boxed seafood stock in the amount called for in the dish, then used the remainder to replace 2 cups of the water when making the rice.
While separating the case of Swai and vacuum packing the fillets into 16 oz. meal-sized portions I managed to cut my thumb. Note to self: next time use a DULL knife to separate frozen food.
Prep for this dish is pretty straightforward, just make your trinity, remembering that the bell pepper is half red, half green. All of the other ingredients are routinely available in the grocery stores except for the dark roux.
I make roux about two cups at a time and, as George suggests, freeze the leftovers. I use a melon baller to portion, then allow them to freeze in small plastic cups, a cookie sheet would also work. Each ball in my device yields approximately 2 TB. Once frozen, the balls are put in ZipLock bags with the air evacuated and stored until needed. Four of these balls equal a cup using my measure, your device may yield a different amount.
While this recipe calls for an entire can of Tomato Paste many others do not. I always cut out both ends of the can and push the product onto my cutting board. After using whatever amount the recipe calls for I put the leftover paste into the bottom of a sandwich bag, squeeze out the air and shape it into a roll about the diameter of a quarter and freeze it. When the next recipe calls for tomato paste it is simple to slice off the amount needed, reseal the bag and return it to the freezer.
Bay leaves are always a choking hazard and sometimes it is difficult to remove all of them from a finished dish like a stew. I simply pull off a 6″ length of kitchen twine, form a slipknot in one end and then secure the bay leaves by tightening the knot. When the dish is done it is easy to locate the string and all of the bay leaves come out at once.
This recipe called for whole peeled tomatoes, which I used. When it came time to break them up prior to serving, I used a potato masher, simpler and a lot faster than chasing those slippery little devils around the pot with a spoon.
I served a side of Collard Greens with onions and turnip added, tasty and appropriate. I also had some homemade vinegar and pepper sauce to enhance flavoring. This is an easy condiment to make: use 2 hot peppers (I used the little bird peppers) sliced open on one side lengthwise. Boil a cup of cider vinegar, drop the peppers in for about two minutes then bottle the result, including the peppers. Let the concoction stand for about a week before using the first time. Once this is made you can simply add hot vinegar to the container, the strength of flavor and heat will last for six months or more. Net cost is less than a nickel a cup.
Once again, I zested the lemon before putting the slices into the gravy, then I served the zest as a garnish, along with the green onion tops and hot sauce, for anyone wishing to add a more intense lemon flavor to the dish.
I can reliably report, once again, that we had NO leftovers from this Acadiana Table meal.
On the agenda for tomorrow: Shawn and I are going to make Boudin (pg.252). I have already cooked the pork and the liver, the rice will be fresh. I bought 45′ of hog casing at Penn Dutch, but it is also available from Bass Pro Shops and online at Amazon. If you use natural casing, remember to soak it first to remove the preservative salt and increase flexibility. I own a sausage stuffer, but the recipe says you can also make patties, so don't be intimidated. Sausage sounds much more complicated than it really is and you ALWAYS know EXACTLY what went into the recipe, no fillers, no preservatives.
To make patties use an ice cream scoop and a cookie sheet to lay out your mixture. When all of the portions are on the sheet use a 2″ or 3″ biscuit cutter and the bottom of a 10 oz. can or a small glass to press them into shape.
The book has already seen a lot of use, probably more than normal because I made a deliberate decision to cook from it every week. To save wear and tear on the pages I have, from day one, copied each recipe on my printer and cooked from that sheet. I would rather not have the volume open on the counter and at risk from spills, spatters, and dirty fingerprints. This method also allows you to make prep notes, record changes, and keep a permanent record of the dishes you have cooked
George has made judging the success of a recipe more difficult. Previously I could tell by the amount of leftover food just how well a dish was received. To date, even though I usually make enough for at least two extra servings, there have been no leftovers. This speaks well for the recipes AND the author.

Episode 11
Jack Chew writes: This week of cooking through Acadiana Table began at Shawn and Tracy's on Sunday night. Shawn prepared the Grilled Baby Eggplant with Parsley-Pecan Pesto. (Pg. 134), and the Lemon Rosemary Chicken Thighs (Pg. 230)
Changes to the recipe:
Bone-in/skin on chicken thighs were used because he had them on hand. One thing in the recipe was a bit confusing, the second lemon, quartered, appears in the ingredients but no mention is made in the preparation instructions. It was my take that it was intended to be served as a garnish and squeezed over the thighs at the table. I wasn't there when he made the recipe, so absent the instruction, he simply cooked the quartered lemon along with the chicken thighs. I doubt that it made any significant difference to the final product.
This is the mildest recipe from the book to date, none of the flavors reached the intensity level of other dishes such as the Garfish Courtbouillon. That being said, the level of flavoring was subtle, like your wife giving you a peck on the cheek in passing and a lewd wink promising later pleasure. Altogether satisfying.

Episode 10
Jack Chew writes: Monday was scheduled to be the Shrimp Etouffee Over Softshell Crabs. DISASTER STRUCK! The three softshell crabs (Whales, the largest size) that I was sure were safely ensconced in my reach-in freezer were nowhere to be found, and those in the grocery stores here are almost always of the "heat and serve" variety, not useable for this dish. The Memory and Freezer Gods had once again conspired to thwart my plans, especially the memory guy.
Welcome to the world of "Cajun/Tidewater Fusion Cooking". I am absolutely certain that this is not the first time someone has materially altered one of the recipes but necessity and time constraints made it imperative to insert a major substitution for one of the principal ingredients. MARYLAND CRAB CAKES! This traditional dish from my youth made the perfect substitute for the missing softshell crabs.
The Etouffee was prepared according to the recipe instructions, scaling up to six servings. The cook times for everything were spot-on. Once again, if you scale up, be certain that you have a large enough pan; the Trinity for six servings is four and a half cups and doesn't cook down a whole lot.
I substituted peeled and deveined "Fisherman's Wharf" shrimp in "Jumbo Gumbo" size (71-90), tail off, from Winn Dixie. These were on sale ($5.99) for 12 oz, and I used three packages in the recipe, they are also a frequent BOGO and I stock up when I can. I think that the smaller size shrimp might actually enhance the flavor of the recipe. I also poured the meltwater directly from the pack into the Etouffee when I added the seafood stock.
The seafood stock available in the grocery store is a poor substitute for one you have made yourself, but I was all out of shrimp shells and tails, which I save and freeze religiously, and, to date I have been unable to locate any of the dried shrimp mentioned in Acadiana Table. I have found dried shrimp on the Internet but they seem to be of the fish food variety and I am hesitant to use them in something I'm going to eat myself or feed to my family and friends
The recipe calls for lemon juice and it has been my habit to zest the fruit prior to squeezing. The zest can be used later, to enhance/intensify the dish you are cooking, or frozen and saved for another day. In this case I added a pinch of the zest on top of every cooked crab cake just before ladling on the Etouffee. It worked.
Since the recipe calls for only 2 1/2 C of stock I used the remainder of the quart in the preparation of my rice, adding water to complete the necessary volume. I always cook rice with stock, it intensifies the flavor and I frequently add butter for the same reason.
This is the most expensive recipe I have prepared to date, about $45 for everything, which breaks down to $7.50 per serving not including the wine. That being said, if you can duplicate such a meal for under $30.00 per serving at any quality restaurant anywhere in the country, please send me the address.
The side for this meal was Green Beans with Ham Hock, a traditional southern dish which goes well with anything. Two #s of beans, trimmed and cut, one large onion diced, one smoked ham hock, some garlic, pepper but no salt, and a half gallon of water. Bring it to a boil then put it on the back burner to simmer for four hours. The liquid will reduce to about 1/4 of the original volume. When done, remove the ham hock, trim and dice the meat from it, and add back to the pot. Cook another ten minutes, then serve.
A few words on preparation:
Trinity is always a combination of green pepper, celery and onion in equal portions, A few recipes vary this ratio but it seems to be pretty common. When preparing a recipe you seldom wind up with an exact amount, either you have too much or too little. My solution is always to make more than I need and vacuum pack the excess. I have a Food Saver, but if you don't have this appliance it is simple to put the excess Trinity into a ZipLock sandwich bag, close it most of the way, and submerge the sealed part in water. The air will be forced out and you can then complete the sealing. Preserved this way I have used Trinity as long as five or six days after original preparation with no detectable change of flavor. I have never tried to freeze Trinity this way but I am a little dubious because the freezing could break down the fiber in the veggies and result in a mushy finished product.
George is dragging me, kicking and screaming, into the 21st Century. Every recipe in Acadiana Table has the gram equivalent printed next to the traditional cup, tablespoon, etc. Since I almost always scale up my recipes using a gram scale to measure beats the bejeebers out of measuring the old style. Try it; you'll like it. I still don't use gram equivalent for every measurement, I have been mixing by eye for so long that I can get nearly every Tbs. or tsp. correct just by estimating in the palm of my hand.
The crab meat was backfin lump from Winn-Dixie ($19.99) The lumps in this product are smaller than those in Phillips Seafood (usually about $22.00), but nobody had any of that brand this week, so I used what was available.
When making crab cakes, or any product requiring a mixture that will be made into patties or balls, I find that it is convenient to use an ice cream scoop (or a melon baller for smaller sizes) to arrive at even portions. In the case of yesterday's crab cake, the pound of meat, when mixed with the other ingredients, worked out to be ten generous portions (about 4 oz. ea.). Each scoop was rounded off to the size of a racquetball, ejected onto a cookie sheet, flattened by hand and refrigerated for an hour or so before cooking.

Episode 9
Jack Chew writes: This week of cooking through Acadiana Table: Monday night's Maque Choux With Shrimp and Tuesday's Garfish Courtbouillon wiped out the last of my Tones Cajun Seasoning (12 oz.) which had to be at least five years old anyhow.
I decided to make my own following the recipe on pg.13. This is straightforward, takes less than five minutes to make, and is a SUPER cheap addition to the larder. The quantity is much less than you can purchase in the stores, which means that you will never again be using an ingredient that has been on the shelf for an indeterminate length of time. The Tone's was probably at least five years old and, while still potent, had in all likelihood undergone a change of flavor.
I made one recipe of this and will never buy from the store again. The flavor is superb and I am secure in the knowledge that there is NOTHING in there but spices with no preservatives.
I found that the Celery Salt on hand (needed to compete the recipe above) had caked up solid. I tossed it and made my own, it is simple:
2 TB Salt (I used kosher) and 2 TB celery seeds. I ran the mixture through a coffee grinder and would up with a little more than 1/4 cup of FRESH Celery Salt. Again DIRT CHEAP, no additives, and you can make a new batch any time you run out, no need to go to the store.

Episode 8
Jack Chew writes: This week was Corn Maque Choux With Shrimp. I used 2 1/2# of 51/60 peeled and deveined frozen shrimp for this one and doubled the recipe. I also added 1 cup of the Tasso, diced fine, for additional flavor. I may have overdone the cayenne in this one or maybe the Tasso added more heat than I anticipated; in any case, if you are doubling the recipe I suggest that you keep the cayenne and the Cajun Seasoning to original quantities then add the heat to taste. I wasn't bothered by the heat but had two comments suggesting that it could have been milder.

Episode 7

Jack Chew writes: This week of cooking through Acadiana Table was really busy: On Wed. I bought 6# of boneless pork shoulder boneless ribs (marked down for quick sale) and made Tasso, finishing the process including smoking by Sat.
On Fri. I bought a little over 8# of chicken backs, necks, and feet and made the chicken stock. I have made stock before using rotisserie chicken skin and bones, but the recipe in the book is clearly superior and yields an impressive result. Be sure to roast everything first, it adds a depth of flavor you won't believe.  On Sunday, Shawn made the Cajun Jambalaya from the blog and it was superb. Leftovers were even better on Tuesday.  Monday night get together was moved to Wednesday. Chicken and Smoked Sausage Gumbo– following the recipe but substituting Aidels' Andouille Sausage because I needed to use that last pound in the fridge. Excellent results, tasty with rave reviews.

Episode 6

Jack Chew writes:   This week I had six again for Monday night dinner.  On the menu for last night was Sausage and Chicken Gumbo, and again Georges' recipe was a hit with everyone There were enough leftovers for another meal for two.
I didn't change anything, but I didn't make the potato salad or the hard-boiled eggs.  I have to use Aidells Andouille Sausage from Costco because there just doesn't seem to be a source in Ft. Lauderdale for the real stuff.  I had to use boxed chicken stock since I haven't made any recently, but I just found a local source for chicken feet, necks and backs so I intend to make your version later this week. For those in Ft. Lauderdale area, it is Bass Bros. Supermarket at NW 9 Ave and NW 6 St., Ft. Lauderdale. The store is right in the heart of the ghetto but the area is safe. I am looking forward to making George's stock.
I buy whole chickens at Costco, $.99 lb for two three pounders, total about $6.00. Butcher them at home and save a lot of money Cut out the backs and remove the wing tips with poultry shears; reserve those with the neck for later use in making stock. The livers will go great in Dirty Rice. I save the gizzards and hearts for poultry gravy.
Following the first hour of cooking, I removed and boned the chicken carcasses, reserving the bones and skin in the freezer for later stock making.
I first was introduced to "THE TRUE CAJUN CUISINE" when we visited Louisiana in 1988 for an Airstream Rally at Mardi Gras. Eight rigs decided to explore "Cajun Country" after the rally and we eventually arrived in the Houma area, camping on Bayou Blue. It was a cold, windy rainy week but we really had a lot of fun. In our wanderings through the area we ranged all of the way from Lafayette and Avery Island to a small restaurant on Bayou Petit Caillou owned and operated by an amazing woman, Wylma Duplantis Dusenberry.
At the time, Wylma was only open two or three days a week and Sunday afternoon for a big dinner. The floor plan was open with a waist high partition separating the cooking and dining areas. It was a amall kitchen with one cook, she only prepared enough food for about 40 meals and the menu was whatever she was serving that day. I have never had such great food in my life, and that is what hooked me on the cuisine. An added treat was the music on the Sunday we visited, the family is VERY talented. We ate there three times in a single week.
Wylma produced La Trouvaille Cookbook, The Simple Joy of Cajun Cooking and it has been my bible for the past 28 years. Now Acadiana Table will take its' place beside Wylma's book in a well-deserved position of honor. I don't cook Cajun every day, but I consider these two volumes to be the ultimate authorities on the subject, and they will both be used frequently.
I'm certain that you are going to receive many compliments on Acadiana Table and I'm sure that a few nuts like me will start cooking through every recipe. Maybe you should have a separate page on the blog for Acadiana Table posts. I know I would like to see what experiences others are having and maybe pick up a few pointers along the way.

Episode 5

Jack Chew writes: Another week of cooking through Acadiana Table.  Last week I cooked the Double Stuffed Pork Chops Stuffed With Apple Sausage (pg 264). I made a couple of insignificant changes that shouldn't affect the recipe at all:
I used pork loin chops because they were on sale at Costco, cheaper by $2 per #. They were nearly 2″ thick and were perfect for pocketing. I had 12 in the pkg. so reserved and froze six.
I cooked for six, thus increased everything by 1/3, you will need a BIG pan to make the stuffing. The recipe easily converts for larger quantities.
For the third pound of pork, I substituted a pound of Tennessee Pride Hot Sausage to add a little more heat.
When the stuffing was about half cooked, I reserved a cup of liquid. I then added more cider, two TB of fat and two TB of flour to make a gravy in a separate pan. You should have about 2 1/2 C when you are done. We just like gravy, especially with pork.
I served the pork chops with a side of Yellow Crookneck Squash Casserole baked with onions, cheese and a bacon flavored Ritz Cracker crust. I used a Paula Deen recipe for this, and it went well with the meal.
BUT WAIT, THERE'S MORE!
Only 4 showed for dinner, so I had to refrigerate the leftovers. The additional melding of flavors over two days was an amazing gustatory adventure. This was so good the third day that the next time I prepare it I will deliberately make too much.
Last Sunday, my son-in-law prepared the Sweet Heat Carrots (pg.137) as a side for his Sunday night barbecue. They were a hit. He included some parsnips in the recipe because they were on hand, and he didn't want to waste them. I knew I had a good reason for buying two copies of Acadiana Table, now I'm not the only one in the family hooked on the cuisine.

Episode 4

Jack Chew writes: I made the Sausage and Onions today – a complete hit!  I host a dinner on Mondays for some friends and there were ZERO leftovers–a usual occurrence when I make one of your recipes.
Alligator Sausage and Creole Red Onions aren't available in S. FL, but you can assure your readers that the recipe works well with Roger Dean Hot Sausage from Winn Dixie and regular red onions with any dark beer in the store. The addition of horseradish to the potatoes is a stroke of genius, an unexpected flavor that really tweaks the palate.
Keep these coming: I'm a dedicated fan and a true believer!

Episode 3

Jack Chew writes: Tuesday night, I made the Garfish Courtbouillon. Naturally, Garfish just isn't available at any market locally, so I used catfish fillets, sold here as "Swai". This is CHEAP stuff, around $2.29 per#, but it is firm meaty white fish that stands up to longer cooking times. I doubled the recipe, used 3# of fish, and all that was left was about a pint of the liquid. I had to use Swanson's Seafood Stock because I haven't found the shrimp you mention in the recipe (the nearest Asian market is a few miles away). Five of us finished the double recipe, and the only thing left was about a pint of the liquid which I ate for lunch today with Oyster Crackers.
I'll keep you posted each week. Next week is the Softshell Crabs with Shrimp Etouffee. I'm originally from MD and always keep a few softshells in the freezer.

Episode 2

Jack Chew writes: NO FAIR GEORGE! I have just started cooking my way through the Acadiana Table cookbook (it arrived Tuesday) and already you have thrown out another must-do recipe on the blog! Can't wait for the next family cookout for serving your Smoked Sausage Po-boys.
I made the Chicken Leg Fricassee for Wednesday dinner, but used bone-in skin-on thighs because that is what I had, and I didn't want to go to the grocery store to brave the crowds panic-buying supplies ahead of Matthew. Thighs didn't make any difference as far as I could tell–delicious and easy to prepare. Another winner courtesy of George Graham.
I must say that I have never had great success in making roux, (I probably burn about one in four batches) but I recently found a microwave method that works perfectly and takes about 10 minutes or less to prepare. I have been making chicken stock for years, but never got the results you described. I will get on with your Dark Chicken Stock next week and let you know the results.

Episode 1
Jack Chew writes: I have been a subscriber to the Acadiana Table blog for some time now and frequently make your recipes. Last night I served the Bacon Wrapped Meatloaf to family and friends and WHAT A HIT!
I made it with all the ingredients as specified but skipped the rice dressing since it wasn't available at my local Winn Dixie store. The bacon weave was easy, and I never consulted the tutorial. The Red Pepper Jelly glaze was superb and really made the dish. The next time I make this recipe I will probably increase the Cajun Seasoning. I knew it was in there, but the flavor was covered by the savory goodness of the glaze and the crisp flavor of the bacon.
Instead of the dressing, I substituted quartered red skin potatoes rubbed with olive oil, salt and pepper, and roasted around and under the meat. Everything came out done at the same time and the addition of the flavors from the drippings added to the potatoes.
I also served Haricots Verts to which I added Sun Dried Tomatoes in olive oil, which I glazed at serving with Balsamic Drizzle.
If you have the flexible cutting sheets that are for sale in most of the big retailers you can build the weave on one of those (they are about the right size). That makes the transfer to the top of the meatloaf super easy and the weave doesn't try to come undone when you lift it. Beats using a spatula anyhow.

AND CHECK BACK WEEKLY FOR MORE EPISODES TO COME

About Jack:  I came to Ft. Lauderdale in 1957 from Baltimore and took a job as a lifeguard, transferring to the Police Department in 1963. I served 25 years on the Ft. Lauderdale PD, retiring with the rank of Captain in 1987.

Once retired, my late wife and I traveled the U.S. and Canada in an Airstream for the next fifteen years, visiting almost every state but Arkansas and Oklahoma. During these meanderings, I got hooked on Cajun/Creole Cuisine, primarily from a 1988 visit to La Trouvaille in the Houma area and our encounter with Wylma Dusenberry. La Trouvaille was a unique experience, we ate there three times in the space of one week following the 1988 Mardi Gras. Out of curiosity, I looked up La Trouville and discovered that it closed in 2002, a sad loss for those wishing to taste genuine Cajun cooking. The signed and dated first edition cookbook from Wylma holds a place of honor in my collection.

Over the fifteen years we traveled the country, Marylou and I accumulated a collection of about 1000 regional cookbooks, mostly of the Junior League and Church Supper variety. I use about a dozen or so on a regular basis but am looking for a charity or cooking school where they can be donated. If you have one in mind give me an address. I promised my wife that they would never be left out for the trash man or sold for fifty cents at a garage sale.

While Airstreaming, my wife Marylou and I hosted two National Rallies, (4 Orange Bowl, and 5 Follow Me to Paradise [Keys]). Each rally lasted from five to seven days and had from 50 to 80 participating rigs (100 to 160 people). I planned and cooked most of the meals, mostly dinners, with assistance, of course, from other club members.

I found the Acadiana Table blog a couple of years ago and started cooking from it almost from the first day. The recipes are straightforward, easy to scale, and almost universally acceptable to the crowd I cook for. I haven't received any complaints on any of the dishes.  Since I enjoy cooking, smoking, and barbecuing, Acadiana Table fits right into my primarily Southern style of cooking. My primary cooking these days is for family–one son, two grandkids, one daughter and their spouses.

I also host a Monday night "Marching and Chowder Society" consisting of a loose group of retired guys who enjoy good food and conversation, with cold beer and cheap wine. Group size varies from three to six, but they enjoy the product.I have freely included side dishes with the Acadiana Table meals that don't necessarily come from the book. Collard greens with turnips, onions and Tasso, yellow squash casserole, red potato salad, Hasselback potatoes, just to mention a few

I once heard a comment "A Cajun will eat anything that doesn't eat him first." Garfish would probably fall into that category if you were from any other region of the country, but in Cajun Country it tops the menu.