Orzo, Shrimp and Kale Salad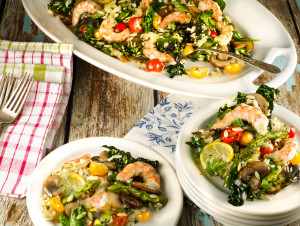 Recipe by:
George Graham - AcadianaTable.com
4 tablespoons extra virgin olive oil, divided
1 dozen fresh mushrooms, thinly slices
Pinch of kosher salt
Water, for boiling
½ cup table salt
1 bunch green asparagus spears
Ice water, to stop cooking
2 dozen large raw Louisiana shrimp, peeled
1 (12-ounce) package orzo pasta
2 cups firmly packed chopped kale
1 cup firmly packed spinach leaves, stems removed
1 cup chopped flat-leaf parsley
1 cup red cherry tomatoes, halved
1 cup yellow cherry tomatoes, halved
1 cup slivered almonds
2 fresh lemons
Freshly ground black pepper
In a large skillet over medium-high heat, add 2 tablespoons of the olive oil. Add the mushrooms and sauté until browned, about 10 minutes. Sprinkle lightly with salt and move to a platter. Cover and refrigerate.
In a large pot filled halfway with water over high heat, add the salt. Bring to a boil and add the asparagus. Cook until just blanched, about 4 minutes. With a slotted spoon, remove the asparagus and plunge immediately into a bath of ice water. Once cooled, snap off the woody ends and cut the remaining spears into bite-sized pieces. Cover and refrigerate.
In the same pot of salted water, bring to a boil and add the raw shrimp. Turn the fire off and cook until the shrimp begin to turn pink and the largest shrimp is done, about 5 minutes. With a slotted spoon, remove the shrimp and drain on paper towels. Let cool.
In the same pot of salted water, add the package of orzo. Bring to a boil and cook to package directions. Once cooked, pour the orzo into a colander and let drain. Add the orzo to a large mixing bowl and coat lightly with the remaining 2 tablespoons of olive oil. Cover the bowl and refrigerate.
For assembly, remove the mixing bowl of orzo and add the asparagus. Add the kale, spinach, parsley, tomatoes, and almonds. Take one lemon and grate the zest into the salad mixture. Squeeze the lemon juice into the salad being careful to remove any seeds. With the other lemon, slice and remove each end. With a sharp knife, very thinly slice the lemon into rounds. Add the lemon rounds to the salad. Season the salad mixture with salt and pepper to taste. Toss to incorporate all ingredients, cover and refrigerate.
For serving, toss the salad once again and portion the mixture onto salad plates. Add the shrimp to each plate. Make sure to include all of the key ingredients on each serving.
This salad is versatile and the ingredients easily altered. Adding seared tuna or grilled salmon would turn this into a stellar center-of-the-plate dinner entree.
Recipe by
Acadiana Table
at https://acadianatable.com/2014/05/12/orzo-shrimp-kale-salad/