Creole Snapper En Papillote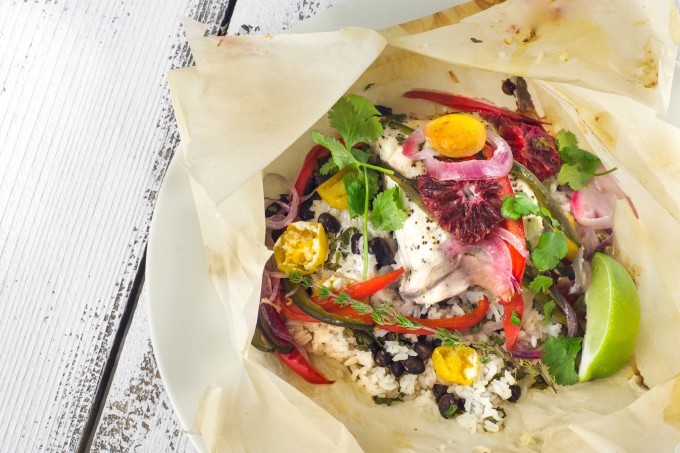 Recipe by:
George Graham - AcadianaTable.com
4 (5-ounce) red snapper fillets
Kosher salt
Freshly ground black pepper to taste
2 cups cooked white jasmine rice, rinsed of excess starch
1 cup canned black beans
½ cup chopped fresh cilantro leaves, plus more for garnish
1 cup julienned red bell pepper
1 cup julienned green poblano pepper
½ cup thinly sliced red onion
1 cup halved yellow cherry tomatoes
4 teaspoons rum or white wine, (optional)
8 tablespoons coconut milk
4 tablespoons extra-virgin olive oil
1 blood orange or any citrus fruit, peeled and thinly sliced
4 sprigs fresh thyme, plus more for garnish
4 wedges fresh lime
Remove the fish from the refrigerator 1 hour before cooking and bring to room temperature. Inspect the fillets for any bones and sprinkle lightly with salt and pepper.
Preheat the oven to 400ºF.
In a mixing bowl, add the cooked rice along with the black beans and cilantro leaves. Stir to combine.
In a non-metal mixing bowl with cover, add the peppers and onions along with a small amount of water. Cover, place in the microwave, and cook on high for 3 minutes until steamed and par-cooked. Remove, uncover, and drain off the water.
Spread out the parchment paper packets and scoop a portion of the rice mixture on the bottom of the parchment paper. Add a few strips of thinly cut red bell pepper, poblano peppers, and sliced onion to each packet. Spread a few yellow tomato halves around. Place the snapper fillet over the vegetables and rice. Drizzle over the coconut milk, rum, if using, and olive oil. Add the orange slices to each along with a sprig of fresh thyme. Sprinkle lightly with kosher salt and a quick grind of black pepper to taste. Close the packet and seal.
Place the packets on a rimmed baking sheet and bake for 30 minutes.
For serving, add one packet to the center of each serving plate and slice open with a sharp knife or scissors in front of each guest at the table. Garnish with fresh thyme and cilantro leaves along with a wedge of fresh lime.
I found my parchment cooking bags online at Amazon. Use a long-handled cooking spoon to place the ingredients inside the cooking bags. You may not need to par-cook the vegetables if they are sliced very thinly. The cooking time will vary with the thickness of your fish fillet, and I find that a thicker piece of white flaky fish, such as snapper, works perfectly for this preparation. While the alcohol is optional, it does add flavor and fragrance to this dish.
Recipe by
Acadiana Table
at https://acadianatable.com/2016/06/13/snapper-en-papillote/