Chaurice Sausage and Egg Pie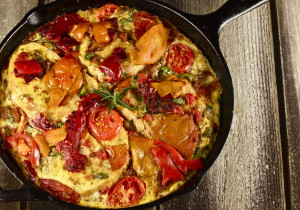 Recipe by:
George Graham - AcadianaTable.com
14 large eggs
1 cup half and half
4 (1-inch-thick) slices day-old French bread
1 tablespoon canola oil
1 cup bulk chaurice sausage or any spicy bulk sausage
1 cup diced yellow onions
2 tablespoon diced green onion tops
1 tablespoon minced garlic
1 tablespoon chopped fresh rosemary
1 (10-ounce) can mild diced tomatoes and green chiles, drained, such as Rotel
1 tablespoon hot sauce
Non-stick spray
1 cup (jarred or canned) red and yellow bell pepper slices, drained
2 small red tomatoes, thinly sliced
2 tablespoons chopped fresh cilantro
1 tablespoon diced fresh jalapeno
Kosher salt and freshly ground black pepper
Sprigs of fresh rosemary, for garnish
Preheat the oven to 350ºF.
In a large mixing bowl, crack all the eggs and add the milk. Whisk until fully combined. Add the bread slices and let soak for one hour, making sure they are all fully immersed.
In a 10-inch black iron skillet over medium heat, add the bulk sausage. Render the fat out of the sausage by sautéing until browned and fully cooked, about 10 minutes. Remove the sausage pieces to a platter.
In the same skillet, add the onions to the remaining fat and sauté the onions until they turn translucent, about 5 minutes. Add the green onions, garlic, and rosemary, and sauté for 1 minute. Stir in the diced tomatoes and green chiles, as well as the hot sauce, and turn off the heat. Pour any excess grease from the skillet. Add the mixture to the platter with the sausage. Rinse the skillet and wipe dry.
Spray the cast-iron skillet with non-stick spray, place the four slices of bread and pour over the egg mixture. Spoon the vegetables and sausage mixture in and among the egg mixture and bread portions. Lay the sliced peppers and tomatoes randomly throughout the mixture. Sprinkle the cilantro and diced jalapenos around the mixture. Season lightly with salt and black pepper. Place in the oven and bake for 30 to 45 minutes, or until the egg is set and the blade of a knife comes out clean.
For serving, slice the portions of seasoned egg-encrusted bread and place on a plate. Garnish with a sprig of fresh rosemary and serve it like any good Cajun farm family would, with more hot sauce on the side
If the only raw sausage you find is linked in the casing, not to worry — just squeeze it out. I use a 10-inch black iron skillet that is 2 inches deep. With a larger skillet, you can scale this recipe up for more servings.
Recipe by
Acadiana Table
at https://acadianatable.com/2014/05/26/sausage-egg-pie/