Chicken Braised in Tarragon Cream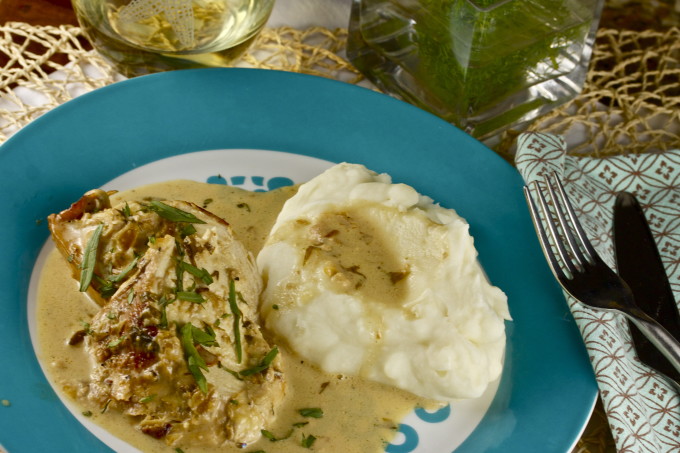 Recipe by:
George Graham - AcadianaTable.com
1 whole free-range chicken or 4 chicken quarters
Kosher salt and freshly ground black pepper
4 tablespoons sunflower oil or canola oil
I cup diced yellow onion
½ cup diced bell pepper
1 tablespoon minced garlic
4 tablespoons chopped fresh tarragon
1 cup dry white wine
1 cup chicken stock
1 cup heavy cream
1 tablespoon fresh tarragon leaves, for garnish
Remove any parts (neck, gizzard, etc) from inside the chicken. Rinse the chicken and pat dry. Cut the chicken in half removing and discarding the back. Cut the wing tips off and discard. Cut each chicken half into quarters. Sprinkle lightly with salt and pepper.
In a heavy skillet with tight-fitting lid, heat the oil over medium-high heat. When the oil is hot, add the chicken and lightly brown on both sides. Remove the chicken to a platter and keep warm.
Add the onions and bell pepper to the pan and stir until the onions turn translucent, about 5 minutes.. Add the garlic and the fresh tarragon as well as the white wine. Stir while reducing the wine by half. Once reduced, add the chicken stock and cream.
Return the chicken to the pan and reduce the heat to a simmer. Cover the pan and cook for about 45 minutes or until the chicken is done to an internal temperature of 165ºF. Remove the chicken to a platter and keep warm.
With an immersion blender or in the container of a standing blender, rapidly pulse the tarragon-infused mixture just until the vegetables are pulverized, about 30 seconds. Add the mixture back to the pan over medium heat until the sauce reaches a simmer.
Mashed potatoes are a must for serving with this dish. For serving family style, arrange the chicken pieces on a platter and place a mound of mashed potatoes in the center. Optionally, place the chicken on an individual dinner plate with mashed potatoes on the side. Just before serving and once the bubbly sauce reaches the proper thickness, spoon the sauce over the chicken pieces and the mashed potatoes. Garnish with chopped fresh tarragon and pair with lightly chilled white wine.
Recipe by
Acadiana Table
at https://acadianatable.com/2015/07/20/tarragon-chicken/