Creole Zucchini Pickles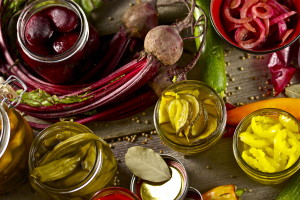 4 pounds zucchini
2 red onions
1⁄4 cup kosher salt
3 cups sugarcane vinegar
3 cups white vinegar
2 cups sugar
1 tablespoon mustard seed
1 tablespoon whole black peppercorns
1 tablespoon red pepper flakes
With a sharp knife, slice the zucchinis into rounds to your desired thickness.
Peel and slice the onions thinly. Add the zucchini and onions to a large mixing bowl. Sprinkle the salt over the zucchini and onions and mix. Refrigerate for 1 hour.
In a saucepan over medium-high heat, add the vinegars, sugar and spices. Bring the ingredients to a boil. Remove the zucchini and onions from the refrigerator and rinse off the salt. Add the zucchini and onions to the saucepan. Once it resumes a boil, turn off the heat. Let cool to room temperature.
Refrigerate in a tightly covered container. If you plan to preserve your zucchini pickles, follow canning instructions carefully for sterilizing the jars.
Recipe by
Acadiana Table
at /?p=6831