Cajun Collards, Black-eyes, Andouille and Sweet Potato Soup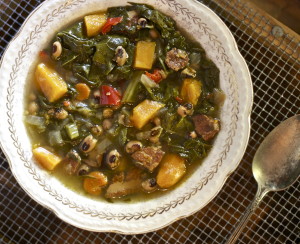 Recipe by:
George Graham - AcadianaTable.com
3 strips thick-cut smoked bacon, chopped
1 cup diced yellow onions
1 cup diced celery
1 cup diced red bell pepper
1 cup diced carrots
2 cups sliced andouille sausage or smoked pork sausage
2 tablespoons minced garlic
10 cups chicken stock
1 smoked ham hock
2 bay leaves
1 (16-ounce) package dried black-eyed peas
1 large bunch of collard greens, washed, woody stems removed and chopped
Kosher salt
2 cups diced Louisiana sweet potato, bite-sized cubes
Hot sauce, to taste
In a large stockpot over medium-high heat, add the bacon and sauté. Once the bacon begins to brown and the fat is rendered, add the onions, celery, bell pepper, and carrots. Continue to stir until the onions turn translucent, about 5 minutes. Add the andouille and garlic as you continue to stir the ingredients.
Add the stock along with the smoked hock and bay leaves. Bring the pot to a boil and then quickly reduce the heat to a simmer. Cover and cook for 1 hour.
Uncover and add the peas and collard greens. Stir the pot to submerge all of the greens into the liquid and cover. Cook on a low simmer for 1 hour.
Lift the lid, taste the liquid and add salt to taste.
Add the sweet potatoes and cover the pot. Continue to simmer until the sweet potatoes are fork tender but not falling apart, about 1 hour.
After the sweet potatoes have finished cooking, taste for seasoning. The smoked meats should have added enough flavor and spice, but add any hot sauce to your taste. Remove the bay leaves and bones of the hock.
Serve in large bowls along with hot cornbread.
The resulting potlikker is the prize. All the nutrients are contained in this magic elixir. What potlikker remains should be saved and used as a flavorful stock for soup making.
Recipe by
Acadiana Table
at /?p=6739