Okra and Tomatoes with Stewed Chicken and Sausage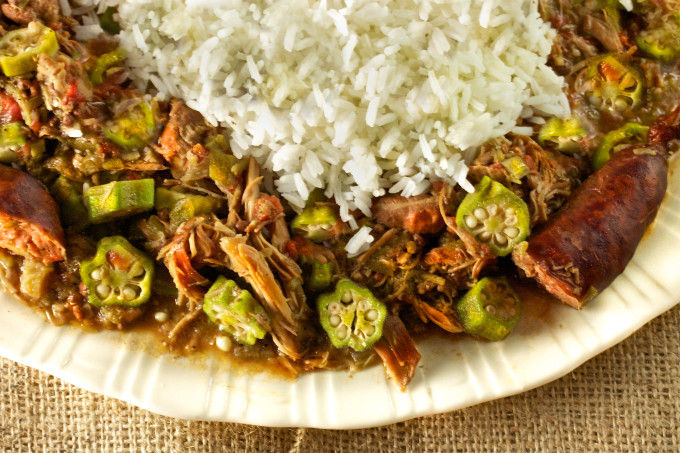 Recipe by:
George Graham - AcadianaTable.com
4 strips bacon
1 cup diced yellow onions
1 cup diced celery
1 cup diced bell pepper
2 tablespoons minced garlic
8 chicken thighs
2 cups chicken stock
1 tablespoon dark roux, such as Rox's Roux
4 links smoked pork sausage, sliced
1 teaspoon red pepper flakes
1 tablespoon Acadiana Table Cajun Seasoning Blend, see recipe here
Dash of hot sauce
1 (10-ounce) can mild diced tomatoes and green chiles, drained, such as Rotel
3 cups sliced okra
Kosher salt and freshly ground black pepper
6 cups cooked Louisiana long-grain white rice, such as Supreme
In a large cast-iron skillet over medium-high heat, add the bacon. Cook until all the fat is rendered out of the bacon. Remove the bacon and reserve for later.
Add the onions, celery, and bell pepper to the hot bacon grease. Cook until the onions are translucent, about 5 minutes. Add the garlic, stir the mixture together and once the garlic is slightly browned remove the vegetables to a platter.
In the remaining grease, add the chicken thighs, skin side down. Cook slowly without moving until the skin turns brown and then turn the pieces over. Immediately add the chicken stock along with the reserved vegetables and the dark roux. Crumble the reserved bacon into the pan. Add the sausage, red pepper flakes, seasoning and hot sauce along with the Rotel tomatoes. Stir to incorporate. Lower the heat to simmer, cover and let cook for 20 minutes.
Uncover the pan and add 2 cups of the sliced okra. Cover and let cook for 30 minutes more. Remove the cover and taste. Add salt and pepper to taste. A few minutes before serving add the remaining cup of fresh okra, cover the pan and turn off the heat.
Serve with steamed white rice and hot French bread.
Use bone-in chicken thighs in this dish for moistness and flavor, even if you normally prefer breast meat. Use mild smoked sausage in this dish so that the spice doesn't overpower the subtle taste of the okra.
Recipe by
Acadiana Table
at https://acadianatable.com/2015/02/09/okra-and-chicken/