Squeezebox Sweet Potatoes with Sugarcane Cream Sauce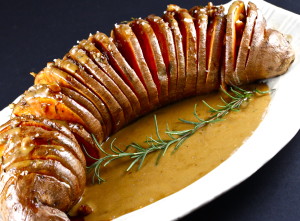 Recipe by:
George Graham - AcadianaTable.com
1 stick of unsalted butter
4 tablespoons dark brown sugar
2 tablespoons sugarcane molasses, such as Steen's
1 cup heavy whipping cream
2 tablespoons dark rum (optional)
2 very large Louisiana sweet potatoes
6 tablespoons unsalted butter
6 tablespoons olive oil
2 tablespoons finely chopped fresh rosemary leaves
4 tablespoons dark brown sugar
2 tablespoons sugarcane molasses, such as Steen's
Coarse sea salt
½ cup chopped Louisiana pecans, toasted
In a saucepan over medium heat, melt the butter and add the brown sugar and molasses. Stir until the sugars melt and begin to sizzle. Immediately pour in the cream and whisk vigorously as you add the rum. Turn the heat off and continue whisking as the sauce comes together. Remove from the stovetop and keep warm until serving.
Preheat the oven to 400ºF.
Using a pair of chopsticks as a guide, place the potato between the sticks on a cutting board. Using a sharp, thin-blade knife, cut down into the potato until you hit the chopstick. Continue slicing across the potato in ⅛-inch intervals. The slices should create a fan-like, accordion style pattern across the potato. Repeat with the second potato; transfer to foil-lined baking pan.
In a saucepan over medium heat, add the butter and olive oil and bring to a slow sizzle. Add the rosemary leaves and sauté briefly to release their flavor. Add the brown sugar and molasses with a sprinkle of sea salt. Add the pecans and bring the glaze together. Take off the heat and keep warm.
Spoon the glaze over the potatoes and be sure to work the pecan pieces down into the potatoes to help separate the segments. Cover the baking pan with another piece of foil and seal tightly. Place in the oven and bake for 90 minutes. At around the halfway point, check the potatoes and carefully fan out the round segments so that they cook in an even accordion-fold pattern during the remaining time in the oven. Once completely baked and fork-tender, remove the potatoes from the oven and keep warm until serving.
For serving, place the potatoes on a platter and drizzle over some of the Sugarcane Cream Sauce and pool the rest of the sauce on the bottom of the serving dish. Garnish with a sprig of rosemary.
Of course, the rum is an optional ingredient, but I highly suggest it for flavor and punch. The alcohol should burn off in the cooking. If you need added cooking time or to reheat just before serving, feel free to microwave on high until heated throughout.
Recipe by
Acadiana Table
at /2013/11/04/squeezebox-sweet-potatoes-with-steens-cream/