Charred Persimmon Salad with Agave Nectar Vinaigrette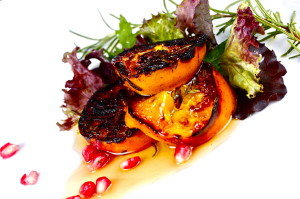 Recipe by:
George Graham - AcadianaTable.com
2 tablespoons agave nectar
1 teaspoon Dijon mustard
1 teaspoon kosher salt
¼ cup extra virgin olive oil
2 ripe persimmons
2 tablespoons extra virgin olive oil
2 tablespoons sugar
2 tablespoons chopped fresh rosemary
1 cup micro greens
2 tablespoons pomegranate seeds
2 stems fresh rosemary, for garnish
Kosher salt
In a mixing bowl, add the agave nectar and the mustard along with the salt. While whisking, add the olive oil and bring together in an emulsion. Cover and keep at room temperature until serving.
On a clean cutting board, slice the persimmons into 6 thick rounds leaving the peel on. Position each round on the board and brush with a coating of olive oil. Sprinkle each with sugar and then evenly scatter the rosemary over the tops.
In a cast-iron skillet over medium-high heat, place the sliced persimmon rounds sugar-side down. Watch carefully as the fruit grills and the edges begin to blacken. Lift the edges with a spatula to check to see if the sugar is caramelizing and beginning to blacken. Just as the slices take on a darkened color, remove them from the pan to a platter and keep warm.
On a clean plate, place a spoonful of the vinaigrette and tilt the plate until it runs to the edge. Place a mound of micro greens at one end and layer the charred persimmon slices on top. Add pomegranate seeds and rosemary for garnish along with a sprinkling of salt.
Recipe by
Acadiana Table
at /?p=6480