Grilled Chicken Pasta Salad with Garden Herbs and Louisiana Pecan Oil Drizzle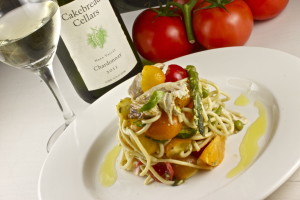 Recipe by:
George Graham - AcadianaTable.com
5 tablespoons pecan oil
2 boneless, skinless chicken breasts
1 tablespoon Acadiana Table Cajun Seasoning Blend, see recipe here
Kosher salt and freshly ground black pepper
2 cups spaghetti noodles, cooked
2 Clementine oranges
2 tablespoons diced red onion
2 tablespoons diced green onion tops
1 cup red cherry tomatoes, halved
1 cup yellow cherry tomatoes, halved
1 cup green asparagus tips, blanched
½ cup green peas, cooked
1 small green jalapeno, ribs and seeds removed and diced
½ cup loosely packed fresh basil, stems removed and chopped
2 sprigs of mint, stems removed and chopped
1 fresh Meyer lemon
In a heavy skillet over medium-high heat, add 2 tablespoons of pecan oil. While the oil is heating, season the chicken breasts with Cajun seasoning, salt, and pepper. Once the pan is hot, add the chicken breasts and brown on both sides until completely done, about 15 minutes. Remove to a plate, cover and refrigerate.
In a large mixing bowl, add the cooked noodles and season with salt and pepper. Drizzle lightly with 1 tablespoon pecan oil. Cover and refrigerate.
Peel the oranges and remove the seeds. Slice segments of the orange being careful to remove any white pith. Add the orange segments to the bowl of pasta.
In the large mixing bowl, add the onions, tomatoes, asparagus, peas, jalapenos, basil, and mint. Cut the lemon in half and squeeze 2 tablespoons of the juice over the salad being careful to remove any seeds. Toss while drizzling lightly with the remaining pecan oil.
Remove the cooled chicken from the refrigerator and slice into strips. Add the chicken to the bowl and toss again. Season lightly with salt and freshly ground black pepper.
For serving, mound the cold salad mixture in the center of a plate making sure to distribute the ingredients evenly. Pair with an ice-cold glass of Chardonnay.
Get creative and use what you already have. Fresh herbs are key. I urge you to try the pecan oil in this and other dishes, but feel free to opt for a good quality olive oil. I love the fresh jalapeno in this dish, but leave it out if you prefer a tamer version. Instead of chicken, make this recipe with sauteed shrimp or grilled salmon.
Recipe by
Acadiana Table
at /2014/08/18/grilled-chicken-pasta-salad/