White Beans Supreme with Ham Shank, Tasso and Smoked Pigs Tails over White Rice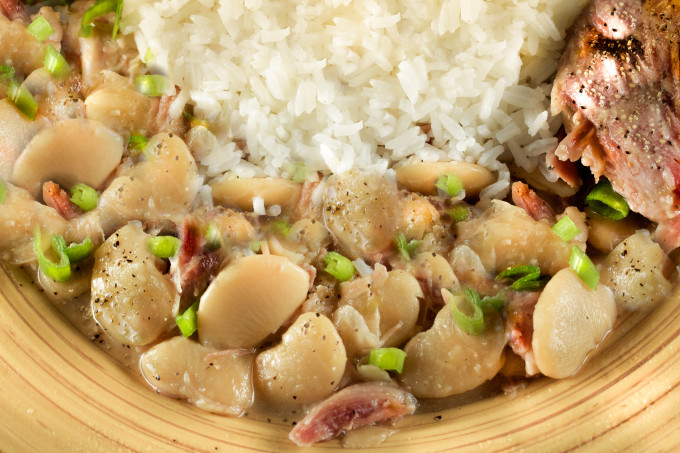 Recipe by:
George Graham - AcadianaTable.com
6 bacon strips, cut into bite-sized pieces
1 large yellow onion, diced
1 pound dried white beans (large limas)
1 smoked ham shank
1 cup chopped tasso or smoked ham
4 smoked pigtails
8 cups chicken stock
Kosher salt and freshly ground black pepper
6 cups cooked Louisiana long-grain white rice, such as Supreme
1 cup diced green onion tops
In a large pot over medium heat, sauté the bacon pieces until browned and crisp. Remove the bacon to a paper towel-lined platter and reserve.
Add the onion to the bacon grease and sauté until translucent, about 5 minutes. Add the white beans and ham shank along with the tasso and pigtails as well as the cooked bacon pieces. Pour the stock over it all and season lightly with salt and pepper. Bring to a boil, cover and turn the heat to low for a slow simmer for 1 hour. Stir occasionally.
Uncover the beans, check for doneness. The beans should be soft and creamy , if not, continue cooking until tender. Once cooked, turn the heat off.
Dish it up in large shallow bowls with the white beans and meats surrounding a mound of white rice. Garnish with a sprinkle of diced green onion tops. Serve with hot sauce on the side.
Some Cajun cooks swear by soaking the beans and rinsing the rice. With a long, slow simmer, soaking is unnecessary with this recipe. I do however like to rinse the rice until the water runs clear of any surface starch.
Recipe by
Acadiana Table
at https://acadianatable.com/2019/07/29/white-beans-supreme/