Grilled Apricot and Herb Salad with Pistachios and Lavender Buds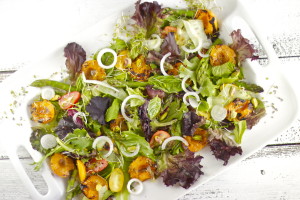 Recipe by:
George Graham - AcadianaTable.com
12 ripe apricots, halved and seed removed
½ cup extra virgin olive oil
2 cups mixed greens
1 cup basil leaves
1 cup mint leaves
1 cup thinly sliced spring onion
1 cucumber, peeled and shaved into ribbons
1 cup broccoli sprouts
1 bunch of asparagus tips, blanched
1 cup yellow and red cherry tomatoes, halved
½ cup pistachios, shelled and husks removed
1 tablespoon lavender buds
Kosher salt and freshly ground black pepper
1 tablespoon Dijon mustard
3 tablespoons freshly squeezed lemon juice
1 tablespoon honey
½ cup extra virgin olive oil
Brush the apricot halves with olive oil and place on a wire rack, cut-side down. Grill the apricots on the open flame of a gas grill until they just start to soften and blacken. Remove from the grill and keep at room temperature.
On a large platter, arrange the mixed greens, various herbs, onions and sprouts. Add the grilled apricots, distributing them evenly among the greens. Layer the asparagus tips and tomatoes evenly throughout, and sprinkle the pistachios and lavender over all. Refrigerate the platter until serving.
In a mixing bowl, add the mustard and lemon juice along with the honey. Whisk while slowly drizzling the olive oil. Sprinkle with salt and a grind of black pepper and refrigerate.
For serving, remove the salad platter from the refrigerator and drizzle a few tablespoons of the dressing lightly over, and serve any remaining on the side.
Apricots have a short season, so feel free to use peaches in this recipe. Be sure to get just-ripe fruit, but not mushy, and do not over cook them during grilling. Slivered almonds would work well in this salad combination. Feel free to improvise.
Recipe by
Acadiana Table
at https://acadianatable.com/2020/06/23/grilled-apricot-and-herb-salad/