Louisiana Seafood Salad with Creole Citrus Vinaigrette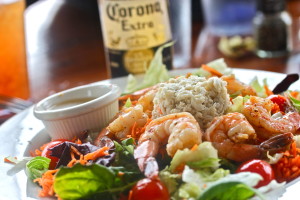 Recipe by:
George Graham - AcadianaTable.com
1 tablespoon Creole mustard
2 tablespoons red wine vinegar
¼ cup orange juice
1 tablespoon lemon juice
1 teaspoon sugar
1 cup extra-virgin olive oil (plus more if needed)
Kosher salt and freshly ground black pepper
2 quarts water
4 tablespoons liquid crab boil
2 pounds jumbo raw Gulf shrimp
1 pound jumbo lump, Louisiana blue crabmeat
2 cups spring mix lettuce greens
2 cups spinach leaves, stems removed
2 cups chopped iceberg lettuce
1 cup julienned carrots
1 cup cherry tomatoes
1 pound packaged Louisiana crawfish tails
1 pound cooked Louisiana blue crab claws, shelled
2 lemons, quartered
In a mixing bowl, add the mustard, vinegar, orange juice, and lemon juice as well as the sugar. Whisk the mixture while slowly drizzling the olive oil. When the emulsion is complete, taste and add salt and black pepper to your desired level. Be sure not to over-salt since the seafood will have a natural saltiness. Cover and refrigerate.
In a large pot over high heat, bring the water to a boil and add the crab boil seasoning. Add the raw shrimp and cook until done, about 5 minutes. Remove and let cool.
Peel the shrimp leaving the tail intact. Place the crabmeat into a mixing bowl and gently pick through and discard any shell pieces. Cover both and chill.
In a large salad bowl, combine the spring mix, spinach, iceberg lettuce, and shredded carrots and mix thoroughly. Add the cherry tomatoes either whole or slice in half if large.
On individual chilled plates, place a generous serving of the salad mixture. Take a small ramekin and mound a 4-ounce serving of lump crabmeat in the center of the salad mixture. Place portions of boiled shrimp, crawfish tails and crab claws around the salad.
Remove the dressing from the refrigerator and pour individual portions in small cups or ramekins. Place the dressing on the plate nestled in the greens. Garnish with lemon wedges and serve with an ice-cold beer.
This is my version of Regatta's Galley Salad using the freshest Gulf seafood I can find. This dish is all about little prep and a light hand with seasonings and dressings.
Recipe by
Acadiana Table
at /2013/05/27/louisiana-seafood-salad/