Blackberry Sweet Dough Pie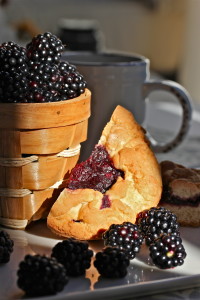 Recipe by:
George Graham - AcadianaTable.com
5 cups all-purpose flour
3 teaspoons baking powder
2 teaspoons salt
½ cup unsalted butter, softened
1 cup sugar
1 tablespoon vanilla extract
2 large eggs
⅔ cup milk
3 cups fresh blackberries
1 beaten egg, for egg wash
1 tablespoon water
Combine the dry ingredients by sifting the flour, baking powder, and salt into a large mixing bowl. In another bowl, add the softened butter and whisk in half the sugar and vanilla until thoroughly combined. Add in the eggs and milk along with the dry ingredients and mix together until combined. On a cutting board sprinkled with flour, dump out the mixture and form into a dough ball. Cover with plastic wrap and refrigerate until it is chilled.
In a heavy pot over medium heat, add two cups of blackberries and the remaining sugar. Stir the mixture until the berries cook down, the sugar begins to melt, and the filling just begins to thicken. Remove from the stovetop and pour into a bowl. Let the filling cool to room temperature.
Preheat the oven to 400ºF.
Remove the dough from the refrigerator. On a surface sprinkled lightly with flour, roll out the dough to approximately ¼-inch thick. With a 5-inch plate as a guide, cut out 4 dough circles. Spoon 3 or 4 tablespoons of the blackberry filling into the center of each pie dough. Leave an inch of the dough around the edges. Fold the outer part of the dough circle just over the edge of the filling and overlap it in a rustic pattern. Neatness doesn't count here. Try to give it a rough, handmade look.
From the additional 1 cup of blackberries, top the exposed fruit filling by artfully placing in whole berries. Add the beaten egg to a bowl and whisk with water to make an egg wash. With a brush, coat the pastry with the egg wash. Place the pies on a silicone mat or parchment-lined baking sheet and bake until the dough turns a crisp and golden brown, about 15 to 20 minutes.
Remove the pies to a platter and serve either piping hot or at room temperature with a cup of dark roast Louisiana coffee.
My approach, when dealing with anything sweet, is that less is more. These little pies are best when the pastry is the canvas for painting on the sweetness of the fruit filling balancing taste and texture into a true work of art.
Recipe by
Acadiana Table
at https://acadianatable.com/2020/06/09/blackberry-sweet-dough-pie/