Bluesiana Burger with Zydeco Sauce, Root Beer Glaze and Mardi Gras Slaw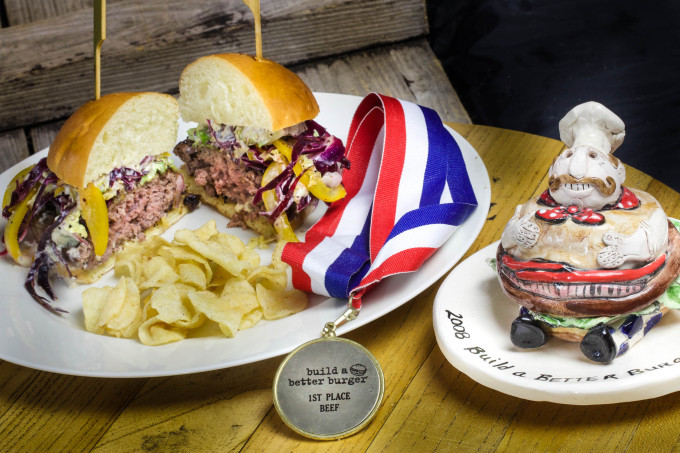 Recipe by:
George Graham - AcadianaTable.com
1 cup mayonnaise
2 tablespoons prepared horseradish
1 tablespoon Worcestershire sauce
1 tablespoon Creole mustard or coarse-grained mustard
1 tablespoon hot sauce
1 teaspoon red pepper flakes
3 cups thinly shredded Napa cabbage
½ cup thinly shredded purple cabbage
½ cup thinly sliced red onion
½ cup thinly sliced fennel
½ cup thinly sliced yellow bell pepper
¼ cup sugarcane vinegar
1 tablespoon Creole mustard or coarse-grained mustard
½ cup extra virgin olive oil
1 cup finely crumbled mild blue cheese
1 teaspoon kosher salt
1 teaspoon ground black pepper
1½ cups root beer soda
1 cup bottled chili sauce
¼ cup fresh lemon juice
3 tablespoons Worcestershire sauce
1½ tablespoons dark brown sugar
1 tablespoon sugarcane molasses
1 teaspoon liquid smoke
1 teaspoon root beer extract
½ teaspoon ground ginger
½ teaspoon garlic powder
½ teaspoon onion powder
¼ teaspoon kosher salt
¼ teaspoon freshly ground black pepper
2 pounds freshly ground beef chuck
1 tablespoon hot sauce
¼ cup finely chopped green onion
2 teaspoons kosher salt
2 teaspoons freshly ground black pepper
Vegetable oil, for brushing on the grill rack
½ cup melted butter
6 good-quality hamburger buns, split
In a bowl, combine the mayonnaise, horseradish, Worcestershire sauce, mustard, hot sauce, and red pepper flakes, mixing well; cover and refrigerate.
In a large mixing bowl, combine the cabbages, onion, fennel, and bell pepper and chill. Prepare the slaw dressing by combining the vinegar and mustard, and then slowly whisk in the olive oil. Refrigerate. About 15 minutes before serving, pour the dressing over the slaw mixture and toss. Add the crumbled blue cheese and toss again, evenly combining the cheese. Add the salt and pepper. Drain off excess liquid and chill the slaw until assembling the burgers.
In a saucepan over medium heat, combine the root beer soda, chili sauce, lemon juice, Worcestershire sauce, sugar, molasses, liquid smoke, root beer extract, ginger, garlic powder, and onion powder. Bring to a boil, stirring occasionally. Reduce the heat to medium-low and simmer until reduced to about 1 cup and thick enough to coat the back of a spoon, about 20 - 30 minutes. Season to taste with salt and pepper and set aside (it will thicken slightly as it cools).
Prepare a medium-hot fire in a charcoal grill with a cover, or preheat a gas grill to medium-high.
For the patties, place the ground chuck in a large bowl and refrigerate for 1 hour prior to using. Add the hot sauce, green onions, salt, and pepper. Handling the meat as little as possible to avoid compacting it, mix well. Quickly shape the beef mixture into 6 round, equal-sized patties. Cover with plastic wrap and set aside until ready to grill.
Brush the grill rack with oil. Place the patties on the grill, cover, and cook, turning once, until done to preference, 5 to 7 minutes on each side for medium. Just before the patties are done, brush with the glaze.
Meanwhile, brush the melted butter on the top and bottom buns. Position the buns, cut side down, on the outer edges of the grill for the last 2 minutes of grilling to toast lightly.
When the patties are cooked, remove from the grill and keep warm while resting.
To assemble the burgers, spread a generous amount of the Zydeco Sauce over the cut sides of the buns. On each bun bottom, add a patty and brush again with the glaze. Add a portion of the slaw. Add the bun tops and serve.
Recipe by
Acadiana Table
at https://acadianatable.com/2019/07/01/bluesiana-burger/