Grilled Tuna Salad Nicoise with Creole Citrus Vinaigrette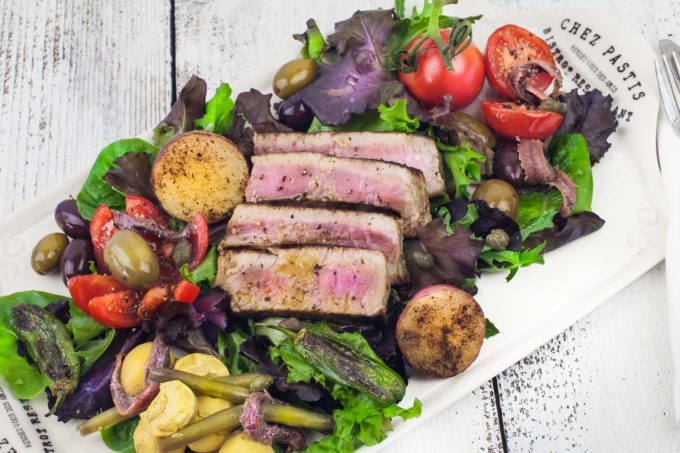 Recipe by:
George Graham - AcadianaTable.com
1 tablespoon Creole mustard
2 tablespoons red wine vinegar
¼ cup orange juice
1 tablespoon lemon juice
1 teaspoon sugar
1 cup extra-virgin olive oil (plus more if needed)
Kosher salt and freshly ground black pepper
8 small red potatoes, scrubbed and halved
Kosher salt and freshly ground black pepper
1 ½ pounds fresh tuna steaks, 1 ½ inch thick
4 tablespoons olive oil
2 tablespoons Acadiana Table Cajun Seasoning Blend, see recipe here
12 shishito peppers
4 cups pre-washed mixed salad greens
4 ripe tomatoes
8 cherry tomatoes
1 cup whole olives, green and black
1 can anchovies in oil
3 tablespoons capers, drained
1 jar pickled green beans
8 pickled quail eggs
In a mixing bowl, add the mustard, vinegar, orange juice, and lemon juice as well as the sugar. Whisk the mixture while slowly drizzling the olive oil. When the emulsion is complete, add salt and black pepper to taste. Cover and refrigerate.
In a pot half filled with water over medium-high heat, add the potatoes. Bring to a boil and cook until just done, about 10 minutes. Strain off the water, sprinkle with salt and pepper and refrigerate the potatoes.
Brush the exterior of the tuna with olive oil and sprinkle heavily with Cajun seasoning. On the cleaned and oiled grates of an outdoor gas grill set on high heat, add the tuna steaks. As the flames shoot up, let the tuna cook without moving for 1 minute. Turn and cook on the other side for 30 seconds or until the fish is cooked to medium rare. Remove from the grill and let rest.
Place the potatoes and the peppers on the grill, and let them cook just until slightly charred, about 5 minutes. Remove to a platter.
On each plate, distribute the greens and arrange the tomatoes, olives, anchovies, capers, green beans, and eggs. Place the potatoes and peppers on the plate.
With a sharp fillet knife, slice the tuna into thick strips and arrange in the middle of each plate. Drizzle the vinaigrette, add salt and pepper, and serve immediately.
I am serving a 6-ounce portion of tuna on each plate, but a smaller portion will work for a lunch-size salad. Tuna should be served pink on the inside, so watch carefully when searing the tuna; it is important not to overcook the fish. The pickled quail eggs are a Cajun touch; feel free to use regular boiled eggs. While anchovies are not to everyone's liking, I urge you to stay true to French tradition; they add a certain je ne sais quoi to the dish.
Recipe by
Acadiana Table
at https://acadianatable.com/2021/08/02/grilled-tuna-salad-nicoise/