Cream of Cauliflower, Garlic and Fennel Soup with Goat Cheese Crouton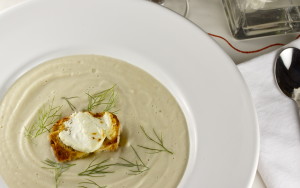 Recipe by:
George Graham - AcadianaTable.com
2 tablespoons extra virgin olive oil
1 cup diced yellow onion
½ cup thinly sliced fennel bulb
2 cloves garlic, chopped
4 cups water
2 large heads cauliflower, green leaves and stalk removed
½ cup chicken stock
1 cup unsweetened almond milk, plus more if needed
Pinch of kosher salt
Pinch of white pepper
½ cup creamy goat cheese
4 – 6 toasted crostini rounds
Fennel fronds, for garnish
In a skillet over medium heat, add the olive oil. Add the onion and fennel slices, and cook until the fennel begins to soften and the onions become translucent, about 5 minutes. Add the garlic and continue cooking while stirring until the garlic begins to soften. Reduce the heat if it begins to brown. Turn off the heat and move the pan to the side.
In a large pot over high heat, bring 4 cups of water to a boil. Break the cauliflower into florets of approximate equal size so they will cook evenly and place in a steam basket. Position the basket in the pot over the boiling water and cover. Let steam for 15 minutes until completely tender. Remove cauliflower and drain.
Drain the water from the pot and put back on the stovetop over medium-high heat. Add the chicken stock, cauliflower, fennel, onions, and garlic. Bring to a simmer and cook until the chicken stock has reduced by half, about 8 minutes. Add the almond milk and decrease the heat to low and cook for another 10 minutes.
With an immersion blender, blend the vegetables and liquids in the pot until thickened and all chunks become smooth. If it becomes too thick, add additional almond milk until it is a creamy chowder-type texture. Reduce the heat to a simmer and continue cooking.
Taste the soup and finish with a pinch of kosher salt and white pepper to desired taste.
Spread the goat cheese liberally on top of the crostini. Broil on high heat just until the cheese softens but not long enough to turn brown.
Ladle the soup into bowls and top each with a goat cheese crouton. Garnish with a sprinkling of fennel fronds and serve while hot.
While the chicken stock veers away from the vegetarian heading of this recipe, I like the flavor it adds. Almond milk is a little-used ingredient that once you use in this soup will become your new secret weapon. The nutty hint of almond balances well with all of the other bold ingredients and adds that unmistakable creaminess that is needed to bring this soup together. While the goat cheese crouton is optional, it adds a crunchy contrast.
Recipe by
Acadiana Table
at https://acadianatable.com/2022/05/09/cauliflower-soup/