Peppered Pork Jowl and Fried Green Tomato BLT with Spicy Mayo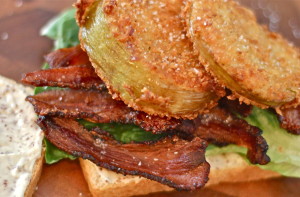 Recipe by:
George Graham - AcadianaTable.com
1 cup mayonnaise
2 tablespoons hot sauce
½ cup Creole mustard
1 tablespoon lemon juice
Sea salt
16 strips peppered pork jowl bacon
Freshly ground black pepper
2 cups all-purpose flour
1 tablespoon cayenne pepper
1 large egg
1 cup buttermilk
2 cups panko breadcrumbs
2 tablespoons Acadiana Table Cajun Seasoning Blend, see recipe here
1 cup peanut oil
2 large green tomatoes, sliced ½-inch-thick
4 large romaine lettuce leaves
8 slices white sandwich bread
In a mixing bowl, add the mayonnaise, hot sauce and Creole mustard and combine. Add in the lemon juice, a pinch of sea salt and stir together and refrigerate.
In a cast-iron skillet over medium heat, place each of the strips flat on the surface. Fry until browned on one side and turn over. Continue frying until all fat renders out and the pork jowl is crisp. Remove strips to a paper towel-lined plate and add more fresh-cracked black pepper.
Add the flour to a shallow bowl and blend in the cayenne.
In another bowl, whisk one egg with buttermilk and a dash of hot sauce and set aside.
Blend the panko breadcrumbs with the Cajun seasoning in a shallow pan and set aside. In three different stations, line up the flour, egg mixture, and panko breadcrumbs.
In a cast-iron skillet on medium heat add the peanut oil and bring to 375ºF. Coat each tomato slice in flour and shake off the excess. Submerge into the egg mixture and place in the seasoned panko breading. Pat firmly so the breadcrumbs stick to each side of the tomatoes and move to a wire rack. Gently add the breaded tomato slices to the hot oil making sure not to crowd the pan. Fry on 1 side until browned and turn once with a spatula and continue frying until golden brown, about 2 minutes on each side. Move the fried tomatoes back to the wire rack and season with sea salt immediately.
Slather each slice of the white bread with the mayo. On the bottom place a large romaine lettuce leaf. Cover the lettuce with 3 strips of the fried pork jowl bacon and place 2 fried green tomato slices on top. Serve open-face or close the sandwich with the top slice of bread. Serve with bread and butter pickles.
Seek out Blue Plate mayonnaise and you will taste a truly unique Louisiana product that is widely hailed as the best mayo on the market. You may be tempted to build this sandwich on an artisan loaf of sourdough, 14 grain or some other fancy shmancy bread. Don't do it. Stay true to the down-home roots of this sandwich and find the most basic loaf of sliced white bread you can find. Evangeline Maid is our Acadiana white bread and is a real slice of heaven— pillowy soft texture with a heady aroma of yeast. It's been around forever, and the old rotating loaf of Evangeline Maid on the bakery sign is still turning after over 50 years.
Recipe by
Acadiana Table
at https://acadianatable.com/2013/02/11/pork-jowl-fried-green-tomato-blt/