Summer Shrimp Salad with Citrus Vinaigrette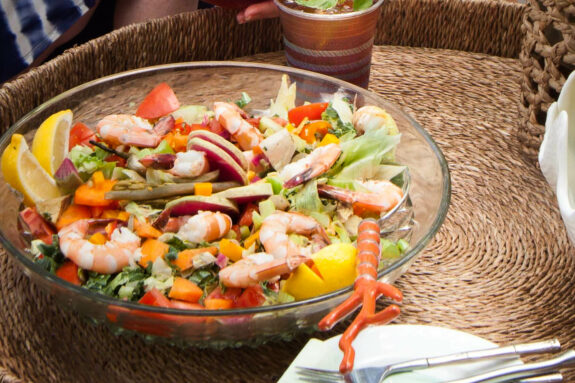 1 tablespoon Creole mustard
2 tablespoons red wine vinegar
¼ cup orange juice
1 tablespoon lemon juice
1 teaspoon sugar
1 cup extra-virgin olive oil (plus more if needed)
Kosher salt and freshly ground black pepper
1½ pounds extra-jumbo (16/20 count) Louisiana shrimp
4 tablespoons liquid shrimp boil seasoning
2 cups chopped iceberg lettuce
1 cup chopped romaine lettuce
1 medium yellow bell pepper
¼ cup chopped red onion
1 cup chopped tomato
1 watermelon radish, sliced
¼ cup tightly packed chopped flat-leaf parsley
1 bunch asparagus spears, blanched and chilled
Kosher salt and freshly ground black pepper
4 lemon wedges
In a mixing bowl, add the mustard, vinegar, orange juice, lemon juice, and sugar. Whisk the mixture while slowly drizzling the olive oil. When the emulsion is complete, add salt and black pepper to taste. Cover and refrigerate.
In a large pot over medium-high heat, bring the water to a boil and add the shrimp boil seasoning. Add the raw shrimp and cook until done, about 5 minutes. Remove and let cool.
Peel the shrimp leaving the tail intact. Cover and chill.
In a large salad bowl, combine the lettuces, bell pepper, onion, tomato, radish, parsley, and asparagus spears. Add the shrimp, dress with a drizzle of vinaigrette, and toss the salad. Add salt and pepper to taste.
Garnish with lemon wedges. Serve with boiled corn-on-the-cob and more dressing on the side.
Recipe by
Acadiana Table
at https://acadianatable.com/2021/08/23/summer-shrimp-salad-citrus-vinaigrette/