Overstuffed Fried Crawfish Po'Boy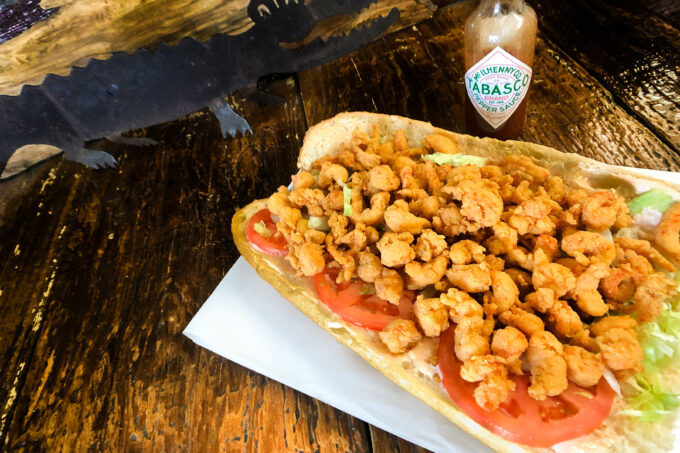 1 gallon vegetable oil
1 cup all-purpose flour
1 cup yellow cornmeal
2 tablespoons Acadiana Table Seasoning Blend, see recipe here
1 (16-ounce) package Louisiana crawfish tails
1 (10 to 12-inch) po'boy loaf
2 tablespoons mayonnaise
3 large slices tomato
1 cup shredded iceberg lettuce
Kosher salt
Hot sauce, for serving
Fill your fry pot (mine is a 1-gallon fryer) with oil and heat until the temperature reaches 350ºF.
In a mixing bowl, combine the flour, cornmeal, and Cajun seasoning.
Remove the crawfish tails from the package and roll in the dry breading mixture.
Meanwhile, toast the bread until crunchy, remove, and slather the bottom with mayonnaise. Add tomato slices and shredded lettuce. Place on a platter until ready to serve.
Shake off the excess breading and drop the crawfish in the hot oil. Fry until golden brown, 3 to 5 minutes. Remove the crawfish and drain on a wire rack. Sprinkle with salt immediately.
Add a mound of crawfish tails to the sandwich and serve immediately with hot sauce on the side.
I have a 1-gallon electric fryer, but if you are frying in a regular pot, I would suggest using ½ gallon (8 cups) of oil. The key is to make sure you do not crowd the crawfish tails in the pan. Don't wash the crawfish tails; the flavor is in the fat and juices. These packaged crawfish tails are pre-cooked, so watch carefully not to overcook them. No crawfish--try this recipe with oysters or shrimp. Split this sandwich in half and share it with a friend; there's plenty for everyone.
Recipe by
Acadiana Table
at https://acadianatable.com/2021/08/16/overstuffed-fried-crawfish-poboy/