Chicken Wings with Alabama White Sauce and Grilled Peaches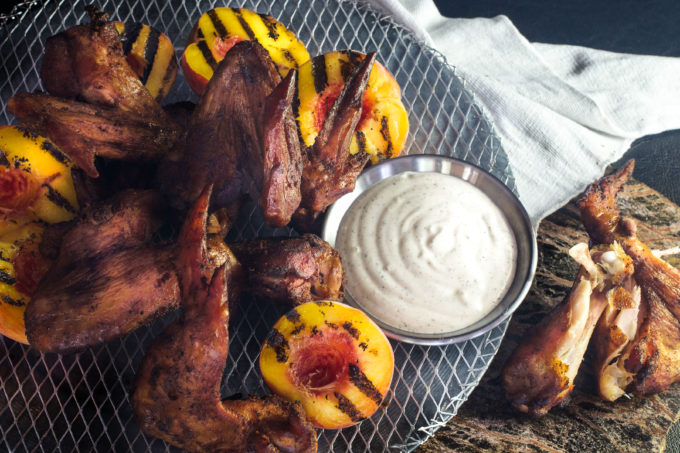 1½ cups mayonnaise
¼ cup apple cider vinegar
1 tablespoon coarsely ground black pepper
1 teaspoon kosher salt
8 peaches
2 tablespoons olive oil
1 tablespoon onion powder
1 tablespoon garlic powder
1 tablespoon white pepper
1 tablespoon black pepper
1 tablespoon smoked paprika
1 teaspoon cayenne
1 teaspoon kosher salt
24 (about 5 pounds) whole chicken wings
In a covered mixing bowl, add all ingredients, whisk to combine, cover and chill until ready to serve.
Prepare a gas (or charcoal) grill on high heat. Slice the peaches in half and remove the stone. Lightly brush the open side of the peaches with olive oil and place on the hot grill grates. Cook just until the peaches show grill marks; do not move the peaches around. Remove the peaches and keep warm for serving.
In a covered airtight container, add all the dry ingredients, cover, and shake to combine.
Place the wings in an aluminum foil pan and sprinkle with the dry rub until covered on all sides. Refrigerate for a minimum of 1 hour or overnight.
Prepare an indirect smoker with hickory wood and bring the cooking chamber to a temperature of 225ºF.
Place the pan with the chicken wings in the smoker and cook until done, about 90 minutes. Test the largest wing by pulling it apart (it should separate easily) to see that there is no blood visible. Check the internal temperature of the meat; it should register at least 175ºF.
Add the wings and peaches to a platter and serve with portions of the sauce on the side for dipping.
Leftover sauce can be refrigerated up to a week; use it as you would any spicy mayonnaise. I like hickory, but if you want a lighter smoke flavor go with pecan, applewood, or your favorite.
Recipe by
Acadiana Table
at https://acadianatable.com/2019/09/23/chicken-wings-alabama-white-sauce-grilled-peaches/