Lemon Thyme Chicken Breast with Cauliflower Mash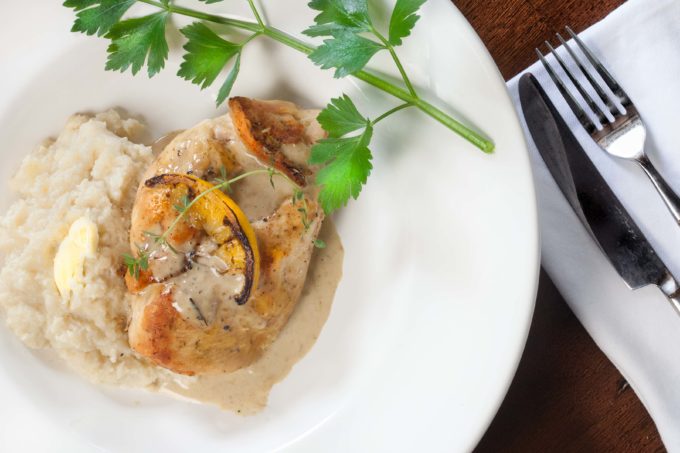 Recipe by:
George Graham - AcadianaTable.com
1 large head cauliflower, green stems removed
1 stick unsalted butter
¼ cup heavy whipping cream
½ teaspoon white pepper
Kosher salt, to taste
Butter, for serving
1 large lemon, quartered into wedges
4 large boneless, skinless chicken breasts
2 tablespoons melted butter
Kosher salt and freshly ground black pepper
4 stalks of flat-leaf parsley, plus more for garnish
4 sprigs of thyme, plus more for garnish
1 large lemon, sliced into rounds
1 cup heavy whipping cream
In a large pot with a heavy lid and fitted with a steam basket, place the head of cauliflower stem-side down and add water. Turn the heat to high and once boiling, lower the heat to medium, cover, and steam until fully cooked, about 30 minutes. Drain all water.
Mash the cauliflower with a potato masher or handheld electric mixer until smooth. Add the butter, cream, and white pepper. Season to taste with salt. Keep warm until serving.
Preheat the oven to 350ºF.
Squeeze a lemon wedge on both sides of the chicken breast and brush with melted butter. Sprinkle with salt and pepper.
On a foil-lined tray, place parsley, thyme, and lemon slices under each chicken breast and bake uncovered until fully cooked to an internal temperature of 175ºF, about 25 minutes.
In a saucepan over medium-high heat, add the drippings and the herbs from the pan along with the cream. Cook until the cream reduces and thickens enough to coat the back of a spoon, about 10 minutes. Remove any stems. Season to taste with salt and pepper. Keep warm until serving.
Turn the oven to BROIL.
Place the chicken breasts under the broiler until the top browns (watch carefully to prevent burning).
To serve, place a scoop of cauliflower mash in a shallow bowl and top with a chicken breast. Spoon the sauce over the chicken and garnish with a fresh sprig of thyme and a lemon wedge.
Buy the larger chicken breast not the thinner chicken "tenders." A word of caution: Under the broiler, food burns fast; watch carefully.
Recipe by
Acadiana Table
at https://acadianatable.com/?p=29264