24-Carrot Puréed Gold: Carrot Ginger Soup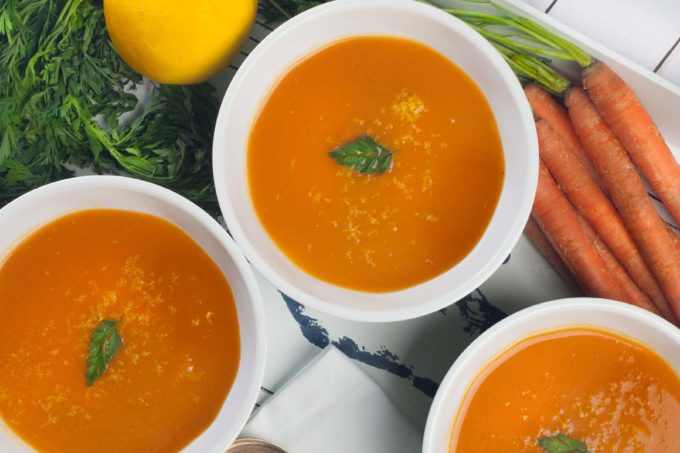 Recipe by:
George Graham - AcadianaTable.com
2 pounds carrots
1 tablespoon olive oil
1 cup diced yellow onion
1 teaspoon fresh thyme
1 teaspoon minced garlic
2 tablespoons minced ginger
1 tablespoon freshly squeezed lemon juice
½ teaspoon white pepper
6 cups chicken stock
Kosher salt
6 teaspoons freshly grated lemon zest
Cut the ends off the carrots and cut in 1-inch pieces. If applicable, reserve some of the leaves from the stems for later use as garnish.
In a large pot with a heavy lid over medium-high heat, add the olive oil and sauté the onion until translucent, about 5 minutes. Add the thyme, garlic, ginger, lemon juice, and white pepper. Sauté for another 2 minutes.
Add the chicken stock along with the carrots and bring to a boil. Lower the heat to a simmer and cover the pot. Cook until the carrots are tender, about 40 minutes.
Using an immersion blender (or regular blender), pulverize the carrots until puréed with no lumps. Season with salt to taste.
Ladle into bowls and add a sprinkle of grated lemon zest. Garnish with a carrot leaf, if applicable.
Don't leave out the lemon zest; it finishes the dish with a bright flavor boost. I substitute the squeezable ginger paste and get delicious results. Don't get heavy handed with the spice, but rather, let the flavor of the carrot and ginger shine.
Recipe by
Acadiana Table
at https://acadianatable.com/?p=29170