Heirloom Tomato Sandwich on Sourdough with Garlic Aioli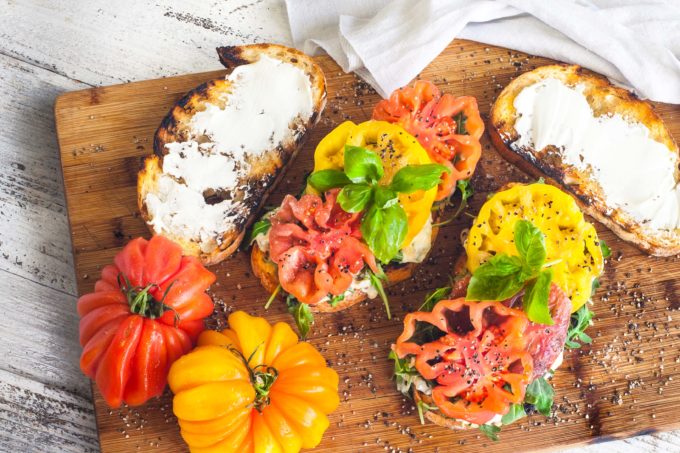 Recipe by:
George Graham - AcadianaTable.com
1 large loaf sourdough bread
Extra virgin olive oil
Sea salt
4 large heirloom tomatoes, assorted colors
1 tablespoon finely minced garlic
1 tablespoon freshly squeezed lemon juice
1 cup quality mayonnaise, such as Kewpie brand
1 (8-ounce package) goat cheese
2 cups loosely packed baby arugula
Freshly ground black pepper
4 sprigs fresh basil leaves, for garnish
Slice the loaf bread into thick slices and brush both sides with olive oil. Place on cleaned and oiled grill grates over medium flame. Watch carefully as the bread toasts on one side and then turn and toast on the other. Sprinkle the bread slices with sea salt. Remove and keep warm.
Slice the tomatoes into thick rounds and place on paper towels. Sprinkle with sea salt and place another paper towel on top. Let sit for 30 minutes as some of the moisture escapes, and the tomato flavor concentrates.
Meanwhile make the aioli by whisking the minced garlic, lemon juice, and mayonnaise together in a mixing bowl. Refrigerate the aioli until ready to use.
To assemble the sandwich, spread the top bread with goat cheese. Spread the aioli on the bottom bread and arrange the arugula on top. Place the tomatoes over the greens and lightly drizzle with olive oil. Sprinkle with sea salt and coarsely ground black pepper. Garnish with a sprig of fresh basil and serve open face with the top bread to this side.
Heirlooms are not always available; feel free to use homegrown tomatoes, or if you live in Louisiana, Creole tomatoes start arriving in the summer months. Kewpie brand mayonnaise is available in the refrigerated section of most Asian groceries; this Japanese product is versatile, and I urge you to explore its uses. Source a creamy (easy to spread) goat cheese rather than drier, aged cheese.
Recipe by
Acadiana Table
at https://acadianatable.com/?p=28206