Whole Braised Oxtail with Pepper Jelly Glaze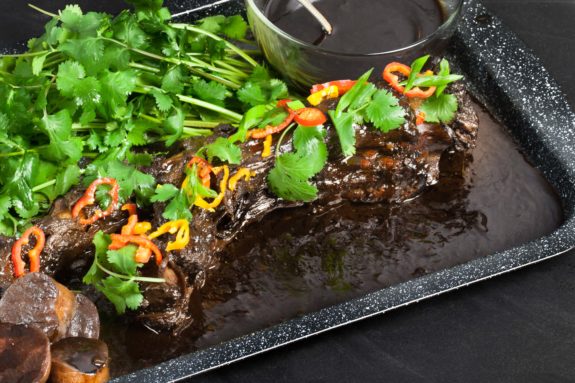 Recipe by:
George Graham - AcadianaTable.com
1 (2.5-pound) whole oxtail, cleaned
1 tablespoon Acadiana Table Cajun Seasoning Blend, see recipe here
4 tablespoons pepper jelly, divided
Coarsely ground black pepper
2 large spring onions with green stems attached
½ cup sliced red onion
1 cup chopped flat-leaf parsley
1 cup carrots, cut into 1-inch chunks
2 bay leaves
4 medium mini sweet peppers
1 tablespoon minced garlic
1 cup dry red wine
2 cups beef stock
¼ cup Worcestershire sauce
½ cup dark soy sauce
1 tablespoon sugarcane molasses
2 tablespoons cornstarch
1 tablespoon unsalted butter
Kosher salt
1 bunch flat-leaf parsley, for garnish
2 mini sweet peppers, sliced into thin rounds, for garnish
Preheat your oven to 300ºF.
Cut the whole oxtail in half. Sprinkle all sides with Cajun seasoning and brush with 2 tablespoons of pepper jelly. Sprinkle with black pepper.
In a Dutch oven with heavy lid, add the oxtail. Add the onions, parsley, carrots, bay leaves, sweet pepper and garlic. Pour over the wine, stock, Worcestershire, soy sauce and molasses to cover the oxtail halfway; if needed, add additional water. Cover and place in the oven. Cook until the meat is tender and pulls from the bones (about 4 hours}, basting and turning the meat every hour. Along the way, make sure there is plenty of liquid remaining; if not, add more water.
Remove the pot from the oven and uncover. Check for fork-tender meat, and if not, cook longer as needed. Place the oxtail on a serving platter along with the carrots from the pot. Keep warm.
Remove the vegetables from the braising liquid and skim any fat from the surface of the liquid. Return to the stovetop over medium-high heat and bring to a boil. Make a slurry with cornstarch and cold water and add a couple of tablespoons to the braising liquid. As it boils, it will thicken and once it is of sauce consistency (to coat the back of a spoon), turn off the heat. Add the butter and stir into the sauce. Season to taste with salt and pepper.
Brush the oxtail with more of the pepper jelly and spoon over some of the sauce. Garnish with parsley and peppers. Serve over rice or mashed potatoes with more sauce on the side.
Cut the oxtail into serving-size portions and serve as an appetizer (for 4 people) or entree (for two people). There are lots of different hot pepper jellies on the market; feel free to use your favorite.
Recipe by
Acadiana Table
at https://acadianatable.com/?p=28168