Eggplant Casserole with Gulf Shrimp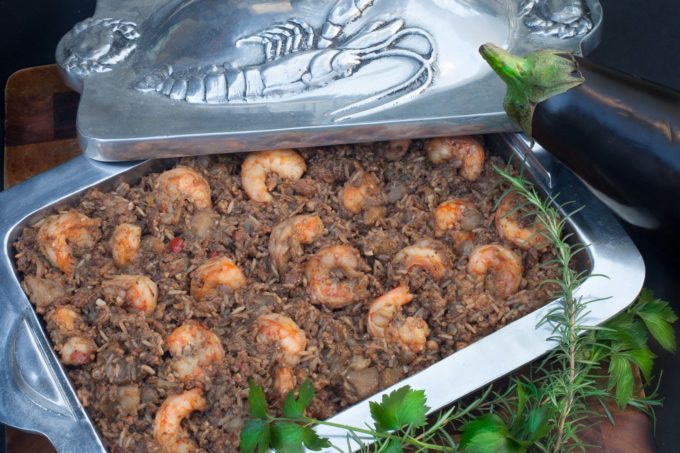 Recipe by:
George Graham - AcadianaTable.com
1 tablespoon bacon grease
1 cup diced yellow onion
1 cup diced green bell pepper
1 cup diced celery
1 pound raw pork sausage, like Cajun green onion sausage
2 large eggplants, peeled and cubed
1 tablespoon minced garlic
1 tablespoon finely chopped rosemary
2 tablespoons chopped flat-leaf parsley
½ tablespoon Acadiana Table Cajun Seasoning Blend, see recipe here
Kosher salt and freshly ground black pepper
1 cup cooked long-grain white rice, such as Supreme
½ cup dark chicken stock
1 teaspoon browning sauce, such as Kitchen Bouquet
1 pound jumbo (16/20 count) shrimp, peeled and deveined
Preheat your oven to 350ºF.
In a large pot over medium-high heat, add the bacon grease. Add the onion, bell pepper, and celery, and once the onions turn translucent, add the sausage and cook until browned, about 8 minutes. Add the eggplant and continue cooking until the eggplant softens. Stir in the garlic, rosemary, and parsley along with the cooked rice. Add the chicken stock and browning sauce and lower the heat to a simmer. Cook for 10 minutes until the stock is absorbed.
Season with Cajun seasoning and taste the mixture adjusting with more salt and black pepper as needed. Add the shrimp to the pot and combine. Turn off the heat and let the mixture rest until ready to bake.
In a casserole dish coated with non-stick spray, add the mixture arranging the shrimp on top. Bake uncovered for 20 minutes until warmed through and the shrimp turn pink. Remove and serve family-style.
I buy the raw green onion sausage in links and remove it from the casing. I use a light hand on the spice, so add more Cajun seasoning or even a dash or two of hot sauce to bring more heat. When a dish calls for a dark, rich color (like this one), I always add a dash or two of Kitchen Bouquet. The shrimp can be substituted with crabmeat or crawfish tails for a tasty version.
Recipe by
Acadiana Table
at https://acadianatable.com/?p=27624