Portobello and Arugula Salad with Fried Okra Croutons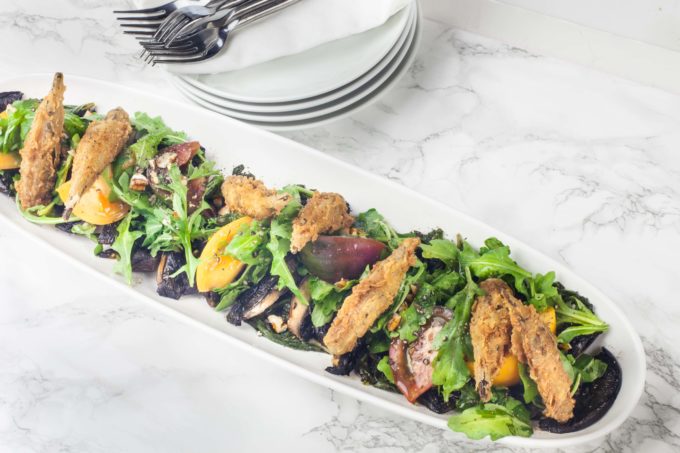 Recipe by:
George Graham - AcadianaTable.com
2 tablespoons apple cider vinegar
1 teaspoon Dijon mustard
¼ cup pecan oil
2 tablespoons, finely chopped pecans
½ teaspoon kosher salt
Freshly ground black pepper
4 large portobello mushrooms
2 tablespoons balsamic vinegar
Kosher salt and coarsely ground black pepper
¼ cup extra-virgin olive oil
¼ cup dry red wine
4 cups vegetable oil
1 large egg, beaten
1 tablespoon milk
1 cup all-purpose flour
6 medium okra pods
2 cups arugula
2 medium tomatoes, quartered
In a mixing bowl, add the vinegar and mustard, and slowly drizzle the pecan oil while whisking. Stir in the chopped pecans; sprinkle with salt and pepper. Refrigerate for later use.
With a brush, remove any visible dirt from the mushrooms. Drizzle the inside membrane area evenly with balsamic vinegar; sprinkle with salt and a grind of pepper.
In a large skillet with a tight fitting lid over medium-high heat, add the olive oil and the mushrooms with the interior-side down. Sauté until the mushrooms begin to soften, about 4 minutes. Add the red wine, and immediately cover the skillet. Cook for 1 minute, and then turn off the heat, and let the mushrooms steam in the carryover heat of the pan. Remove the mushrooms to a cutting board and cut into thick slices.
For the okra croutons, in a large pot, bring 4 cups of vegetable oil to 375ºF. In a shallow bowl, combine the egg and milk; add salt and pepper. Add the flour to a shallow bowl along with a sprinkle of salt and pepper. Add the whole okra pods to the liquid and then dredge in the flour to thoroughly coat each pod. Add to the hot oil and fry until golden brown, about 5 minutes. Remove and drain on paper towels; salt the pods immediately.
To assemble, layer a long platter with the mushrooms slices and mound the arugula on top. Position the tomatoes around the platter; add the okra croutons. Dress with the pecan oil vinaigrette along with the chopped pecans. Add coarsely ground black pepper. Serve in the center of the table.
Don't wash mushrooms since they will become waterlogged. The gills and membranes of the portobello mushrooms are completely edible; I like to leave them. For cooking, I'm using the sauté/steam method which is quick and easy, but feel free to fire up your outdoor grill; the smokiness will add amazing flavor.
Recipe by
Acadiana Table
at /2017/08/07/portobello-and-arugula-salad/