Shrimp and Tasso Mac and Cheese with Cracklin' Crust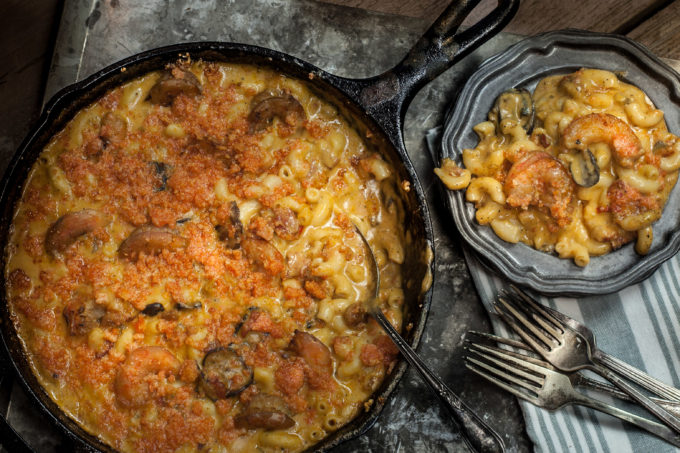 Recipe by:
George Graham - AcadianaTable.com
1 (16-ounce) package elbow macaroni noodles
2 tablespoons unsalted butter
½ cup diced yellow onion
½ cup diced celery
½ cup diced green bell pepper
1 cup chopped mushrooms (button or portobello)
1 cup chopped tasso or smoked ham
1 tablespoon all-purpose flour
2 cups whole milk
1 cup heavy cream
2 cups shredded Cheddar cheese
1 cup shredded Fontina cheese
1 teaspoon white pepper
1 teaspoon hot sauce
Kosher salt
1 pound jumbo (16/20 count) shrimp, peeled and deveined
1 cup crushed pork cracklin's or pork skins
Preheat your oven to 350ºF.
Bring a large pot of water to a boil. Following the package directions, add the noodles and cook until fully cooked. Strain the noodles and keep warm for later use.
In a large cast-iron skillet over medium-high heat, add the butter. Once the butter is sizzling, add the onion, celery, bell pepper, mushrooms, and tasso. Cook until the onions turn translucent and the mushrooms and tasso just begin to brown, about 8 minutes.
Sprinkle the mixture with flour, and add the milk and cream. Bring to a boil and lower the heat to a simmer.
Add the cheeses and season with white pepper, hot sauce, and a pinch of salt to taste. Add the cooked macaroni noodles to the skillet and stir into the mixture.
Once the mixture thickens, add the shrimp, distributing them evenly throughout the skillet.
Sprinkle over the crushed pork cracklin's, and move the skillet to the hot oven.
Bake just until the mixture begins to bubble and the top begins to brown, about 10 minutes. Remove from the oven and serve immediately with hot French bread on the side.
If you cannot source pork cracklin's or pork skins, use one cup of panko bread crumbs spiced with a tablespoon of Cajun seasoning combined with two tablespoons melted butter as your topping.
Recipe by
Acadiana Table
at /2017/03/06/shrimp-and-tasso-mac-and-cheese/