Strawberry Shortcake Jars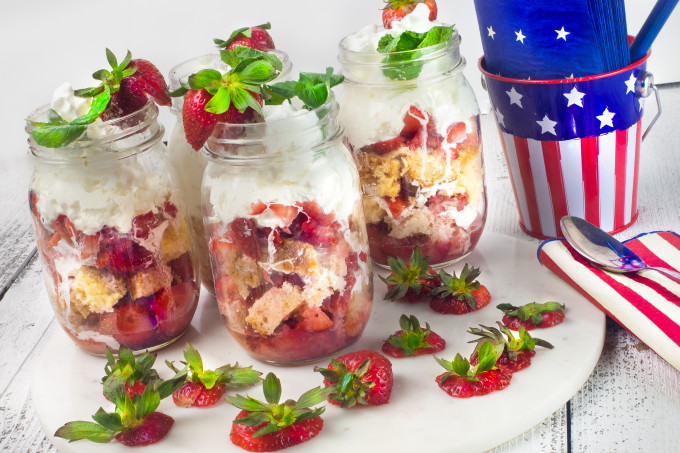 Recipe by:
George Graham - AcadianaTable.com
4 cups all-purpose flour
2 teaspoons baking powder
1 teaspoon kosher salt
2 cups sugar
2 ½ cups softened butter
8 large eggs
2 tablespoons vanilla extract
4 cups heavy whipping cream, chilled
2 tablespoons vanilla extract
8 tablespoons caster sugar
6 cups fresh strawberries, tops removed, sliced, and sweetened
8 tablespoons dark rum, optional
8 sprigs mint, for garnish
8 whole strawberries, for garnish
Preheat the oven to 350ºF.
In a large mixing bowl, sift the flour. Add the baking powder and salt and stir to combine.
In a large mixing bowl, add the sugar and 2 cups of softened butter. With a hand mixer on medium speed, beat the mixture until combined and smooth in texture. While continuing to mix on low speed, add the eggs and increase the speed as they incorporate. Add the vanilla and resume beating until mixed.
Scrape the bowl down and add the dry ingredients. On low speed, resume beating until fully combined.
With the remaining ½ cup of softened butter, grease the inside of two standard size loaf pans. Pour the mixture evenly into each and place in the oven. Lower the oven temperature to 325ºF and cook for 40 minutes. Check on the cakes and cover with foil to prevent browning, if needed. Continue baking another 20 minutes. After 1 hour, remove the foil and bake until completely done and a bamboo skewer comes out clean. Remove the pans and let cool. Once cool, carefully remove from the pans.
Place a large stainless steel mixing bowl in the freezer for 30 minutes.
Remove the bowl and add the cream and vanilla. With a handheld mixer on medium speed, begin beating the cream. Once the cream begins to thicken, slowly add the sugar while continuing to mix. Continue mixing until fully whipped. Cover with plastic wrap and place in the refrigerator until ready to use.
In 8 pint-size Mason jars, add 1 tablespoon of the whipped cream on the bottom and place a couple chunks of pound cake on top. Add a layer of sliced strawberries and top with a spoonful of whipped cream. Repeat the same process until each jar is filled. If using alcohol, add 1 tablespoon of rum to the top of each. At this point refrigerate the jars until ready to garnish and serve.
Just before serving, top off each jar with whipped cream. Add a whole strawberry to the rim and garnish with a sprig of fresh mint. Serve immediately while cold.
I like the pint-size (16-ounce) jars for serving this dish, but if you prefer a different size then adjust your ingredients accordingly. Making your pound cake from scratch is always the better option, but feel free to source a quality pound cake at your local bakery for an easier path. Choose only the ripest strawberries in season. Please make your own whipped cream--it's easy and so much better than the packaged product. Of course, the rum is optional.
Recipe by
Acadiana Table
at https://acadianatable.com/2020/06/29/strawberry-shortcake-jars/