Lentil, Leek, and Mirliton Soup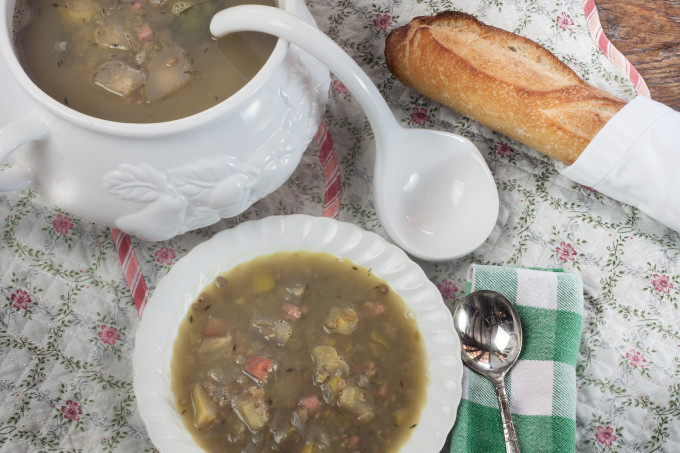 Recipe by:
George Graham - AcadianaTable.com
2 tablespoons olive oil
1 cup diced yellow onion
1 cup chopped leeks
½ cup diced celery
1½ cups roughly chopped mirliton squash
1 tablespoon minced garlic
1 tablespoon chopped fresh thyme leaves
1 cup diced smoked ham
3 quarts chicken stock
1 (1-pound) package lentils, such as Camellia
Kosher salt and freshly ground black pepper
In a large pot with a lid over medium-high heat, add the olive oil. Add the onion, leeks, celery, and squash, and cook until the onion turns translucent, about 5 minutes. Add the garlic, thyme, and ham, and continue cooking for another 3 minutes.
Pour in the stock and add the lentils. Bring to a boil, and lower the heat to a simmer. Cover and cook until the lentils are tender, about 45 minutes. Season to taste with salt and pepper, and serve in bowls with hot French bread.
Mirliton squash (chayote squash) are widely available, but feel free to substitute yellow squash. There is no need to peel the mirliton since the skin will cook down; be sure to keep the mirliton in large chunks rather than small chopped pieces. This soup has delicate flavors that work together subtly, so I would stay away from any bold Cajun spices or hot sauce.
Recipe by
Acadiana Table
at https://acadianatable.com/2021/02/01/lentilsoup/