Cajun-Spiced Lettuce Cups with Vidalia Onion Relish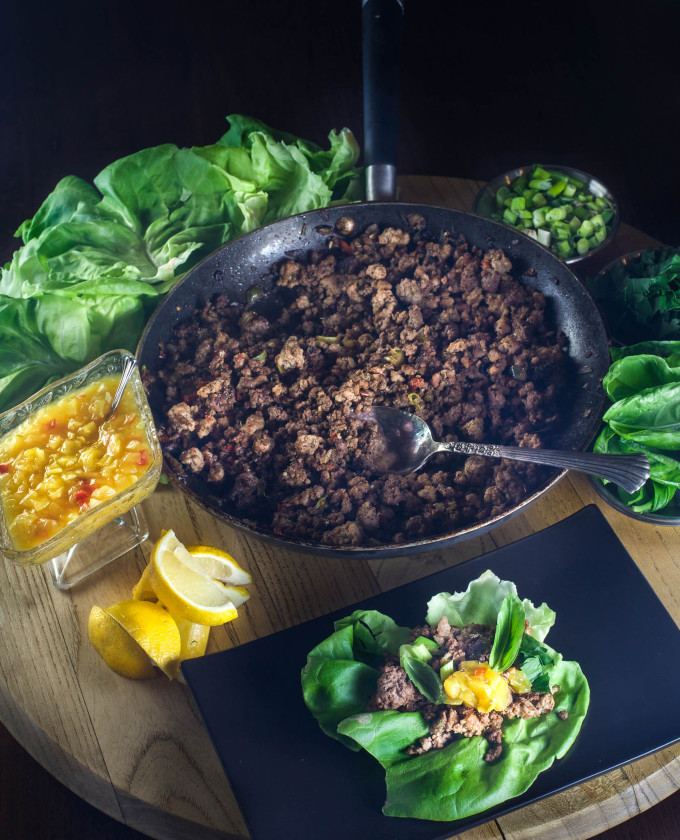 Recipe by:
George Graham - AcadianaTable.com
2 medium Vidalia onions or sweet onions, peeled and quartered
½ cup chopped Napa cabbage
1 tablespoon diced red bell pepper
¼ cup sugarcane vinegar
1 tablespoon honey
½ tablespoon pickled jalapeno slices
1 teaspoon onion powder
1 teaspoon garlic powder
1 teaspoon kosher salt
1 teaspoon white pepper
3 tablespoons canola oil
1 cup diced yellow onion
½ cup diced celery
½ cup diced red bell pepper
1 tablespoon minced garlic
1 pound ground pork
1 pound ground chuck
½ tablespoon Acadiana Table Cajun Seasoning Blend, see recipe here
1 tablespoon Worcestershire sauce
1 teaspoon hot sauce
1 tablespoon diced jalapeno
1 tablespoon sugarcane vinegar
1 teaspoon brown sugar
Kosher salt and freshly ground black pepper
1 lemon, cut into wedges
1 head of bibb lettuce or any lettuce with large green leaves, washed and leaves separated
1 cup chopped flat-leaf parsley
1 cup diced green onion tops
1 cup basil leaves
Hot sauce, for serving
In the container of a food processor, place all of the ingredients and process with a chopping blade. Continue processing until the ingredients are chopped to a relish texture (you want a chunky texture), but stop processing before they become pulverized to a mash. Add the relish to a clean Mason jar and store in the refrigerator for up to 3 months.
In a large cast-iron skillet with lid over medium-high heat, add the oil. Add the onion, celery, bell pepper, and cook until the onions turn translucent, about 5 minutes. Add the garlic along with the meats and season with Cajun seasoning, Worcestershire, and hot sauce. Cook until the meat is browned and cooked through, about 10 minutes. Lower the heat to simmer and add the jalapeno, vinegar, brown sugar, and season lightly with salt and pepper. Stir the mixture, cover, and let cook gently for 5 minutes as the flavors come together. Turn off the heat, squeeze one of the lemon wedges over the mixture, and stir to combine. Keep warm until serving.
For serving, move the skillet to the table and stack the lettuce leaves around it, along with the bowls of fresh chopped parsley, green onion, and basil. Guests can build their own lettuce cups and top with a squeeze of lemon and a spoonful of onion relish. Oh, and a little extra kick from a bottle of your favorite hot sauce might be nice.
My relish recipe goes easy on the heat, so if you like it hot then add more jalapeno. If possible, make the relish a week ahead and let it pickle and smooth out. My combination of beef chuck and pork has just the right fat ratio, but feel free to cut the fat with lean beef or even ground chicken. A nice tender green-leaf lettuce is ideal, but I've found that tender baby Romaine leaves are delicious as well.
Recipe by
Acadiana Table
at https://acadianatable.com/2016/01/04/cajun-spiced-lettuce-cups/