Blackened Brussels & Kale Salad with Crispy Smoked Lardons and Lemon Mustard Dressing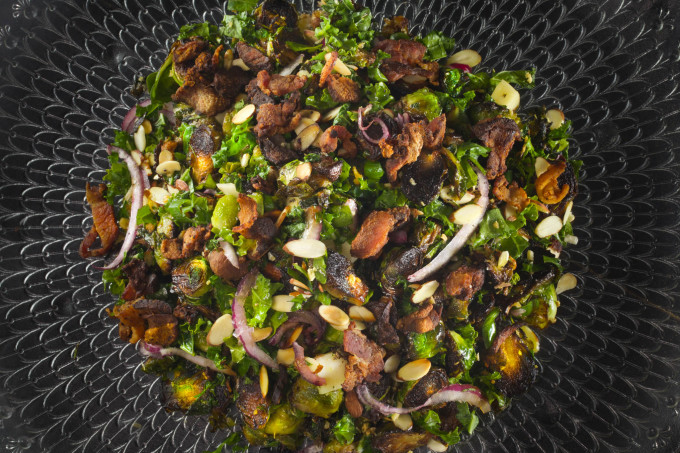 Recipe by:
George Graham - AcadianaTable.com
1 pound thick-cut, smoked bacon, chopped
2 tablespoons extra virgin olive oil
4 cups fresh Brussels sprouts, stemmed and halved lengthwise
4 cups chopped fresh kale
½ cup chopped flat-leaf parsley
½ cup diced green onion tops
½ cup thinly sliced red onion
½ cup chopped fresh rosemary
½ cup diced pepper jack cheese
½ cup slivered almonds, toasted
½ cup fried garlic
2 tablespoons freshly squeezed lemon juice
2 tablespoons white wine vinegar
1 tablespoon Creole mustard or coarse-grained mustard
Extra virgin olive oil
Kosher salt and freshly ground black pepper
In a large heavy skillet (preferably cast iron) over medium-high heat, add the chopped bacon. Cook until browned and crisped. Remove and drain on paper towels and keep warm.
In the same skillet, pour off most of the grease leaving about 2 tablespoons. Add the 2 tablespoons of olive oil and turn the heat to medium. Add the Brussels sprouts with their flat inside surface down. Cook until they begin to blacken around the edges, about 10 minutes. Turn the sprouts one at a time and make sure they have roasted to a dark brown with blackened edges. Continue to cook on the other side for another 5 to 7 minutes. Remove to a platter and keep warm.
In a large mixing bowl, add the kale, parsley, green onion, red onion, rosemary, cheese, almonds, and fried garlic. Mix well. Add the Brussels sprouts and bacon and toss together. Keep at room temperature.
For the dressing, add the lemon juice, vinegar, and mustard to a small mixing bowl. While whisking, slowly drizzle enough olive oil until it forms an emulsion, about ½ cup. Season to taste with salt and freshly ground black pepper.
For serving, add about 2 or 3 tablespoons of the dressing to the salad along with a grind of black pepper and toss well. Mound the salad on a large platter and serve with side plates and the rest of the dressing on the side.
A jar of fried garlic can be purchased at any Asian grocery and is a terrific product that you will discover a variety of uses for. Any leftover salad should be refrigerated and is just as good cold the next day. Feel free to improvise with these ingredients but I urge you to stay true to "blackening" the Brussels.
Recipe by
Acadiana Table
at https://acadianatable.com/2015/05/11/blackened-brussels-salad/