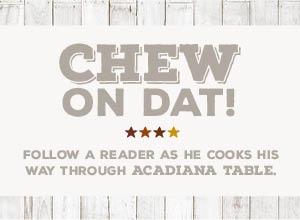 Meet Jack Chew: Two decades ago, he fell in love with Louisiana cooking during a whirlwind tour of the bayou country in his Airstream trailer. Today, he's a retired police officer living in Ft. Lauderdale, Florida who cooks for fun and friends. In fact, every Monday night he cooks for the "Marching and Chowder Society"–a group of retired guys who Jack says, "enjoy good food and conversation with cold beer and cheap wine."
And now, Jack is chewing his way through the pages of Acadiana Table recipe-by-recipe. Check back weekly for new episodes and join my friend Jack Chew on his culinary adventures.

Episode 1
Jack Chew writes: I have been a subscriber to the Acadiana Table blog for some time now and frequently make your recipes. Last night I served the Bacon Wrapped Meatloaf to family and friends and WHAT A HIT!
I made it with all the ingredients as specified but skipped the rice dressing since it wasn't available at my local Winn Dixie store. The bacon weave was easy, and I never consulted the tutorial. The Red Pepper Jelly glaze was superb and really made the dish. The next time I make this recipe I will probably increase the Cajun Seasoning. I knew it was in there, but the flavor was covered by the savory goodness of the glaze and the crisp flavor of the bacon.
Instead of the dressing, I substituted quartered red skin potatoes rubbed with olive oil, salt and pepper, and roasted around and under the meat. Everything came out done at the same time and the addition of the flavors from the drippings added to the potatoes.
I also served Haricots Verts to which I added Sun Dried Tomatoes in olive oil, which I glazed at serving with Balsamic Drizzle.
If you have the flexible cutting sheets that are for sale in most of the big retailers you can build the weave on one of those (they are about the right size). That makes the transfer to the top of the meatloaf super easy and the weave doesn't try to come undone when you lift it. Beats using a spatula anyhow.

Episode 2

Jack Chew writes: NO FAIR GEORGE! I have just started cooking my way through the Acadiana Table cookbook (it arrived Tuesday) and already you have thrown out another must-do recipe on the blog! Can't wait for the next family cookout for serving your Smoked Sausage Po-boys.
I made the Chicken Leg Fricassee for Wednesday dinner, but used bone-in skin-on thighs because that is what I had, and I didn't want to go to the grocery store to brave the crowds panic-buying supplies ahead of Matthew. Thighs didn't make any difference as far as I could tell–delicious and easy to prepare. Another winner courtesy of George Graham.
I must say that I have never had great success in making roux, (I probably burn about one in four batches) but I recently found a microwave method that works perfectly and takes about 10 minutes or less to prepare. I have been making chicken stock for years, but never got the results you described. I will get on with your Dark Chicken Stock next week and let you know the results.

Episode 3

Jack Chew writes: Tuesday night, I made the Garfish Courtbouillon. Naturally, Garfish just isn't available at any market locally, so I used catfish fillets, sold here as "Swai". This is CHEAP stuff, around $2.29 per#, but it is firm meaty white fish that stands up to longer cooking times. I doubled the recipe, used 3# of fish, and all that was left was about a pint of the liquid. I had to use Swanson's Seafood Stock because I haven't found the shrimp you mention in the recipe (the nearest Asian market is a few miles away). Five of us finished the double recipe, and the only thing left was about a pint of the liquid which I ate for lunch today with Oyster Crackers.
I'll keep you posted each week. Next week is the Softshell Crabs with Shrimp Etouffee. I'm originally from MD and always keep a few softshells in the freezer.

Episode 4

Jack Chew writes: I made the Sausage and Onions today – a complete hit!  I host a dinner on Mondays for some friends and there were ZERO leftovers–a usual occurrence when I make one of your recipes.
Alligator Sausage and Creole Red Onions aren't available in S. FL, but you can assure your readers that the recipe works well with Roger Dean Hot Sausage from Winn Dixie and regular red onions with any dark beer in the store. The addition of horseradish to the potatoes is a stroke of genius, an unexpected flavor that really tweaks the palate.
Keep these coming: I'm a dedicated fan and a true believer!

Episode 5

Jack Chew writes: Another week of cooking through Acadiana Table.  Last week I cooked the Double Stuffed Pork Chops Stuffed With Apple Sausage (pg 264). I made a couple of insignificant changes that shouldn't affect the recipe at all:
I used pork loin chops because they were on sale at Costco, cheaper by $2 per #. They were nearly 2″ thick and were perfect for pocketing. I had 12 in the pkg. so reserved and froze six.
I cooked for six, thus increased everything by 1/3, you will need a BIG pan to make the stuffing. The recipe easily converts for larger quantities.
For the third pound of pork, I substituted a pound of Tennessee Pride Hot Sausage to add a little more heat.
When the stuffing was about half cooked, I reserved a cup of liquid. I then added more cider, two TB of fat and two TB of flour to make a gravy in a separate pan. You should have about 2 1/2 C when you are done. We just like gravy, especially with pork.
I served the pork chops with a side of Yellow Crookneck Squash Casserole baked with onions, cheese and a bacon flavored Ritz Cracker crust. I used a Paula Deen recipe for this, and it went well with the meal.
BUT WAIT, THERE'S MORE!
Only 4 showed for dinner, so I had to refrigerate the leftovers. The additional melding of flavors over two days was an amazing gustatory adventure. This was so good the third day that the next time I prepare it I will deliberately make too much.
Last Sunday, my son-in-law prepared the Sweet Heat Carrots (pg.137) as a side for his Sunday night barbecue. They were a hit. He included some parsnips in the recipe because they were on hand, and he didn't want to waste them. I knew I had a good reason for buying two copies of Acadiana Table, now I'm not the only one in the family hooked on the cuisine.

Episode 6

Jack Chew writes:   This week I had six again for Monday night dinner.  On the menu for last night was Sausage and Chicken Gumbo, and again Georges' recipe was a hit with everyone There were enough leftovers for another meal for two.
I didn't change anything, but I didn't make the potato salad or the hard-boiled eggs.  I have to use Aidells Andouille Sausage from Costco because there just doesn't seem to be a source in Ft. Lauderdale for the real stuff.  I had to use boxed chicken stock since I haven't made any recently, but I just found a local source for chicken feet, necks and backs so I intend to make your version later this week. For those in Ft. Lauderdale area, it is Bass Bros. Supermarket at NW 9 Ave and NW 6 St., Ft. Lauderdale. The store is right in the heart of the ghetto but the area is safe. I am looking forward to making George's stock.
I buy whole chickens at Costco, $.99 lb for two three pounders, total about $6.00. Butcher them at home and save a lot of money Cut out the backs and remove the wing tips with poultry shears; reserve those with the neck for later use in making stock. The livers will go great in Dirty Rice. I save the gizzards and hearts for poultry gravy.
Following the first hour of cooking, I removed and boned the chicken carcasses, reserving the bones and skin in the freezer for later stock making.
I first was introduced to "THE TRUE CAJUN CUISINE" when we visited Louisiana in 1988 for an Airstream Rally at Mardi Gras. Eight rigs decided to explore "Cajun Country" after the rally and we eventually arrived in the Houma area, camping on Bayou Blue. It was a cold, windy rainy week but we really had a lot of fun. In our wanderings through the area we ranged all of the way from Lafayette and Avery Island to a small restaurant on Bayou Petit Caillou owned and operated by an amazing woman, Wylma Duplantis Dusenberry.
At the time, Wylma was only open two or three days a week and Sunday afternoon for a big dinner. The floor plan was open with a waist high partition separating the cooking and dining areas. It was a amall kitchen with one cook, she only prepared enough food for about 40 meals and the menu was whatever she was serving that day. I have never had such great food in my life, and that is what hooked me on the cuisine. An added treat was the music on the Sunday we visited, the family is VERY talented. We ate there three times in a single week.
Wylma produced La Trouvaille Cookbook, The Simple Joy of Cajun Cooking and it has been my bible for the past 28 years. Now Acadiana Table will take its' place beside Wylma's book in a well-deserved position of honor. I don't cook Cajun every day, but I consider these two volumes to be the ultimate authorities on the subject, and they will both be used frequently.
I'm certain that you are going to receive many compliments on Acadiana Table and I'm sure that a few nuts like me will start cooking through every recipe. Maybe you should have a separate page on the blog for Acadiana Table posts. I know I would like to see what experiences others are having and maybe pick up a few pointers along the way.

Episode 7

Jack Chew writes: This week of cooking through Acadiana Table was really busy: On Wed. I bought 6# of boneless pork shoulder boneless ribs (marked down for quick sale) and made Tasso, finishing the process including smoking by Sat.
On Fri. I bought a little over 8# of chicken backs, necks, and feet and made the chicken stock. I have made stock before using rotisserie chicken skin and bones, but the recipe in the book is clearly superior and yields an impressive result. Be sure to roast everything first, it adds a depth of flavor you won't believe.  On Sunday, Shawn made the Cajun Jambalaya from the blog and it was superb. Leftovers were even better on Tuesday.  Monday night get together was moved to Wednesday. Chicken and Smoked Sausage Gumbo– following the recipe but substituting Aidels' Andouille Sausage because I needed to use that last pound in the fridge. Excellent results, tasty with rave reviews.

Episode 8
Jack Chew writes: This week was Corn Maque Choux With Shrimp. I used 2 1/2# of 51/60 peeled and deveined frozen shrimp for this one and doubled the recipe. I also added 1 cup of the Tasso, diced fine, for additional flavor. I may have overdone the cayenne in this one or maybe the Tasso added more heat than I anticipated; in any case, if you are doubling the recipe I suggest that you keep the cayenne and the Cajun Seasoning to original quantities then add the heat to taste. I wasn't bothered by the heat but had two comments suggesting that it could have been milder.

Episode 9
Jack Chew writes: This week of cooking through Acadiana Table: Monday night's Maque Choux With Shrimp and Tuesday's Garfish Courtbouillon wiped out the last of my Tones Cajun Seasoning (12 oz.) which had to be at least five years old anyhow.
I decided to make my own following the recipe on pg.13. This is straightforward, takes less than five minutes to make, and is a SUPER cheap addition to the larder. The quantity is much less than you can purchase in the stores, which means that you will never again be using an ingredient that has been on the shelf for an indeterminate length of time. The Tone's was probably at least five years old and, while still potent, had in all likelihood undergone a change of flavor.
I made one recipe of this and will never buy from the store again. The flavor is superb and I am secure in the knowledge that there is NOTHING in there but spices with no preservatives.
I found that the Celery Salt on hand (needed to compete the recipe above) had caked up solid. I tossed it and made my own, it is simple:
2 TB Salt (I used kosher) and 2 TB celery seeds. I ran the mixture through a coffee grinder and would up with a little more than 1/4 cup of FRESH Celery Salt. Again DIRT CHEAP, no additives, and you can make a new batch any time you run out, no need to go to the store.

Episode 10
Jack Chew writes: Monday was scheduled to be the Shrimp Etouffee Over Softshell Crabs. DISASTER STRUCK! The three softshell crabs (Whales, the largest size) that I was sure were safely ensconced in my reach-in freezer were nowhere to be found, and those in the grocery stores here are almost always of the "heat and serve" variety, not useable for this dish. The Memory and Freezer Gods had once again conspired to thwart my plans, especially the memory guy.
Welcome to the world of "Cajun/Tidewater Fusion Cooking". I am absolutely certain that this is not the first time someone has materially altered one of the recipes but necessity and time constraints made it imperative to insert a major substitution for one of the principal ingredients. MARYLAND CRAB CAKES! This traditional dish from my youth made the perfect substitute for the missing softshell crabs.
The Etouffee was prepared according to the recipe instructions, scaling up to six servings. The cook times for everything were spot-on. Once again, if you scale up, be certain that you have a large enough pan; the Trinity for six servings is four and a half cups and doesn't cook down a whole lot.
I substituted peeled and deveined "Fisherman's Wharf" shrimp in "Jumbo Gumbo" size (71-90), tail off, from Winn Dixie. These were on sale ($5.99) for 12 oz, and I used three packages in the recipe, they are also a frequent BOGO and I stock up when I can. I think that the smaller size shrimp might actually enhance the flavor of the recipe. I also poured the meltwater directly from the pack into the Etouffee when I added the seafood stock.
The seafood stock available in the grocery store is a poor substitute for one you have made yourself, but I was all out of shrimp shells and tails, which I save and freeze religiously, and, to date I have been unable to locate any of the dried shrimp mentioned in Acadiana Table. I have found dried shrimp on the Internet but they seem to be of the fish food variety and I am hesitant to use them in something I'm going to eat myself or feed to my family and friends
The recipe calls for lemon juice and it has been my habit to zest the fruit prior to squeezing. The zest can be used later, to enhance/intensify the dish you are cooking, or frozen and saved for another day. In this case I added a pinch of the zest on top of every cooked crab cake just before ladling on the Etouffee. It worked.
Since the recipe calls for only 2 1/2 C of stock I used the remainder of the quart in the preparation of my rice, adding water to complete the necessary volume. I always cook rice with stock, it intensifies the flavor and I frequently add butter for the same reason.
This is the most expensive recipe I have prepared to date, about $45 for everything, which breaks down to $7.50 per serving not including the wine. That being said, if you can duplicate such a meal for under $30.00 per serving at any quality restaurant anywhere in the country, please send me the address.
The side for this meal was Green Beans with Ham Hock, a traditional southern dish which goes well with anything. Two #s of beans, trimmed and cut, one large onion diced, one smoked ham hock, some garlic, pepper but no salt, and a half gallon of water. Bring it to a boil then put it on the back burner to simmer for four hours. The liquid will reduce to about 1/4 of the original volume. When done, remove the ham hock, trim and dice the meat from it, and add back to the pot. Cook another ten minutes, then serve.
A few words on preparation:
Trinity is always a combination of green pepper, celery and onion in equal portions, A few recipes vary this ratio but it seems to be pretty common. When preparing a recipe you seldom wind up with an exact amount, either you have too much or too little. My solution is always to make more than I need and vacuum pack the excess. I have a Food Saver, but if you don't have this appliance it is simple to put the excess Trinity into a ZipLock sandwich bag, close it most of the way, and submerge the sealed part in water. The air will be forced out and you can then complete the sealing. Preserved this way I have used Trinity as long as five or six days after original preparation with no detectable change of flavor. I have never tried to freeze Trinity this way but I am a little dubious because the freezing could break down the fiber in the veggies and result in a mushy finished product.
George is dragging me, kicking and screaming, into the 21st Century. Every recipe in Acadiana Table has the gram equivalent printed next to the traditional cup, tablespoon, etc. Since I almost always scale up my recipes using a gram scale to measure beats the bejeebers out of measuring the old style. Try it; you'll like it. I still don't use gram equivalent for every measurement, I have been mixing by eye for so long that I can get nearly every Tbs. or tsp. correct just by estimating in the palm of my hand.
The crab meat was backfin lump from Winn-Dixie ($19.99) The lumps in this product are smaller than those in Phillips Seafood (usually about $22.00), but nobody had any of that brand this week, so I used what was available.
When making crab cakes, or any product requiring a mixture that will be made into patties or balls, I find that it is convenient to use an ice cream scoop (or a melon baller for smaller sizes) to arrive at even portions. In the case of yesterday's crab cake, the pound of meat, when mixed with the other ingredients, worked out to be ten generous portions (about 4 oz. ea.). Each scoop was rounded off to the size of a racquetball, ejected onto a cookie sheet, flattened by hand and refrigerated for an hour or so before cooking.

AND CHECK BACK WEEKLY FOR MORE EPISODES TO COME

About Jack:  I came to Ft. Lauderdale in 1957 from Baltimore and took a job as a lifeguard, transferring to the Police Department in 1963. I served 25 years on the Ft. Lauderdale PD, retiring with the rank of Captain in 1987.

Once retired, my late wife and I traveled the U.S. and Canada in an Airstream for the next fifteen years, visiting almost every state but Arkansas and Oklahoma. During these meanderings, I got hooked on Cajun/Creole Cuisine, primarily from a 1988 visit to La Trouvaille in the Houma area and our encounter with Wylma Dusenberry. La Trouvaille was a unique experience, we ate there three times in the space of one week following the 1988 Mardi Gras. Out of curiosity, I looked up La Trouville and discovered that it closed in 2002, a sad loss for those wishing to taste genuine Cajun cooking. The signed and dated first edition cookbook from Wylma holds a place of honor in my collection.

Over the fifteen years we traveled the country, Marylou and I accumulated a collection of about 1000 regional cookbooks, mostly of the Junior League and Church Supper variety. I use about a dozen or so on a regular basis but am looking for a charity or cooking school where they can be donated. If you have one in mind give me an address. I promised my wife that they would never be left out for the trash man or sold for fifty cents at a garage sale.

While Airstreaming, my wife Marylou and I hosted two National Rallies, (4 Orange Bowl, and 5 Follow Me to Paradise [Keys]). Each rally lasted from five to seven days and had from 50 to 80 participating rigs (100 to 160 people). I planned and cooked most of the meals, mostly dinners, with assistance, of course, from other club members.

I found the Acadiana Table blog a couple of years ago and started cooking from it almost from the first day. The recipes are straightforward, easy to scale, and almost universally acceptable to the crowd I cook for. I haven't received any complaints on any of the dishes.  Since I enjoy cooking, smoking, and barbecuing, Acadiana Table fits right into my primarily Southern style of cooking. My primary cooking these days is for family–one son, two grandkids, one daughter and their spouses.

I also host a Monday night "Marching and Chowder Society" consisting of a loose group of retired guys who enjoy good food and conversation, with cold beer and cheap wine. Group size varies from three to six, but they enjoy the product.I have freely included side dishes with the Acadiana Table meals that don't necessarily come from the book. Collard greens with turnips, onions and Tasso, yellow squash casserole, red potato salad, Hasselback potatoes, just to mention a few

I once heard a comment "A Cajun will eat anything that doesn't eat him first." Garfish would probably fall into that category if you were from any other region of the country, but in Cajun Country it tops the menu.